Thank you to all for your increadible support!
Keep it coming...
Please keep the support coming as any extra funds raised will be used toward the creation of a garden and monument within the burial area.
Please help Aunty Noelie to raise $5000 to purchase and install 176 plaques to identify the unmarked graves of Aboriginal infants, children and adults buried in the segregated section of the Moree Anglican Cemetery between 1940 and 1968.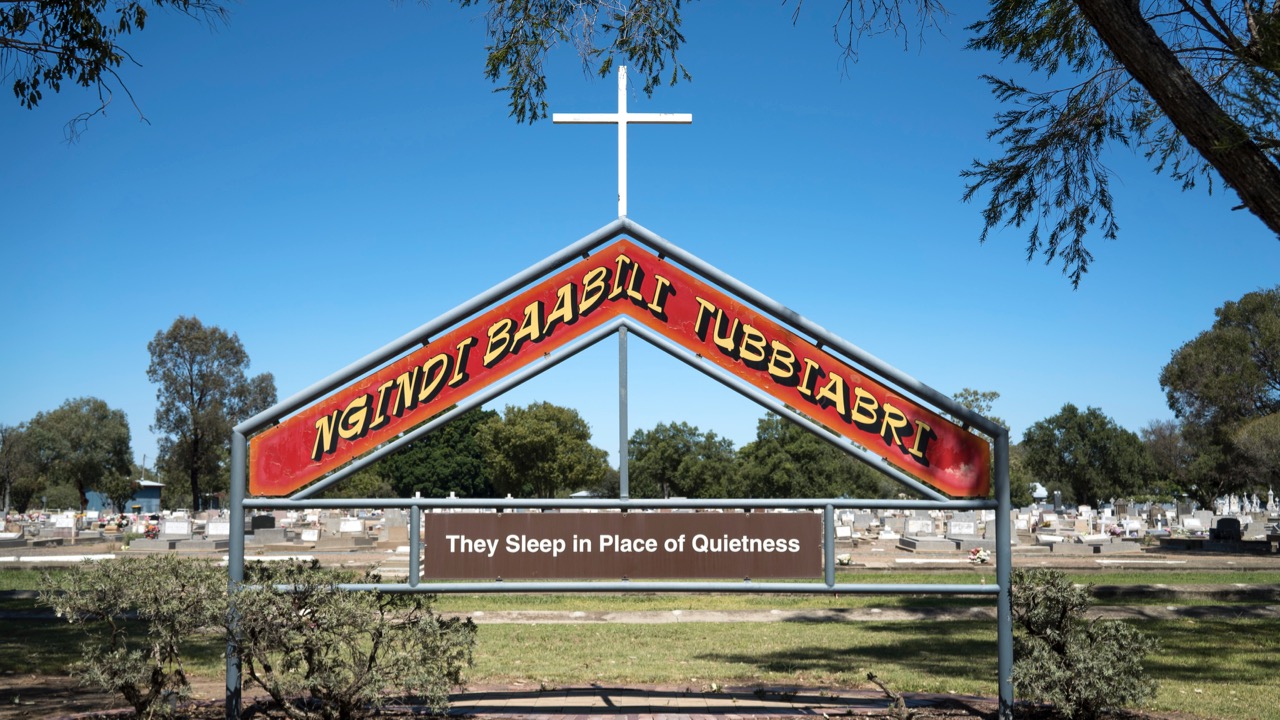 Project Overview
This project is based on the Aboriginal "Three R's": 'Reconciliation, Recognition and Respect'.
And...
"To ensure a high degree of sensitivity and cultural dignity through the establishment of a sacred and significant resting place for my people." -Aunty Noelie
In 1983, after raising her children away, Noeline Briggs-Smith OAM (Aunty Noelie) returned to Moree to find a bare paddock where the graves of her relatives had been. Washed away during a series of floods, all evidence of the 210 Aboriginal people laid to rest in the segregated Aboriginal Anglican section of Moree cemetery had disappeared. It is now 2017 and almost all of these graves - over 100 of which contain infants or young children - remain unmarked.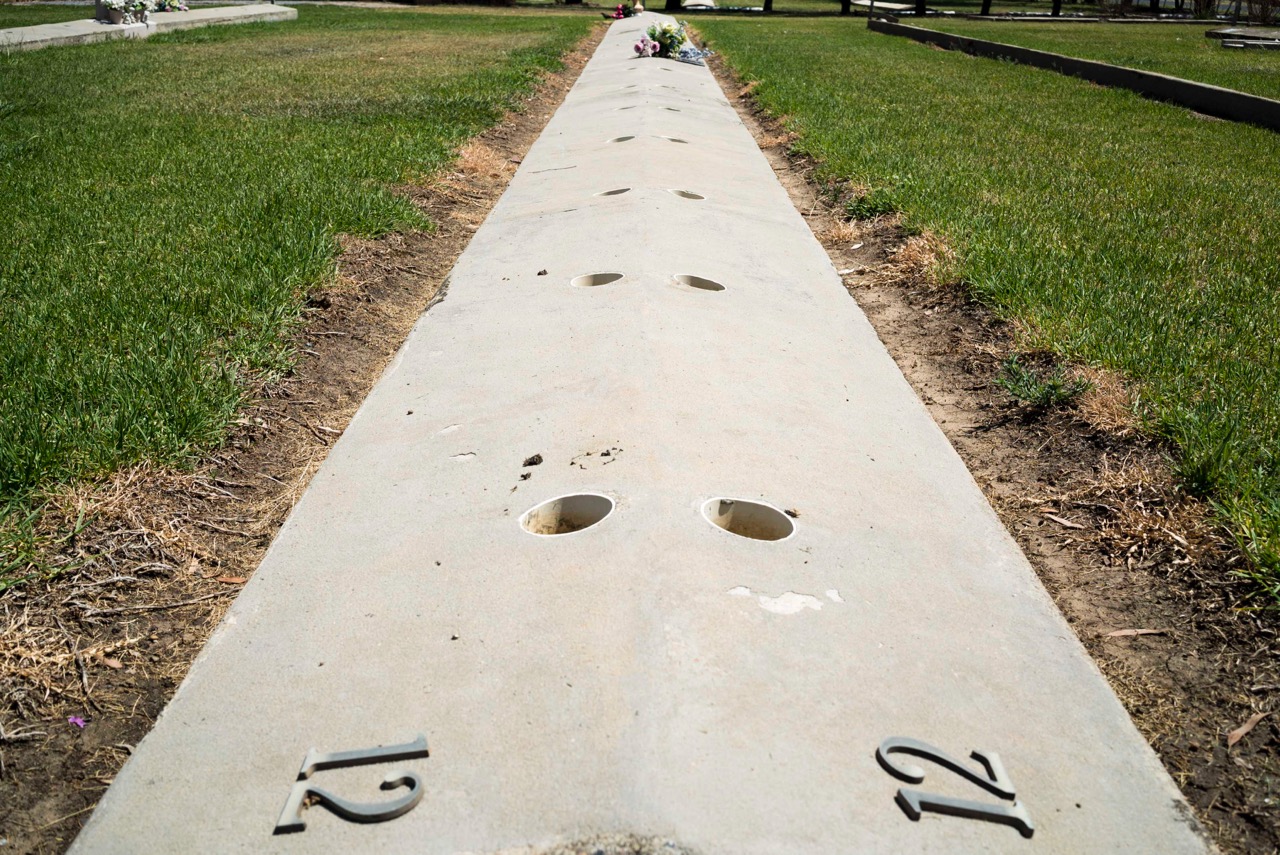 One of the seven unmarked concrete plinths (formed in 1996) today.
For the last 33 years Aunty Noelie has worked tirelessly to research the family histories of the people buried in the cemetery and raise awareness about the sacred significance of the site for Aboriginal people. Aunty Noelie has carefully cross referrenced council records with court records to locate the individual plots of all 210 burials. She has successfully campaigned for local and state government to fund a number of projects in the cemetery - including a 'Tranquility Area' to honour Aboriginal ex-servicemen buried there (1998) and the construction of a series of concrete plinths, above the graves, to delineate the segregated Aboriginal section of the site (1996) - but we need your help to raise $5000 to purchase and install 177 identification plaques for the remaining unmarked graves.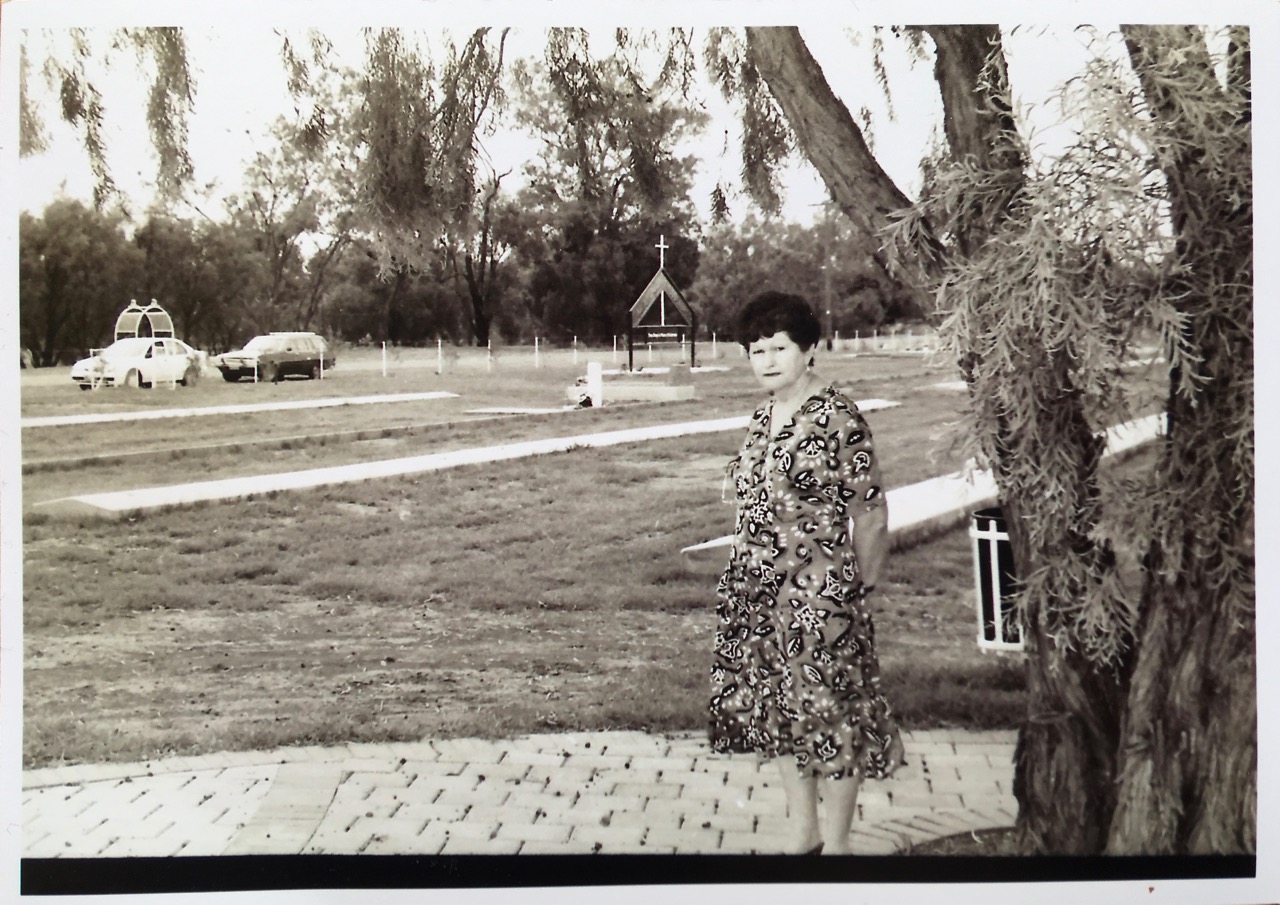 Aunty Noelie in 1996; following the construction of the concrete plinths
Through your support this project can be completed and the lives of those laid to rest can finally be acknowledged and remembered by future generations.
Should you wish to make a direct deposit... then please pay your donation into the account details below:
BSB No: 032-083
Account No: 303846
About Aunty Noelie
Aunty Noelie was born in a tin hut in the largest Aboriginal camp in Moree in 1940. At the time of Noeline's birth, Moree was segregated and racism in the town was rife. A Kamilaroi woman, Noeline went to the mission school before attending high school after her father successfully applied for an exemption to the Aboriginal Protection Act. Following school, Noeline worked as a tutor on a remote property before she was married and had three children. Determined that her children not be raised in a place where the colour of their skin determined their way of life, Noeline and her husband left Moree.
In 1983, Noeline returned to Moree to work at the Fairview Retirement Village and then at the town library, where she was appointed Aboriginal Researcher for the Dhiiyaan Indigenous Centre. While working at the centre she completed a Bachelor of Arts (local family and applied history) at the University of New England, and compiled local Aboriginal history based on the generous contributions of the community, including over 20,000 photographs and family history. Noelene's research led to the production of three books on Aboriginal history.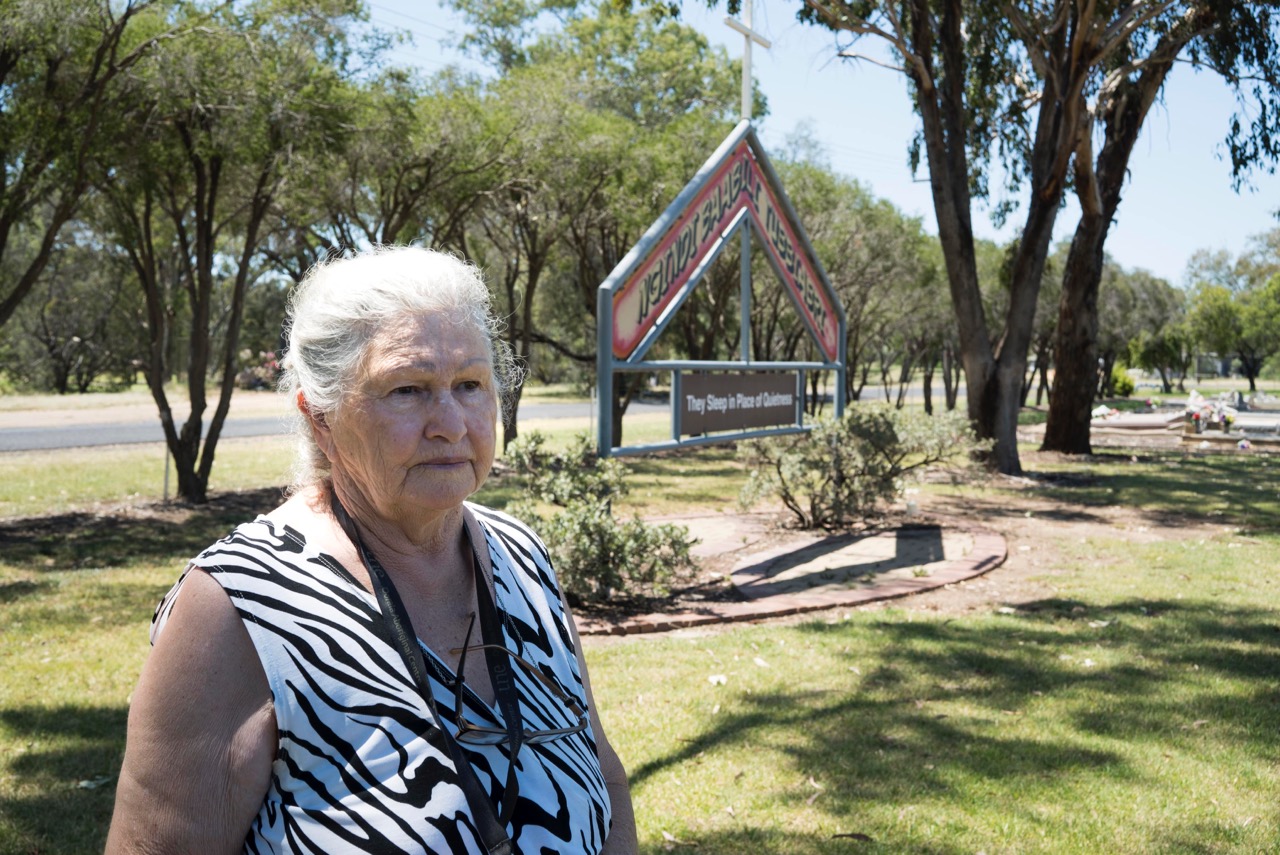 Aunty Noelie at the cemetery in 2017.
Auntie Noelie has dedicated her life to her community and is a highly respected elder in Moree. She was awarded a NSW Parliament Heritage Volunteer Award in 2009, an Order of Australia Medal in 2011, and in 2012 she was included in the 'Who's Who of Australian Women'. Although she retired from her post as Aboriginal Researcher in 2011, Noelene is still heavily involved with teaching Aboriginal history, language and culture in the community.
Auntie Noelie's life's work has involved piecing together the history of Aboriginal people, and she is determined that this important work continue: Aboriginal people in the past did not write down their history - it was all told orally - so now we need Aboriginal people to archive their history for the future, she said.
Noeline is most grateful for your assistance in helping her to complete an important piece of this puzzle in Moree. Any amount you can donate - no matter how small - will help her to complete this work.
Project Photo Gallery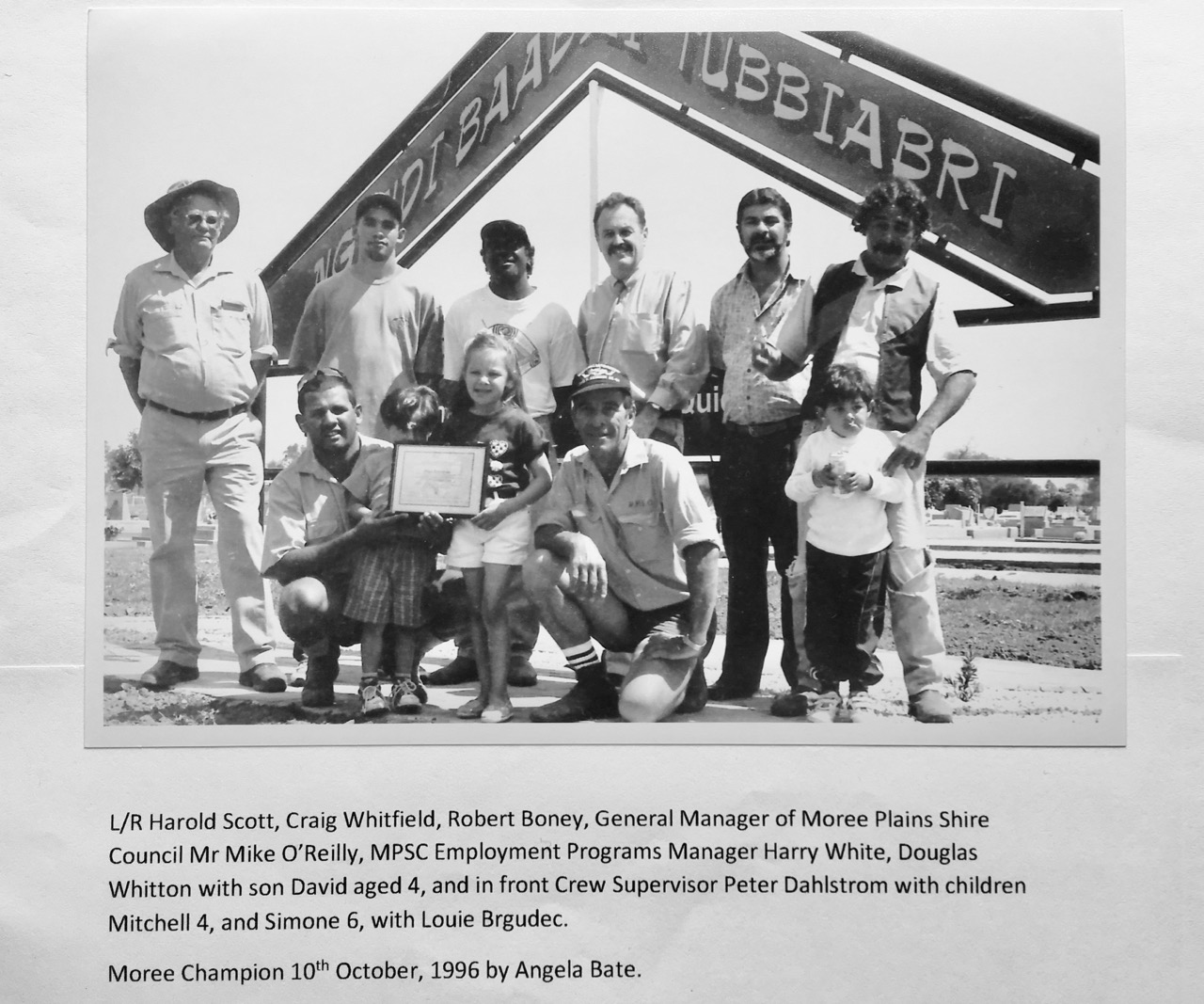 The people who built/restored the plinths back in 1996.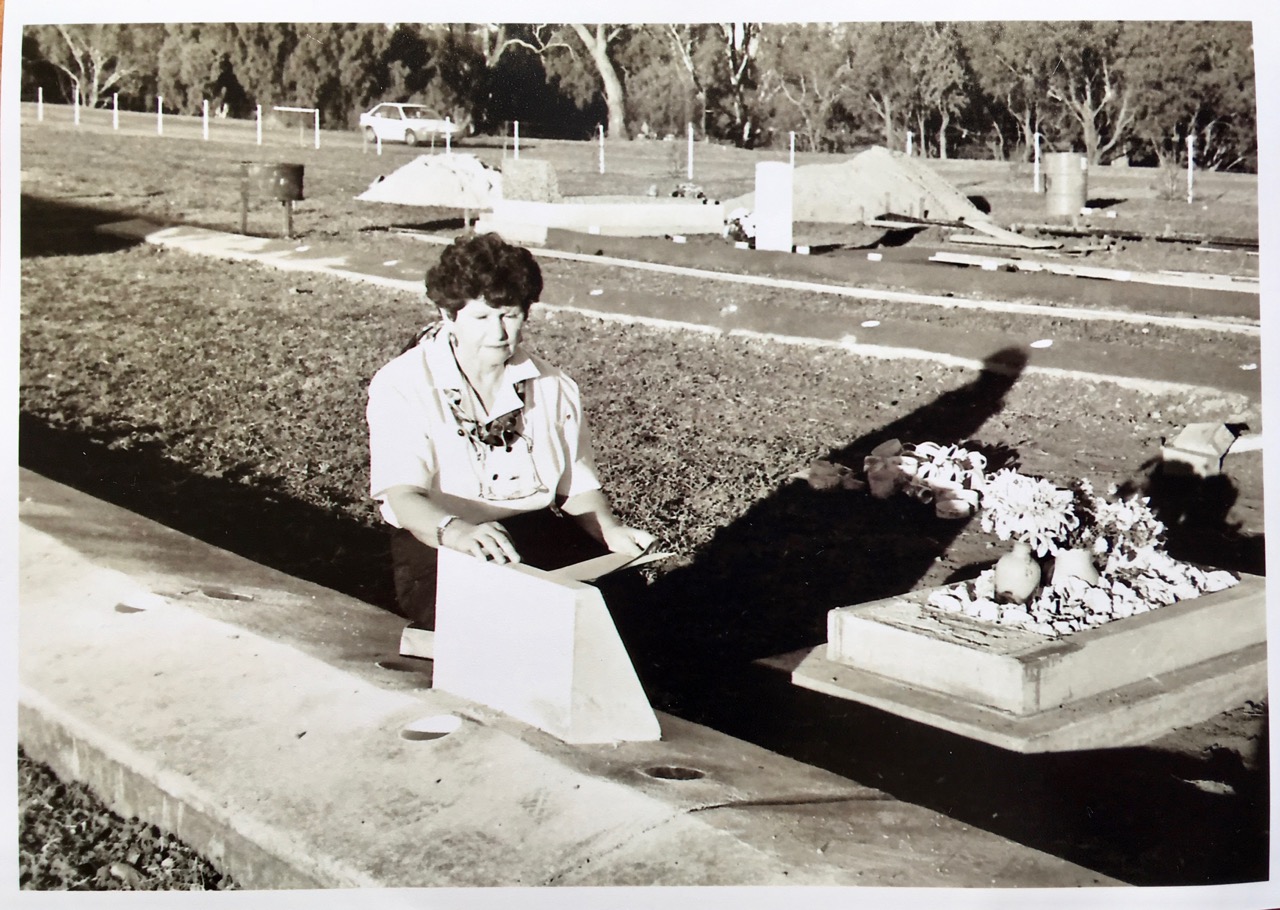 Aunty Noelie seated by the headstone of her sister Audrey's grave who died at aged 2 in 1941.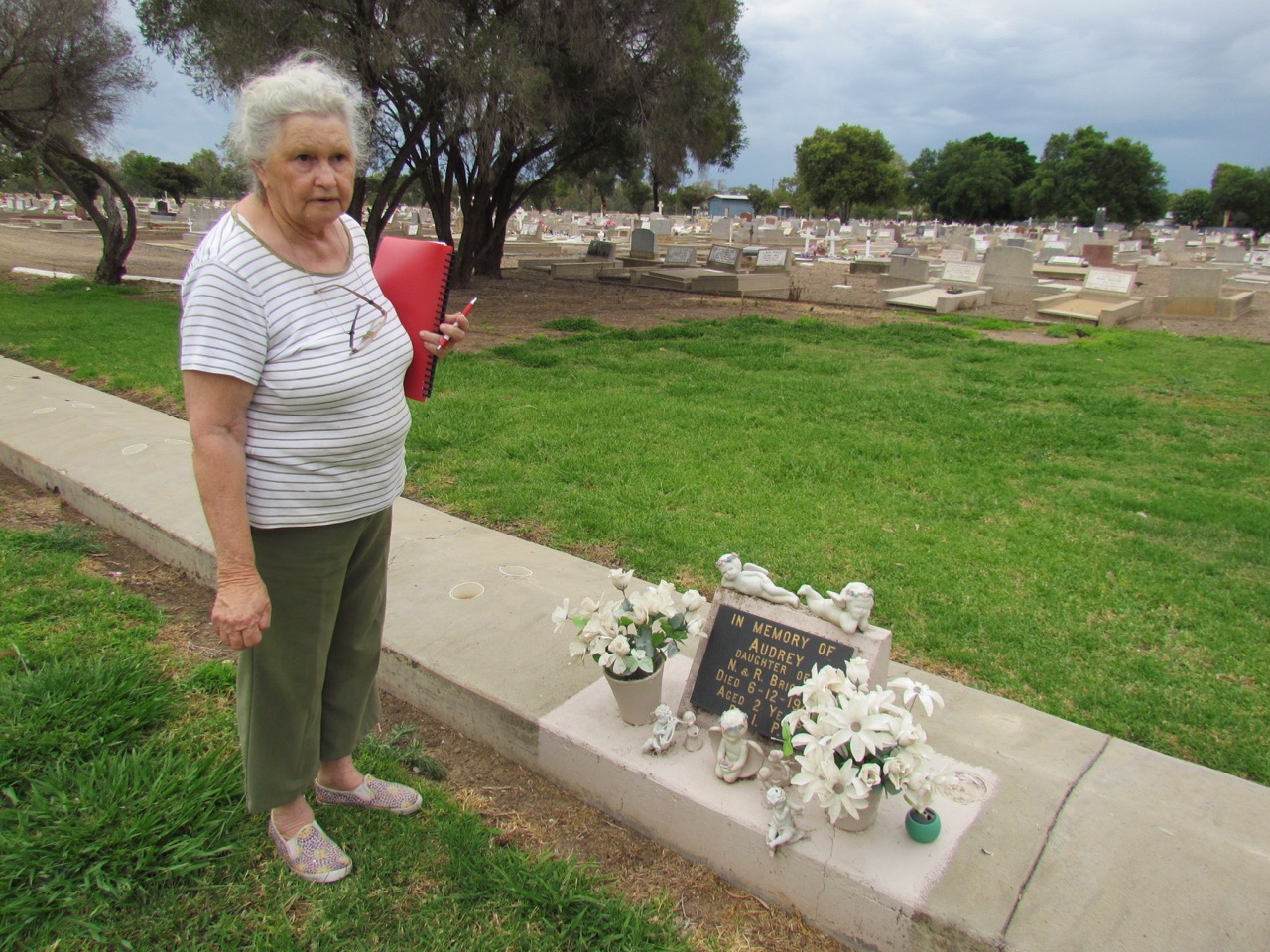 Aunty Noelie at her sister Audrey's headstone in 2017. Please help others to locate the graves
of their family members who are buried here so they too can have a headstone like Audrey's.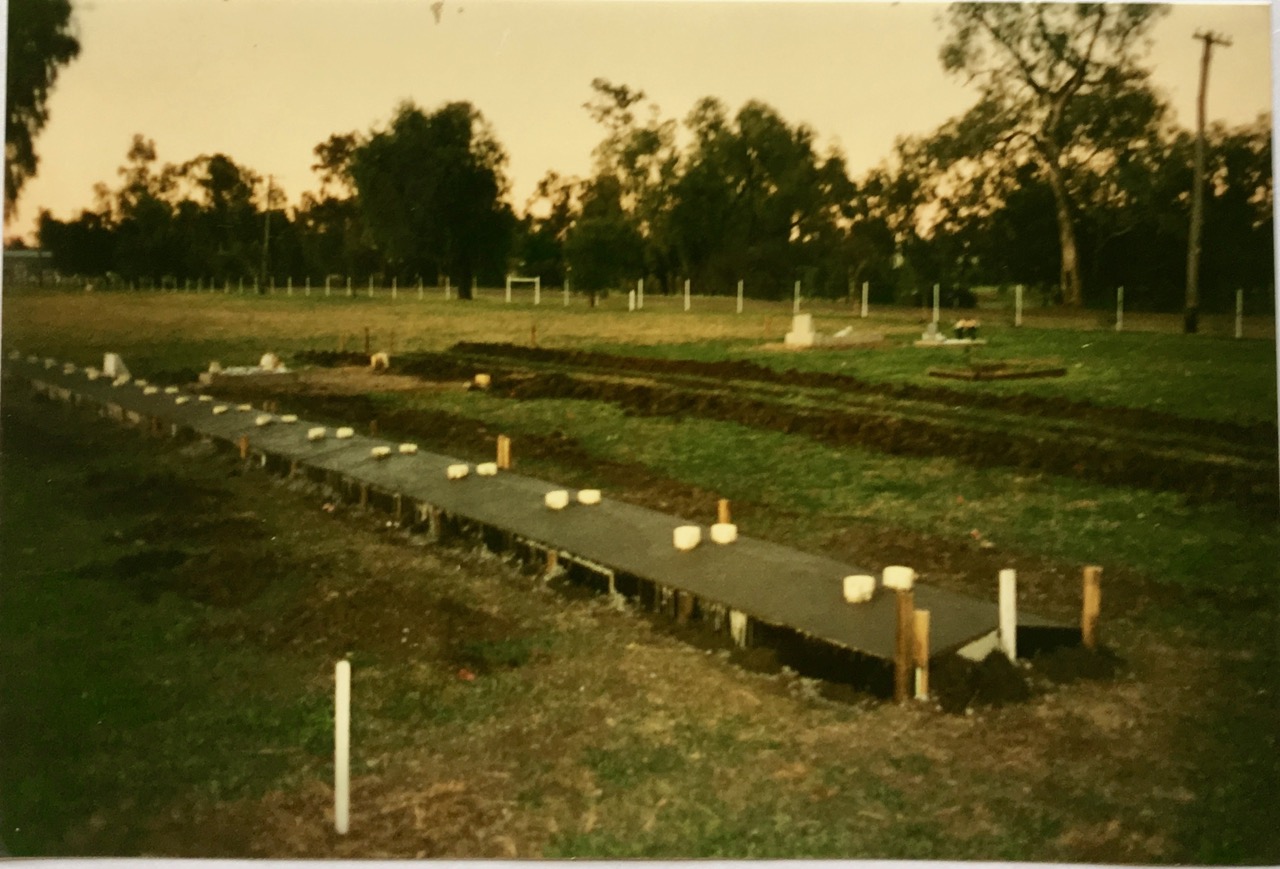 The freshly formed congrete plinths with the flower holder tubes in 1996.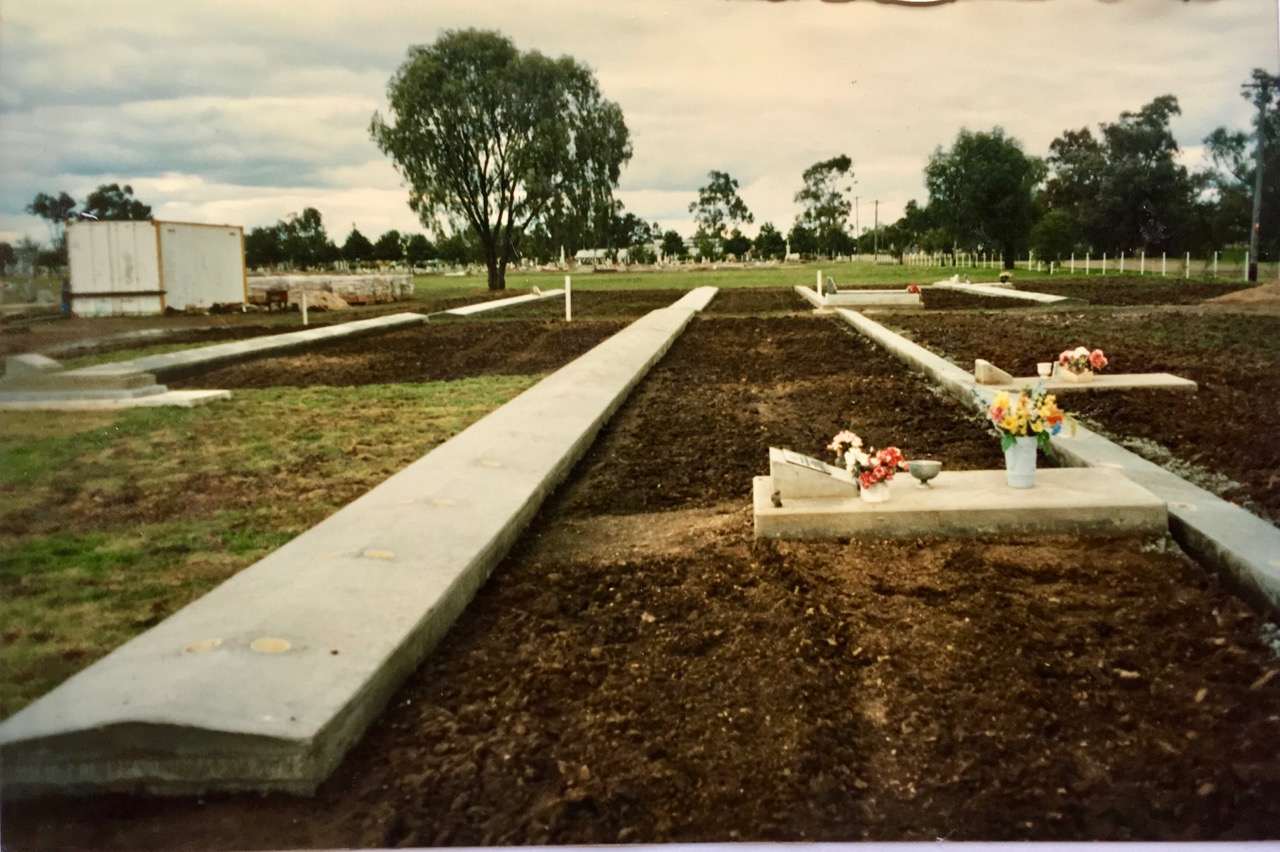 The plinths formed and ready for identification plaques in late 1996... 21 years ago.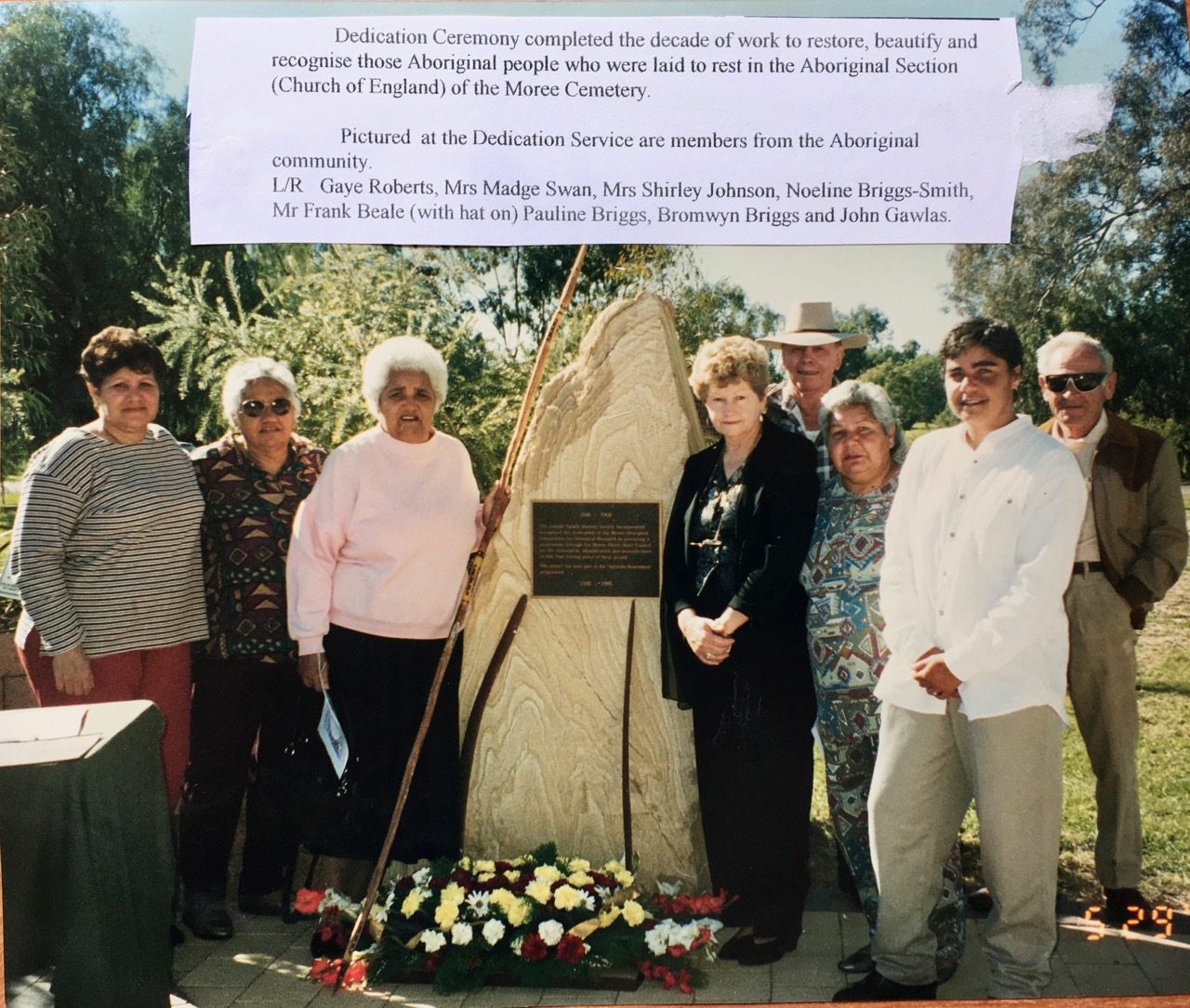 The Dedication Ceremony of the 'Tranquility Area' in late 1998.
Aunty Noelie continues to work each day to research and accurately identify all the Aboriginal
graves within the cemetery. Here she is in another section updating her records to be archived.
Thank you for your support to this project. Aunty Noelie Briggs-Smith, December 2017.
Budget Overview
The monies raised through this Crowd Funding Campaign will go directly to the manufacture and placement of at least 177 high quality plastic plaques for each of the unidentified graves. The cost of manufacturing the plaques is set at $25.00 each. The remaining funds will contribute to the improvement of the garden and lawns surrounding the section of the cemetery.
Potential Challenges
This has been a marathon project spanning over 33 years. It is time to give these infants, children and adults the identity they deserve. With your support there will be no further challenges to making this happen.