The Squid, the Vibrio & the Moon is about the beautiful symbiosis between the Hawaiian Bobtail squid, Euprymna scolopes, and the bioluminescent bacteria, Vibrio fischeri.

Copies are available here through our Pozible shop or through our
Small Friends Bookshop
, with worldwide delivery!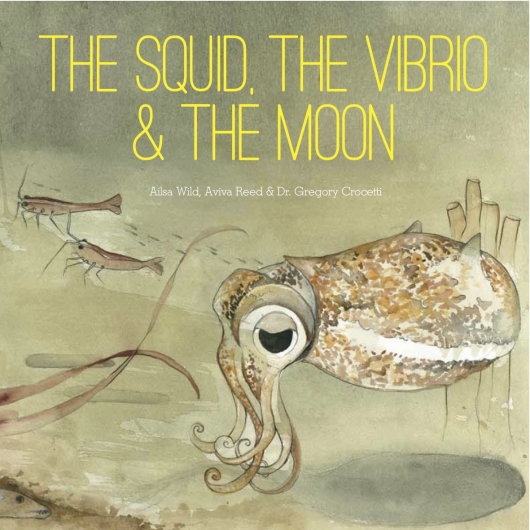 The book was created by the writer (Ailsa Wild), the illustrator (Aviva Reed), scientist (Prof. Linda Blackall) - in collaboration with Scale Free Network's Briony Barr & Dr. Gregory Crocetti.
It's the first storybook in the
Small Friends series by Scale Free Network
- stories about (mostly) positive symbioses between microbes and larger forms of life.
We have recently completed our second storybook in the Small Friends Series - Zobi and the Zoox - all about the coral symbiosis:
http://www.pozible.com/project/187995
Our intention is to inspire children and adults to love our under-appreciated small friends in the microscopic world.
As the name suggests, the project will tell stories about microorganisms (like bacteria, fungi and viruses) and the amazing intimate relationships they form with each other, and larger forms of life.
And we've just started the
Coral symbiosis story
in collaboration with microbial ecologist - Dr. Madeleine van Oppen.
If you prefer to buy books in bookshops there are still some copies available for sale through bookshops in Melbourne, Brisbane, Adelaide, Perth and Bega - details through the following link:
http://www.smallfriendsbooks.com/stockists/
If you're keen to propose a new story or collaboration idea, please send us an email to gregory (at) scalefreenetwork.com.au
About the StoryBook:
Rich in visual details and scientific content, the simple storyline follows the adventure of a young bacterium 'Ali', her friend 'Mai', and the newborn bobtail squid 'Sepio' – all watched over by the moon.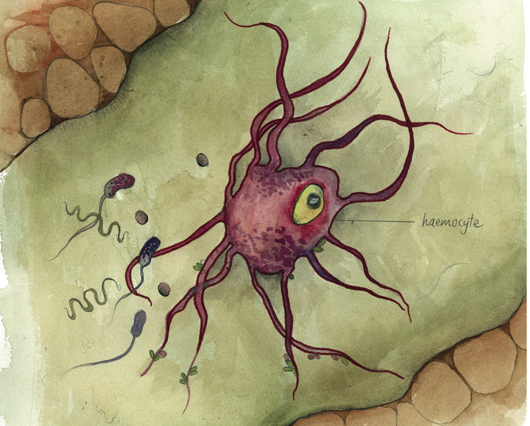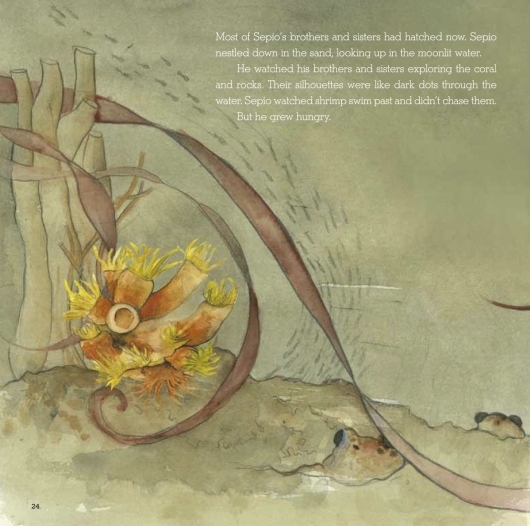 Symbiotic relationships such as this one – are very often one of cooperation, not competition. When most people think of microbes, they think of germs and want to eradicate them. This project aims to shift this attitude towards one of symbiosis (living together). This message goes beyond the microscopic scale and is perhaps a way to start thinking that most forms of life survive by working together.
These stories are being produced by the art-science collective Scale Free Network, in collaboration with the microbial ecologist
Professor Linda Blackall at Research Gate
.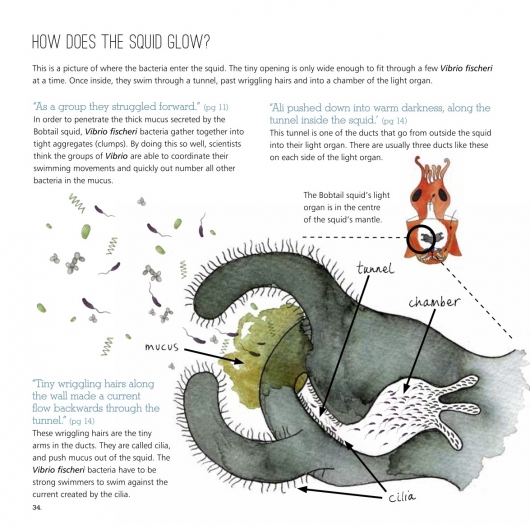 The storybook is a symbiosis in itself – a collaboration between a visual artist, a scientist and a writer.
Written to a young reader level – we have already tested it with some classes of 8-yr old children – with really positive feedback. But we reckon the story will be enjoyed by children and adults alike...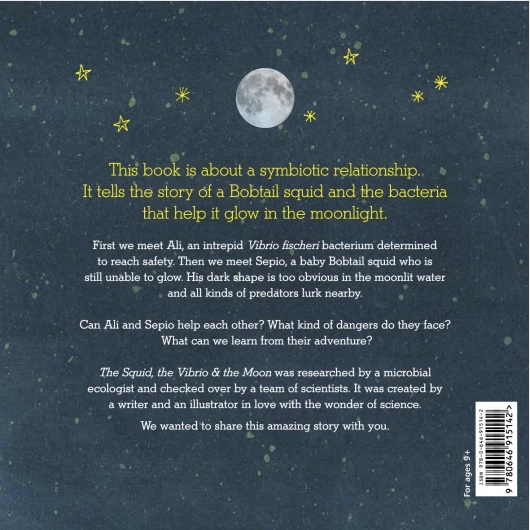 More information about the story
There are so many amazing facts to tell about the Bobtail squid and the Vibrio fischeri bacteria - along with the story of their lifelong symbiotic relationship. Here are a few highlights:
When the bobtail squid is born, it's only a few millimetres in size.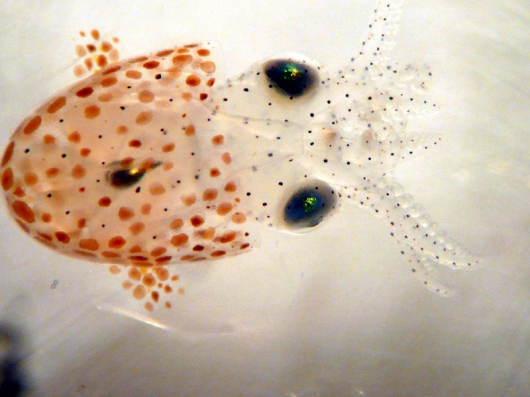 Photo of a juvenile squid by
Little Boffin
As an adult, the bobtail squid grows to about 6 centimetres long.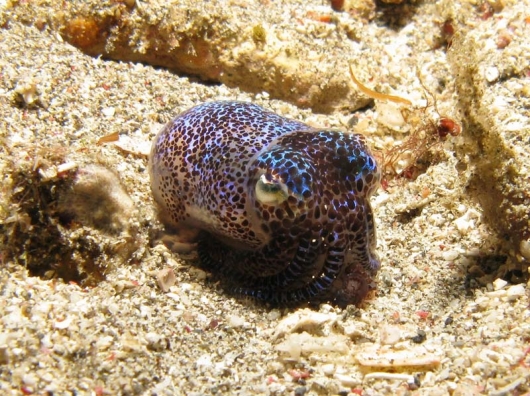 Photo of an adult bobtail squid by
Prilfish
The bobtail squid is a nocturnal creature, hunting by night.
By day, the bobtail squid safely burrows in the sand (little known fact - bobtail squids love reggae).
One of the first drawings of Vibrio bacteria was by the Danish Naturalist Otto Friedrich Müller, in the book Animalcula Infusoria, fluvia tilia et marina - published in 1786.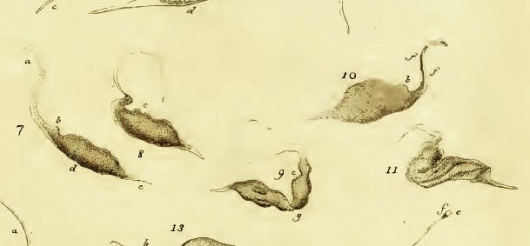 The storybook is a
Scale Free Network
project.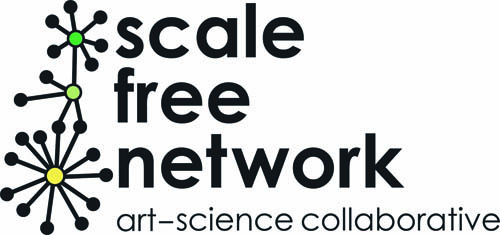 Some Of My Previous Work
The project team have collectively worked with art, science, writing – and children – for many years.
Here is a brief outline:
DR. GREGORY CROCETTI worked for a decade as a microbial ecologist, mostly identifying and counting bacteria through microscopes. Looking at bacteria from a wide diversity of environments, including seaweed, stromatolites and especially sewage...he has a broad understanding of the diverse roles played by these and other types of microbes in shaping our world.
More recently, he has worked for 4 years as a science educator (with CSIRO Education) - and since 2007, he has worked in collaboration with the artists Briony Barr and Jacqueline Smith in the art-science collective, Scale Free Network.
It is here, where Gregory created the
Small Friends book series
, in collaboration with Briony.
Scale Free Network:
www.scalefreenetwork.com.au
AVIVA REED is a visual ecologist with a Bachelor of Science. Using her interdisciplinary skills, she communicates knowledge of ecology and scientific concepts through art. She has facilitated numerous workshops, educational resources, installation pieces, performances and large-scale murals.
Last year, Aviva completed a residency, The Symbiogenesis Project, at Laughing Waters culminating in exhibition at the Melbourne City Library. Most recently Aviva undertook an Extended School Residency Program at Elmore Primary School through Arts Victoria and the Australia Council. She is currently completing her Master of Environment at Melbourne Uni, majoring in Education. You can lots of her beautiful artworks at
www.avivahannah.blogspot.com.au
AILSA WILD is a writer, a performer and a community artist. She has a Masters in creative writing and has written two novels, both in search of a publisher. Her show '
It's Not Circus, It's Science
' recently toured Victorian schools, starring Ailsa as Professor Wild – a crazy, whip-cracking scientist with a loose grasp of physics.
Ailsa works for
ArtPlay
and
Kids' Own Publishing
, where she learns something new about working creatively with kids every day.
BRIONY BARR is a visual artist who regularly collaborates with science and scientists as part of her practice. Since 2008, she has worked with the microbiologist Dr. Gregory Crocetti (and fellow artist Jacqueline Smith) as part of
Scale Free Network
: art-science collaborative. At the other end of the scale, she also works with astrophysicist Dr. Andrew Melatos (The University of Melbourne) on an ongoing project called Drawing on Complexity. This involves making rule-based, expanded drawings, involving many people and large amounts of coloured tape. The idea is to use the collaborative drawing process to explore the evolution of a complex system. Take a look here -
www.vimeo.com/brionybarr
She works as a teaching artist at civic art studio – ArtPlay – run by the City of Melbourne, where she regularly facilitates and designs creative workshops for children and families. She is also employed as a facilitating artist at children's community publisher - Kids' Own Publishing – where she collaborates with children to create books.
PROFESSOR LINDA BLACKALL is a professor in microbial ecology who works at
Swinburne University
. Her main research interests are using microbes to promote environmental sustainability, understanding symbiotic associations (e.g. corals and their associated microbes), and generally studying microbes wherever they exist – which is everywhere! Her career began prior to the boom in technology/method development that has allowed us to comprehend the omnipresent profound role that microbes play on earth.
She has previously worked at James Cook University and the Australian Institute for Marine Science in Townsville, and for the Environmental Biotechnology CRC and the Advanced Water Management Centre, while based for over 20 years at the University of Queensland.
Having been involved in the tertiary education sector since 1992, she has taught science, medicine, and engineering to students. She is passionate about trying to broaden the interests of these cohorts beyond their specific cognate disciplines so that they can be expansively engaged in the community and not confined to their ivory towers. This does happen on some but not enough occasions. She would like to kindle the curious minds of the youngest learners so that some of them will embrace this notion...they will be shaping and driving policy soon enough.
Special thanks to the videographer JASON HELLER for shooting our campaign video. If you like his work, check out his
showreel.
How The Funds Will Be Used
Funds raised from further sales of the book will continue to help creating future books in the Microbial Symbiosis Storytelling project...


The Challenges
With the books printed, the only obstacles to you receiving your copy is the postal service!