Hello! This project seeks your support to bring Tyrone and Lesley's 5th album, 'OPTIMISM' into the world.
It's a beautiful, slightly mad thing to do, making a recording of songs played mainly on ukulele and double bass.
So we did it.
Right here, right now, we invite you to be a special part of both process and product. If you're already a fan, maybe you'll be on board straight away. If not, check out the rewards, read on and find out why our music is like no-one else's.
If you're prejudiced against ukuleles, or locked into some genre,
then we'd be surprised if we can't change your heart.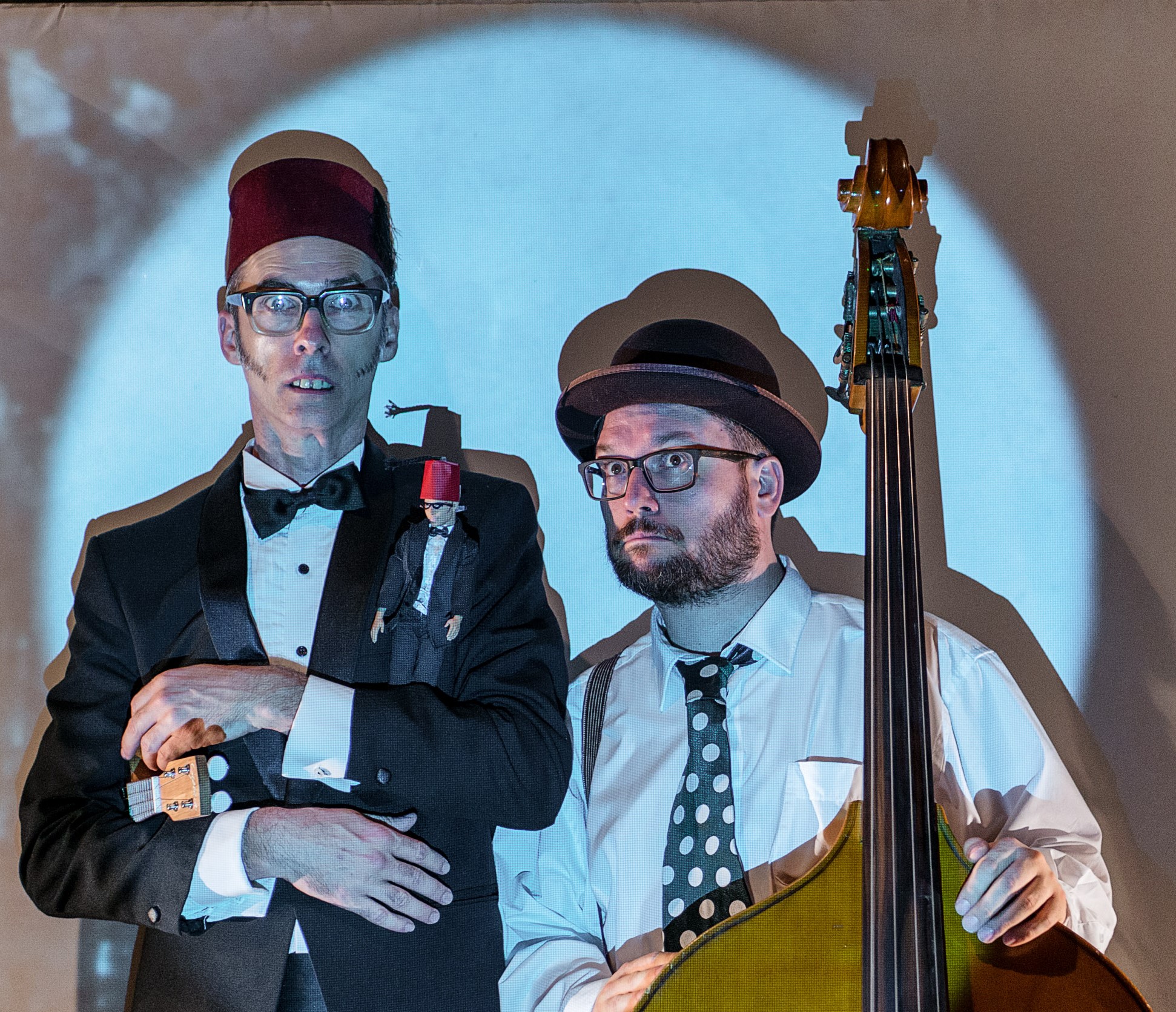 Tyrone and Lesley are surprised. (Image: Dylan Evans)
Tyrone and Lesley create songs on the ukulele, double bass and U-bass, all instruments that must be played close to the heart.
We first worked together in 2000 on the show Ukulele Mekulele, which took us (and a gorilla) to the Sydney Opera House.
With one foot on the music stage and the other on the theatrical stage, we've gone on to perform for many audiences of the large and little kind all over Australia and overseas. Here's a picture of us way back then.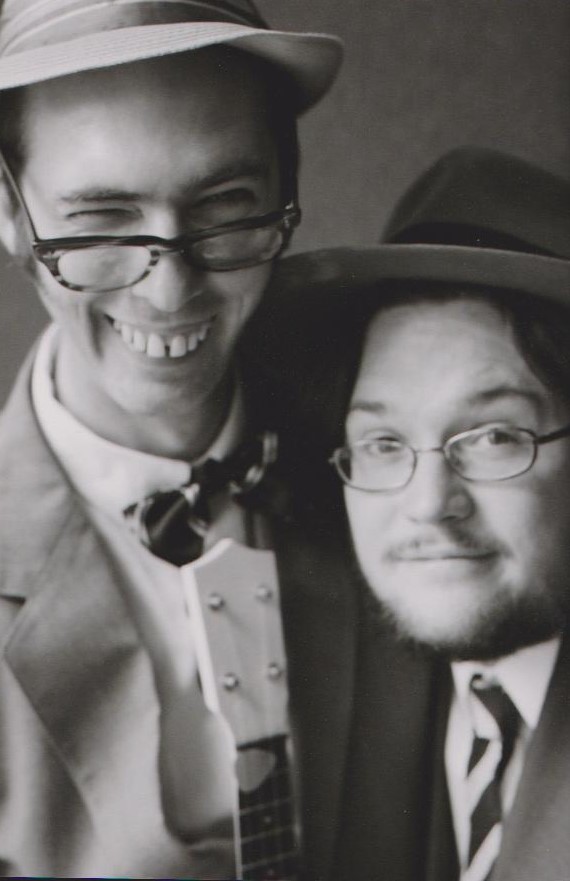 Finalists in the Queensland Music Awards for our songwriting, we've played the Queensland Performing Arts Centre, Melbourne Recital Centre, The Adelaide Festival Centre, New Zealand International Ukulele Festival, Melbourne Ukulele Festival, Cairns Ukulele Festival, Spruke, Blue Mountains Ukulele Festival, the Brisbane Festival, Perth's Awesome Festival among many others, and Tyrone played the 2107 Grand Northern Ukulele Festival in the UK.
You can read our story here, or you could just ask our youtube fans what they think...
We've made four albums to date. They're easy to find for streaming or purchase,
but our fans also love the hand-made versions of our recordings.
Ukulele Heart (2012) was the sound of Tyrone and Lesley finding their feat (sic),
realizing how much can be done with ukulele, double bass and sung words.
Bear with Me(2013) was a playful meditation on the role of the teddy bear as an attachment object..
We turned those songs into a fun show, part concert, part ritual, which toured the nation.
Gentlemen Songsters (2014) was a grown up recording,
an oblique tribute to classic song-craft peppered with absurd asides.
Baubles: a Ukulele Christmas(2015) was more of an anti-Christmas album than anything else.
Our show Tyrone and Lesley in a Spot (2016) combined our songs with projected images into surreal cabaret.
Now to our new collection!

OPTIMISM (2017) teams depth of writing with texture of recording, in a beautiful studio, in a collaboration with engineer/mixer James See. Built around a new set of Tyrone and Lesley's inimitable original songs OPTIMISM adds the sweet sounds of The Pockets and the manly men of Tenori as they lend their backing vocals to two of the tracks.
The ukulele and double bass at the heart of this record are augmented by grand piano and shiny smatterings of other acoustic instruments. It's delicate and deep, it's funky and peculiar. It's old fashioned in a very now sort of way.
We think it sounds beautiful and we think you'll think so too.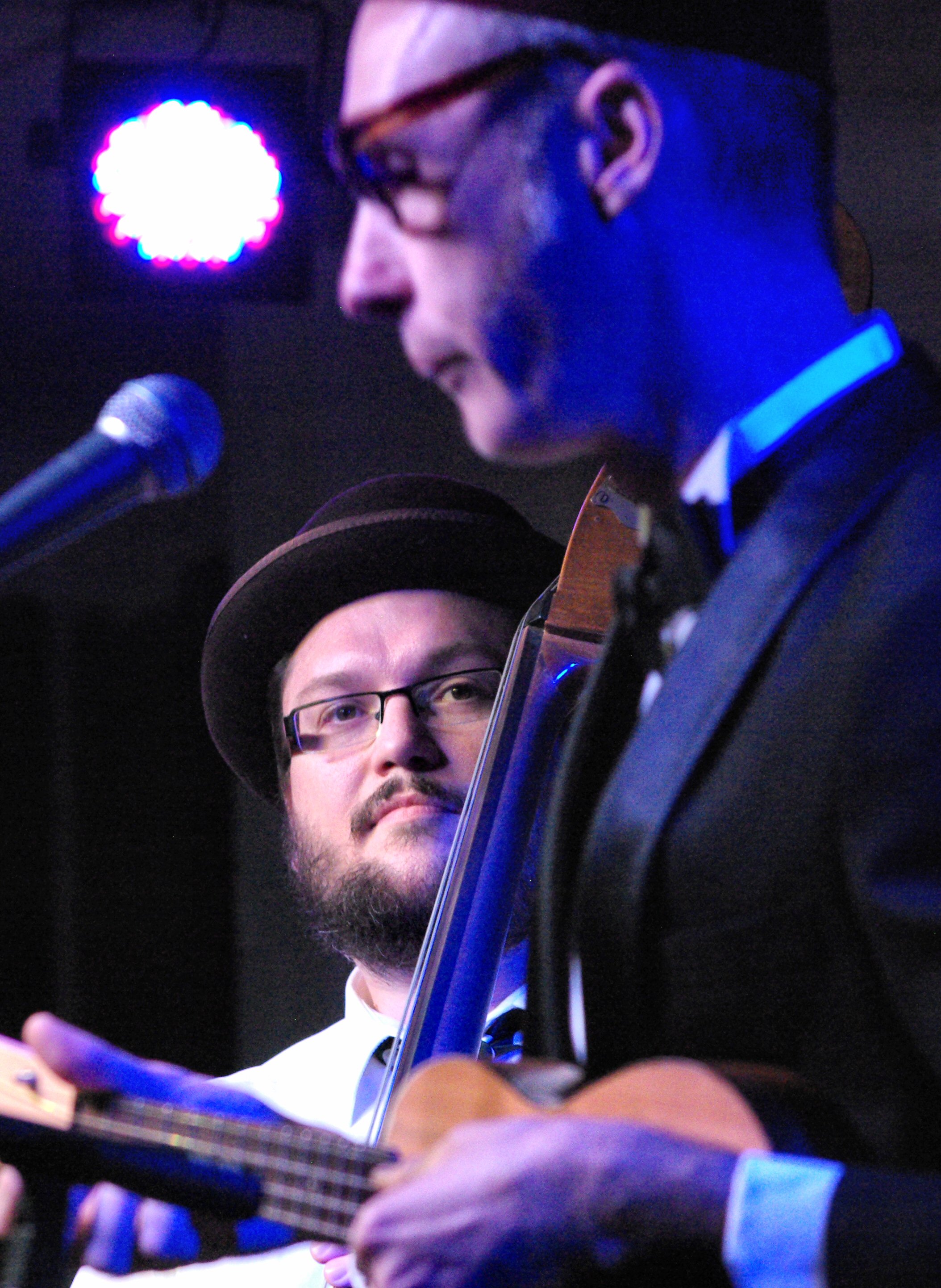 We look forward to the moment when we can release this music to the world, and hope you can be part of it. Explore the rewards, leap in and pledge now. Or tell a friend while you're thinking about it. Every little bit helps.
In addition to the album itself, you can see for yourself over there on the right hand side of the screen that there are lots of other options that we don't plan on offering anybody else except you.
Whatever your pledge, whatever your reward, you'll receive all sorts of interesting stuff from Tyrone and Lesley as the campaign proceeds. You'll see it first here, or it'll be for your eyes only. We've come up with playlists which shed light on where we've come from musically, and we'll keep you updated with behind the scenes images, sounds, video and writing that will open the door on our creative process as never before. You'll be the first to receive our new record, so you'll be anticipating OPTIMISM.
Now that's something to look forward to!
Thankyou. (Tyrone and Lesley, AKA David & Sam)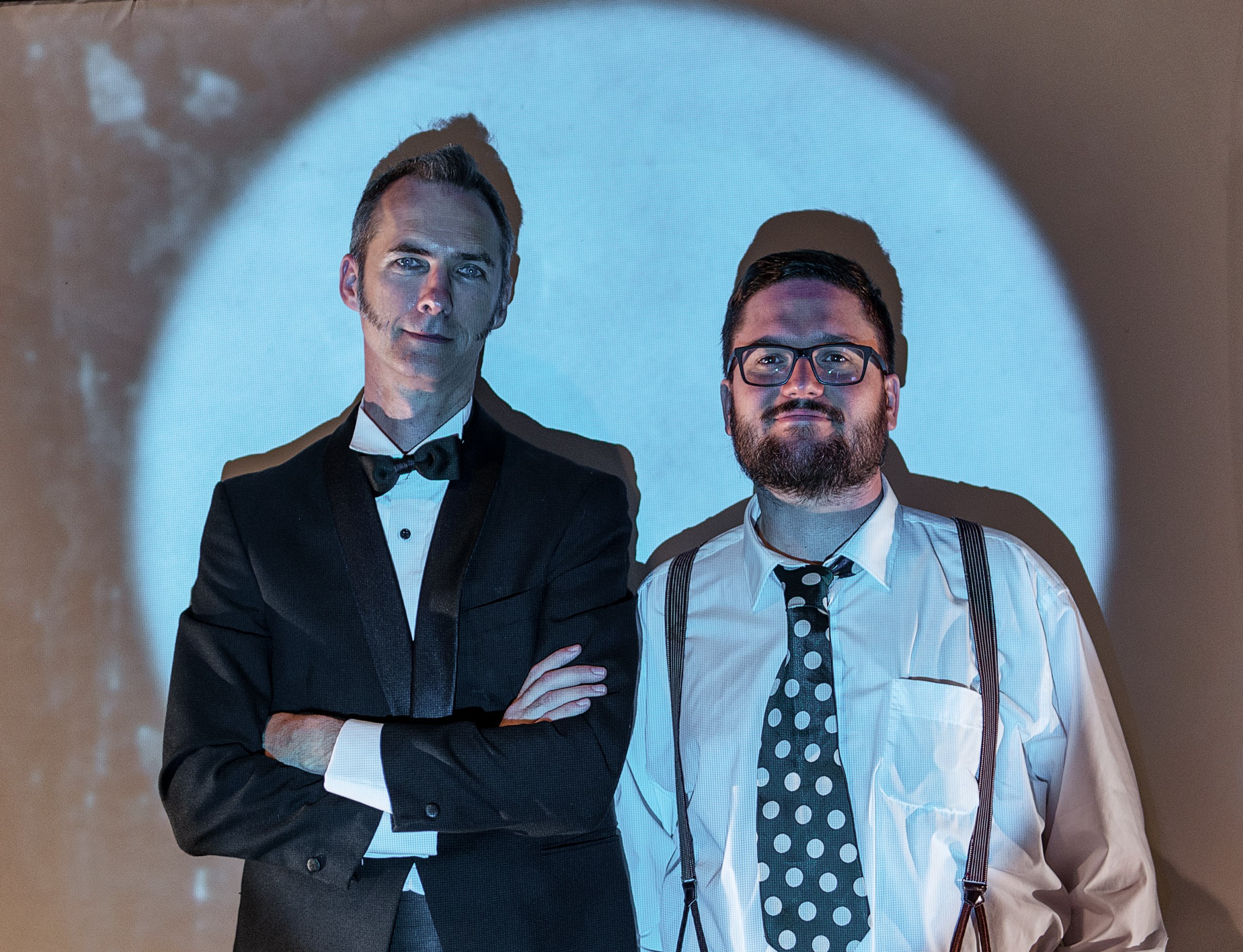 Tyrone and Lesley's Facebook, Website, Youtube
...and a track from the new album, performed live at the Brisbane Powerhouse,
tucked right down here, just for you, for reading this far!
How The Funds Will Be Used
We'll write, rehearse and record this music under our own steam. This project is largely about turning our sound into objects. When it comes to distributing OPTIMISM, we've come up with our own ways of keeping overheads down, and developed a distinct hand-rendered look & design along the way. People still want CD's, so we make them, and we make them special.
Some costs include CD disk and packaging manufacture & replication, artwork and printing costs for the book, and fees involved in publishing the music to online outlets. To get the word out we'll also dedicate some funds to online publicity and other strategies. We'll have to post the physical rewards out, and Pozible have a 5% fee as well which we factor in.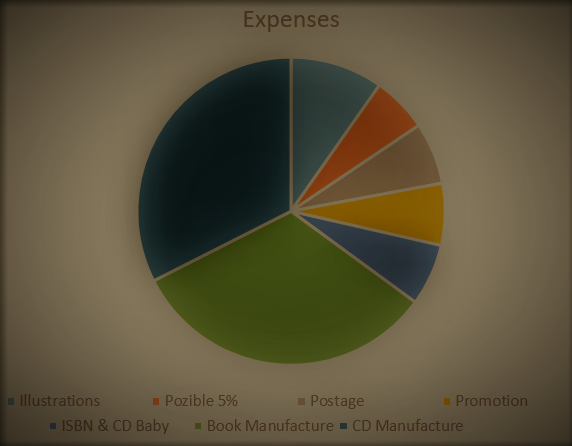 If we exceed our target we'll put the funds towards touring expenses.
With your help, we won't be unaccompanied.
The Challenges
Tyrone and Lesley are a small operation.
We do almost everything ourselves, with the assistance of our friends, family, fans and audience.
We think it's worth it because we're driven by the music we make.
This Pozible campaign is a way of giving our followers more than we're usually able to, and as an opportunity for more people to find out about and fall in love with what we do - that's our main challenge.
If we don't meet our modest target, the album's release will be principally online, and we'll keep doing what we always do: writing and playing good songs to good people.
We proudly crowdfunded our third album through Pozible, and look forward to the challenges inherent in doing it once more, especially now that it's an international platform.
Has any of this given you pause for thought?
Here's some thinking music from our Christmas album Baubles.
...and
another
challenge
is
to
have
enough
text
to
fill
all
this
space
so
you
can
see
the
many
rewards over here...............................................