Living knowledge, Indigenous cultures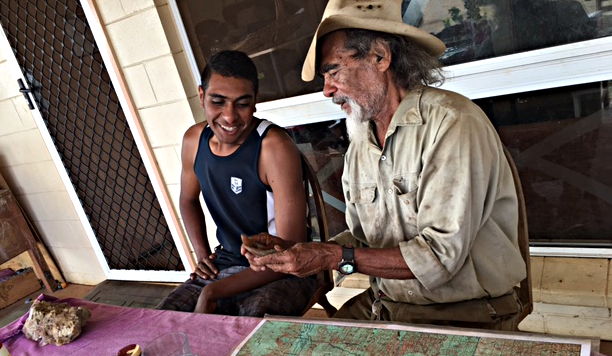 When old man Eric shows young Aidan goanna tracks on the trunk of a gum tree, a cycle of knowledge is being completed.
When Tamu-bai explains to her own daughter the right plants to collect and mix for a fever treatment, the same circle is completed.
These are expressions of living knowledge tradtions, and they are precious.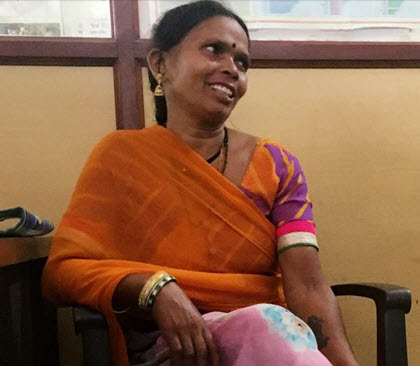 We are privileged to be working across two cultures, two traditional ways of life. Both are facing tremendous challenges, and they both have deep reservoirs of wisdom and potential.

We want to bring these two groups of people together for sharing, for learning, and for the sheer delight of the experience.
We are John Brisbin, Caroline Lieber, Varsha Rose and Laxmi Joy....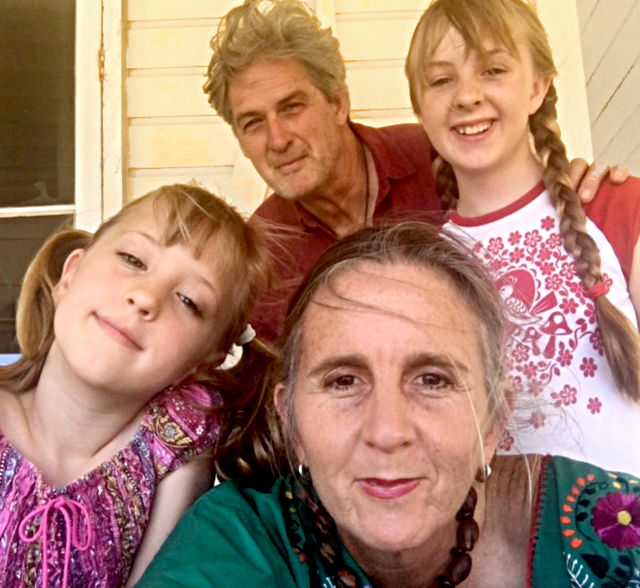 .... and this Pozible will fund our research trip to India in Jan-Feb of 2017.
Connecting up: Two points of reference
In Rajasthan, Tamu-bai is one of over 100 Gunis (village wise people) who have been working with rural development and traditional medicine among Indigenous people (Adivasi) for the past 25 years through a local NGO, called Jagran Jan Vikas Samiti (JJVS).
On Bonny Glen Station , Eric is a Traditional Owners of country his people have occupied for over 10,000 years. He is Chair of the Gummi-junga Indigenous Ranger Group.
Both JJVS and Gummi-junga need extra hands, extra ideas, and extra energy to validate and extend their work. This mutual need between the two groups challenged us. We began to explore the idea of a 2-way knowledge exchange as a way to inspire, enliven, and strengthen them.
How can we link and strengthen these two groups through a two-way learning project?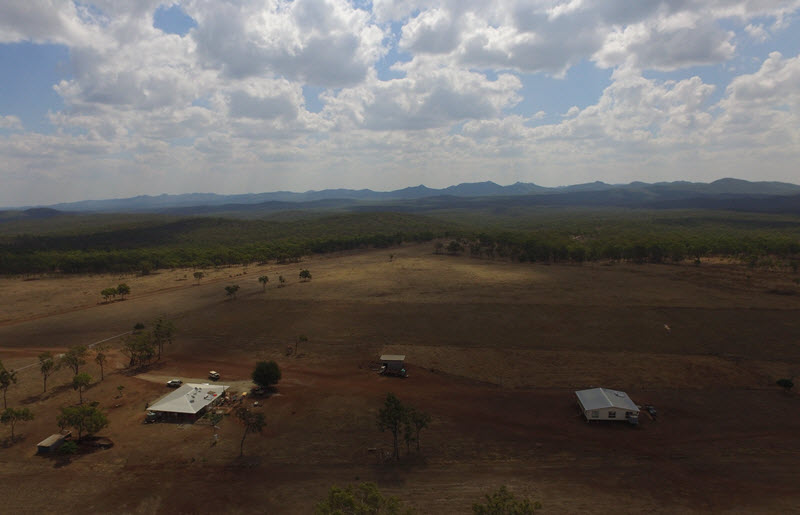 Bonny Glen Station is 146,000 ha property north of the Palmer River on the Cape York Peninsula, Far North Queensland. It is the ancestral home of Eric and Barbara Rosendale, who are Western Yalanji people.
Big goals
We think there is a wealth of possibilities to be explored in this project. Essentially, we want to establish an on-going exchange program where up to a dozen young people and senior leaders can visit for 2 months.
The farming and culture practices of the Mewari Adivasi people could be adapted to the conditions on Cape York. The Indigenous plant and healing knowledge of the Western Yalangi people could be shared in villages around Mewar. The cross-pollination of ideas and energy could spark renewed enthusiasm and blossoming in both groups.
Here are some ideas we want to investigate through this program:
Bringing health back into severely depleted soils

Social impact investing: Youth engagement in land management/bushcraft/farming

Indigenous livelihoods

Traditional medicines (healing power of the land)

Tropical/monsoonal landscapes: innovative primary production

Multi-generational wisdom

Small group governance and thrival strategies
The only way to learn in living cultures is through hands-on experience.
First steps
Last year, with funding from Hands On Health, the incredible Janine Castle, and our personal savings, we were able to fly the two senior leaders of Jagran Jan Vikas Samiti to Australia.
It was their first visit to this ancient country, and they were blown away by the plants, the country, and the people.
They walked on Bonny Glen country, talked with Eric, and suggested that there were many ways the two cultures could contribute to each other.
We've done half of the initial investigation: arranging for folks from Rajasthan to visit Cape York.
Now we need to go back the other way and scope the project in India.
Support already blossoming
As soon as we started talking about this project, we contacted Gerry Turpin. Gerry is an Mbabaram man from country a bit south of Bonny Glen. He is Adjunct Senior Research Fellow in James Cook University's Australian Tropical Herbarium in Cairns and he's keen to learn more about the traditional knowledge of indigenous people in Rajasthan.
Gerry is ready to travel and has already organised funding to cover his expenses.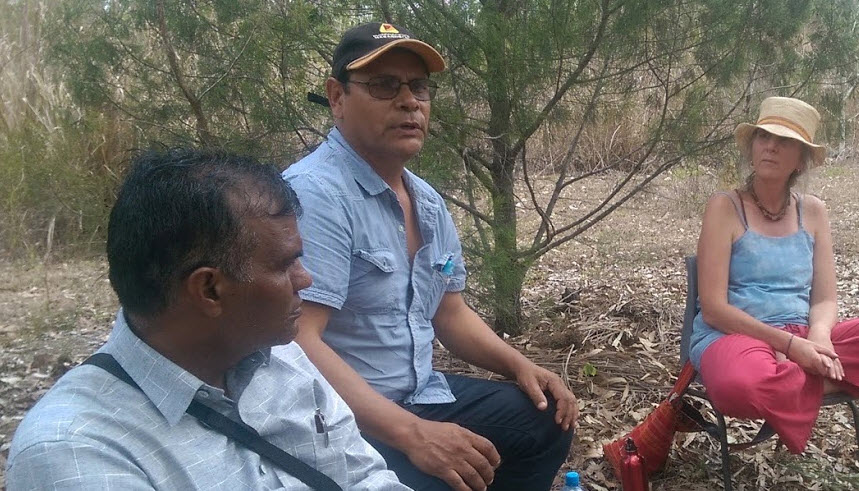 Gerry Turpin in roundtable discussion with Dr Ram Kishore-ji, JJVS Ayurvedic doctor, and Caroline Lieber.
How The Funds Will Be Used
This Pozible will enable us to travel to India for 3 weeks. The objective of the trip is to investigate and assess opportunities for an ongoing 2-way learning exchange for elders and youths of both cultures.
In this phase we will lay the groundwork, collect information, contacts, and supporters. We will be able to evaluate risks and challenges. And we'll test the enthusiasm of all involved to support an expanded program.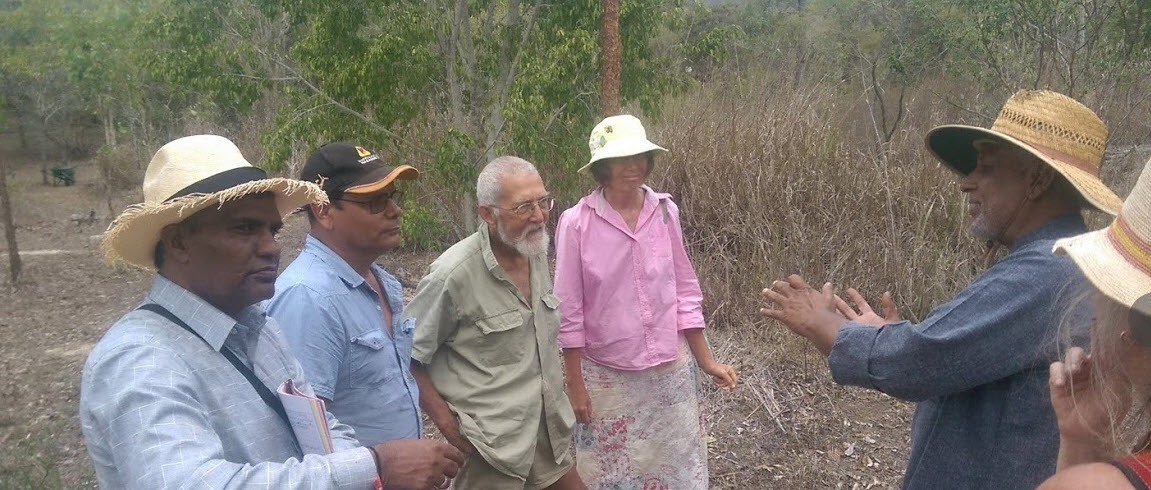 Dr Ram Kishore-ji (L) and Ganesh Purohit (R) visiting Babbler Hill plantings in Mount Molloy with Dr Gerry Turpin, Rupert and Juliana Russell, Caroline Lieber.
Planning
We will travel from New Delhi to Udaipur by train, and house ourselves on the JJVS campus. During our visit we will investigate the following:
1. Assessment of garden nursery and clinic facilities at Valli. This could be one of the knowledge exchange sites suitable for 6-8 visitors. The greenhouse facility is dedicated to seedsaving and propagation research on specialty plants that are rare or in high demand for traditional medicines.
2. Village life skills at Chandwas, a small mixed community of Hindi and Adivasi farmers united in their struggle on marginal agricultural land at the edge of a mining district and dam project. This could be the central location for extended on-ground knowledge exchanges.
3. Rural health clinic. We will undertake a travelling clinic with JJVS practitioners to visit several isolated Indigenous communities, meet their elders, and conduct clinic sessions using traditional plant-based treatments. This will provide a useful overview of the country, culture, and the challenges of intergenerational learning.
Budgeting
We plan to use the funds as follows:
$2,040: Airfare subsidy (6 people x Cairns-New Delhi return, $340 ea)
$2,160: In-country travel and expenses (6 people x 2.5 weeks, $20/day/pp)
$ 800: Facilities expenses at JJVS
$ 400: Publication of a research report (English and Hindi) to promote ongoing exchange
--------------------
$6,400
The Challenges
This Pozible is aimed at addressing our central challenge: raising funds for travel and expenses for our family.
Eric, Aidan, and Gerry are depending on us to open the doors, make the connections, and facilitate their explorations of this amazing opportunity.
There are always risks: ill health, family responsibilities, and other unpredictable challenges may rise up along our journey.
However, we expect this visit will have every chance of achieving our goal: to lay the foundation for an ongoing 2-way knowledge exchange.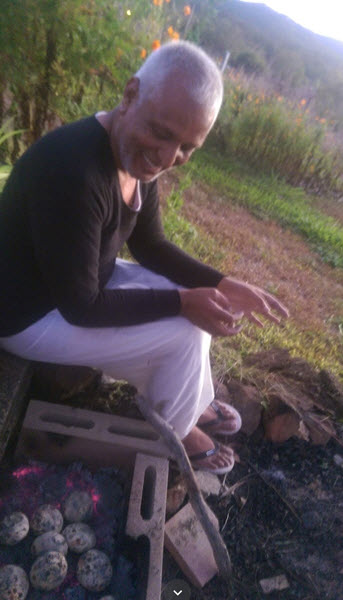 Ganesh Purohit preparing bhati, traditional Rajasthani country food, on cow dung coals, Mount Molloy.