We are setting forth on pilgrimage and we need your help!
If you have experienced this charming piece of puppetry, you may wish The Pilgrim deeply touch the souls of others as well as he touched yours...

In Summer 2017, The Pilgrim will be leaving Melbourne to feed on memories, emotions, music and words from audiences within Victoria and surrounds.We kindly invite followers to take part on this non-conventional journey of stories and emotions. We look forward to strengthening the bond with local communities through sharing and creating experiences together, exploring the wisdom of our differences and astonishing similarities.

We have been working with all our hearts to create the second part of The Pilgrim's saga. It is called 'Walking on paper' and we hope it will be finished by the end of the year. The Pilgrim's cabinet tour will be presenting this story as well as 'The first journey'.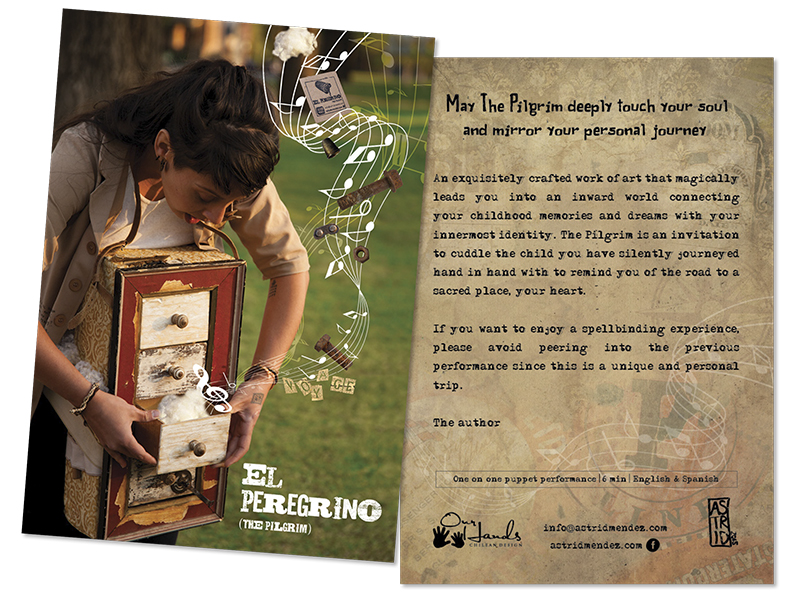 About The Pilgrim...
The Pilgrim was born in Chile during an artistic residency called 'Laboratorio Plan B' in March 2015. It was originally conceived as a piece of street performance for small audiences. However, it would soon be adapted to a miniature format with the intention to take this ingenious artistic concept to responsive stopovers on the route.

The Pilgrim is a puppet performance that can be enjoyed by the whole family. Roving with a simple production, the performer strolls around softly surprising people in any location.
For 6 minutes, a person is involved in an intimate story. This unique experience has been created for all those who are open to poetry and the beauty of simple things.

This theatrical performance unfolds on a hanging stage on the puppeteer's body. All the equipment, the music and the seat, is provided by the puppeteer who will magically lead you to a memorable experience. It is better viewed at sunset.





The Pilgrim's cabinet project
More than a year has passed since The Pilgrim was born. On his way The Pilgrim has been collecting many experiences, memories, sounds, objects, emotions.. It's been hard to pack them all in his suitcase. The Pilgrim needed a room where he could keep all those precious treasures, but also a place to share them.
Drawing inspiration from the 'Wunderkammer' The Pilgrim's cabinet is a cabinet of wonder dedicated to honour the stories of all those who have been part of The Pilgrim's journey. We are in the process to build this miniature theatre on the back of a camper van vehicle and it will be finish by the beginning of next year.
We'll hit the road this coming February and we need your help to reach this quest!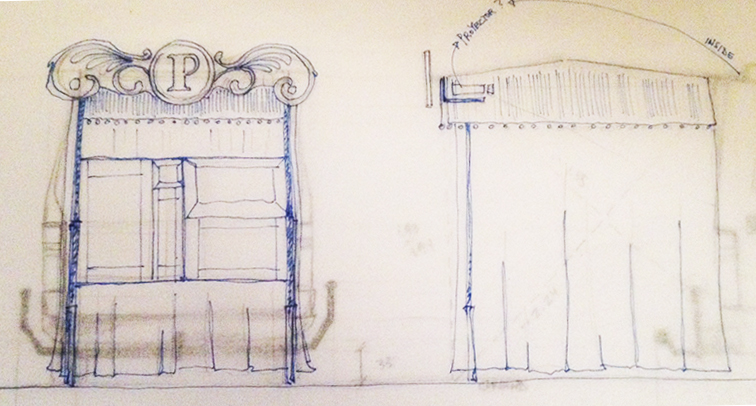 Testimonials
'It was September and I had been sick for a few days. I had fever for 3 days and I was feeling really stressed out. But one of those nights The Pilgrim paid me a visit.
In just a few minutes my face light up, my worries went away and I felt transported into this beautiful story. I felt warm, welcomed... I felt like going back home.
I was so thankful for that little period of time where I felt the connection with myself and my inner child... a place where you know that everything is going to be alright'
Daniela Fuenzalida
'The Pilgrim takes the viewer out of their immediate reality, transporting each traveller to a place both strange and familiar to all - the cusp of a new unknown journey. I never knew I could travel so far in just 6 minutes!'
Samia Khatun
'El Peregrino/The Pilgrim is a magical and charming journey of music, stories and emotions. Crafted with exquisite detail, each piece of the story is a journey that allows you to embrace the beauty of the small things...as when we were kids and connect with El Peregrino/The Pilgrim from your heart. It is an experience that worth more than a thousand words... Fantastic work of an artist who transmits true love and devotion to what she loves! Gracias Astrid Mendez may you take El Peregrino/The Pilgrim to the more souls you can!'
Tamara Oyarce
How The Funds Will Be Used
All the funding will go to:
Finalising the miniature theatre I.e. Purchasing materials as fabric and painting $350
Cover some of the tour costs as fuel and promotional material $650
Cover some of the documentation expenses I.e. Photography and videography $1,000
Total $2,000
*We're hoping to surpass this figure, as this money will cover just a portion of the overall expenses
* All costs are in Australian dollars
The Challenges
The Pilgrim and I know that this road it hasn't been an easy one.
The biggest challenge has been raise the money to develop this project. But it worth every single penny...
If you have experienced this performance you know what I'm talking about.
Any donation is welcome
Would you help us?
Thanks heaps!
Gracias!