OOPS, you have missed our campaign! Don't despair. Email me at melinda@themelbournemap.com.au or visit our website.


We are on a creative journey to put Melbourne on the Map.
Like you, we love Melbourne and believe this beautiful city deserves to be immortalised at this time in her history.
Three years ago we began the process of creating "The Melbourne Map".
Many thousands of hours have already been invested into the research, design and illustration of countless buildings, roads, gardens, transport, people and events.
Artists Lewis Brownlie and Deborah Young are now entering the final stages of this incredible illustration and once the intricate line drawing is complete we can go to print with the Black & White versions.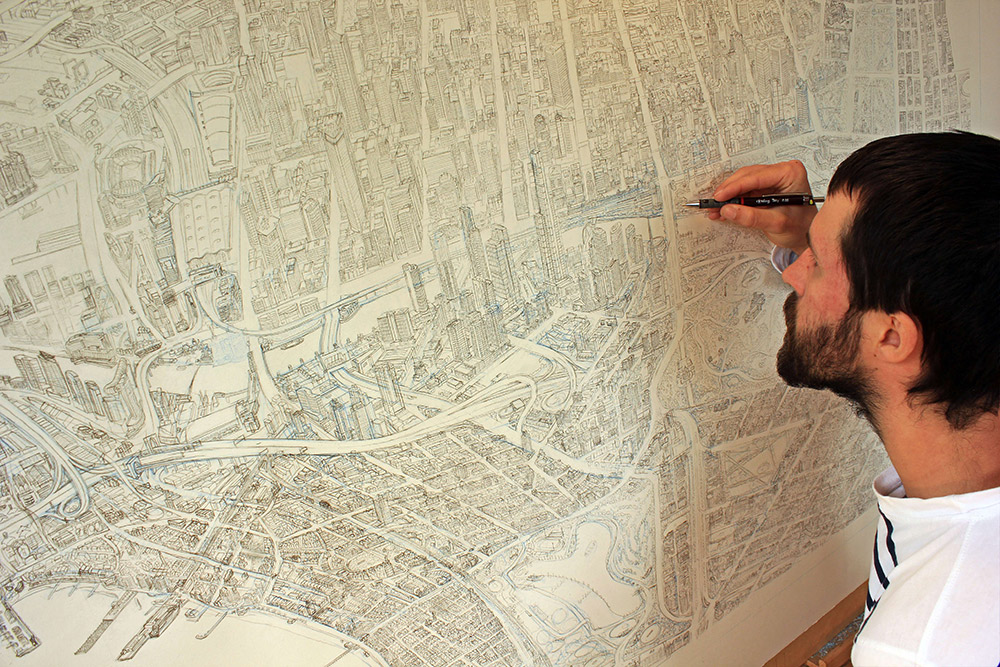 Lewis tending to some fine details at Federation Square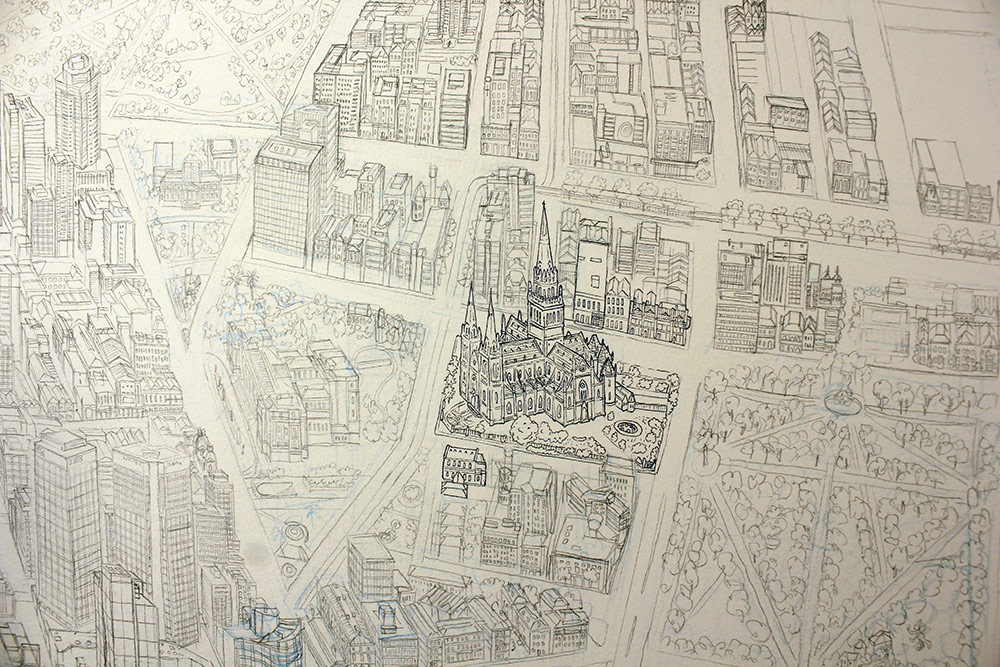 Moving from pencil to ink. Pencil buildings surround St Patricks Cathedral, the first building on the map to be drawn in ink. An example of what to expect from the finished line drawing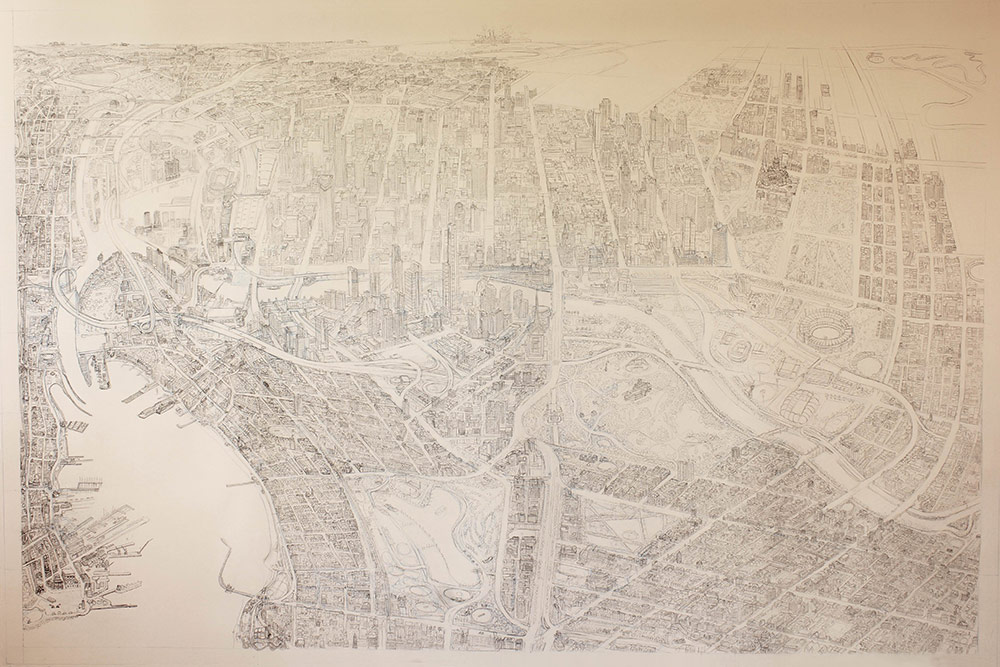 The Melbourne Map in it's early stages of pencil work, soon to be inked in. The original measures a bit over 1.5m x 1m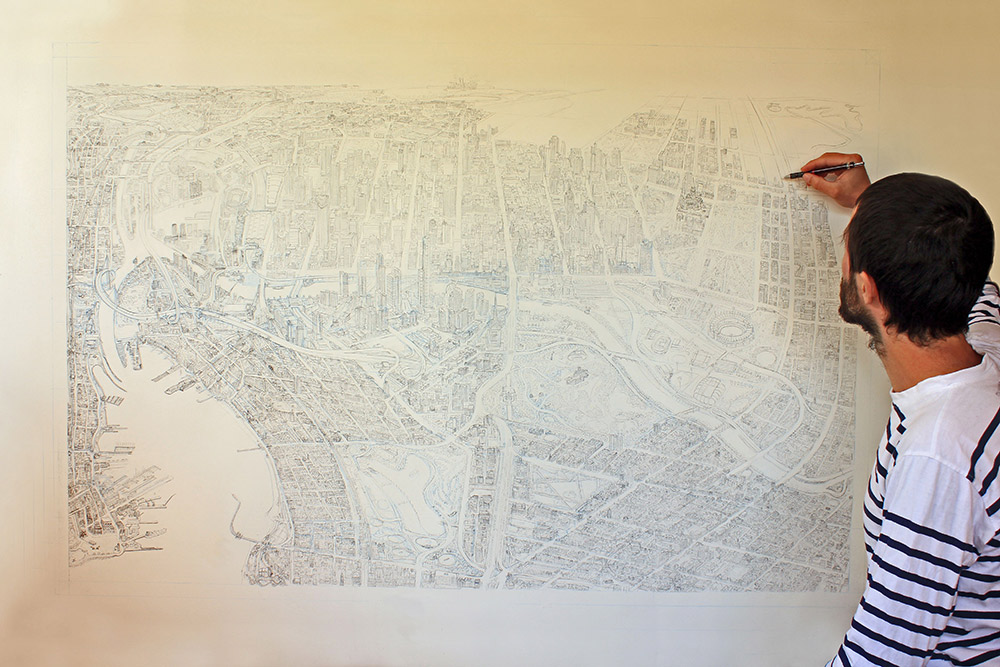 This photo gives you a sense of the scale of the project.
The research process is extensive, followed by the painstaking design decisions and the complex illustrations within each street and city block.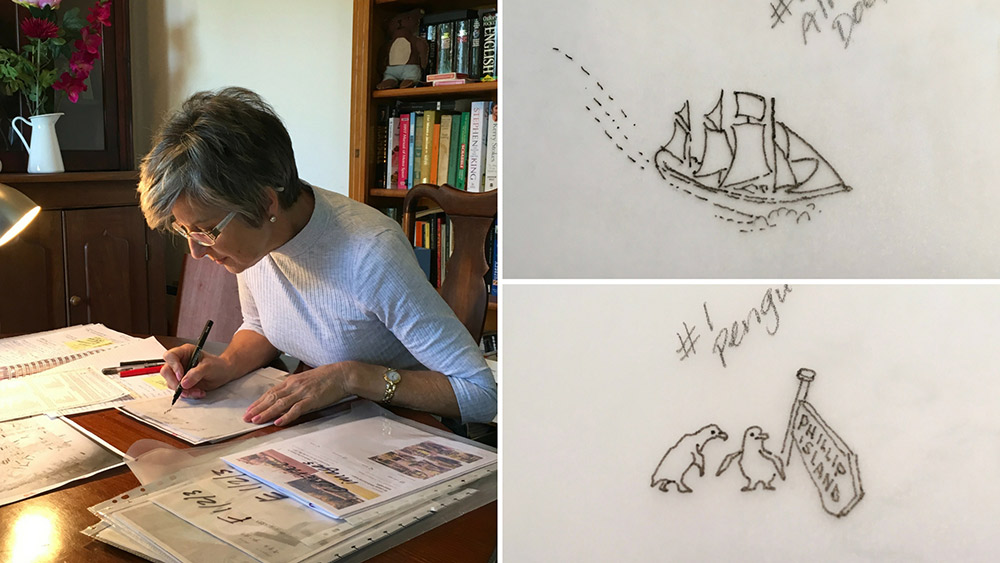 Deborah Young sketching some of the details to be included within the map.
Once the line drawing is complete, the next challenging step in the process is to refer back to all the research photos and hand colour the map.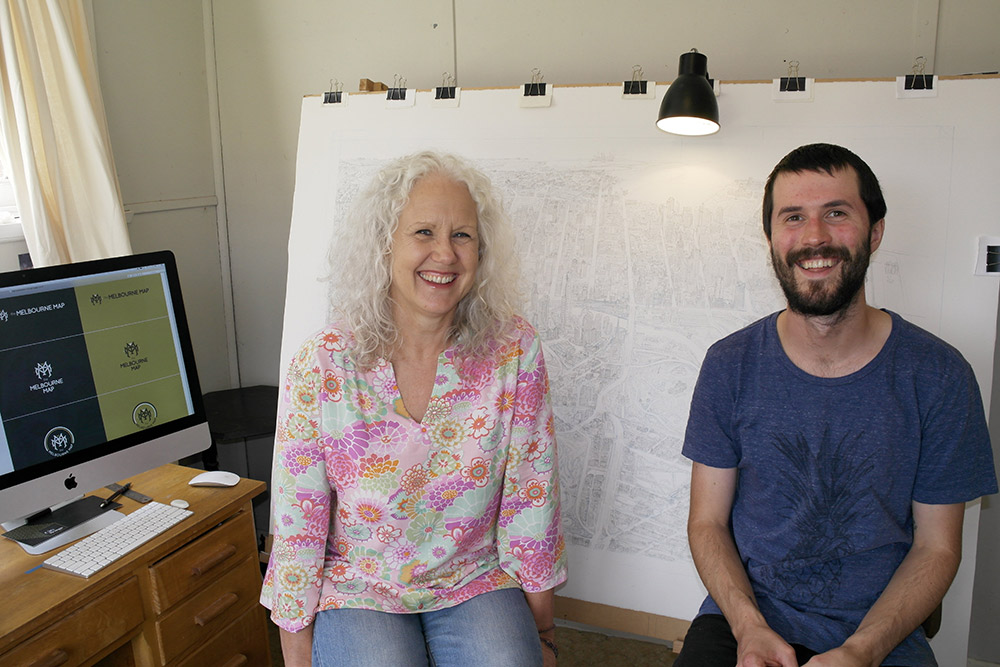 Melinda Clarke and Lewis Brownlie in the studio


How you can help
Your pledge of pre-purchasing a map means the world to us. We have prepared some great rewards with savings off the RRP for the early backers of The Melbourne Map project. This isn't only a fundraising drive; it's an exclusive presale event and you will know that you played a major part in the birth of The Melbourne Map 2017 edition. We hope you are as excited as we are.
Our history
We are no strangers to the challenges ahead. If you were around in the 1990's it's likely you remember this original Melbourne Map produced by Melinda Clarke & Deborah Young. More information on its history can be found on our website.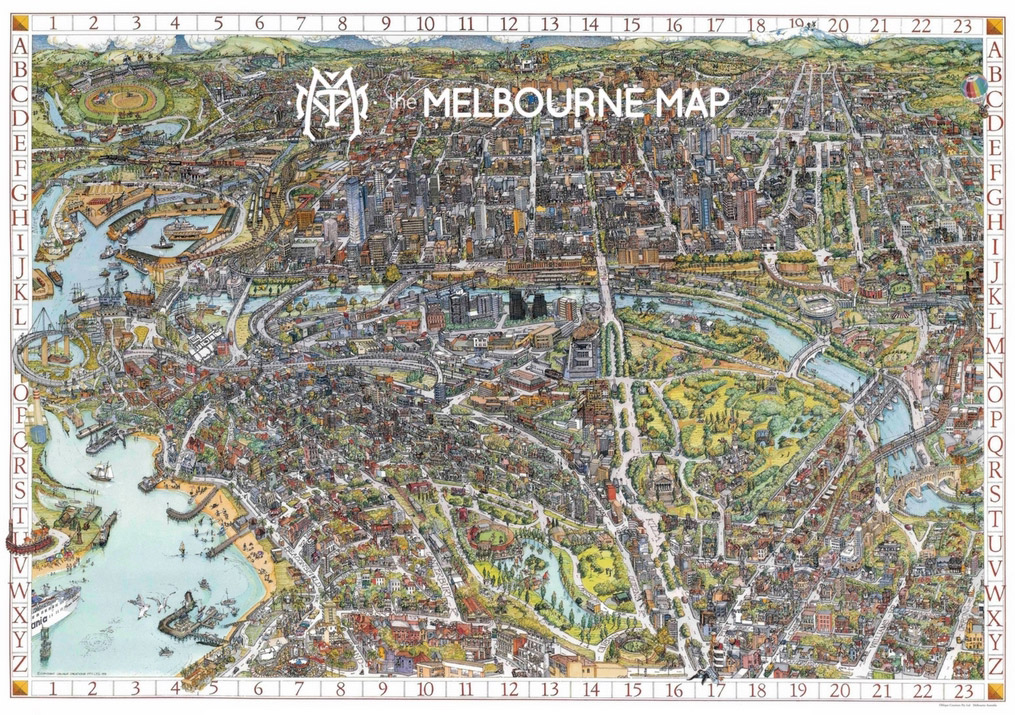 1991 Melbourne Map Colour Poster
Since the original version above there have been a quarter century of immense changes to Melbourne's landscape (eg Docklands, Southern Cross Station, Melbourne Star, Eureka Tower, Melbourne Sports & Entertainment arenas, Birrarung Marr, Crown and Southbank developments, Federation Square, Bolte Bridge, Melbourne Museum etc. etc.) - it was time to update The Melbourne Map.
MEET THE TEAM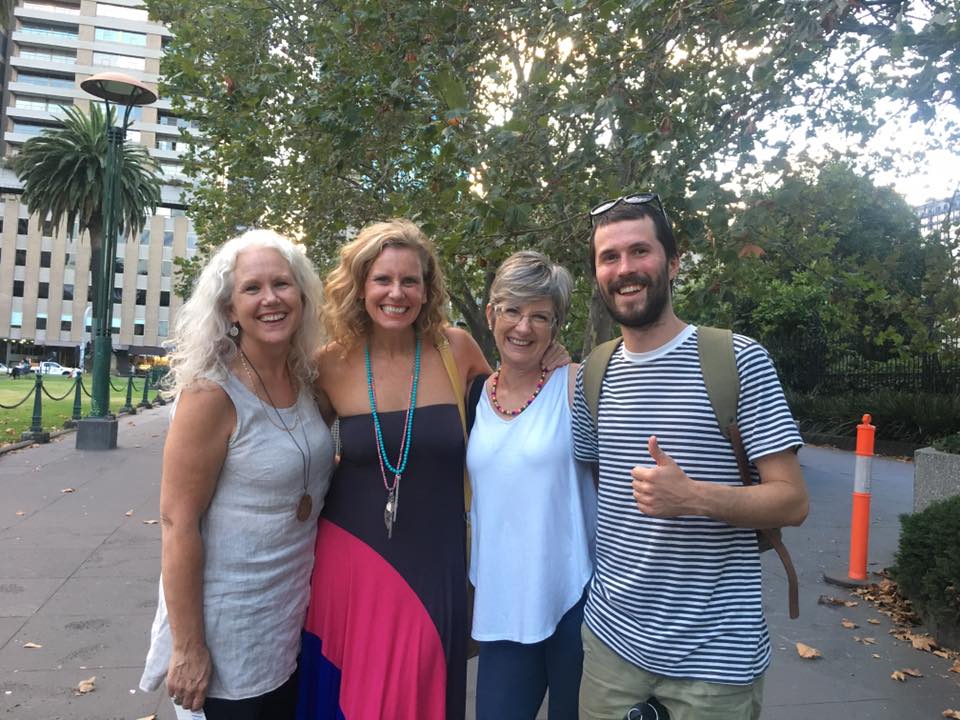 L to R Melinda Clarke (Founder/Producer) , Julie-Anne Black, Deborah Young (Illustrator), Lewis Brownlie (Illustrator)
Here's a recent photo taken at the end of our day filming the crowd funding video.
We are joined by Julie-Anne Black who was our Producer for the day and kept us all sane and on point!
This has been an amazing project to work on and we are fueled by the support and encouragement of friends and strangers.
The first map brought enormous joy and pride to Melbournians, we hope to achieve the same again.
Thanks for your support.
Regards
Melinda, Lewis and Deborah
How The Funds Will Be Used
The funds raised in this campaign will go towards purchasing:
computer equipment and software needed for the digitization stages
artist fees
research costs
hand colouring
scanning and photographing
preparation of the artwork for printing
printing costs
packaging design and purchase
packing setup/distribution
fees to Pozible for this campaign
The Challenges
More than $100K has already been invested in the project so we are fully committed to seeing it through to the end.
The biggest challenges and obstacles have been overcome and we are on the home straight now. Whilst our best estimates for the completion date have been set, there is always the risk of unforeseen circumstances that may delay print production. We believe we have been conservative with our time frames and will be able to deliver the prints on time.
Who we support
We believe all businesses have a social responsibility to give back to the community. We have chosen to support an amazing organization called Kids Under Cover. A portion from the sale of every poster will be donated to Kids Under Cover and we will also support them by spreading awareness of the great things they do for the youth of Australia to prevent homelessness. You can find more information on Kids Under Cover at https://www.kuc.org.au

And to those who support us....
You can't pull off a project like this without a whole gang of supporters, and we would sincerely like to thank these people who have been on the ride so far and contributed their time, expertise and equipment.
Our wonderful supportive families and friends – you know who you are - we are so grateful, every day.
Julie-Anne Black – Be Brilliant Now, Annie & Les Frazier – Frazier Film Lighting, Tess McMahon – Scribble Studios
Rebecca McIntyre, Trudy Seca, Kelly Davis, Jamieson & Luke Papagianis, Gary Phillips, Karen Hollenbach – Think Bespoke,
Clare Bowditch – ABC Radio, Madeleine Saric - Dubleup, Nathan George – Pixeld, Tom Chapman – Crew of One,
Corey Dodd – Elk Creative, The whole crew at Back to Back Theatre Inc.
Draw inspiration from the Melbourne Map
Start crafting your own art project