Buy your Demon Dumplings Premiere Tickets here!!!! You can also help meet some of the orchestra's running costs by purchasing other Morriszonkle music @ absurdly discounted prices, as well as; special & personalised music recordings based on your direction; you can even book stupendous live-Szonkle entertainment just for you & so much more!!
On Saturday 29th October this year: cult Melbourne weirdo / wonderful music maker BJ Morriszonkle will present the premiere performance of 'DEMON DUMPLINGS' - a Symphony for Toy Instruments.......
After years of collecting $2 store, op-shop found and home made instruments, the music studio in BJ's carport got so full that a resident flea died of suffocation. BJ decided to compose a 'symphony' to make use of all these devices, otherwise destined for landfill or worse still; no other tangible creative life. An 18 piece Orchestra featuring members from many of Melbourne's most awesome & creative bands has been thrown together to present his findings....
BJ worked on the piece every Sunday afternoon over the past year in his backyard..... every Sunday afternoon all the dogs in the neighbourhood barked in torment in reaction to the composing experiments.
The instruments being used are largely cheap, plastic junk items but BJ thinks they are much too diabolical for just throwing away. They include wobble boards, animal noise gurgle sticks, squeeky animal toys, a giant piano playmat, home made 'clanger bowls', broken & untunable zithers, bicycle bells, slide whistles, balloon whizzers, wind tubes and too many bezerk things to list. The members of the orchestra will also play their traditional instruments (drums, saxophones, trumpets, violins, basses etc) so they don't feel constantly degraded across every moment of the 40 %20 minute work.
Take a little tour that features some of the toys here:
Mr Morriszonkle describes the work as something like a 'Chinese horror movie soundtrack'.....
The Premiere Party will be inside the mysterious 'moon tent' @ The VILLAGE FESTIVAL in Edinburgh Gardens, North Fitzroy. (THIS TENT HAS A VERY LIMITED CAPACITY!!!) BOOK ONLINE ASAP TO GET IN. There is a BONUS one hour VARIETY SHOW SPECTACULAR at 7pm, followed by the dangerous first performance of the DEMON DUMPLINGS at 8pm.
A Ticket to the Premiere Party also gives you full access to all of the amazing happenings at the festival for the day & night of the concert. The Village Festival is a wondrous multi-arts event that pops up annually in the gardens inbetween dates at other sites around the nation. It's strange & human, colourful, invitingly off-beat, genuine, friendly and lots of fun. Check their websites out to find out more about the 2016 program.
https://www.facebook.com/VillageFestival/
http://www.thevillagefestival.com.au/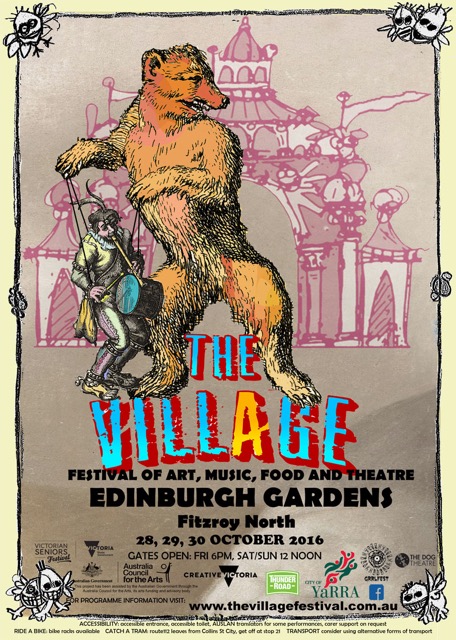 How The Funds Will Be Used
There is a significant amount of money required to make this all happen & of course.....
Musicians need to be paid for their time!
so.... BJ has guaranteed $200 to each performer for their talents, efforts and for degrading them by making them play with the toys.
All of the money raised will go towards covering these performer fees.
If this amount is covered by ticket sales & other fundraising items; any left over amount will go towards recording costs, cd manufacturing, batteries, score printing and could even cover some of the income BJ will loose taking work off for the rehearsals. Don't hold back! Buy weird & wonderful art so this idiot can make more weird & wonderful art!
(Kindly a rehearsal space at Bakehouse Studios in Richmond was donated to the project, making covering costs, that little bit more achievable)
DEMON DUMPLINGS TICKETS & SUPER SZONKLE / SUPER SELLOUT BARGAIN SALE THING DETAILS:
$15


GET: 1 x ticket to the Premiere Party w/ Variety Show (29/10) + access to VILLAGE FESTIVAL on the date


$1+


GET: 1 x mobile phone ring-tone with a long winded email


$10+


GET: the ENTIRE! Morriszonkle back catalogue available on Bandcamp
http://bjmorriszonkle.bandcamp.com/


$15+


GET: 1 X reserved cd recording of the symphony


$30+


GET: 1 x exclusive invitation to the watch the dress rehearsal / recording session (on the evening of 23/10 in Richmond, VIC) PLUS all you can eat lollies.


$80+


GET: 1 x Morriszonkle cover or original tune just for you
here is a link to some munted cover songs szonk recorded for fans in 2014


$200+


GET: 1 x Morriszonkle live set in your house or venue of choice


$500+


GET: 1 x long winded ring-tone with a super brief email + 7 hours of Szonkle Creative Time* (can be negotiated: but things like scoring your film, drum lessons, playing on / arranging for your recording are the idea) + YOU GET ALL OF THE ABOVE


The Challenges
The Symphony uses instruments that have NEVER BEEN USED BEFORE, IN THIS COMBINATION, IN HISTORY!
It's wild, truly creative new music that has been an epic challenge to complete. Rehearsal time is super limited and we don't really know yet if the piece will work as intended. All of this equals REAL - LIVE - SOUND - DANGER! If it does flop - it will be one of the most spectacular flops to ever have flopped anywhere!
GET YOUR TICKETS TO THE SHOW NOW!
COME & FIND OUT IF IT'S A DISASTER OR TRIUMPH!
Don't miss out on Dumplings!
While you are here you are all warmly encouraged to cash in on ANY of the other LIMITED TIME BARGAIN OFFERS! The more money this brings in, smaller the holes that will burn in the pockets of the composer.
Roogan Doogan to All & to All; Roogan Doogan!