We are the Suara Indonesia Dance Group and we need your help to get to Europe!
WHY WE'RE ON POZIBLE:
As a professional Indonesian dance group, we tour Australia all year round, performing our unique repertoire that spans the diverse cultures from the archipelgo of Indonesia for festivals, schools and events. Our commitment and enthusiasm for sharing our culture drives us to spread our wings and take our show to Europe.
THE EUROPEAN TOUR:
Back in 2013, we toured Europe for the first time performing and conducting workshops at schools, communities and International festivals in The Republic of Czech, Germany, The Netherlands, France and England. The crowds of Europe loved us! And we can't wait to be back to share our Indonesian culture with them once more.
We start our journey in France where we will teach workshops at the Conservatorium of Music in Paris and at the Philharmonie de Paris. After Paris, we move to the United Kingdom, performing for refugees in London. Then we head to the Netherlands to perform for Pasar Malam (Indonesian Night Market) in Amsterdam. From there, Prague in Czech Republic for a performance at a cultural festival, and our last destination will be Berlin, Germany where we perform at the Theaterhaus Berlin Mitte.
ABOUT US:
We are a collective of friends and professional performers that come together to practice and perform Indonesian traditional and contemporary dance every week and have done so for the past 15 years. All of us are of mixed Indonesian-Australian heritage or Indonesians who live in Australia, and we all share a passion and love for Indonesian culture and dance.
Together we present an energetic mix of dance, body percussion and song unparalleled by any other performance group in Australia. With a blend of traditional and contemporary influences from our Indonesian heritage and Australian upbringing, Suara Indonesia Dance Group brings liveliness, originality and all-engaging performances to the stage. We specialise in Acehnese body percussion and West Sumatran body percussion using galembong pants to make rhythms.
We are dedicated to preserving and presenting Indonesian dance and music around Australia and to the world. We have performed and conducted workshops extensively around Sydney and Australia, Indonesia, New Zealand, the Philippines, and Fiji. We have even conducted workshops in refugee camps in the West Bank Palestine and in the highland villages in Papua New Guinea!
We believe in what we do and we would appreciate your support. We eat, sleep and breath the Indonesian culture of dance devoting every spare moment to spreading our passion and enthusiasm around the planet. If you love dance, Indonesia or what we stand for please donate to help us share it with the world. TERIMA KASIH!
Love from the Suara Indonesia Dancers
Alfira, Murtala, Amelia, Danii, Jemma, Karina, Kartika, Vira, Dian, Antok, Lauren, Shanti, Dian, Citra, Tata and the whole suara family! xx
How The Funds Will Be Used
Our fundraising is going towards:
airfares
accommodation
food
transport from one country to another country
We will not be making any profit from this tour.
To perform our repertoire, 7 performers will travel to Europe - which has been budgeted to cost over $20,000! (This excludes most food and accommodation costs which are being provided by friends, family or the events that we are travelling for).
In fact, the $10,000 we are asking for on Pozible is only a portion of the total amount we need to fundraise. This will just be enough to cover our airfares. The rest of the funds will come from our savings from performances, including fundraising events locally and in Europe to help cover the other costs of transport, food and accommodation.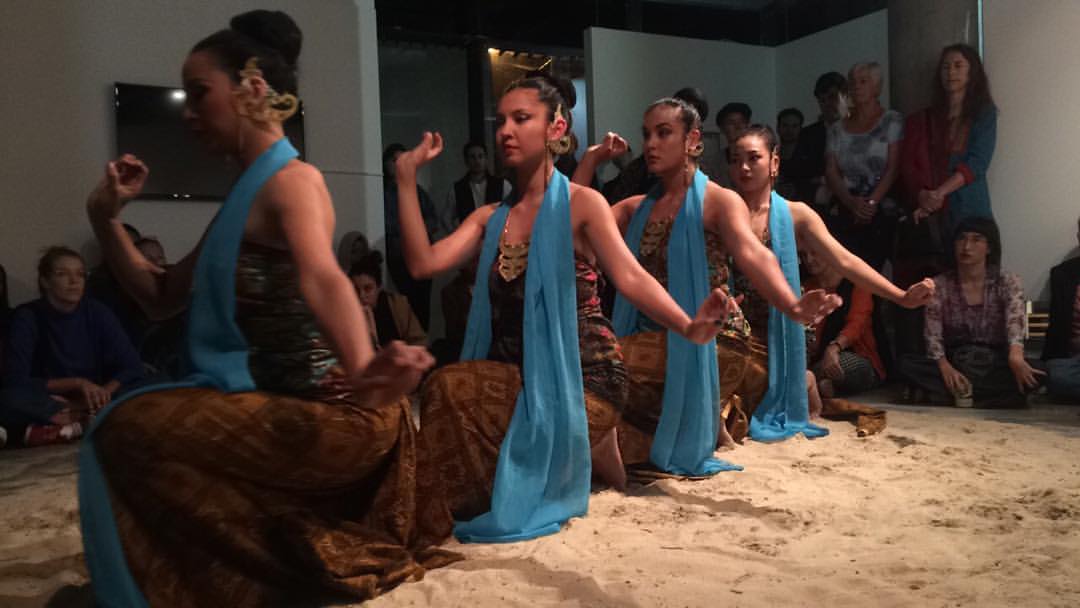 The Challenges
Why Australians representing Indonesian culture?
Some of us were born here, some of us born in Indonesia but grew up here, and some of us moved here to reside in this beautiful place we call home. Our hearts are in two places however, Indonesia and Australia. It is very important for us to share our heritage and preserve our culture here in Australia - breaking down any misconceptions, promoting multiculturalism and helping those here also find their own identity through music and dance. We not only represent a growing diaspora of Indonesians living abroad but also ourselves - a unique group of dancers and musicians passionate very serious about maintaining culture through music and dance and people-to-people relationships.
In this world there are many misconceptions about Indonesia and one of the challenges for us is to break those misconceptions down through performance and education and spreading of love through music and dance. We love what we do and are very passionate in what we do and if we can make that little difference in someone's life we would be very grateful to meet any challenge in our way!
There are always challenges for people of mixed or different heritage here in Australia. We have embraced those challenges by exploring the beauty of music and dance of our own culture from diverse Indonesia, and encouraging others to as well so that everyone we can help make a more diverse and complete society here in Australia.
We aspire to inspire people - to acknowledge the past as a way to comprehend and contribute to the present and future art form of dance.