When I was discovering music for the first time, Michael McGlynn worked at the music store up the road, where I would spend hours marvelling over guitars and bugging the employees about music gear.
Nearly two decades later, I've been lucky enough to travel around the world - playing, singing, writing, performing - and he's become an ARIA Award-nomiated Producer with his own studio, Vienna People.
We're excited to work together on my first full-length album release, but we need your help to make it happen!
I've put all of myself into this project - I want to share everything about the record with you, invite you into my life as much as possible, and hopefully create something that can be cherished - exciting - thought-provoking. A joyous and positive thing, for as many people as possible.
If you're reading this, chances are we've met somewhere on a street corner, in a mall, at a bar, by a stage - and had a beautiful exchange. One that has had a special place in my heart for a decade now.
A little energy from my music to your heart, and a little energy in return from your pocket that has helped me continue to travel, write, learn, grow, and most importantly; let me continue to make music as my life's purpose.

Thank you.
Please consider sharing that exchange with me again, here on Pozible, today.
Help me make this album - I hope that the music that comes out of it brings you all the joy, love and peace that I intend it with.
• • • • // • • • • // • • • • // • • • •
There are a tonne of rewards for helping me make this dream a reality!
From signed copies of the album, handwritten letters and skype shows - all the way up to my own loop station, my first acoustic guitar, a show at your house, even building your very own custom electric guitar at my place!
You can even become an executive producer (including a percentage of royalties - actual part-ownership)
Here's a breakdown of all the campaign rewards!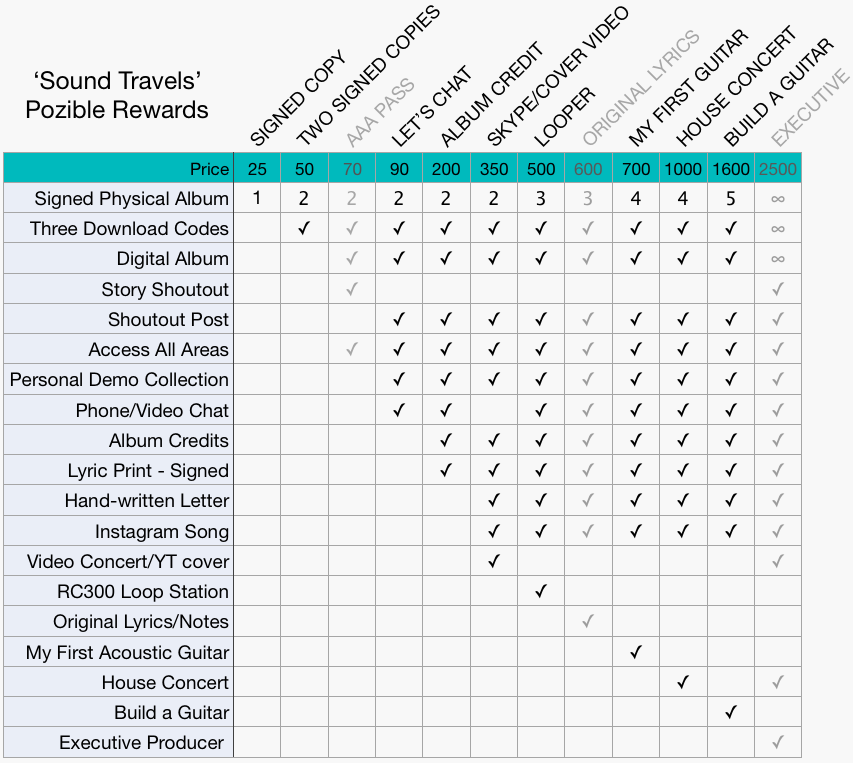 (Greyed-out rewards will be released slightly later in the project)
(Don't hesitate to get in touch with any questions, ideas or feedback!)
Choose a reward you love, and let's make this happen together!
Budget Overview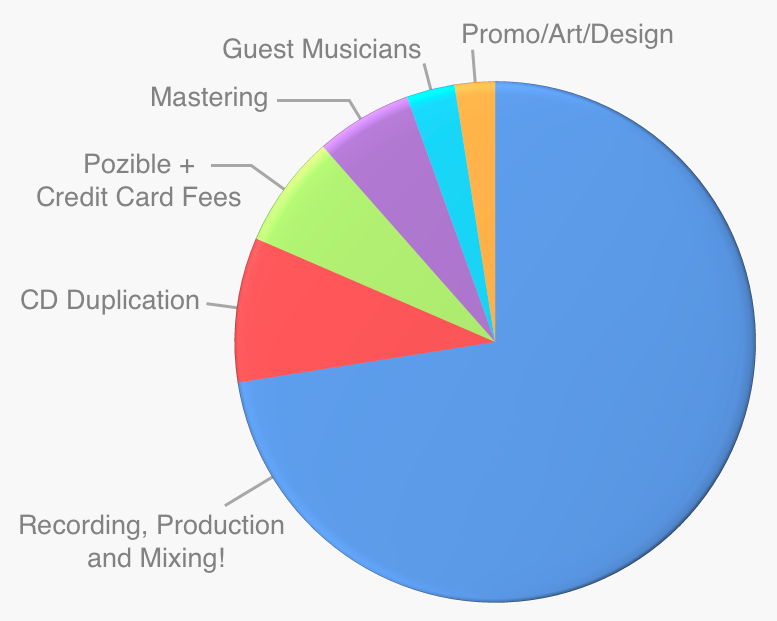 If we reach our initial $10,000 goal (AUD), it will pay for a basic 4/5-track EP....
$7,500..... Recording, Production, Mixing of 4/5 songs
$800......... Replication/Printing of 500 street/demo-style CDs
$700......... Mastering (4/5 songs)
$700......... Fees for Pozible and Credit Cards/Paypal (7%)
...Leaving just $300 for all guest musicians, promotion, release (iTunes/Spotify etc), all artwork/design, and any other incidental costs!
To produce the full-length album - with all the trimmings - professionally released - and get out on the road to perform it for you; we need your help to reach our stretch goal...


$20,000
$14,500..... Recording/Production/Mixing of 10 to 13 songs, with full instrumentation
$1,800........ Replication/Printing/Wrapping of 1,000 gorgeous four-panel CDs
$1,400........ Fees for Pozible and Credit Cards/Paypal (7%)
$1,200........ Mastering (Full Album)
$600............ Guest Musicians/Equipment
$500............ Promotion, Release, iTunes/Spotify fees, Artwork and Design
With everything over the goal going toward shows, more show promo, travel, time taken to record, and help make the release a success!
Potential Challenges
Getting this project out there, to all the people I've met, and who may want to be a part of making this album reality.
Please, help me spread the word!
After you've backed the campaign - share the link to this page, and support the creation of this album
I hope these songs can bring as much joy into your life as I've had in my years of music making.


THANK YOU
I'm look forward to being able to make something truly special with you


Love,
Jack Shepherd