Hi,
I'm Nelly Thomas and I'm an Australian comedian, writer and mum.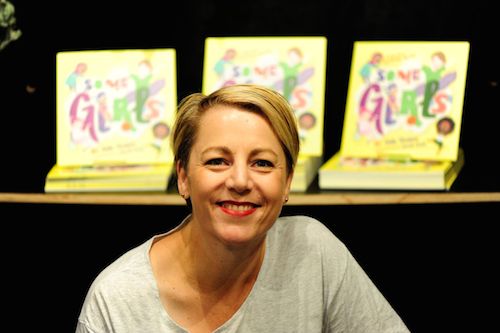 About 18 months ago I wrote a book for my (then) 4 year old daughter.
She was having a hard time being teased and sometimes bullied for being "like a boy" (!?!), so I decided to write a book for little kids (pre-readers) that affirmed all girls - however they looked and whatever they liked.
It is called SOME GIRLS and has GONE OFF!!!
Initially I thought I'd print about 100 copies for local distribution, but due the incredible success of the SOME GIRLS Pozible campaign and the overwhelming reception of the book, we printed and have distributed almost 6,000. Woot, woot.
Lots of people seem to love it...
LEFT TO RIGHT: Senator Penny Wong, Dr Mimi Ngum Chi Watts, Kaz Cooke, Teacher, Child Rights Australia, Carlton Primary, Book Signing, Commissioner Ro Allen
So, now it is the boys' turn!
The much anticipated SOME BOYS is ready to roll and will continue in a similar vein:
Boys can look how they want
Boys can can like what they want
Boys can be who they want
There's also some extra emphasis in the boy's book about it being ok to cry, to feel shy and to have FEELINGS!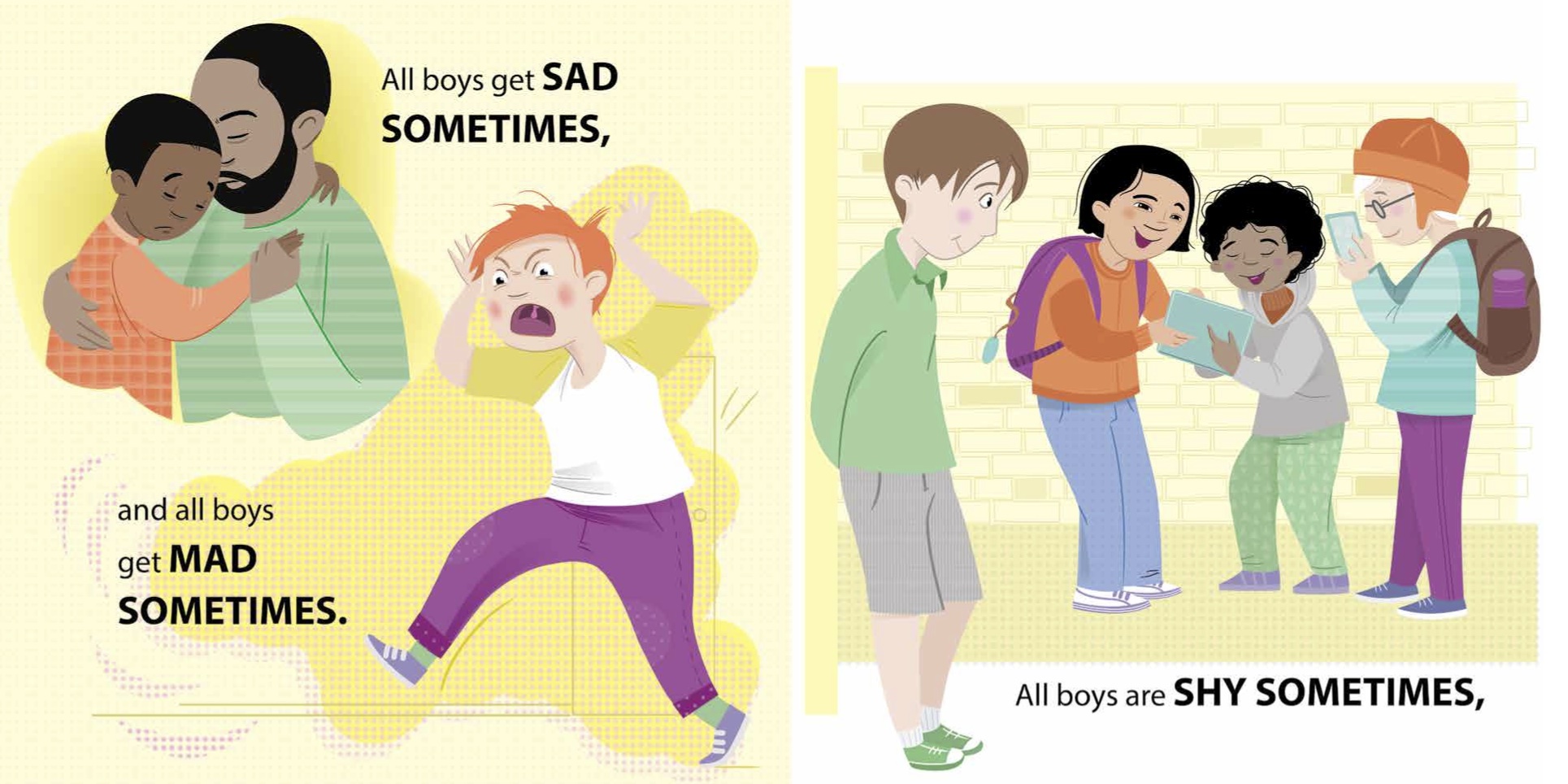 Many little boys are denied the right to a full emotional life and it sets them up for poor mental health and sometimes, anti-social and destructive behaviour in later life. Let's help change that.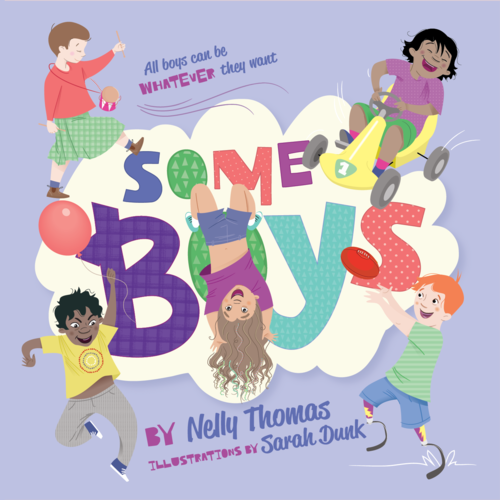 Both SOME GIRLS and SOME BOYS are specifically designed to be fun, joyful and also, to challenge old-fashioned gender stereotypes.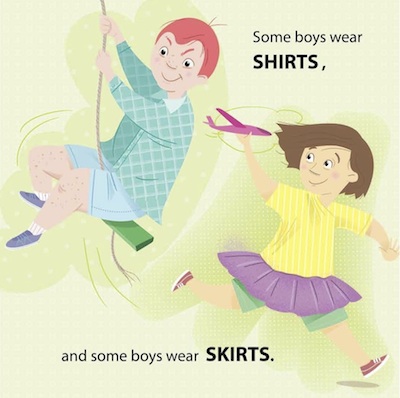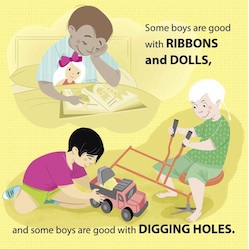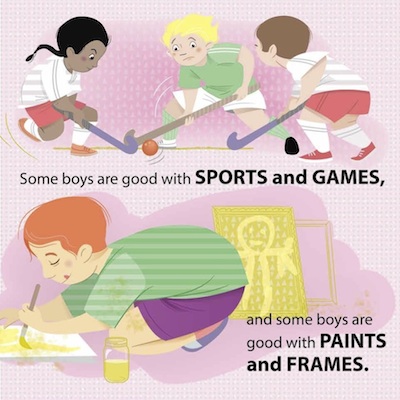 SOME BOYS is also firmly commited to inclusivity in terms of race, religion, ethnicity, body shape and ability.

In fact, of the great joys of these books has been the reception from the disability community - sadly, it is rare for kids with disabilities to be seen in mainstream kid's books; and even more rare to see them having FUN! We're having none of that!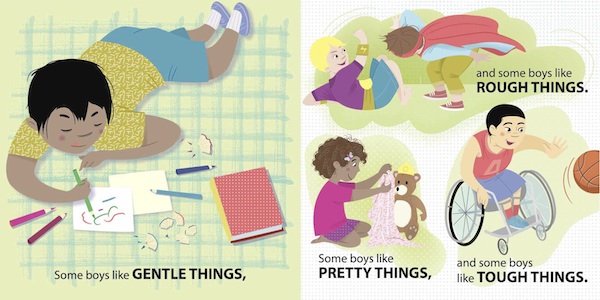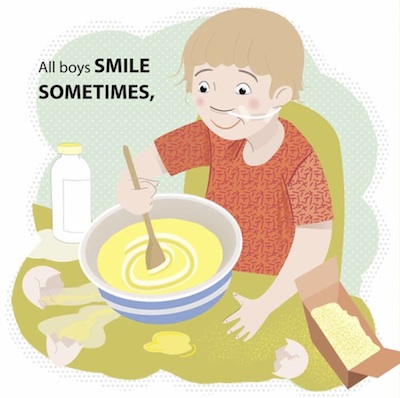 As a comedian, my life consists of dealing with the slings and arrows of "tough crowds"! And I can honestly say working on these books has been an absolute delight and one of the highlights of my career.
I get magical messages from kids almost daily telling me SOME GIRLS is their favourite book, that it is the first time they've ever seen themselves in a book and, that they love the girl who farts! (Who doesn't).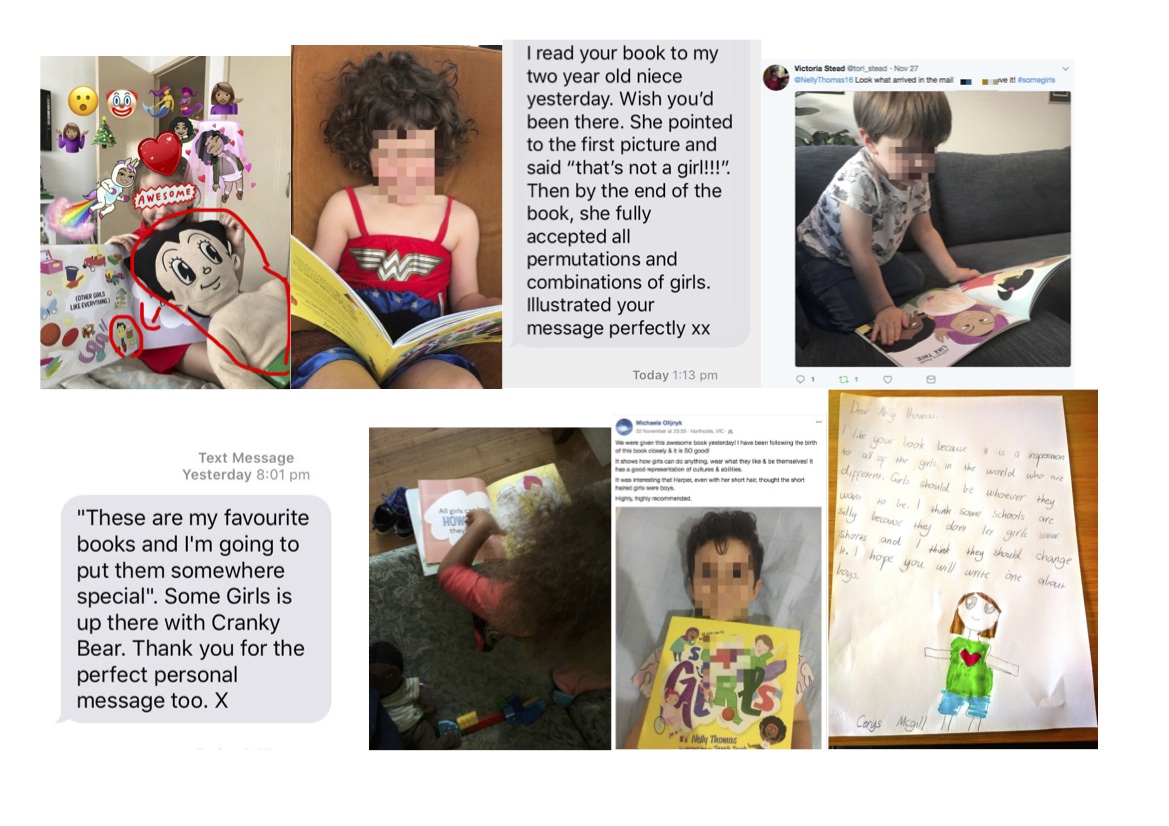 The public response has mindblowing.
You've seen some of our supporters above (more here) and we've had great media.
You can see me on ABC News Breakfast (below) sharing the buzz, and we were featured in The Guardian, The Independent (UK), the Daily Mail, the Herald Sun, on ABC Radio National, 774 Melbourne on The Conversation Hour and in numerous blogs and online spaces.
The best part about this is that the messages of gender diversity, freedom for kids and challenging old-fashioned and resrictive gender roles are being discussed in the mainstream.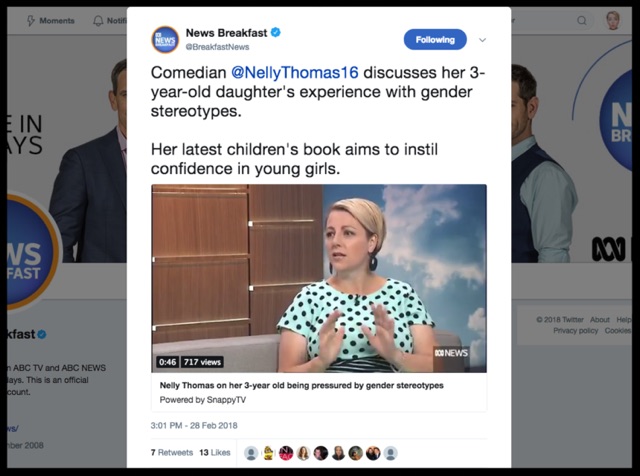 It has also been wonderful to be able to give lots of copies of SOME GIRLS to kids who wouldn't otherwise be able to afford it.
Literally hundreds of copies were sent to a range of disadvanatged schools, kinders, childcare centres and also, to the Asylum Seeker Resource Centre in Melbourne.
The same will be done with SOME BOYS with your help.
SO, HERE WE GO!
The only way I can self-publish SOME BOYS - and therefore keep the creative integrity, the messaging, pay everyone properly & print locally on sustainable stock - is through your pre-orders and pledges.
Give a little, or a lot, depending on your situation and your passion, and I promise to deliver a high-quality product full of love, energy and goodness.
Let's help boys learn that they can be free to be WHOEVER THEY WANT!
Budget Overview
I have been a self-employed comedian and writer for 16 years.
This is my second ever crowd-sourcing campaign (after SOME GIRLS) and I am seeking your support because I've decided to self-publish for a range of reasons:
The feedback from SOME GIRLS was so positive, largely because we had total creative autonomy and never had to compromise or water down our message about gender equality for children.
No-one works harder for you than yourself - especially if you're motivated by love!
So many people who supported SOME GIRLS are waiting for SOME BOYS and we want to get it out quickly.
We can guarantee the sustainability and environmental responsibiity of the printing process, and proper remuneration for all involved.
Being a self-employed artist, I know what it's like to be asked to work for free or on the cheap. It doesn't show respect, or produce the very best work. I have deliberately decided not to do this to the creative people involved and they are all being paid properly for their immense skill, talent and time.
The funds from this Pozible campaign will be used to:
Pay illustrator Sarah Dunk
Pay designer Elena Fombertaux
Pay publicist Emma Noble
Help fund the first print run at The Print Department (note that the books are being printed locally in Australia - no orangutans losing habitat! - on sustainably sourced stock)
Pay for the somekidsbooks.com website
Get the books into low SES (disadvantaged) kinders and schools for free
I will take no payment until everyone else has been paid.
I have not taken any payment yet from SOME GIRLS (hopefully some is coming in the future!) and I will cover any shortfall personally, as I have done with the first book (thank you family!).
The urgent and exciting goal is to get these books out there as soon as possible.
And you know, CHANGE THE WHOLE WORLD.
We are so thrilled to have your interest and support as we make this happen.
Our website: https://www.somekidsbooks.com/
Our Facebook: https://www.facebook.com/somekidsbooks/
Potential Challenges
THE WORLD
Even in 2018, lots of people still think ALL boys are into rough and tumble, bash and crash, bang bang and whack thwack.
There will be people who say I am trying to MAKE boys soft, gentle, quiet and thoughtful. And I am! If they want to be!
Cue: BACKLASH.
It's wild that in this day and age we have such social panic over boys with long hair, boys playing with dolls, reading books (!), learning ballet, or wearing a skirt. SOME BOYS is here to tell all kids that everybody likes different things and that's okay; in fact, it's great.
I am simply saying: let kids choose who THEY want to be.
We can all take meaningful steps in challenging the worldview that tries to put children (and adults) in uncomfortable, inflexible, and often harmful boxes (for more indepth coverage on the harm caused by gender stereotypes for children see our Research Page). One of the best ways is to share examples of diversity, reassure kids that their ideas and choices are valid, and create spaces for open, honest conversations on identity, gender and expression.
Because the opposite of these aims is what kids often encounter now: judgment, prejudice and exclusion. The great news is that things are changing and our society is starting to look at ways to make life better and more equal for boys and girls.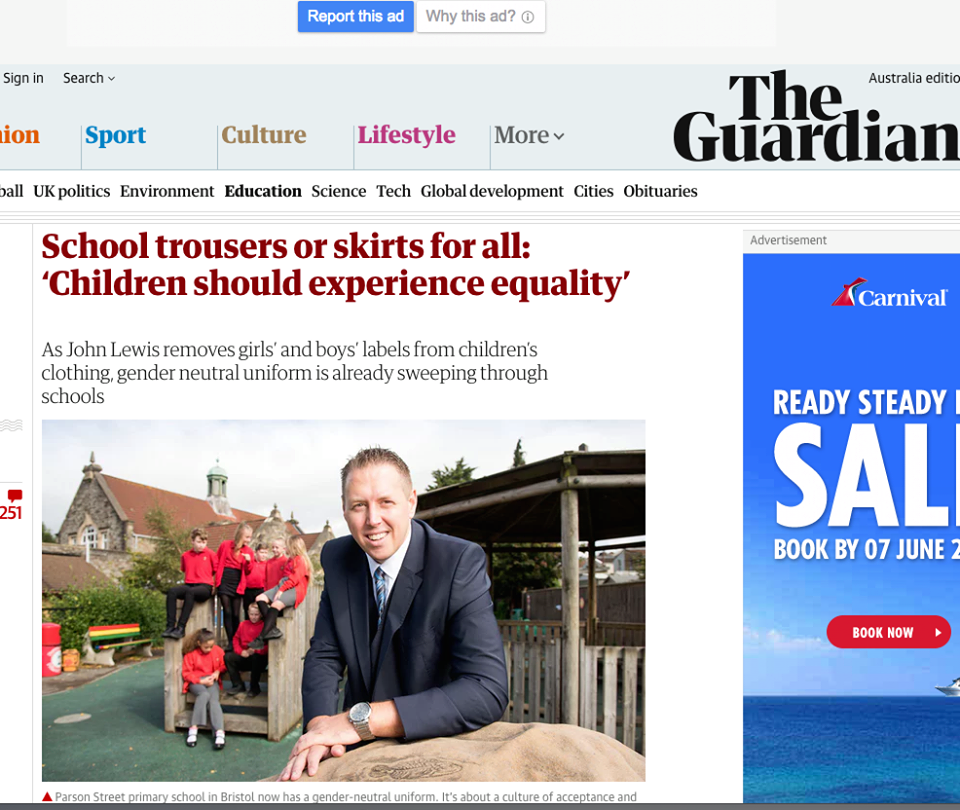 There is a groundswell of support for this message, that has been building for years.
Feminist thinkers and writers have long lamented the damage done to boys and men (and girls and women) when we deny them the chance to be themselves, to explore their emotional depth, and build empathy and trust. Lately we're seeing more men open up about these ideas, such as award-winning writer Tim Winton and AFL footballer Brandon Jack, and it's great to see men joining the fight against sexism. Kids are also coming up with clever and imaginative ways to protest gendered treatment.
COST
If I'd hired creatives on "mates rates" and printed these books overseas, I could sell them for half the price.
I've kept the price as low as possible per unit, but some people expect to pay $5 for a kids' book. Alas, I can't cater to those people. This is a real challenge.
I want to produce books that last, feel good to touch and are produced ethically.
We were thrilled to see how many of our supporters understood this during the SOME GIRLS campaign and we feel confident that this reasoning remains solid.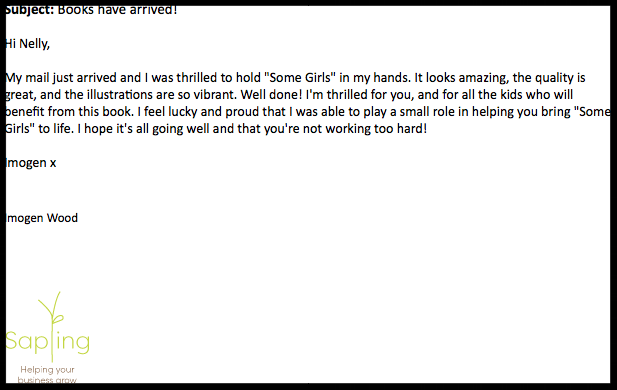 REACH
I have good networks from my comedy career but at the end of the day, I'm one mum working out of a converted laundry in our house (for real).
I want this book in every kinder, childcare centre and home IN THE WORLD! I'm going need your help to do that.
This is why we have so many options in the Rewards to "pay it forward" and pass on the gift of SOME BOYS to kids who really need to receive it. I know we can make a huge difference to the lives of the children who find this book, and to the adults who need a way to help support and nourish their kids.