Goal reached, but there is still more to be done.
Your generosity has overwhelmed us - thank you so much. With your extra support we can make a bigger difference to the Norfolk Island Green Parrot.
From today on your donation or reward purchase will help:
Propagate and plant more of our green parrots' fave foods on Phillip Island.
Protect and monitor Norfolk Island nesting sites, including increased cat and rat control, to maintain a healthy breeding population.
Provide more monitoring of our translocated green parrots as they start to nest in their new home. With tracking devices, we'll uncover more info about this endemic species' behaviour than we've had before.
Thanks again
Team GP


Operation Green Parrot: Ensuring their future
Hi there!
I'm writing because we have three months.
That's how long we have to transfer 30 fledgling Norfolk Island green parrots to nearby Phillip Island. We need your support to raise the $77,000 to get this done.
By moving the fledgling birds we'll be able to provide them with a suitable site as a new home.
This must be done between March and May this year when the birds are at the right age. Old enough to survive the relocation but young enough to adapt to the new environment. Park rangers are on standby to do it - but we need your help!
The Norfolk Island green parrot is one of the world's rarest birds.
Four years ago we recorded less then 100 green parrots after cats and black rats almost wiped them out.
Cat trapping, rat baiting and reducing nesting competition helped arrest their decline. Then 80 predator-proof nest sites boosted survival rates for green parrot chicks.
Now the numbers are back up to 350-400 parrots. Urgent action saved the Norfolk Island green parrot. Now with your help we can secure its future.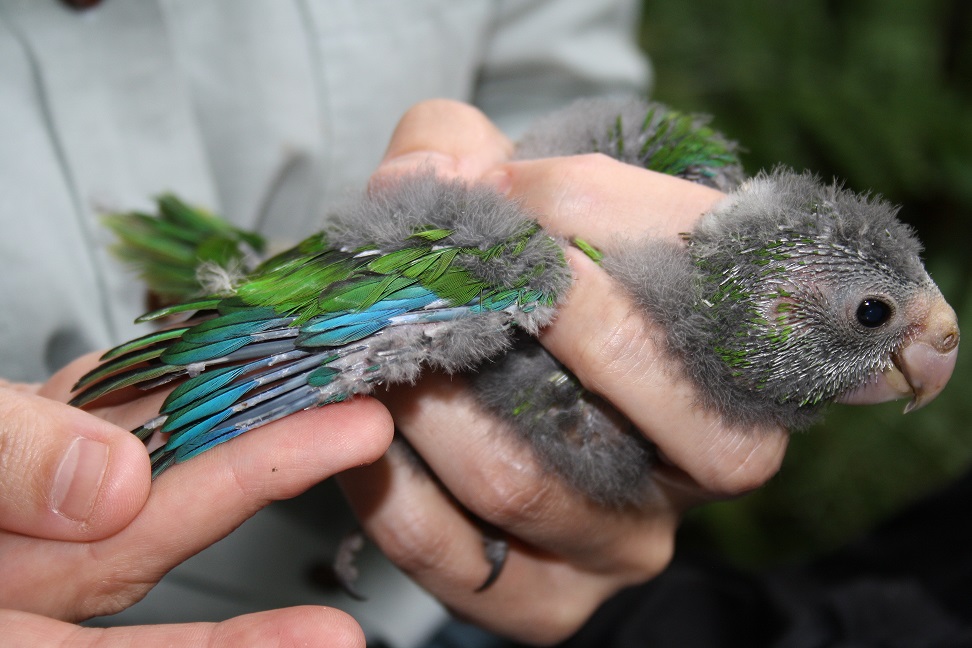 Please help transfer 30 fledglings to a new location to establish an insurance population for this rare parrot.
This is a fragile bird - let's take this chance!
Establishing a second population of green parrots will ensure the bird's long-term survival.
That's why we're asking you to support Operation Green Parrot. Please help fund the relocation of 30 green parrot fledglings from Norfolk Island to Phillip Island (6km away).
Phillip Island is uninhabited. It has been revegetated after introduced pigs, goats and rabbits ravaged the habitat. After 40 years of recovery work, the feral animals are gone and the island now has beautiful young Norfolk Island pine trees. It's a great safe-haven for the fledgling green parrots.
This will be the bird's insurance population. So if something happens to ravage one population of green parrots, the other will still survive.
You're effectively doubling their chances of survival!
How The Funds Will Be Used
Whether your donation is large or small, it will go towards relocating 30 green parrot fledglings from Norfolk Island to a new safe haven on Phillip Island.
Your gift today will help fund these expenses for Operation Green Parrot :
The transfer of green parrots on boats
Watering stations
Transportation boxes
Short-term holding aviaries
Veterinary checks
Radio trackers
Should we exceed our target, we'll use it to manage predators on Norfolk Island. The project aims to establish a self-sustaining population of Norfolk Island green parrots on Phillip Island by 2020.
You'll be helping to ensure the future survival of the Norfolk Island green parrot.
The Challenges
Time. We only have a small window of opportunity to carry out Operation Green Parrot.
Park rangers need to move the birds between March and May during the peak of the bird nesting season. It's not a simple process.
Bad weather at sea means boats can't travel. Also, the Norfolk Island National Park team have to wait for the baby parrots to reach fledgling stage. The fledglings will need to be moved in a series of transfers, depending on the weather and availability of young parrots.
By the time this campaign closes, park rangers will be preparing to move the first fledglings. But they will not be able to do it without your help. Your donation is urgently needed.
When it comes to an endangered species like this green parrot, we must take every opportunity to ensure its survival. If we miss this window to establish this insurance population on Phillip Island, it will be another year before we get the chance to try again.
Please – you can be part of saving this rare and beautiful parrot, which isn't be found anywhere else in the world!
We need to make the most of the work that's been done so the green parrot is never on the brink of extinction again!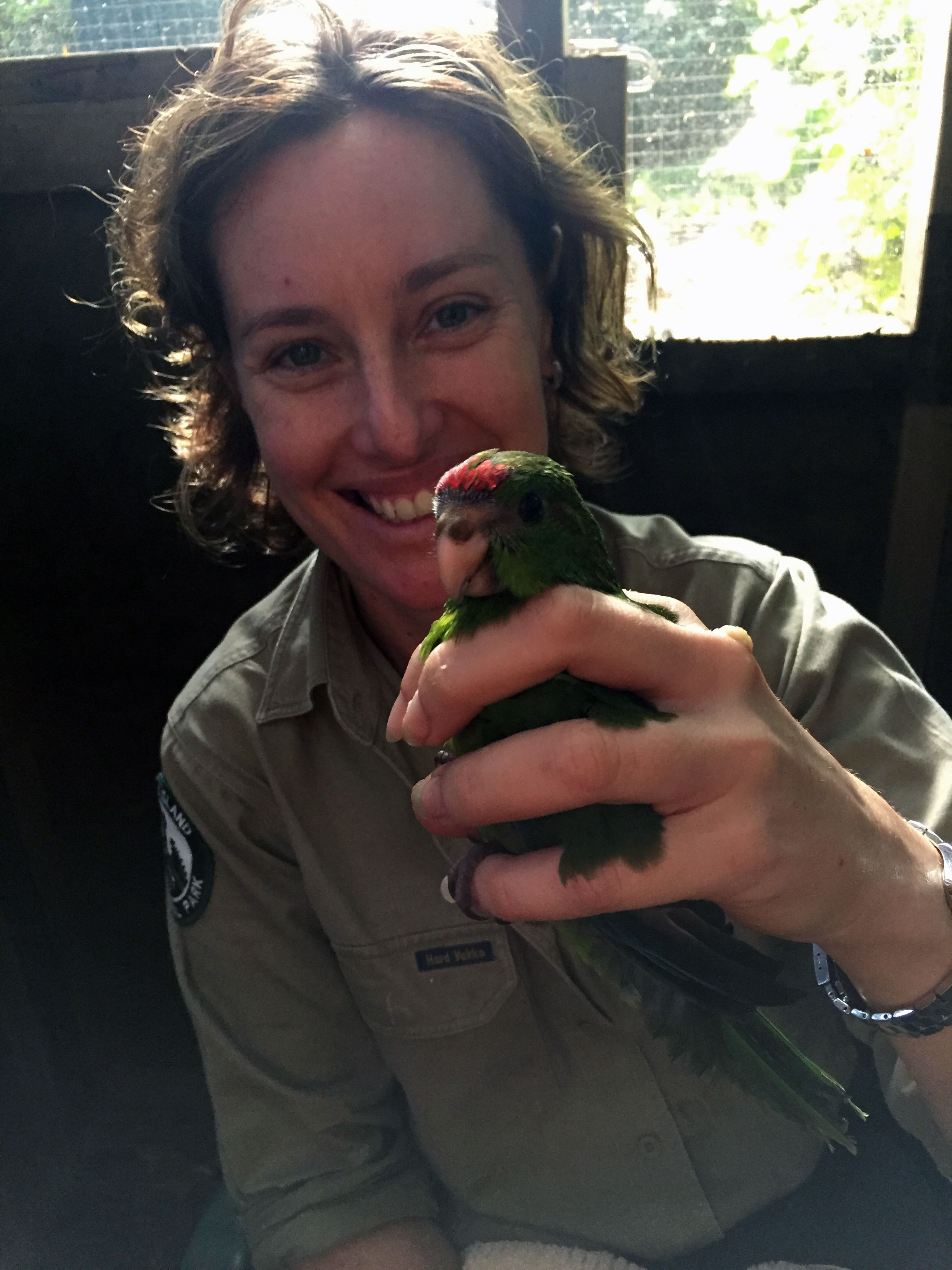 Norfolk Island National Park ranger Cassandra Jones has worked tirelessly to save the green parrot from the brink of extinction. You can help us take the next step and establish a second population of green parrots on Phillip Island.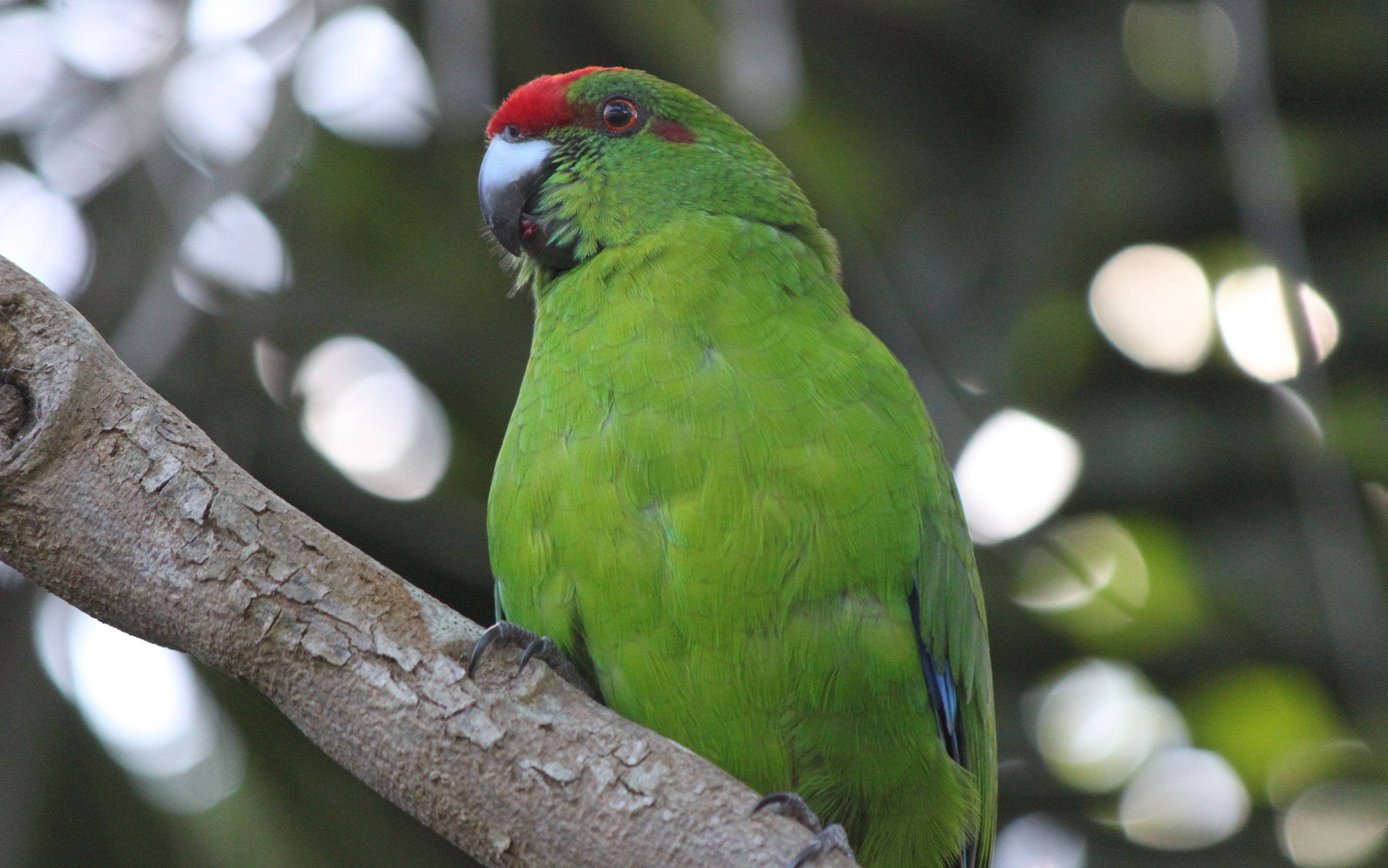 The Norfolk Island Green Parrot needs your support – it has already been saved from extinction twice!
A global partnership
Saving the green parrot on Norfolk Island is a global story of collaboration, friendship, passion and commitment.
Groups from all around the world have worked together to remove feral weeds and pests, rehabilitate land, build and monitor nesting sites as well as regularly checking the health of these parrots.
It's these efforts that have created a more sustainable population on Norfolk Island – to the point where we are able to establish a second population on Phillip Island to further secure the future of this magnificent bird.
We would like to thank all those who have made today a reality.
Thanks to all of our past and present park rangers, the Norfolk Island community, the Norfolk Island Flora and Fauna Society, WildMob, Massey University, the Foundation for National Parks and Wildlife, the Parrot Society of Australia, Island Conservation, The Nature Conservancy, the Invasive Species Council, the World Parrot Trust, the Parrot Society of the UK, the Mohamed bin Zayed Species Conservation Fund, the Norfolk Island Flora and Fauna Society, Taronga Zoo and the Threatened Species Commissioner Gregory Andrews.
We'd also like to acknowledge the contribution of individual experts like Alan Saunders, Kevin Mills and Keith Broome.