Help make Nicky Winmar's iconic pose stand proud and strong forever.
On April 22, 1993, St. Kilda footballer Nicky Winmar stood up defiantly against racist abuse hurled at him from across the boundary. After winning the game, he turned to the crowd, pulled his jumper up to point at the colour of his skin, and yelled back, 'I'm black and I'm proud.'
His defiant stance is considered a pivotal point, not just in Australian football, but in race relations in this country.
(Footage courtesy of Fox Sports News)
Next year is the 25th anniversary of this moment.
It's a moment that deserves to live forever as a monument to remind us, and future generations, to never forget that we all need to treat each other with equal respect, regardless of the colour of our skin. Without the image being captured by Melbourne photographer Wayne Ludbey, this moment may have been lost forever. Wayne has endorsed this initiative and will be involved in its development.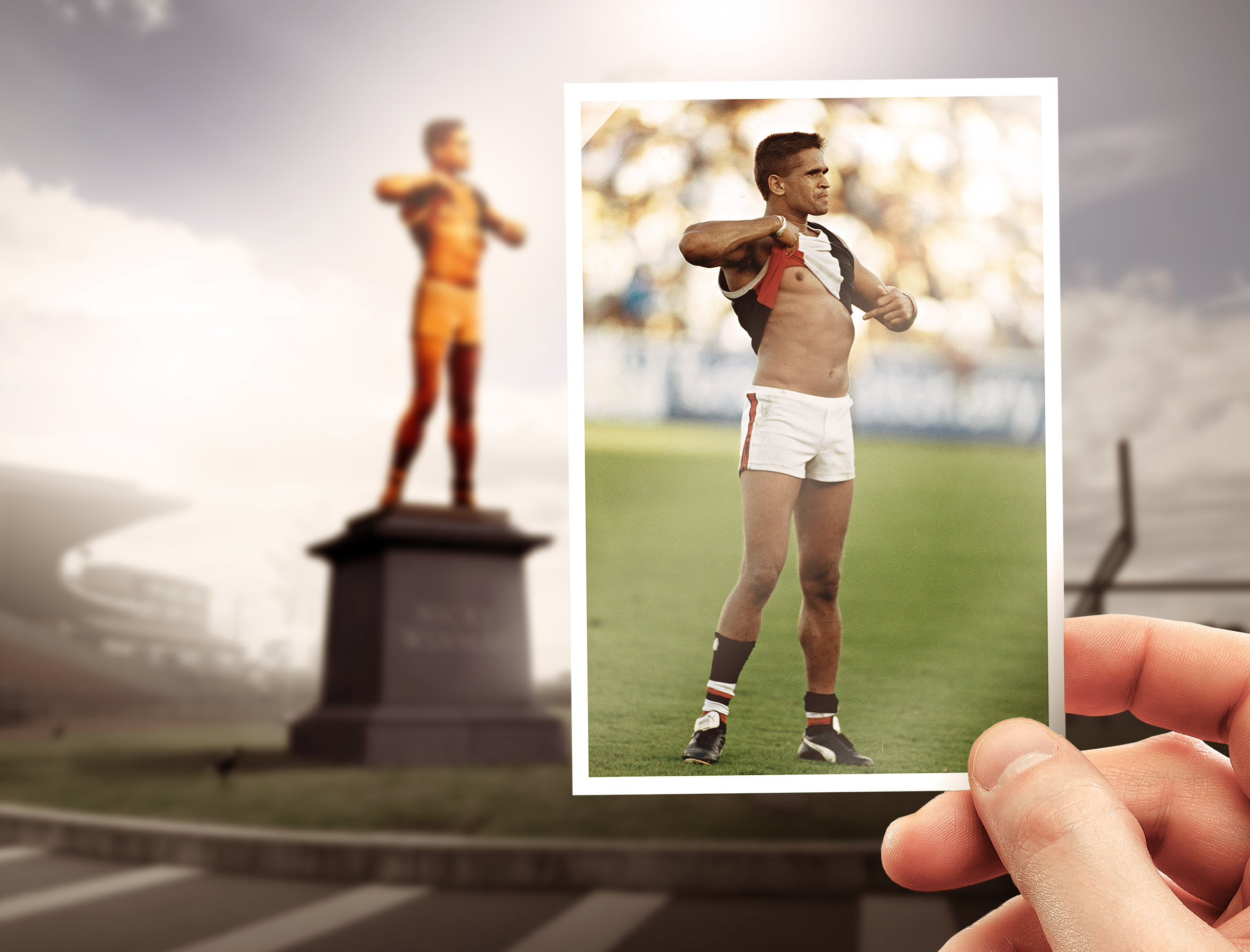 Let's build a fitting tribute.
It's a moment in Australia's history that has lead to much education across the state, and the country. A bronzed statue of Winmar's iconic stance will help educate and remind us that there is always work to be done to treat each other with respect.
This stance should live forever. And you can help.
With your help we can create a groundswell of support to get this statue made, in the hope is for it to stand forever as a tribute to Nicky and the ideal of equality for all.
With close collaboration with Aboriginal and non-Aboriginal entities, Nicky's example will continue to educate future generations about respect for self, and respect for others.
By supporting this campaign, Australians will show that Nicky's stance is a powerful one, that crosses from sport into the wider community. It will say that all people should be treated with respect.
Nicky Winmar himself has granted approval for the commencement of the project. Now it's up to the people of Australia to get behind this important part of Australia's history.
Access the MEDIA RELEASE AND IMAGES HERE
To keep up to date on all Nicky Winmar related news, like his facebook page at: https://www.facebook.com/nickywinmar/
Become an official partner
To become an official corporate partner of the Nicky Winmar Statue contact: nickywinmarstatue@gmail.com
This will enable your brand to get your company's name on this pozible site, showing Australia that you care about every person's right to be treated with respect.
How The Funds Will Be Used
One moment that will last forever.
The funds will be used to finance the creation of the bronze sculture by renowned sculptor Louis Laumen (pictured below), along with the pedestal it will sit atop, and transportation and its final installation.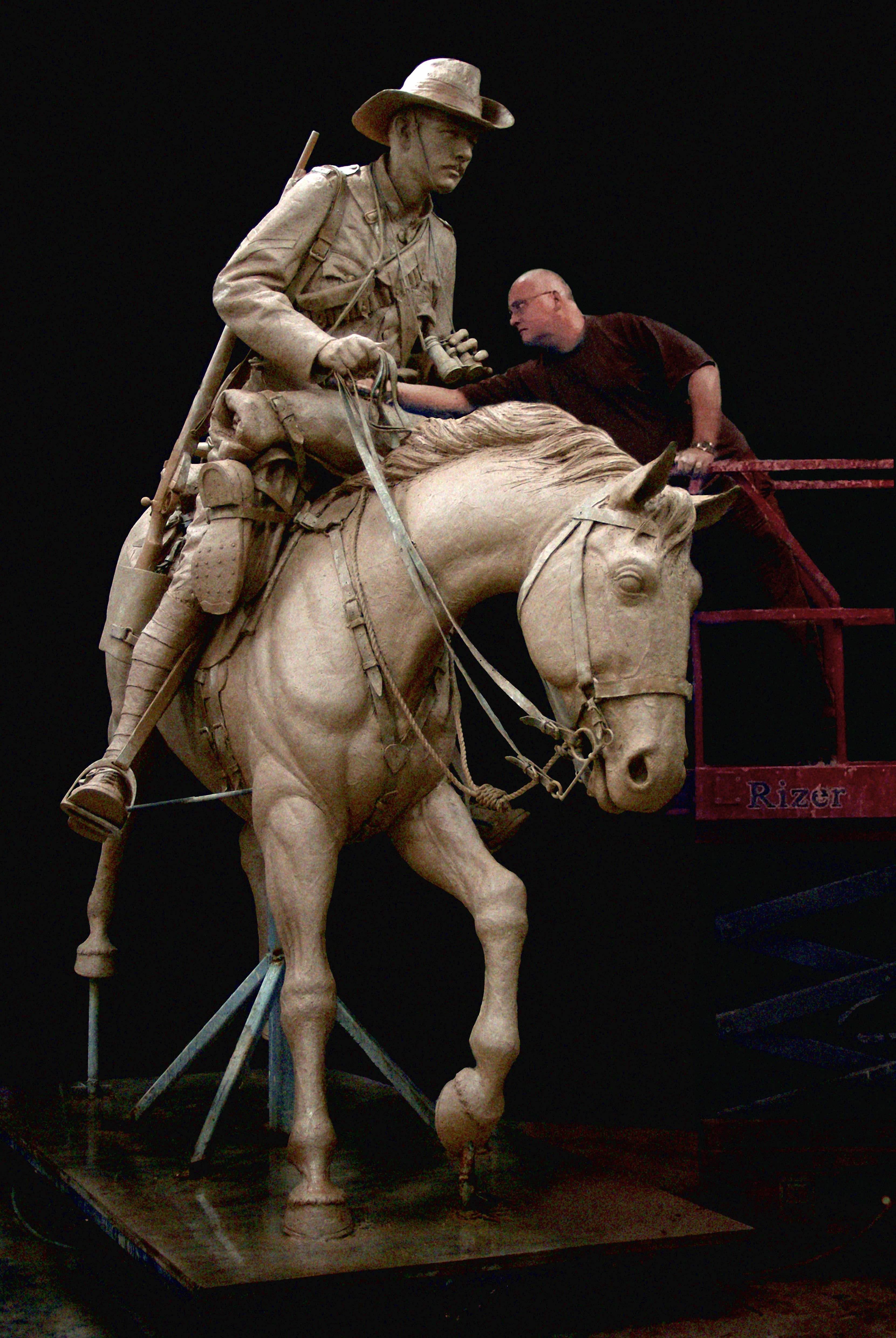 Laumen has produced a wide array of sculptures honouring Australian sporting legends in Melbourne. Take a walk around the MCG and you will find a series of his artworks- from Leigh Matthews, to Ron Barassi, to Bill Woodfull, to Shirley Strickland.
But there will be no sculpture of more importance than this one. Here are just a few examples of his breathtaking work.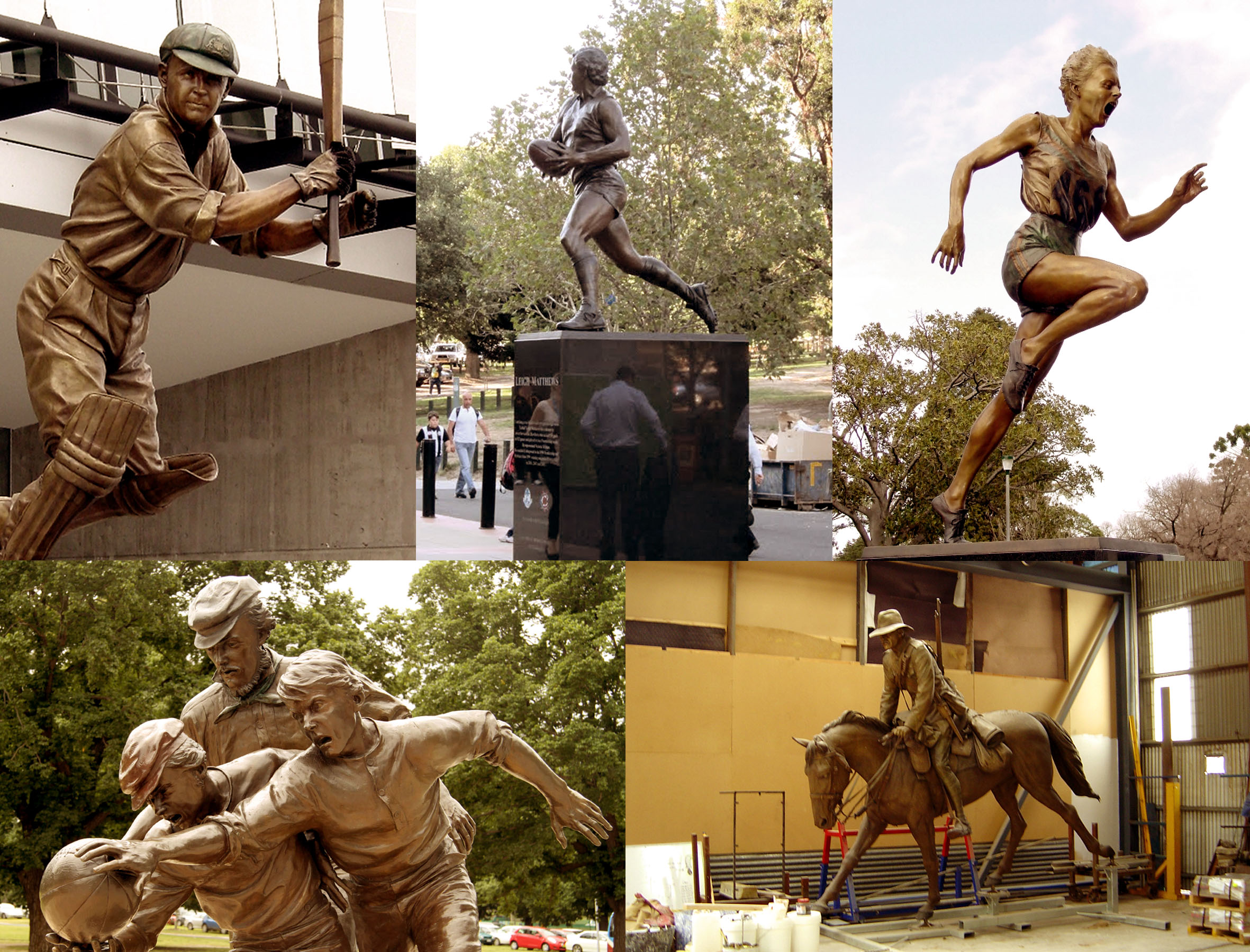 You can see more of his work at: www.louislaumen.com/
Louis has provided a detailed cost breakdown of how the funds will be used, which you can see below. It is an eight month long process, and involves an incredible amount of work. We have rounded the figure up slightly to cover unforeseen circumstances and Pozible's handling fee. The more people donate, the bigger the final sculpture can be. Our stretch goal of $190,000 would see a statue 1 & 1/2 times life-size.

Price Estimates:

1 & 1/4 times life-size:

Studio: $50,000
Foundry: $65,000
Stonemasons: $36,500

Total: $151,500


1 & 1/2 times life-size:

Studio: $70,000
Foundry: $81,000
Stonemasons: 36,500

Total: $187,500

* all prices are GST inclusive
______________________________________

Timeline:

Concept / design phase: 4 weeks

Studio sculpting (1/2 scale clay model; full-scale clay model): 14 weeks

Foundry (silicone molds; bronze casting; patina; installation): 16 weeks

Stonemasonry (concurrent with bronze casting phase): 16 weeks

Total: 34 weeks ( 8 months)
_______________________________________________________


Procedure:


A basic concept is developed in the course of discussion with all parties involved; commissioning body, Artist (Sculptor) & subject.


The Sculptor takes a series of measurements from the subject (Mr Winmar) to ensure accuracy of proportions etc.


The Sculptor compiles a dossier of research materials (photographs, video, clothing, etc.) & proceeds to sculpt a 1/2 life size model of the proposed work


Upon completion, the commissioning body appraises this model & advises as to any alterations required before the Sculptor proceeds to sculpting the full-size model.


Again, the commissioning body shall appraise the full-scale model upon completion before giving approval to proceed to the bronze-casting phase.


The Foundry prepares silicone molds directly from the clay model. the molds are transported to the foundry & a set of bronze casts are made from the molds by means of the 'lost-wax' process.


The castings are assembled (welded), all joins 'chased'; then general cleaning up & finishing before 'patina' or colour is applied to the completed bronze cast.


In the meantime, the pedestal is being cut or constructed in the mason's yard. When complete, the pedestal is installed on site prior to the arrival on site of the completed bronze statue. Typically, the bronze is installed c. 24 - 48 hours prior to Unveiling.
The Challenges
Nothing good ever comes easy.
There are a number of hurdles that will need to be overcome.
The target is a large number, so we need as many fair-minded people as possible to contribute. From regular everyday people, to corporations, this is a project that every Australian should get behind.
We hope that this campaign will see the whole of Australia get behind the project, including the AFL, indigenous organisations, history organisations, community groups, and corporates with a strong sense of social responisbility.