When we feel down or anxious, there are heaps of activities we can do to help us feel better again. Doing these things can help prevent everyday mood disturbances from developing into mental health issues, such as depression and anxiety disorders. Doing them can also treat mental health issues and boost overall mood and wellbeing.
MoodMission is an app designed to help you overcome low moods and anxiety by discovering new and better ways of coping. When you tell MoodMission how you're feeling, it gives you a tailored list of 5 simple, quick, effective, evidence-based Missions to improve your mood. All Missions are taken from scientific research, made accessible to you through the app, so you can learn exactly how what you're doing is helping. Completing Missions earns you rewards in the app, motivating you to take steps towards becoming healthier, happier, and more confident.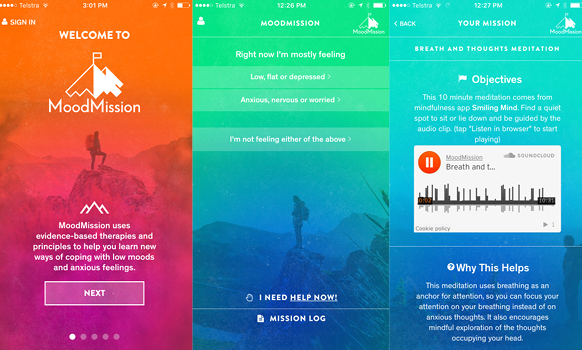 This time last year we successfully raised $20,000 through Pozible to develop MoodMission for iPhone. After a rigorous development and testing process, we released the iPhone app in late August and were overwhelmed with the positive response. In addition to the encouraging feedback from users, Monash University embraced it and promoted it to students, and the pitch won several awards leading to it being featured on ABC Radio National's Science Show.
There's just one thing that we really want to fix: it's only available for iPhone at this point.
We've heard the calls from so many folk desperate for MoodMission to expand to Android.
In fact a post on Imgur recently recevied over 290,000 views, and thousands called for an Android version.
Now we want to do something about it.
For more information about the project, visit moodmission.com
How The Funds Will Be Used
The funds raised will go towards the development of the app for Android devices. A very reasonable quote for this has been obtained from Spark Digital, the same app development firm that developed MoodMission's iOS version and built the hugely successful mindfulness app Smiling Mind (with over 1 million downloads).
Any funds raised over our target will be used to cover server running and maintenance costs, so we can keep MoodMission up on the app store. MoodMission will always be free, so we will rely on these funds to keep it going.
Once completed, MoodMission will be freely available on the Google Play Store.
The Challenges
We've already overcome many challenges throughout our development process for iOS. The main challenge was to engage users and motivate them to try the activities suggested. With this in mind, a great deal of effort went into designing an engaging and rewarding user experience. Trialling the app before its iOS release revealed things that could be improved or modified, and appropriate changes were made.
However, we're anticipating making ongoing changes to the app informed by user feedback. We will be attentive to our users and we will work hard to make recommended changes.
MoodMission features information and links within the app to help users who are undergoing significant stress, anxiety, or mood issues to access professional support and ensure their safety.
MoodMission's Values
We hold the following values to empower people to change the way they feel
Ethical
a) Evidence-based: we use hard evidence to make decisions and recommendations
b) Give back with research: we engage in the research process and publish findings to help mental health support more broadly
c) Respectful: we respect others and act accordingly
Effective
a) Focus on what works for the user
b) In line with users' long term goals, as well as their short term ones
c) Solution-focussed – do what works and what empowers the user
Collaborative
a) Transparent
b) Responsive to feedback
c) Validating of users