LOST ROCKS – Readers + Collectors campaign
Lost Rocks is an ambitious, slow-publishing artwork – a library of forty books, four books published twice yearly for the next five years. That's forty single traces, ten dynamic seams, or one spectacular forty-rock Lost Rocks Library. Brought to life by Australian artists Justy Phillips and Margaret Woodward (A Published Event) and composed by forty contemporary artists from around the world, Lost Rocks is an accumulative event of mineralogical, metaphysical and metallurgical telling.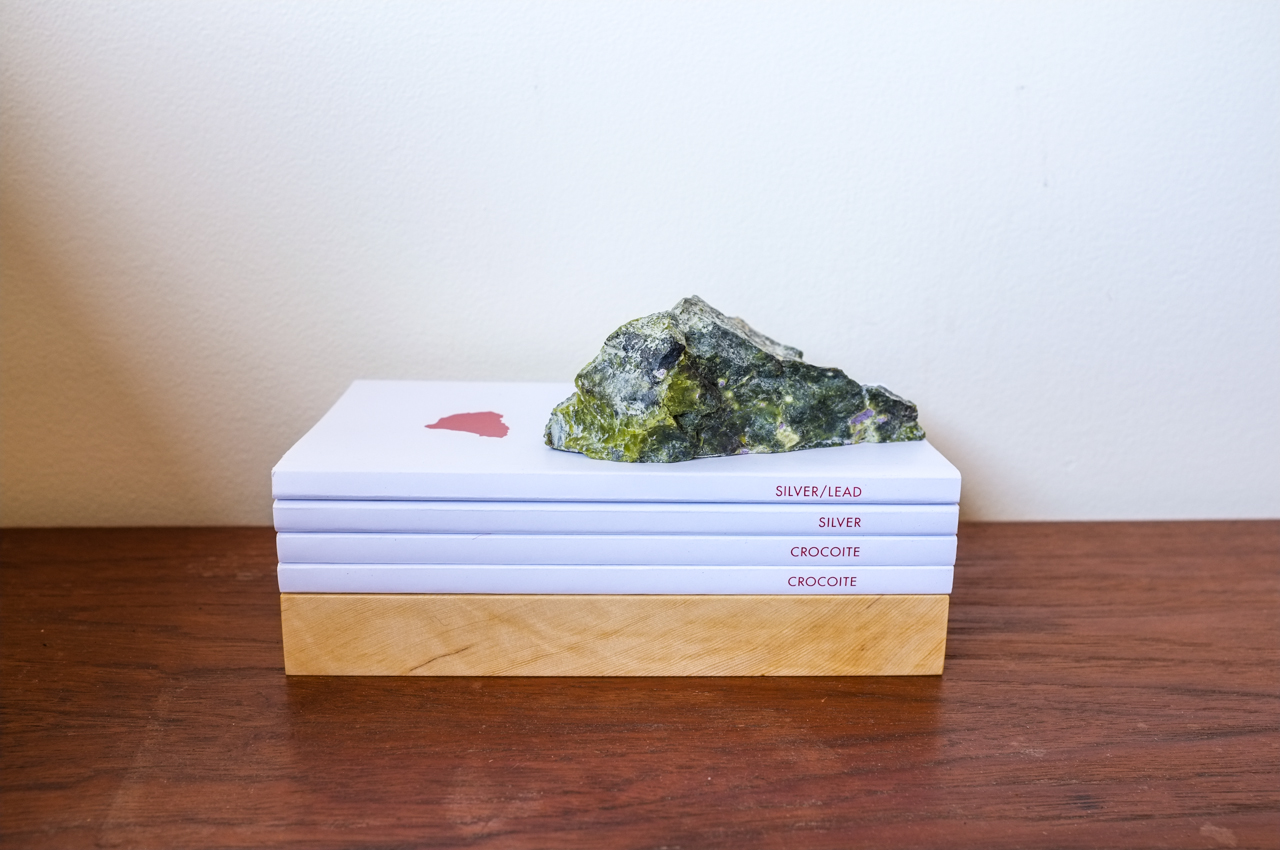 The conceptual heart of this artwork is a discarded rock board, found by the artists at the Glenorchy tip shop in Hobart's northern suburbs. Forty of its fifty-six Tasmanian rock specimens are missing. Over the next five years, 40 commissioned artists will each select an absence from the incomplete board and re-compose it, not with a geological specimen, but with a 'fictionella' – a new kind of novella drawn from lived experience.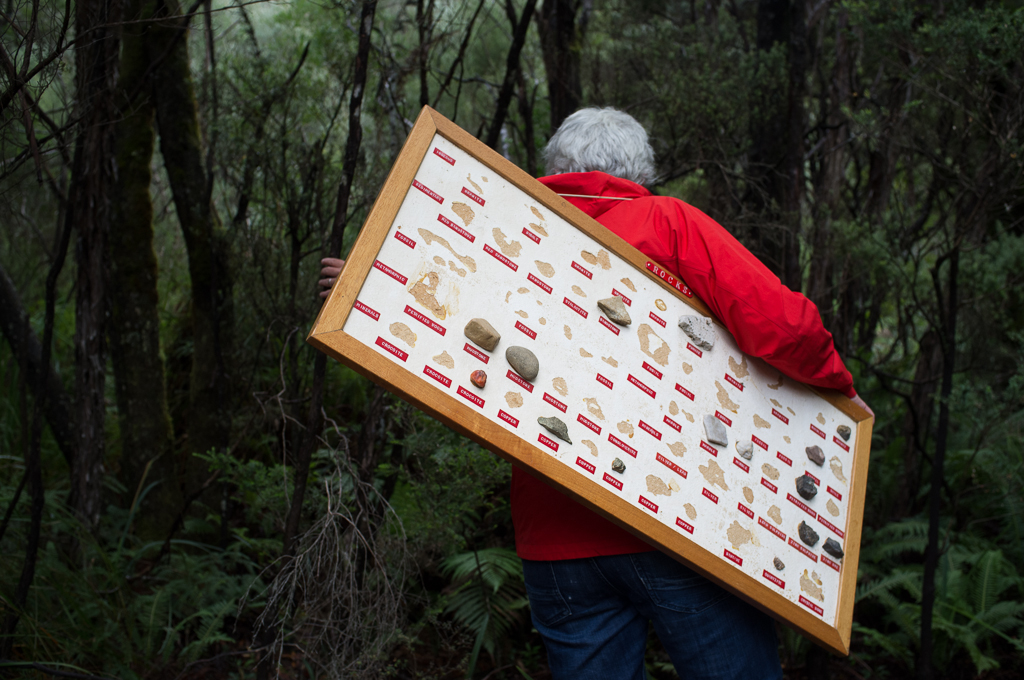 Each Lost Rocks fictiōnella will be published in a limited edition of 250 paperback copies, making the Lost Rocks Library a highly collectable artwork – an alchemical network of artists, readers and lovers of absence re-composed. In the hand, each book feels like a slim paperback novel (111mm (w) x 181mm (h) x 7mm (d), printed in black throughout with spot colour covers, the Lost Rocks fictionellas will look handsome in any arena, home, studio, cafe, dental surgery or mining office.
You can SUPPORT our Pozible campaign by READING %20 COLLECTING Lost Rocks in one of four ways:


LOST ROCKS LIBRARY – ALL 40 BOOKS + 'ROCK LEDGE'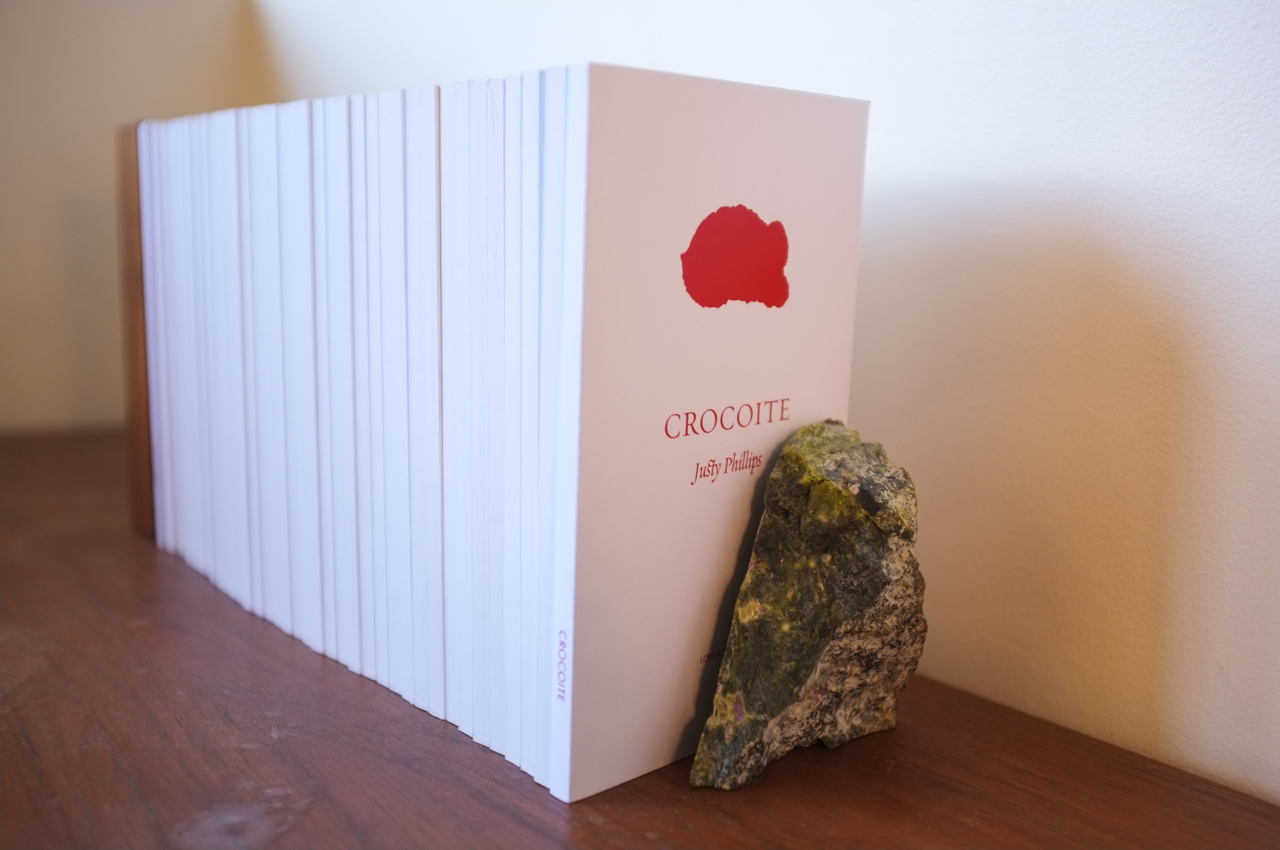 Subscribe to the entire Lost Rocks Library, support and receive the complete artwork.
As well as all forty books, the Lost Rocks Library includes a spectacular limited-edition (/100) 'rock ledge'. Each rock ledge is hand-made from Tasmanian timber and a mountain top of west coast Stichtite serpentine on which to balance your collection. The entire library of 40 fictiōnellas spans a neat half-metre upwards or outwards depending on which direction you let it grow. Your fictiōnellas will arrive at your door in sets of four books, mailed twice-yearly over the next five years. You will have your complete Lost Rocks Library by 2021.
LOST ROCKS – 1 BOOK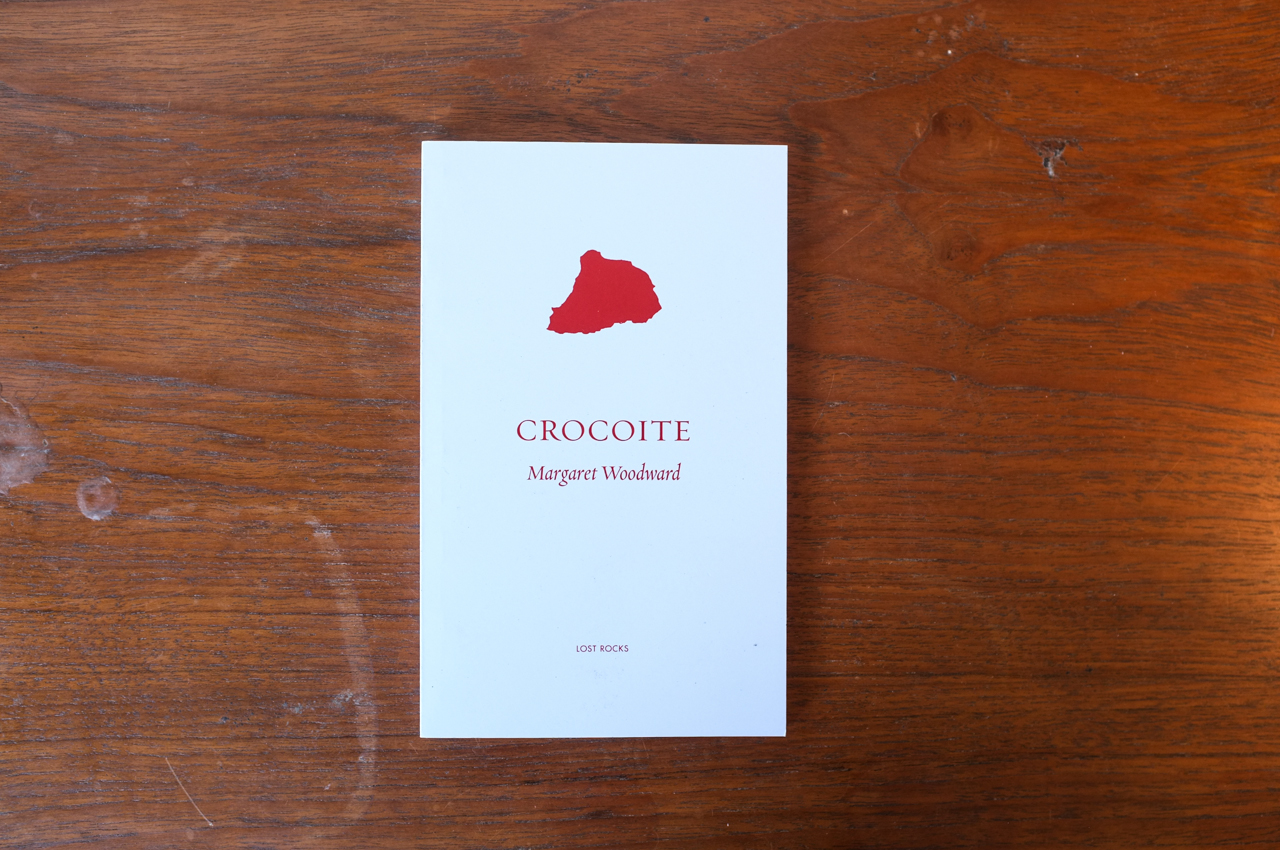 LOST ROCKS – 4 BOOKS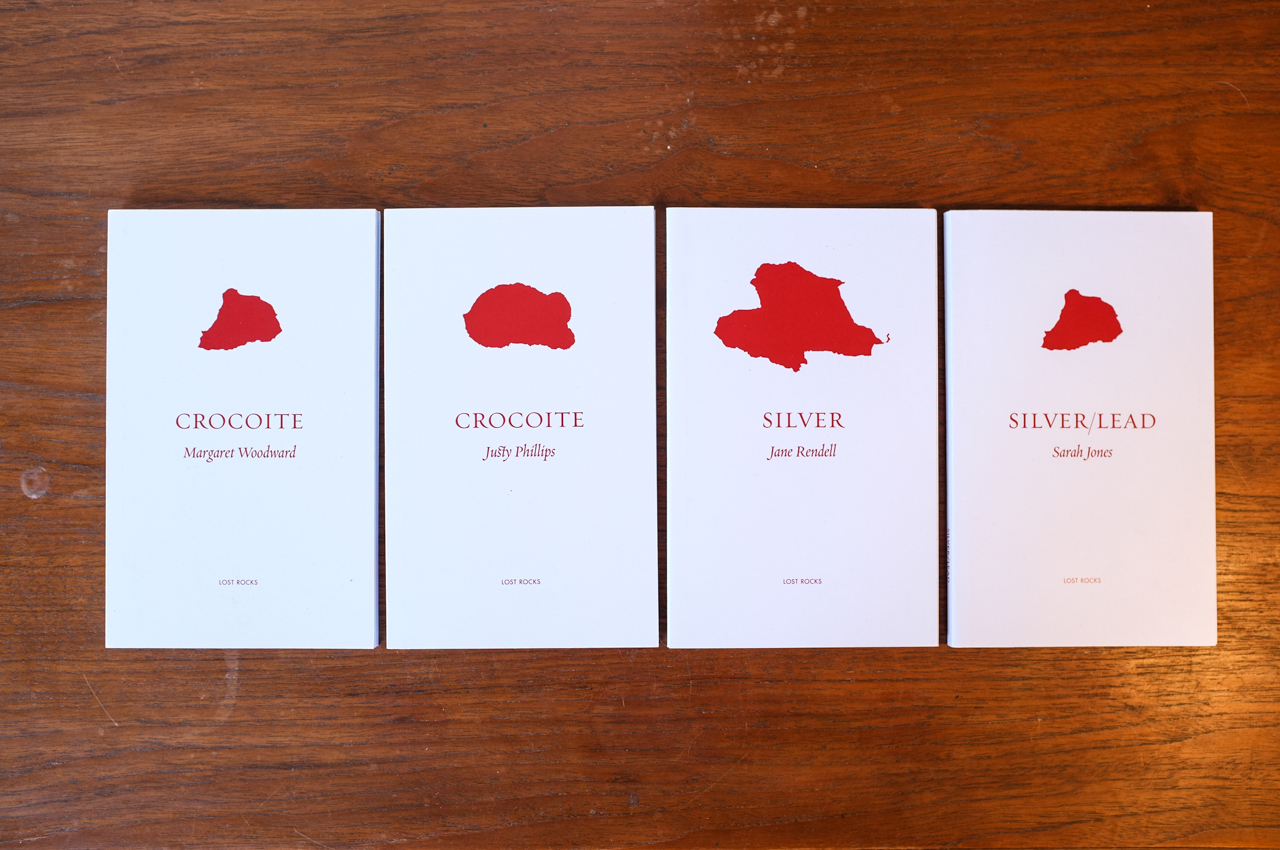 LOST ROCKS – 8 BOOKS

PROJECT DETAILS:
1. COMMISSIONING
Lost Rocks is our most ambitious artwork to date. We are commissioning a library of Tasmanian, national and international artists – from the west coast of Tasmania to the archipelagos of western Norway, with Montreal, Berlin and London in-between. We have never attempted to collaborate with so many artists before, so it's going to be a wild, but calculated, adventure for us all. Through a long commissioning process in 2016, we've connected the first 20 artists (from Australia, Norway, Germany and Canada) to their lost rocks:
2017: Justy Phillips (Crocoite), Margaret Woodward (Crocoite), Sarah Jones (Silver/Lead), Jane Rendell (Silver); Greg Lehman (Crystal Bone), Ross Gibson (Basalt), Ally Bisshop (Marble), Erin Manning (Copper).
2018: Astrida Neimanis (Petrified Wood), James Newitt (Fossil), Mary Scott (Petrified Wood), Ben Walter (Conglomerate), Julie Gough (Shale), Raymond Arnold (Copper), Jerry de Gryse (Copper), Trygve Luktvasslimo (Mudstone),
2019: Lucy Bleach (Rhyolite), Ruth Hadlow (Granite), Rory Wray-McCann (Mudstone), Louisa King ( Marble).
2. COMPOSING
Our first 20 artists are well underway, researching rocks, re-writing absences from Hobart to Montreal, London, Berlin, Queenstown, Sydney and Tromso. Lost Rocks is an alchemical Tasmanian opus in the making.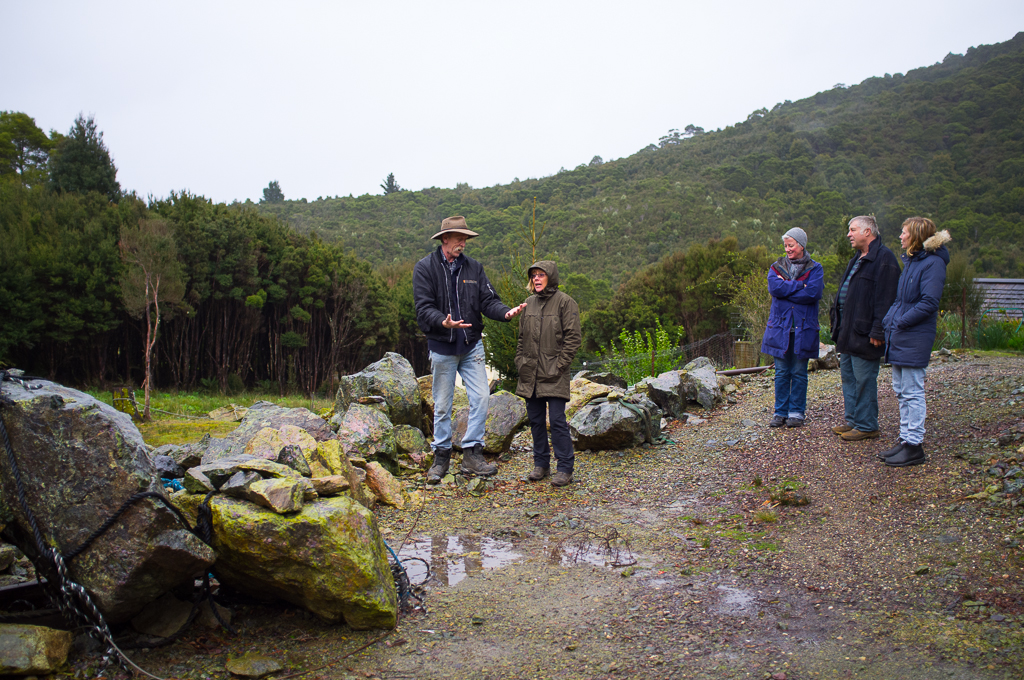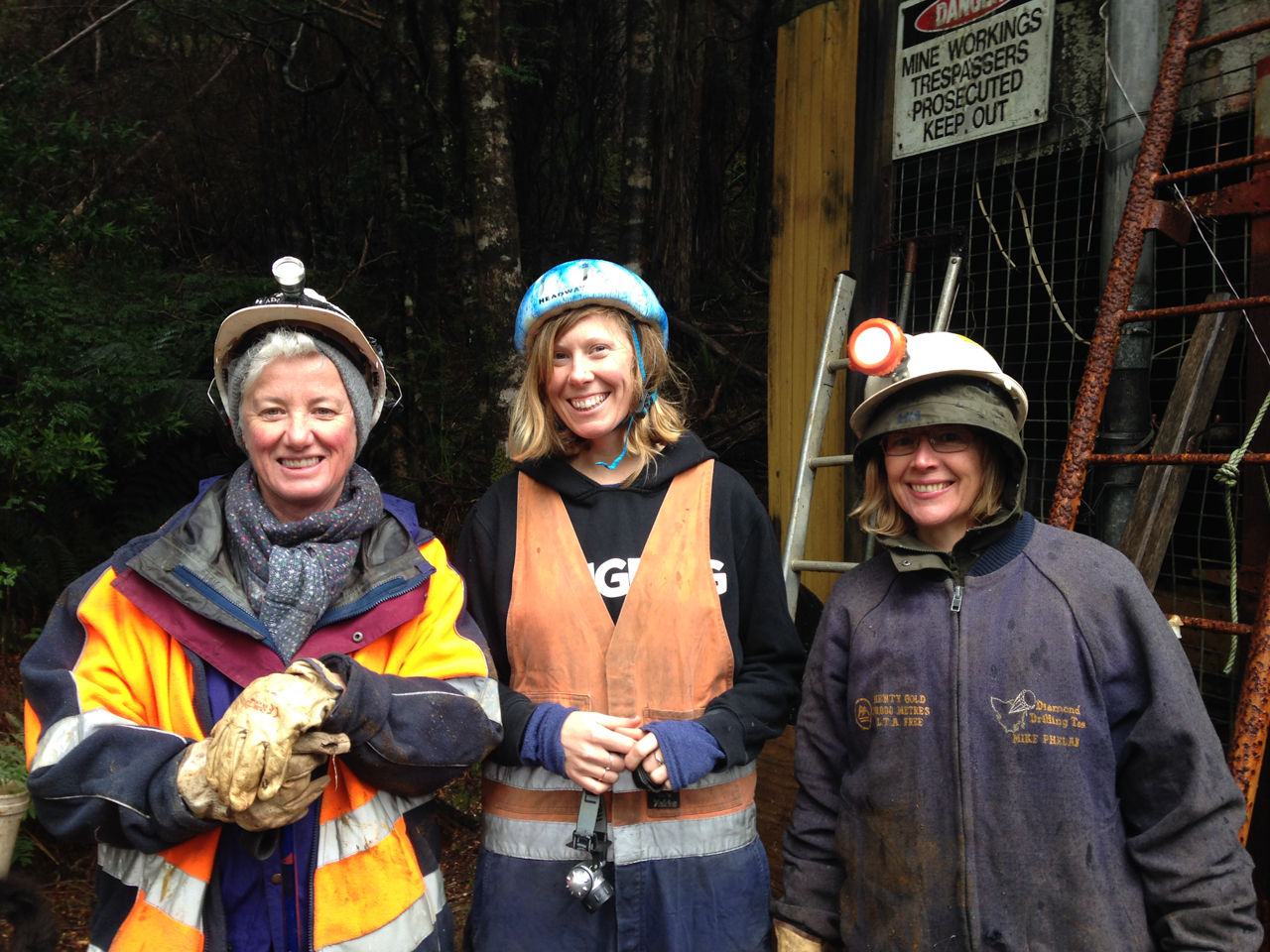 Research trip to Dundas, west coast, Tasmania, 2016.
ABOVE: From left: Artist and prospector, Rory Wray-McCann (MUDSTONE), artist, Jane Rendell (SILVER), artist, Margaret Woodward (CROCOITE), miner and prospector, Mike Phelan and artist, Sarah Jones (SILVER/LEAD). BELOW: Standing outside Mike Phelan's crocoite mine, Dundas. Artist, Margaret Woodward; artist, Sarah Jones; artist, Jane Rendell.
3. PUBLISHING
The first 20 fictiōnellas to be published are: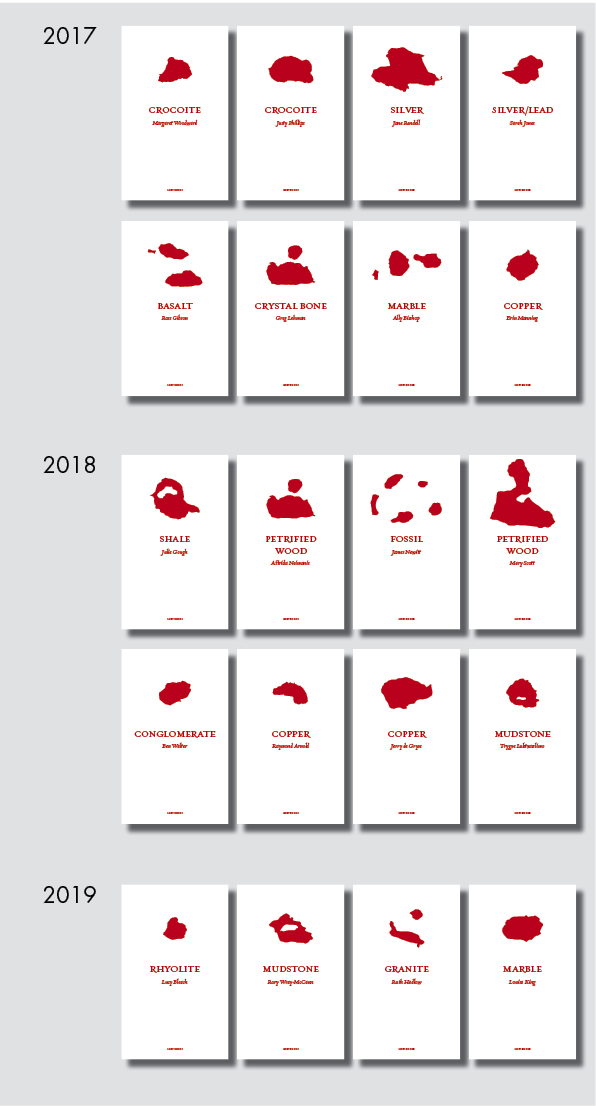 We are printing Lost Rocks with Griffin Press in South Australia. As a dedicated book publisher, Griffin Press are a cost-effective option for us, delivering our project specs to the highest quality.
Over the next 5 years, we are planning a series of live events across Tasmania – readings, performances and conversations that will expand the distribution of Lost Rocks, and create opportunities for us to invite national and international artists to the state. All of our Pozible supporters will be invited to participate in these events. We are also developing a series of portable vending machines so that future readers can buy their fictiōnellas on the street. The first of these events is series of installation works and live readings at the Zeehan School of Mines and Metallury (March 18 –26th), commissioned by Jane Deeth for 'Sites of Love and Neglect' for Ten Days on the Island festival 2017.
How The Funds Will Be Used
We need to raise $15,850
In order to completely fund the commissioning and production costs of publishing the first x 16 Lost Rocks fictiōnellas, we need to raise an additional $17,850 to cover project costs for 2017 and 2018. The money raised through this Pozible campaign will be used to plug this funding hole and set the project up to start returning funds to the 2019/20/21 expenses, from sales.
Your contribution (alongside Arts Tasmania's Crowbar initiative) to this Pozible campaign will fund:
$16,000 – Printing costs (Griffin Press) for x 12 fictiōnellas #9 – 20 (x250 copies @$1,500 each edition)
$750 – Purchasing Tasmanian special timbers plus workshop and production fees at Designed Objects Tasmania and cutting and polishing x fifty Stichtite serpentine mountain tops (minerologist Richard Wolfe, Zeehan), for the Limited Edition Lost Rocks Library.
$1100 – Pozible fees on funds raised.


Income and expenses
In this not-for-profit artwork it's important to us that our artists are paid fairly for their writing, and our copy editor too. A Published Event are handling the project's slow publishing ambitions – commissioning, corresponding, editing, designing, publishing, promoting and distributing the work over a five-year period will take a lot of time time and some money too.
We've already raised over 60% of the project costs for 2017 and 2018 through national and state arts funding but in order for us to meet the commissioning and publishing costs of the first 16 rocks, we urgently need to raise another $17850 to cover all of our production costs for the first 16 fictiōnellas.
The total cost of publishing Lost Rocks is $120,000. As a breakdown for each fictiōnella the expenses equate to:
Artist/writers fees: $1000 x 40 fictiōnellas = $40,000
Design fees $250 x 40 fictiōnellas = $10,000
Editing fees $250 x 40 fictiōnellas = $10,000
Printing costs $1500 x 40 fictiōnellas = $60,000
All project pre-press, promotion and distribution costs are being covered in-kind by A Published Event.
With every $2000 we raise through this Pozible campaign, we can cover the production costs of one fictiōnella. In Pozible's all or nothing approach to crowd funding, we need to reach our Pozible target of $15,850 to receive any of your pledges AND to be eligible for a $2000 contribution from Crowbar – Arts Tasmania's crowd funding contribution grant. Together, through Pozible and Crowbar we can meet our target of $17,850.
If we exceed our Pozible target, all additional funds will be directed to 2019/20/21 commissioning and production costs. Fictiōnellas 17–40 are currently being funded through projected private contributions and an estimate of future Lost Rocks sales.
The Challenges
We are independent artists
A Published Event is a publishing-as-art-practice collaboration between two independent artists, Margaret Woodward and Justy Phillips. We are not an organisation or an institution. It's a huge project to manage, with over forty local, national and international artists involved plus design, editing and printing professionals, there are lots and lots of people to keep to deadline.
There are also lots of deadlines.
This is truly a collaborative project. We have a good amount of professional experience in raising and managing funding and budgets but a project of this scale still takes a great deal of conviction and forward planning.
This is a pre-sale campaign
We have had some really encouraging early responses to the scope and ambition of the project but like everything the proof is in the sales!!!! We are running this a pre-sale campaign, both as a way of generating income to print and as a way for our closest supporters and collectors to secure their limited edition fictiōnellas in advance. This is an all or nothing campaign – as with all Pozible campaigns, if we don't reach our target we walk away with nothing.
We need readers
Above all else, we want to conenct our fictiōnellas with readers. We hope that you also find joy in the unexpected twists and turns of this ambitious collaboration.