The highly-anticipated new cross-cultural play,
Lighten Up.
SBW Stables Theatre, Kings Cross
30 Nov - 17 Dec 2016
Presented by Bali Padda and Griffin Independent
www.griffintheatre.com.au/whats-on/lighten-up/
Written by Australia's own Bollywood leading man, Nicholas Brown (Kites, UnINDIAN), and stand-up comedy star, Sam McCool (Australia's Got Talent), Lighten Up is a cross-cultural romantic comedy about racism and triumphantly owning your identity... and bleaching your bits!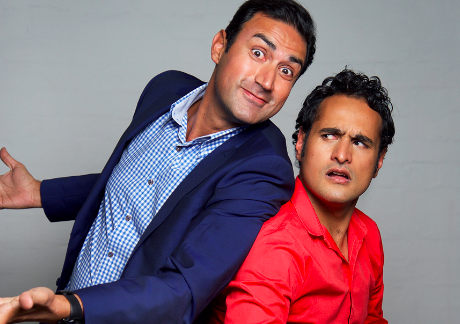 Lighten Up is the first play by an Indian-Australian creator about the Indian-Australian community staged with a professional theatre company in Sydney. This means a tremendous amount to the Indian-Australian diaspora, having their stories and experiences expressed in mainstream Australian arts and theatre. We know theatre audiences want to see more diversity on Australian stages. Griffin Theatre subscribers and ticket buyers have already snapped up over 25% of the tickets!
Lighten Up is a laugh-out-loud comedy that follows the plight of John Green, an Indian-Australian man living in the western Sydney suburb of Greystanes. John's overbearing mother Bronwyn has high hopes for him to procreate with a blonde, white Australian woman and so cleanse the family of any further 'ethnicity' in their bloodline. Bronwyn's dreams for her son are shattered when John falls in love with a beautiful Indigenous woman named Sandy.
How far is John willing to go in pursuit of love and stardom? One thing is for certain: John is determined to be recognised as 'true blue'… or whatever colour it is that Australians are supposed to be.
Here's what some awesome folks have said about Lighten Up...
"Congrats on a thoroughly enjoyable reading - what a great group of actors you had. I could really see this as an altogether hilarious romp and poignant portrait of a family. Loved watching your acting, you are John Green! Definitely felt that wonderful mixture of vulnerability and defiance in your portrayal of his character, and a real gentle intimacy with Sandy that didn't lose its humour through their journey - beautifully pitched.
Sheila Jayadev - Emerald Productions (Producer, "Ali's Wedding")
"I REALLY enjoyed it – I'm sure you could tell – I was laughing and gasping! Well done – my favourite central image is of the breeding of budgies and the daughter accusing the mother of poisoning the nest – great image!! The humour is so uplifting.
Sarah Goodes - Resident Director, Sydney Theatre Company
"Congratulations Nick. I just want to say I think you are pretty incredible... the way you welcomed your guests, set up the reading, thought about your audience and the performers during the work showed enormous generosity and skill. Your acting was absolutely superb... you really are stand out. The script is quirky and full of fun and heart... It's a fun and very thoughtful, thought provoking work.
Kristine Landon-Smith - Artistic Director, Tamasha Theatre, London
http://dailyreview.crikey.com.au/lighten-up-stc-workshop-tackles-racial-identity-and-racism/19673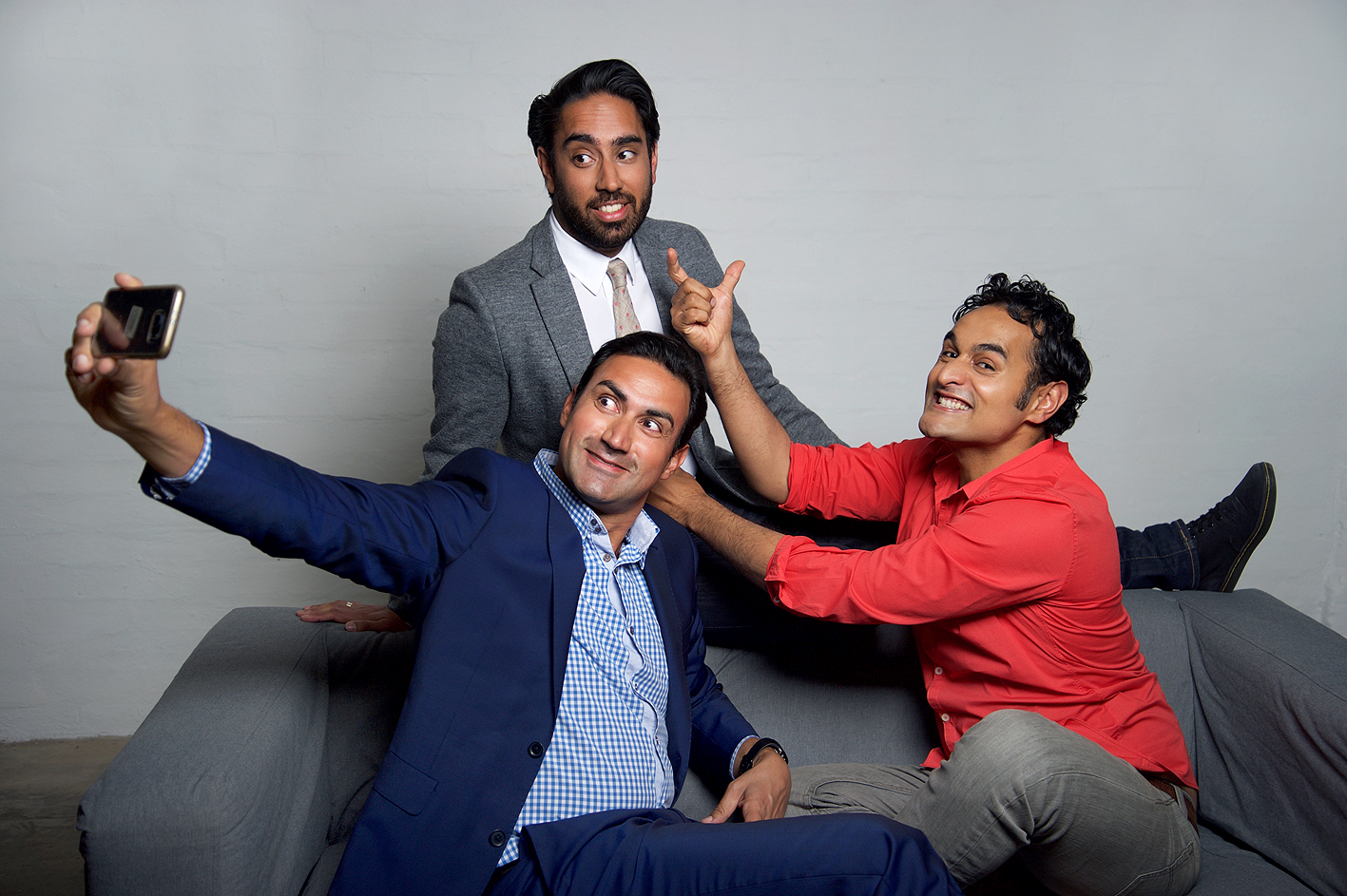 Our Vision: Normalising diversity in the Australian arts and entertainment business.
You may notice that in mainstream theatre there is a large amount of 'white' theatre and a rise in 'black' theatre (Indigenous stories - which is very, very exciting). Strangely enough, the mainstream theatre landscape seems devoid of the cultural melting pot - the in-between. So many Australians are from migrant backgrounds and in these communities lies the present and future of our country's stories.
The production of Lighten Up is an opportunity to highlight the multicultural and 'real' version of Australia that we see out on the streets and in our neighbourhoods, staged in partnership with one of Australia's leading theatre companies. Lighten Up is a play that connects the Indian migrant and Indigenous Australian communities in a story that shines a light on our prejudices, revealing our understanding of cultural identity and what we can learn from each other. Very rarely does mass media discuss the connection of these two very culturally rich and diverse communities.
The Team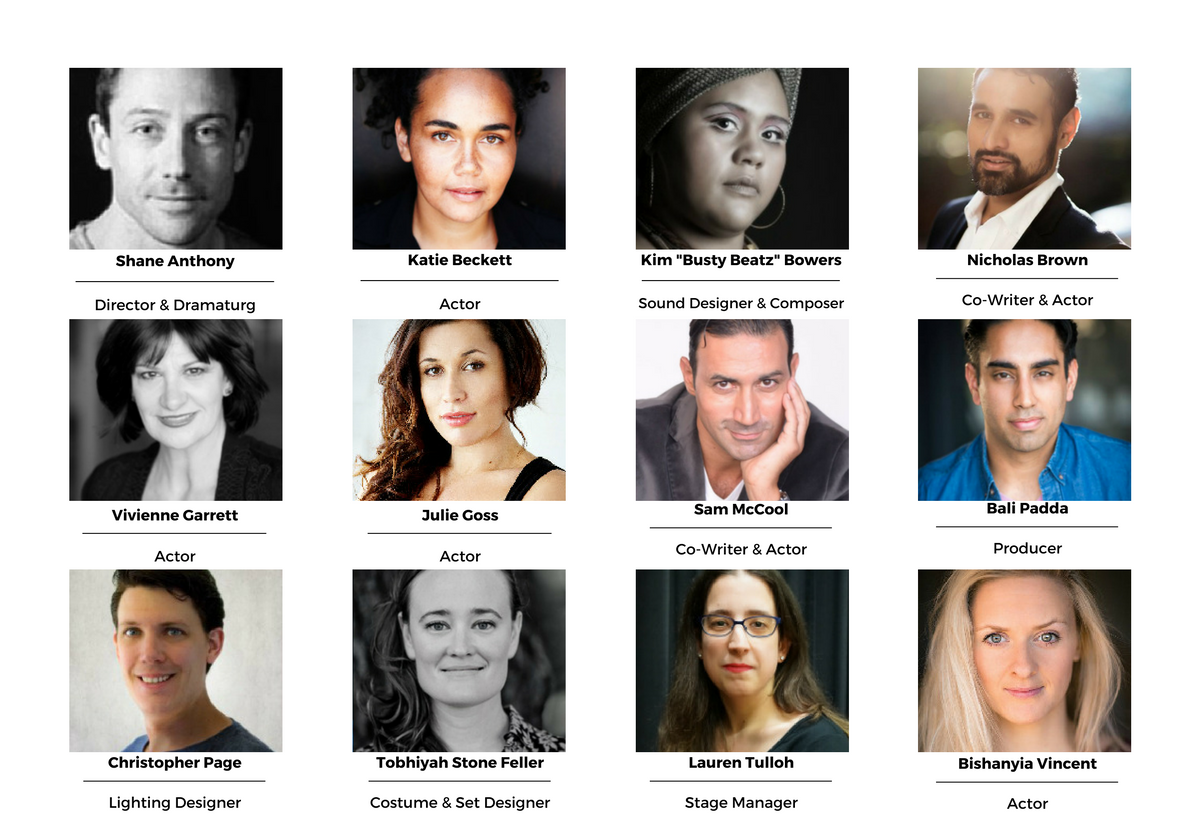 The Producer
Bali Padda is an actor, producer, and talent scout who is a passionate advocate for diversity in the Australian arts and culturalsector. A champion of diverse representation on stage and screen, Bali works extensively to advocate for culturally andlinguistically diverse communities in mainstream media.
Bali sits on the MEAA National Performers' Committee, the elected panel of professional actors that represent actors on industrial matters, and is currently the Co-Chair of the Equity Diversity Committee and has spent his time in this role since mid-2014 working with Screen Australia, Playwriting Australia, Fremantle Media, Theatre Network NSW, Sydney Arts Management Advisory Group, SAG-AFTRA, MEAA, Equity Foundation and the Australian Broadcasting Corporation to generate momentum and change for inclusion of performers that identify as being members of diverse communities (culturally and linguistically diverse, disabied, women, LGBTQI, lower socio-economic background). See some articles published by media relating to Bali's work:
In addition to his work in the arts and cultural sector, Bali has dedicated much of his work to charity, working to raise awareness and funds for the AIDS Council of NSW and the Bobby Goldsmith Foundation through producing the Mardi Gras Festival's HatsOff! concert series in 2014 and 2015.
He has produced several landmark productions featuring performers from a diverse diaspora in a mainstream contextincluding In The Space Between, Minority Box and the upcoming Griffin Theatre Company production of Lighten Up by Bollywood star and Australian actor Nicholas Brown. In 2015, Bali was a Finalist as Young Professional of the Year for the India Australia Business & Community Awards, recognising his endeavours to ensure diversity and inclusion becomes a strong focus for the arts & entertainment industry.
How The Funds Will Be Used
For a production like Lighten Up, the costs for a professional staging would approximate to $123,000. The majority of the costs are artist fees, followed by administrative, marketing and production costs.
The production of Lighten Up will engage actors and creatives (Director, Stage Manager, Set & Costume, Lighting and Sound Designers) under an independent/cooperative theatre model. This means a stipend is offered, set at a nominal fee and profits are then shared equally amongst the team, allowing for lower expenditure and costs to be decreased to approximately $53,000.
Box office sales for independent theatre, typically provide a return of 40 - 55%. We have already created valuable partnerships that will reduce most production costs, including rehearsal venue, promotional videos and photos, venue staff and marketing.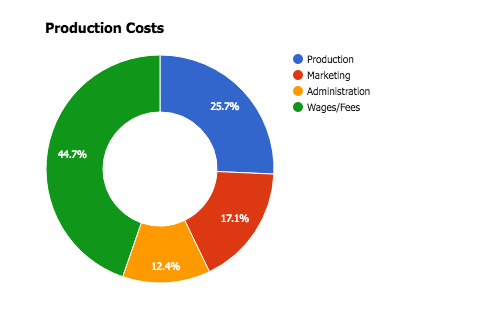 The money raised through your support via our Pozible campaign will go towards some production costs, but the majority will be used to cover professional fees. Paying artists is important!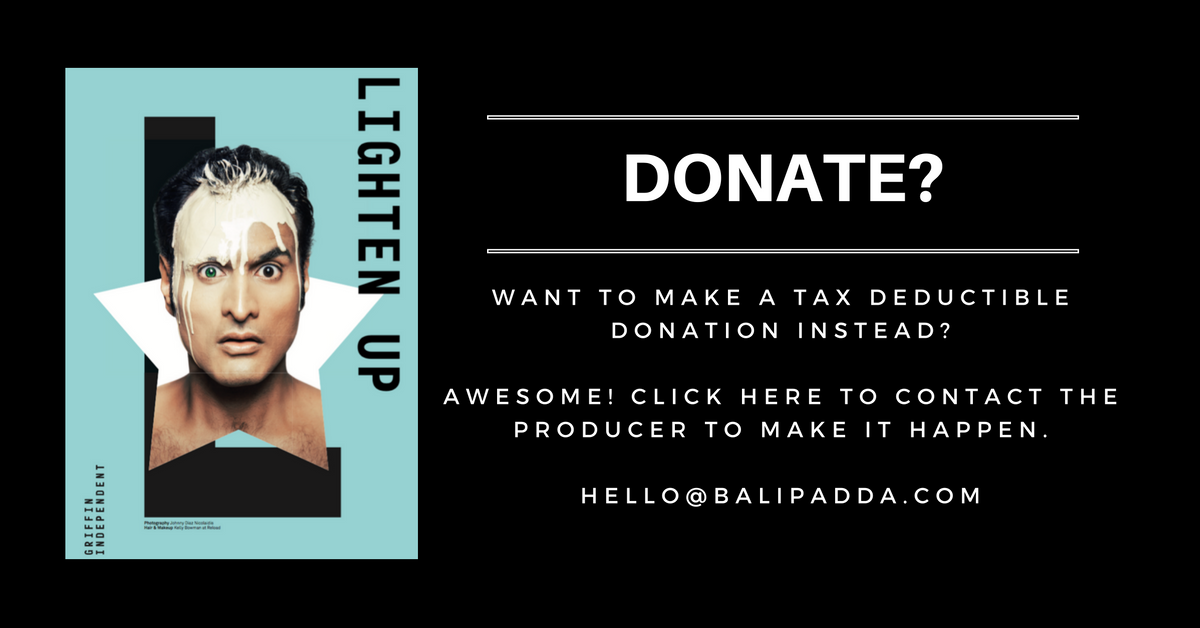 The Challenges
Having the support of Griffin Theatre Company, with free venue hire, marketing support and box office is very exciting. The Producer, Bali Padda, is responsible for covering all other associated costs with the massive task of mounting an independent theatre production. We have no government funding but are committed to paying our artists. They deserve to be paid for their time, effort and commitment to the independent theatre sector. We are putting on Lighten Up to also prove to our mainstage industry that audiences are ready to see exciting new work from diverse voices.