IT'S OVER!
The Campaign is over and reached an amazing 144% of the target. HUGE THANKS to all Learn2Learn supporters (click here to view all Learn2Learn supporters).
The extra funds will help pay for developer registration fees and video work. The app is well under way and scheduled for a release in OCTOBER 2017. Until then, please visit www.Learn2LearnApp.com and sign up to the L2L email list to be kept up to date with news.
On a personal note, please let me share that I'm normally the sort of person that finds it hard to ask for help (one of the many issues I'm working on). When I first started this campaign, I went through countless 'what the hell am I doing' moments, wondering why I would publicly humiliate myself.
Now, just 28 days after I pressed that button to start the campaign, I have been overwhelmed by the generosity and support of the Learning community. It has been inspiring to see so many people who have pledged their own money to support others to learn and develop with the Learn2Learn App.
I can't begin to tell you how much I appreciate your commitment to this project and your trust in me to make it happen. My own commitment has redoubled and I will do everything possible to create something very special with Learn2Learn.
Thank you to everyone who pledged, shared, and supported this campaign, I am full of gratitude to you all.
All the best,
Arun


--------------------------
Learn2Learn, a Quick Overview
Hi, my name is Arun and I need your help to launch Learn2Learn, an app that will help people to learn faster, smarter & deeper.
Learn2Learn will support people to quickly develop complex skills, on-the-job and in life. It will cover learning fundamentals such as developing a growth mindset and using neuroscience inspired memory hacks, as well as sharing 'real world' learning techniques, including how to learn more from people, investigation and experience.
If you haven't done so already, please click on the video at the top of this page to hear my 2 minute pitch for Learn2Learn.

What is 'Real World' Learning?
Consider your own story.
Think about you in 2011. What job you were in and what you were capable of then, compared to today? Over that 5 year period, you've no doubt developed knowledge, skills, intuition, and networks related to your work, which have expanded what you're capable of.
What was the biggest factor in your development? Was it:
Formal training, via elearning modules or workshops; or
'Real world' opportunities such as working with a strong team; having an inspiring mentor; being part of a failed project; or possibly pulling information from the web and other resources as you were challenged by new and unfamiliar tasks.
Workshops and classroom training play a role, but most would agree that the real magic of deep and lasting development comes from 'real world' learning opportunities, including social and experiential learning. Despite this, there are almost no resources to support efficient and effective real world learning... until now.

Learning Professionals Take Note!
Learn2Learn is designed for anyone who wants to learn faster, smarter & deeper, and it presents a particular opportunity for learning & development professionals. If you are responsible for rolling out training & development programs in a company or organisation, consider how Learn2Learn will help to prime and empower your audience.
Learn2Learn can play an important role in any proactive learning culture that embraces continual development. Please check out the webinar reward, where I can support L&D professionals with a presentation around 'Creating a Culture of Learning, Performance & Innovation'.
Learn2Learn, Sneak Peak

The Power of Visual Learning
Learn2Learn is packed with engaging motion graphic explainer videos and infographics to support best practice learning.
The infographic style is previewed above, and you can also explore other popular infographics I've produced over the last few years below. While not directly related to Learn2Learn, they attest to my ability to simplify complex ideas and communicate them visually:


A Little about Me
My name is Arun Pradhan and I'm passionate about empowering people to learn, be, and do more.
As an award winning learning professional with almost 20 years of experience, I've worked with some of Australia's largest corporations and seen the potential of learning to change lives. Unfortunately, I've also seen people waste time, energy, and miss wonderful learning opportunities in their work and life.
I'm creating Learn2Learn to help democratise the super skill of learning and help people to reach their potential.
Learn2Learn is a passion project for me, but I'm not in this alone. I'm fortunate to have developed a network of inspiring, generous, and intelligent professionals who I've already been drawing on for this project, and I believe that I'm well positioned to create something very special with Learn2Learn as a result.
If you'd like further assurances that I can deliver Learn2Learn, I encourage you to view my Linkedin profile and read some the testimonials below: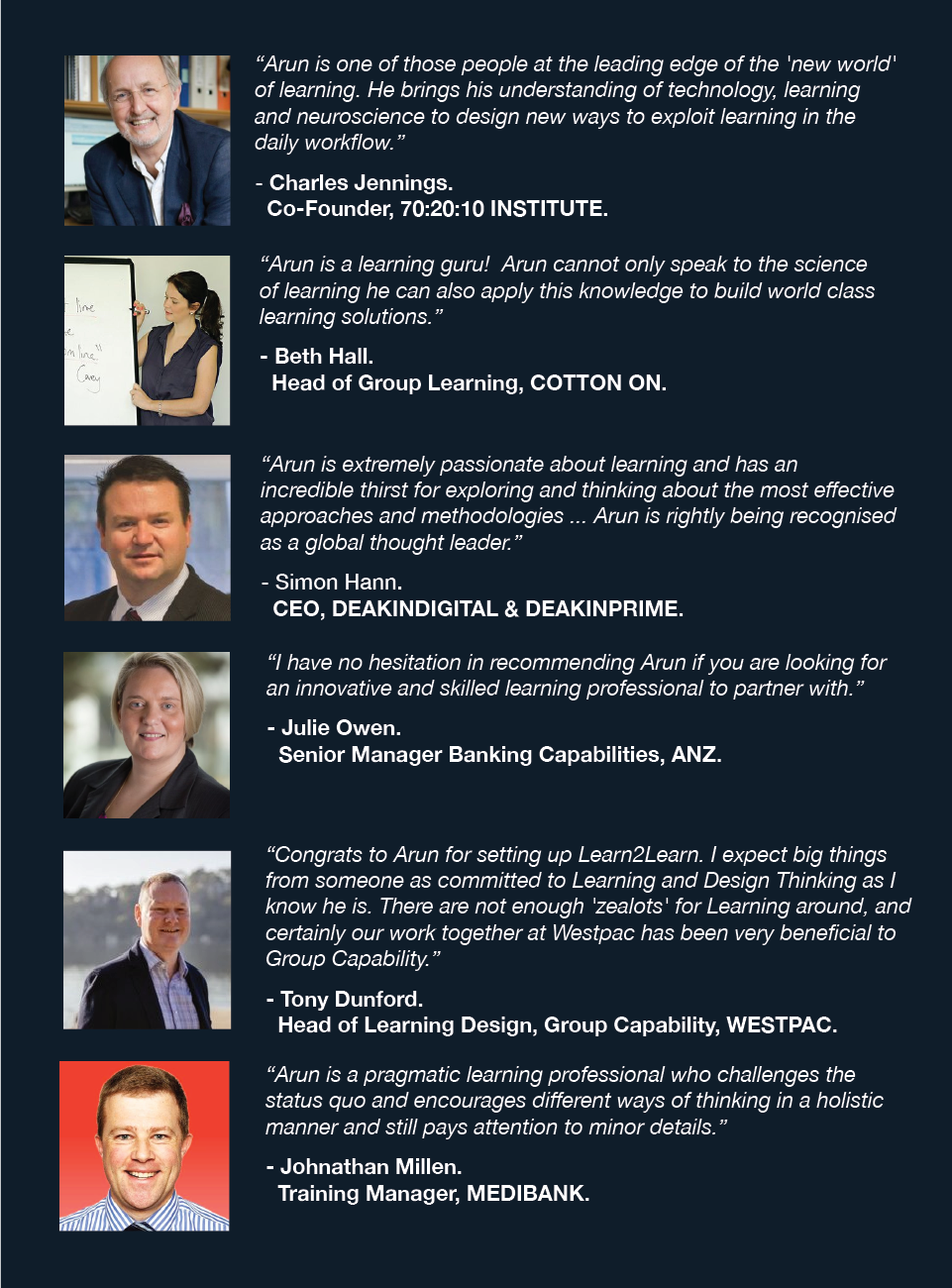 Rewards
View the rewards in more detail via the right hand column (or the rewards tab if you're reading on a phone), or view them at a glance below.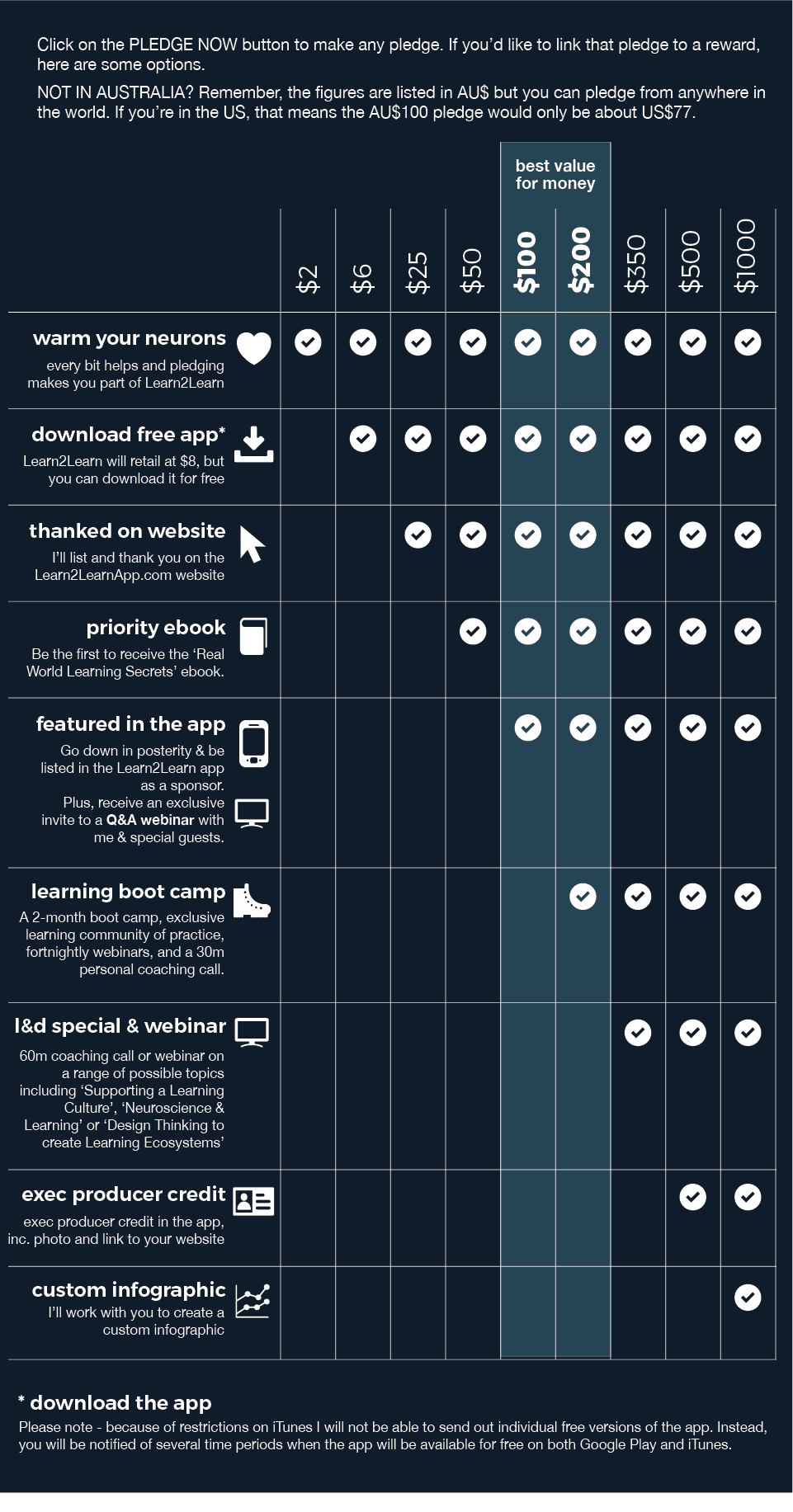 So Many Resources, So Little Time
Learn2Learn draws inspiration from many sources including: my colleagues; my clients; my experiences; a range of interviews and 'real world learning stories'; countless blogs and online articles; and many, many books, including those pictured below. Learn2Learn distills the key gems from these sources and provides links for you to explore them in more detail.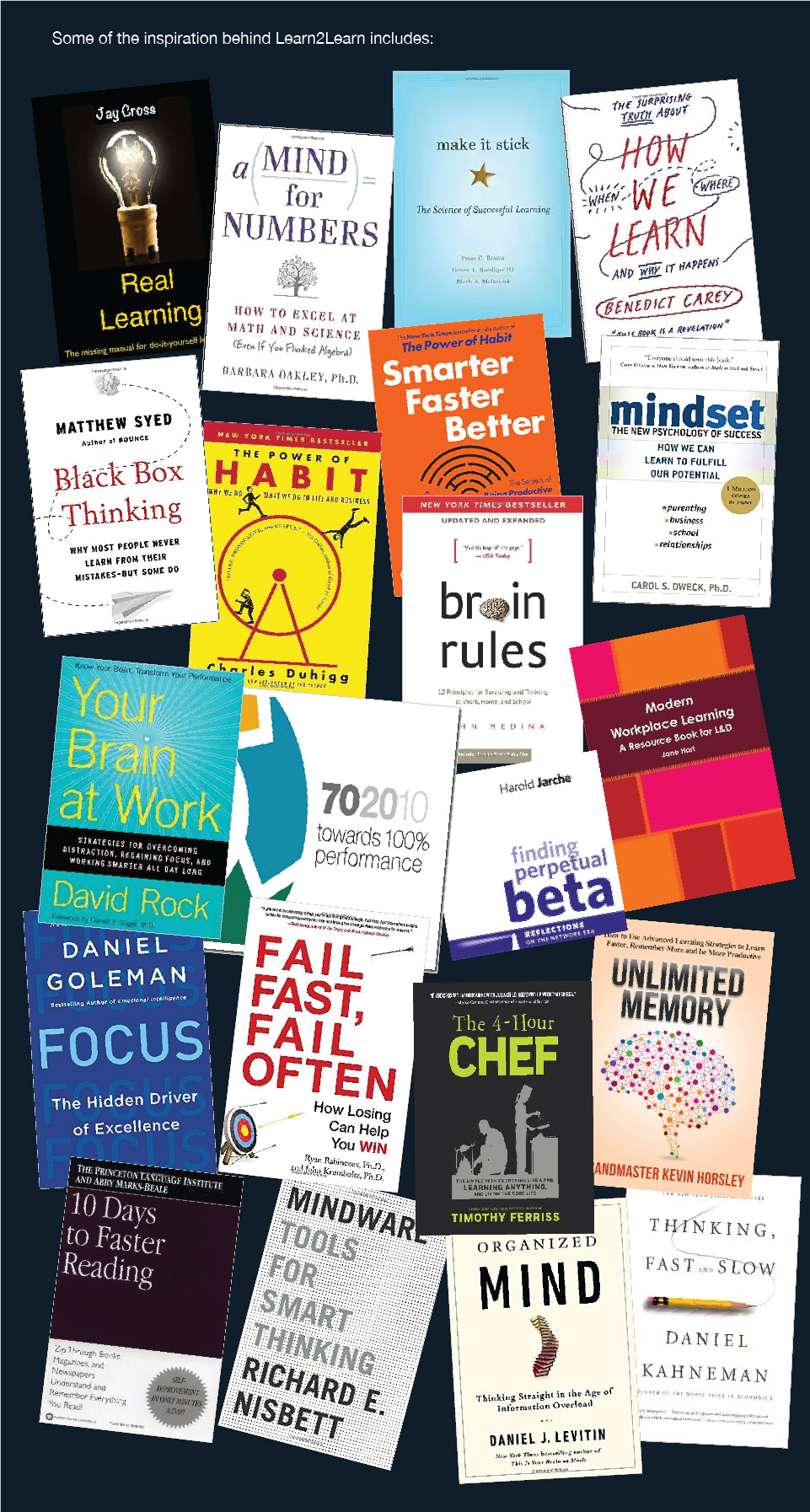 How The Funds Will Be Used
My target is the absolute barest minimum costs for Learn2Learn, not including my time on the UX design, content development and video work. If successful, the breakdown of how I'll spend the money is quite simple:
$700 crowdfunding and money transfer fees (to Pozzible, credit cards/paypal charges etc)
$8,800 for the developer costs
If the campaign goes well, I will include a range of stretch targets, including allowing me to get more video work from my wonderful videographer/motion graphics wizard (thanks Dan!) and funding me to run local Learn2Learn workshops in a host of cities. I'll post more possibilities during the campaign, in the updates section.
The Challenges
Design and production for Learn2Learn is well underway. I've engaged a development company who are building the framework for Learn2Learn and I've already been testing the beta builds.
The project is going well and on time for a release early next year.