I really wanted to do this book to make children happy. I made it so they can learn about the animals - how they live and what they eat and how we catch them. Also how they tell us about the seasons here. I want to share my culture in Kunwinjku and English and help children learn how to count. Gabriel Maralngurra

Gabriel Maralngurra, artist, and his daughter Gabriella with his book and an artwork in progress at Injalak Art Centre.
Mission Statement
We invite you to make a contribution to fund the printing of The Kunwinjku Counting Book, a very special book self-published by Injalak Arts, an Aboriginal community owned art centre located in Gunbalanya (Oenpelli) NT. The book is illustrated by Gabriel Maralngurra and with text in English and Kunwinjku, the language spoken here. This is an opportunity to support a fantastic Aboriginal educational and cultural project and receive a wonderful gift for the child(ren) in your life in time for Christmas. We have some other lovely rewards to share with you too.
The Kunwinjku Counting Book
This is a very special project for Injalak Arts. For a long time we have wanted to create a publication for children that celebrates and shares our culture. So many of our artists make original artworks of great beauty, integrity and meaning. Visitors to our art centre get to meet the artists and craftspeople and experience being with them, however, many cannot travel to our remote location and yet would love to learn and know more. Other people cannot afford an original artwork. It's been a joy to create something that is a pleasure to look at, educational and affordable.
The Kunwinku Counting Book is bi-lingual - with text in both English and Kunwinjku. Each illustration, based on an original painting by Gabriel Maralngurra, shows animals of the region painted with grace and precision. Gabriel was the logical choice as our first featured artist. The book also includes some great insights into the environmental habits and quirky features and observations about the different birds, reptiles, fish, insects and mammals. Plus some detailed information about the ecology of West Arnhem Land. An added bonus is the book will be printed in Australia by Finsbury Green, renowned as Australia's premier green printer. The book was designed by Amber Young (that's a picture of Amber with Gabriel and Gabriella below) with text by Gabriel Maralngurra and Felicity Wright.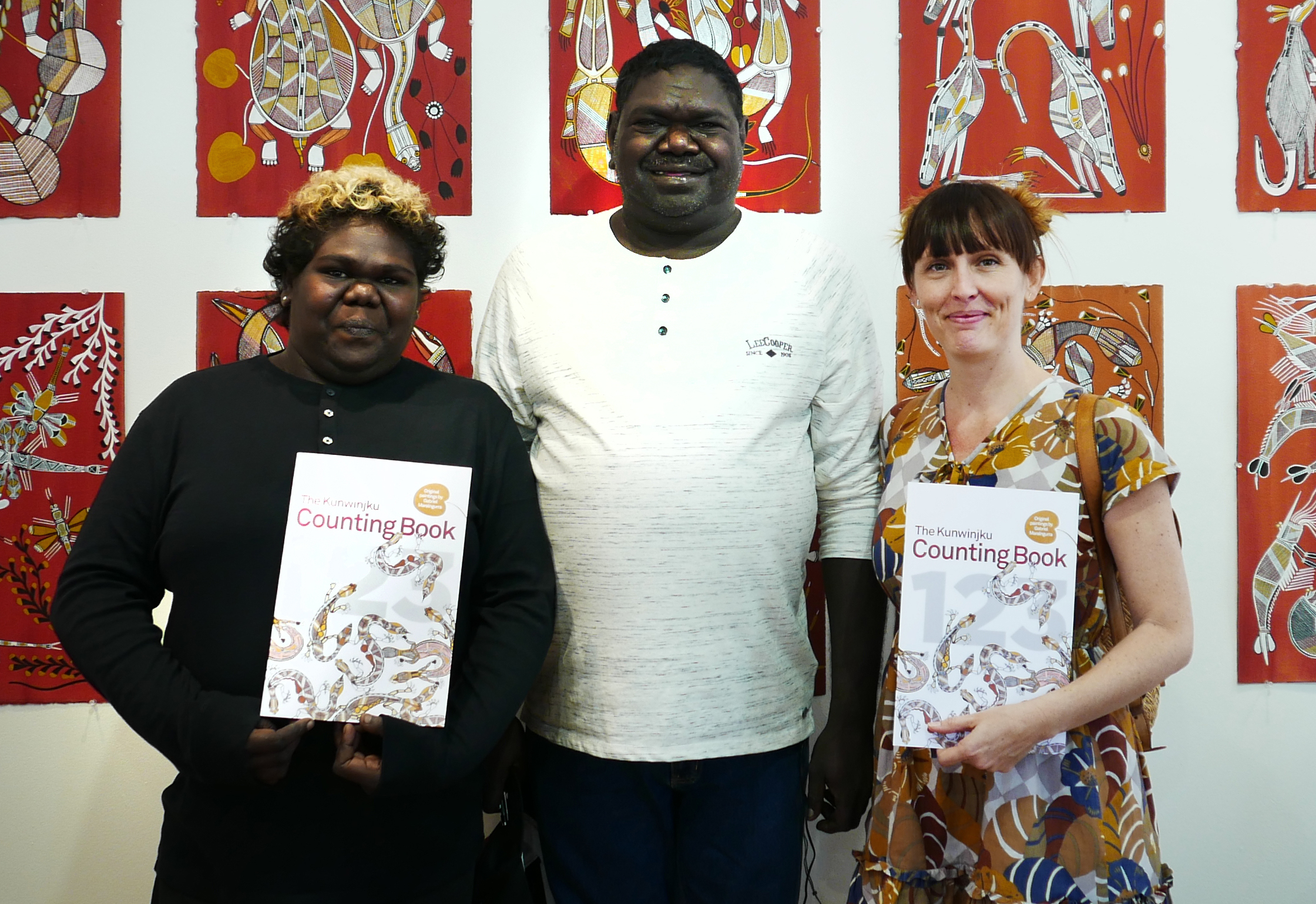 Why crowd funding
We are a non-profit Aboriginal owned Association and have very limited funds. We've been working on this project for the last nine months and produced a small number of copies in time for the exhibition featuring the twelve original artworks, reproduced in the book, and book launch that was held at Nomad Art in July 2016. Meanwhile, we have been patiently waiting to hear the outcome of a submission to FRRR for sufficient funds to print that was lodged at the beginning of May - but we only just heard in mid-October that we were unsuccessful. So now we are turing to crowdfunding to source funds to go ahead and print 2,500 softcover copies and a small number of hardcover copies and be able to distribute them widely.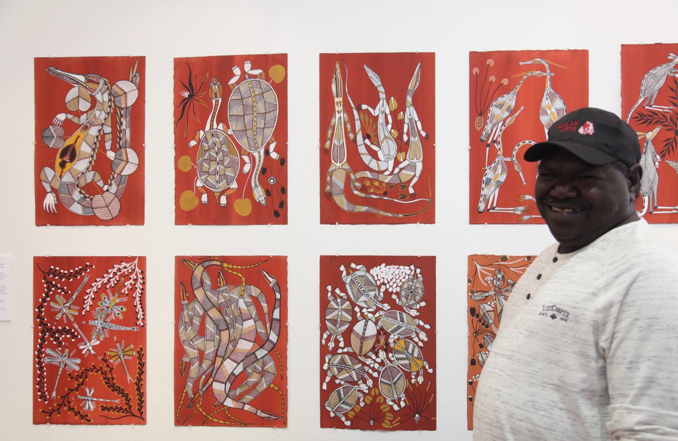 Gabriel Maralngurra at Nomad Art in Darwin at the launch of his book with the suite of 12 paintings.
The artist
Gabriel Maralgnurra is a co-founder of Injalak Arts and is now Co-Manager and senior artist and can be seen on site most days creating superb paintings. In 1989, when in his early twenties, he and other young men and women established the art centre and continues to be a driving force behind the art centre today. More than twenty-five years of sustained artistic practice are reflected in the breadth and depth of the subjects he paints, his fluent line-work and highly original compositions. Whilst being an innovative artist who enjoys experimentation his own confident and fluid style is unmistakable, always balancing studied naturalism with a strong sense of design and stylisation.
Gabriel is continually inspired by the rock art of West Arnhem Land, always referencing and working within this artistic tradition while pursuing formal innovations and new designs. His knowledge of creation stories, plants and animals gives him a wide range of material. He is an ambassador and intercultural mediator for Kunwinjku culture, having worked many years as a fabric screenprinter and designer, a Injalak hill tour guide, Kunwinjku-English translator, Injalak Arts board member and chairperson, and now Co-Manager of Injalak Arts. He has also travelled widely around Australia and internationally for art related events.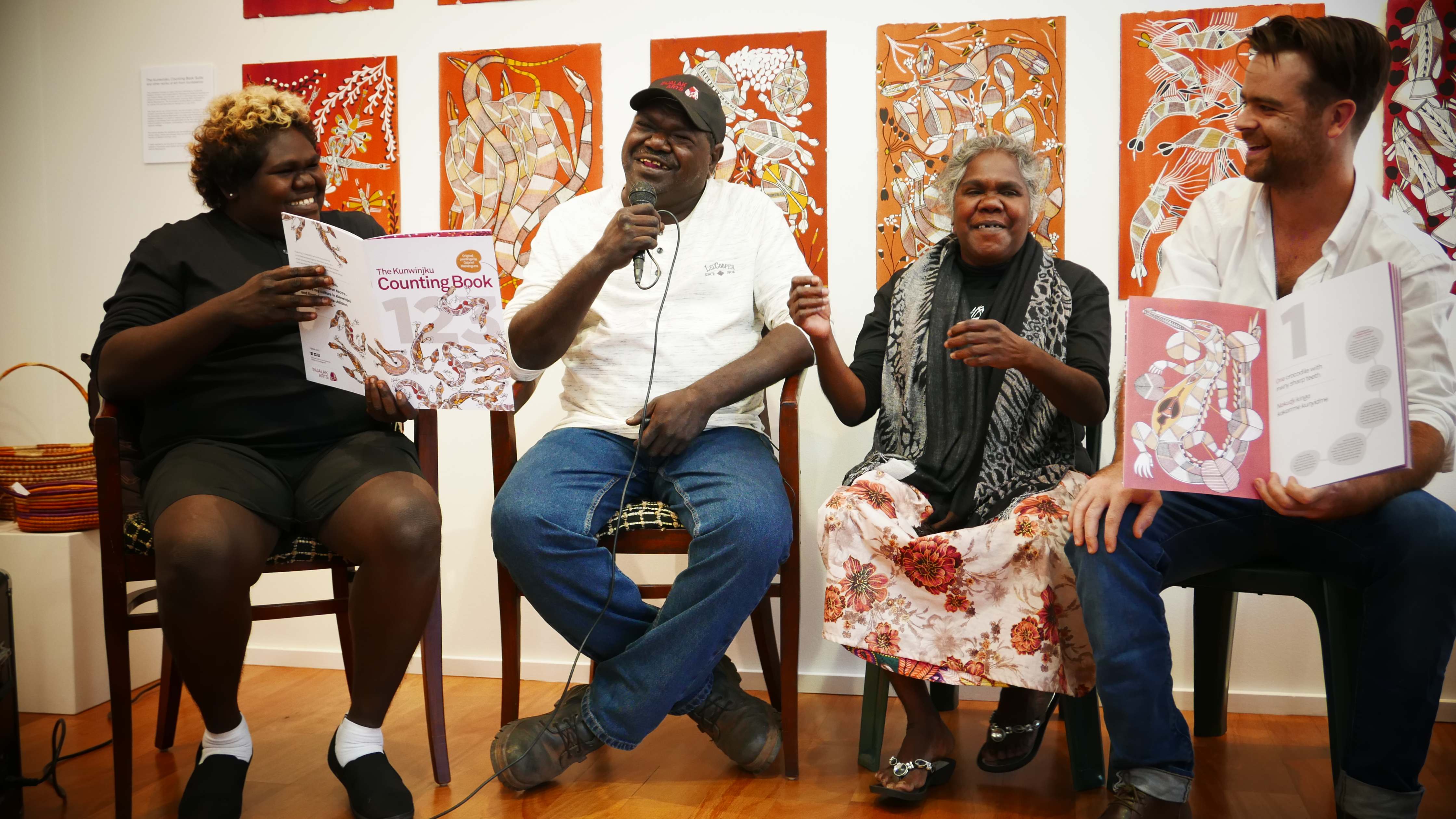 Gabriella (Gabriel's daughter), Gabriel, Donna Nadjamerrek (Chairperson of Injalak Arts) and David Wickens (Assistant Manager) at Nomad Art July 2016 launching the book
Injalak Arts - about us
The guiding principle of our art centre is 'sharing and teaching our culture'.
Injalak Arts is one of Australia's longest running and most successful remote community art centres. See this lovely short video about Injalak Arts. The commonly spoken language in the area is Kunwinjku and members of Injalak Arts must be Aboriginal Kunwinjku speakers. Located in West Arnhem Land and famous as the home of 'x-ray' art, the artists of the region have been making collectible and acclaimed artworks for more than a century. Based on imagery found in rock art throughout the region, and part of a continuous culture dating back more than 20,000 years, the figurative themes in the paintings of the region feature animals, plants, spirits and creation ancestors. Being a non-profit we have very limited funds for activities and need to rely on social entrepreunerialism to generate income and fund projects. This is our first crowdfunding campaign so a very exciting step for us. We really appreciate your support.
For more information about Injalak Arts, who we are, what we create and do please visit www.injalak.com
Also, we invite you to follow us on Facebook - Injalak Arts Gunbalanya and Instagram.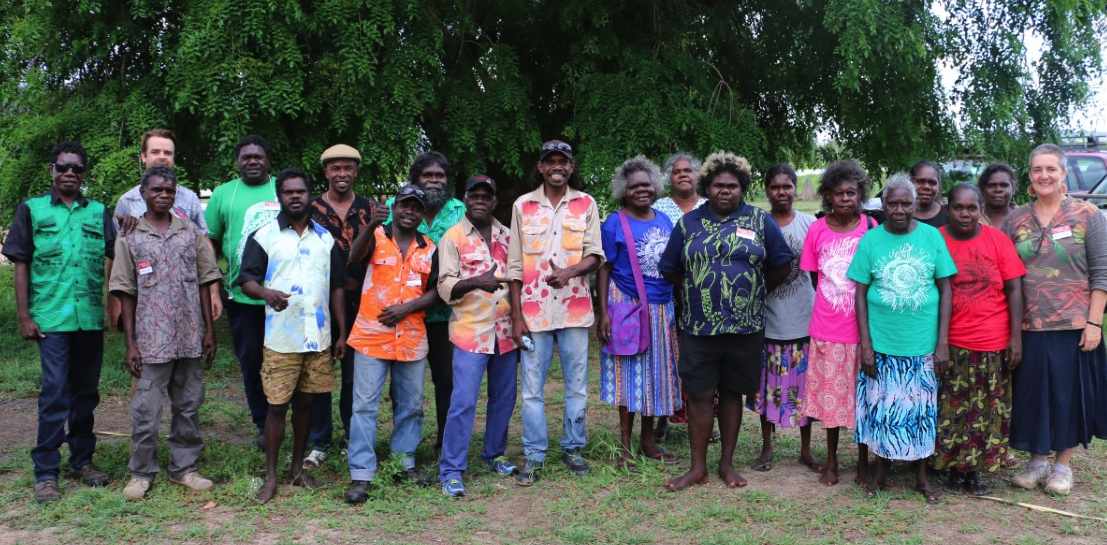 Members of the Injalak Arts team at the art centre in October 2016 including Co-Managers, Committee members and staff
How The Funds Will Be Used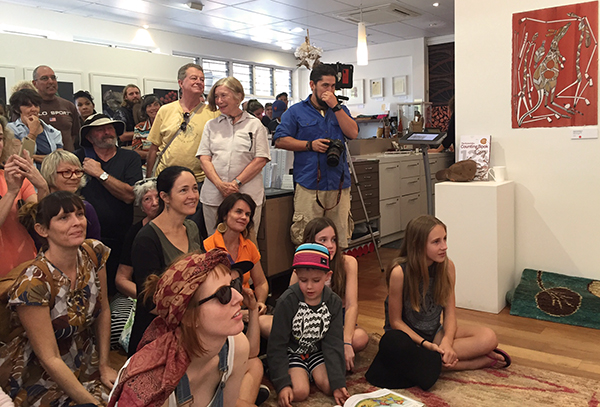 People who attended the launch of The Kunwinjku Counting Book at Nomad Art in July 2016 listen attentively to Gabriel Maralngurra reading from the book.
The funds will be used to print 2,500 copies of The Kunwinjku Counting Book.
The funds raised will enable us to distribute the book to the people who have supported the campaign, sell the book from our art centre and distribute free copies to Gunbalanya Community School and Kunwinjku children in the community.
The softcover Kunwinjku Counting Book will retail for around $20 and hardcover for around $49.50.
The audience at the launch of The Kunwinjku Counting Book at Nomad Art in July 2016 was enraptured by Gabriel's book reading and all available copies sold quickly.
Any additional funds raised will be used to support other Injalak Arts publishing projects currently underway. Amber (our designer) is currently working with Selina Nadjowh, Merril Girrabul and other artists. Stay posted!
For more information about Injalak Arts, who we are, what we create and do please visit www.injalak.com
Also, we invite you to follow us on Facebook - Injalak Arts Gunbalanya and Instagram.
The Challenges
Production: As we have already done the hard work of commissioning/creating the artworks, collating the text, designing the book and printing a small number of copies, we are confident that not many challenges remain on the production side. We have already worked with Finsbury Green, Australia's premier green printer, to ensure the book will be as environmentally responsible as possible and printed in Australia.
The audience we've shown the prototype to have been very enthusiastic and we now have back orders.
With adequate funding 'thunderbirds are go!!'
Price: We have priced the book to be affordable and accessible to a wide audience.
Distribution: Despite being remote we have a track record of freighting artworks and packages to wholesale and retail customers around the world.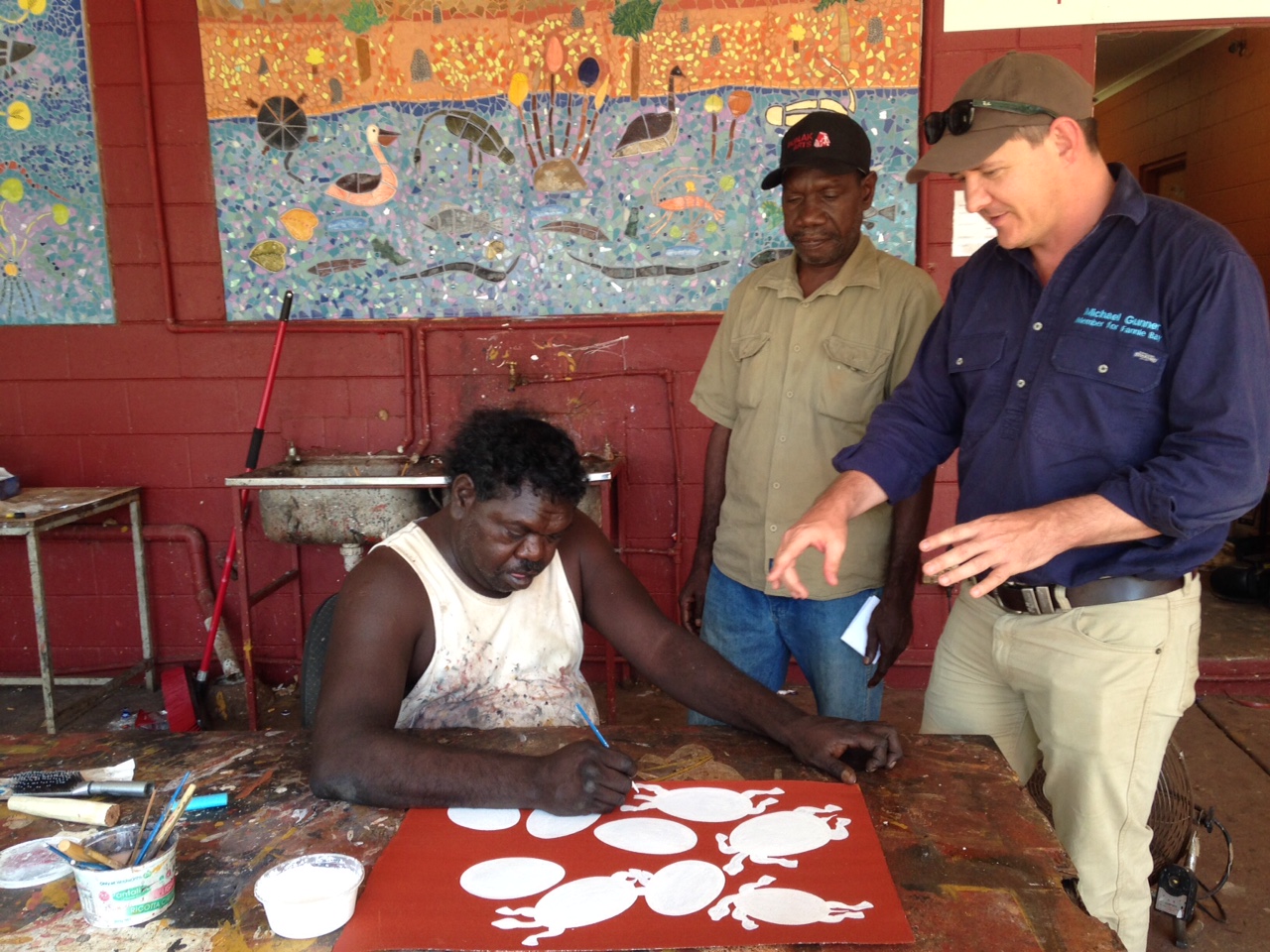 December 2015 Injalak Arts was visited by then Opposition Leader Michael Gunner. Gabriel is painting one of the artworks in the Counting Book - snapping turtles! Co-Manager Isaiah Nagurrgurrba looks on.
For more information follow us on Facebook - Injalak Arts Gunbalanya and Instagram.
And watch this lovely short video about Injalak Arts.