NEWS ALERT - PAPARAZZI DOG FOUND!
PLEASE READ UPDATE!
We just got a call from the NSW police that they have found the ART THIEVES and rescued our bronze stolen Paparazzi Dog.
We are so HAPPY!!! A huge thank you to the thousands of people who have supported us in the search for Paparazzi Dog.
After 3 months of extensive investigation and rewards it finally came down to you - the loving ART public.A number of anonymous tips from ART lovers gave the police the final piece of the puzzle. Warrants were issued late last night and the police found him in a house in Maroubra. There he was hidden under cover in a garage. Sadly he has sustained damage with the camera broken, but we will repair him so he is back to his old self.

Once again we are celebrating as goodness wins. And to all those people who said you would never get him back we hope this shows that public support is powerful and wonderful. We will keep you posted as to when he will be back on the street.
Thank you Paddington and thank you Sydney for protecting our public art. Your are the greatest. For anyone that has contributed to our Pozible, thank you! We will continue making this Paparazzi Dog, so we will have 2 and they can take care of eachother. We hope to still get your support!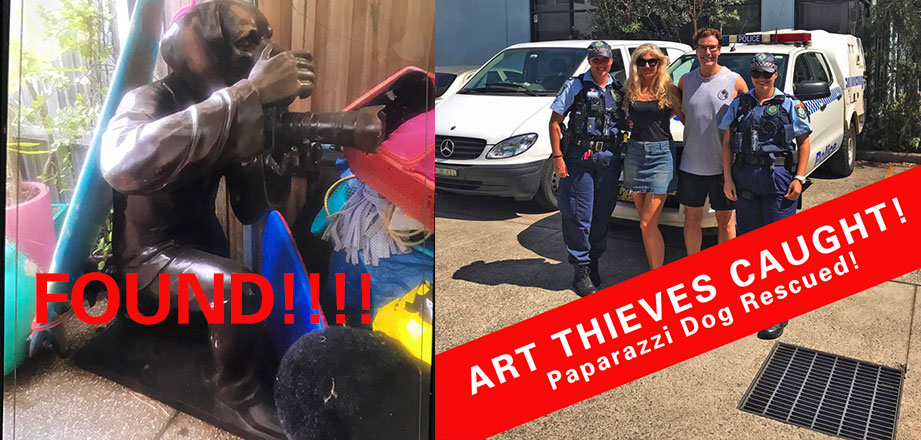 Make Australia great again (with art)
Hi, we're international contemporary artists Gillie and Marc. Our mission is to bring accessible and thought-provoking art to the world for everyone to enjoy.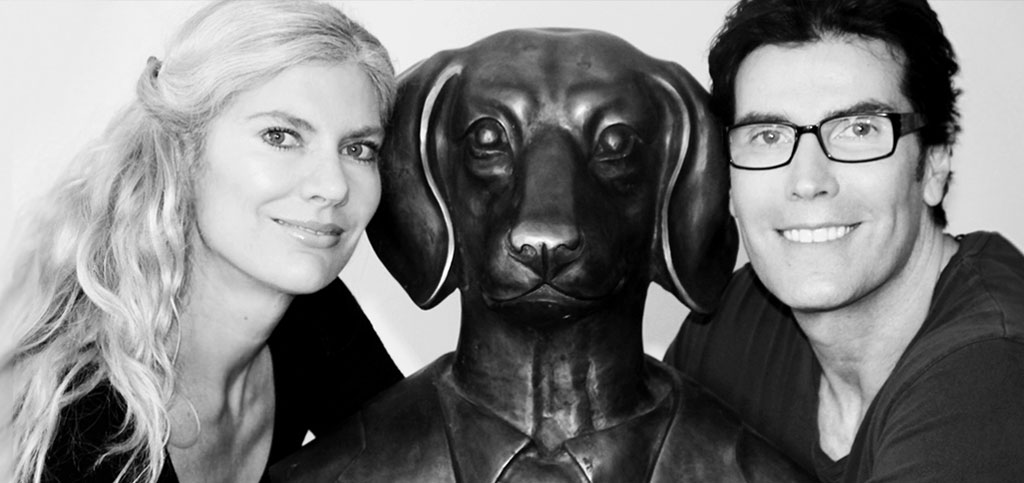 About us
We're a husband and wife team who have been collaborating to create as one for over 25 years. We are best known for our iconic hybrid characters Dogman and Rabbitgirl who tell our autobiographical tale of two opposites coming together to become best friends and soulmates, proving everything is possible through love.
Australia's public art crisis
Tragically, our beloved Paparazzi Dog was stolen from outside Opus Design Store on Oxford Street, Paddington while we were on holidays. The theft took place on 27 December, 2016, between 10pm and 11pm. Witnesses reported the thief was a Caucasian man with brown hair, under six-foot tall. Unfortunately, neither the thief nor sculpture have been seen since.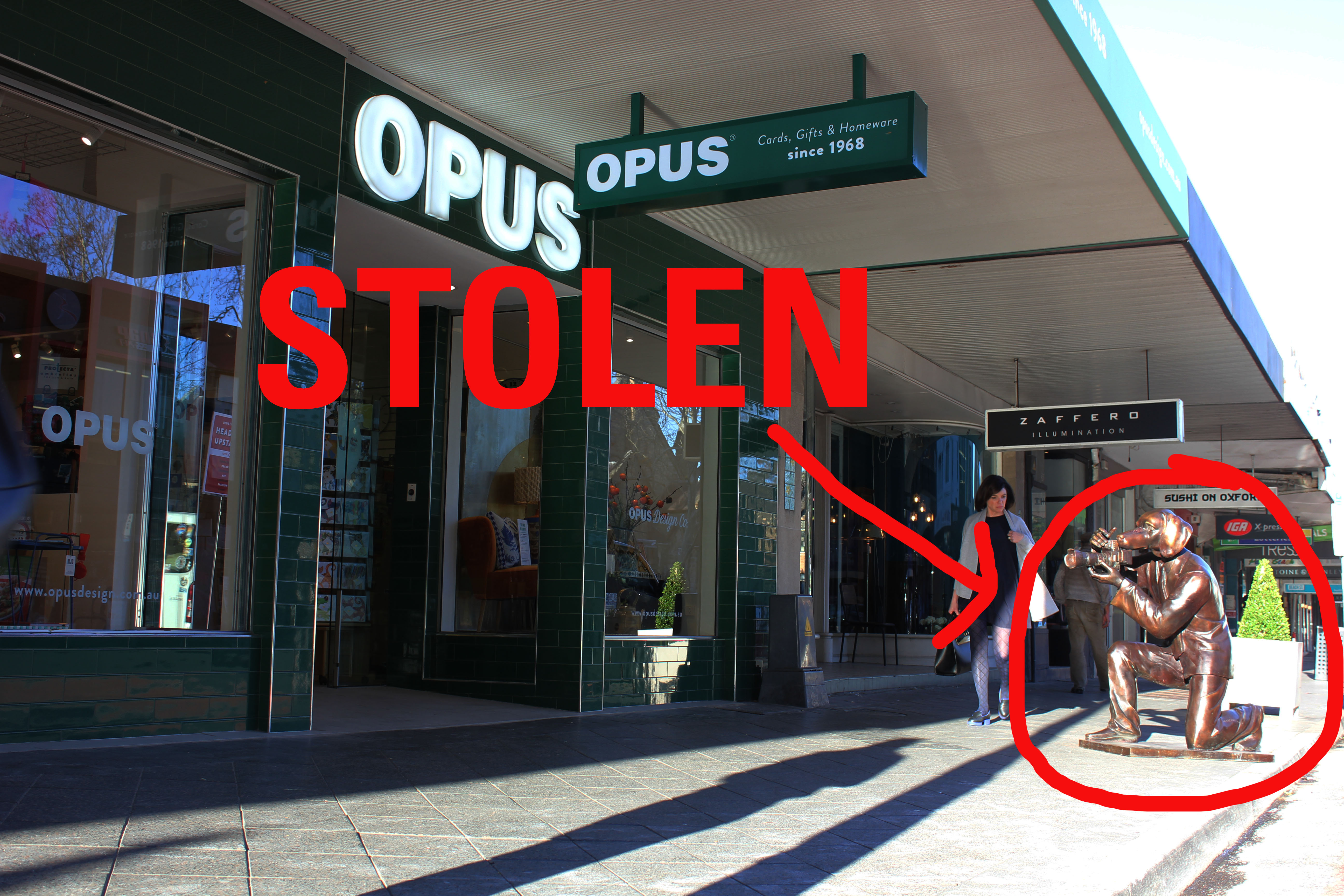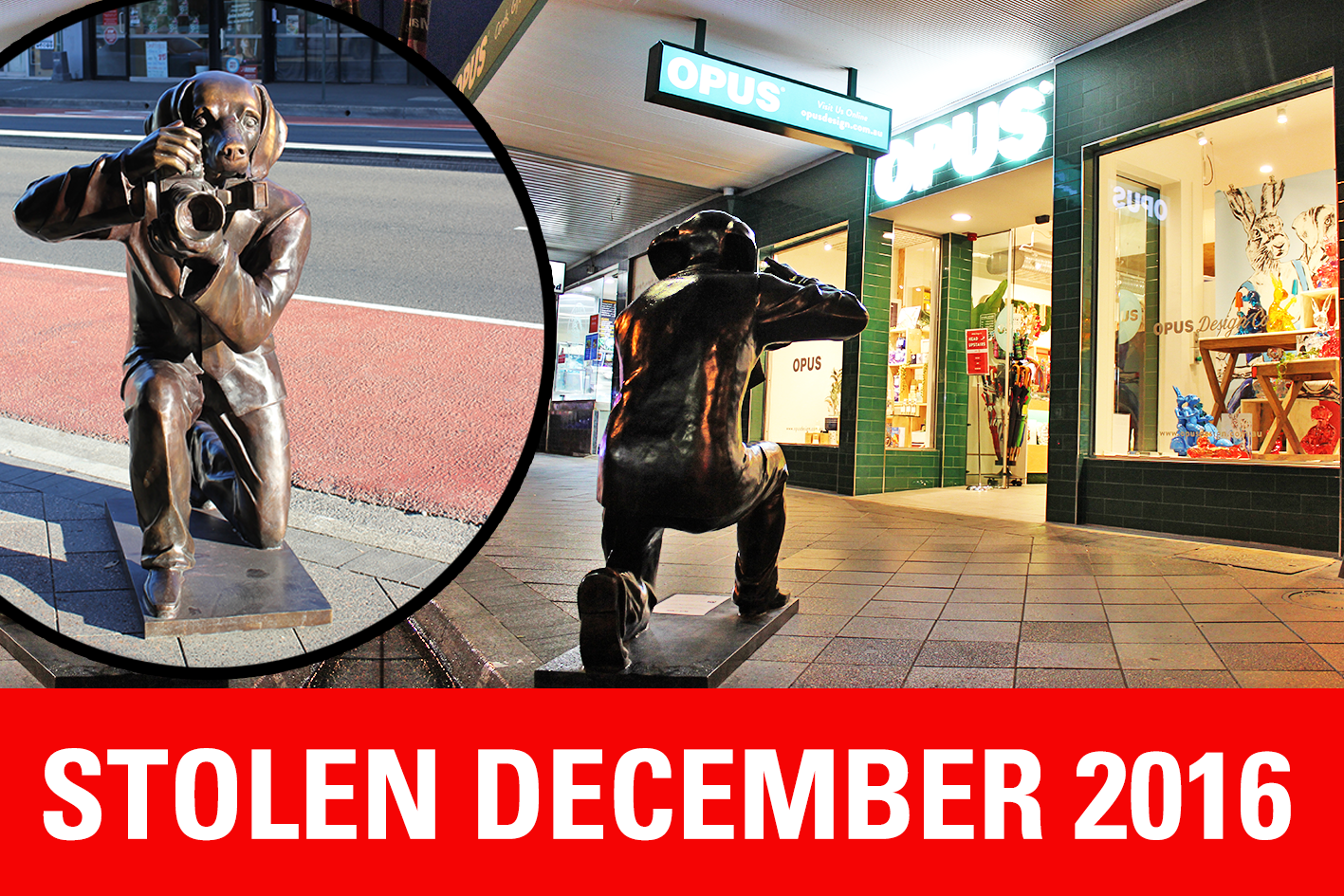 The Paparazzi Dogs are the world's most notorious dogs, photographed by over 20 million people worldwide. The four bronze Dogmen have sniffed out the rich and famous in Melbourne's Federation Square, the Jing'an Sculpture Park in Shanghai, and New York's Greenwich Village. This interactive artwork exposes the pack mentality of the media and how we hunt celebrities to get their photo.
Our public art sculptures in Shanghai, Beijing, San Diego, Hobart, Melbourne, Paris and New York have only been treated with the utmost respect. Meanwhile, our art has been vandalized and stolen from Sydney and Melbourne. It makes us question, what's wrong with Australia?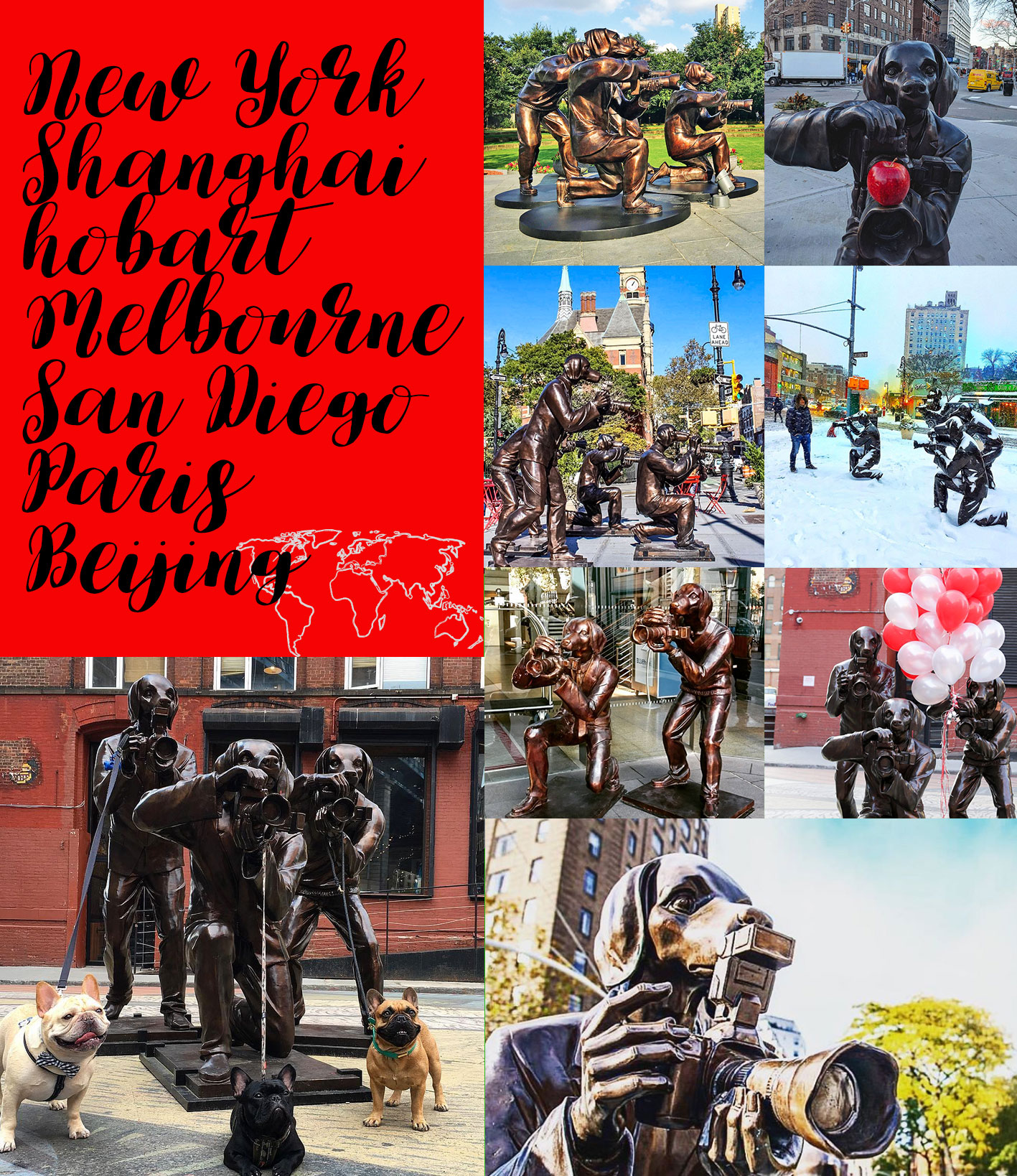 Cities all over the world have public art for people to enjoy and we believe Australia should be no different. So we're launching a new initiative unlike any seen before: The Public Art Protection (PAP) Program.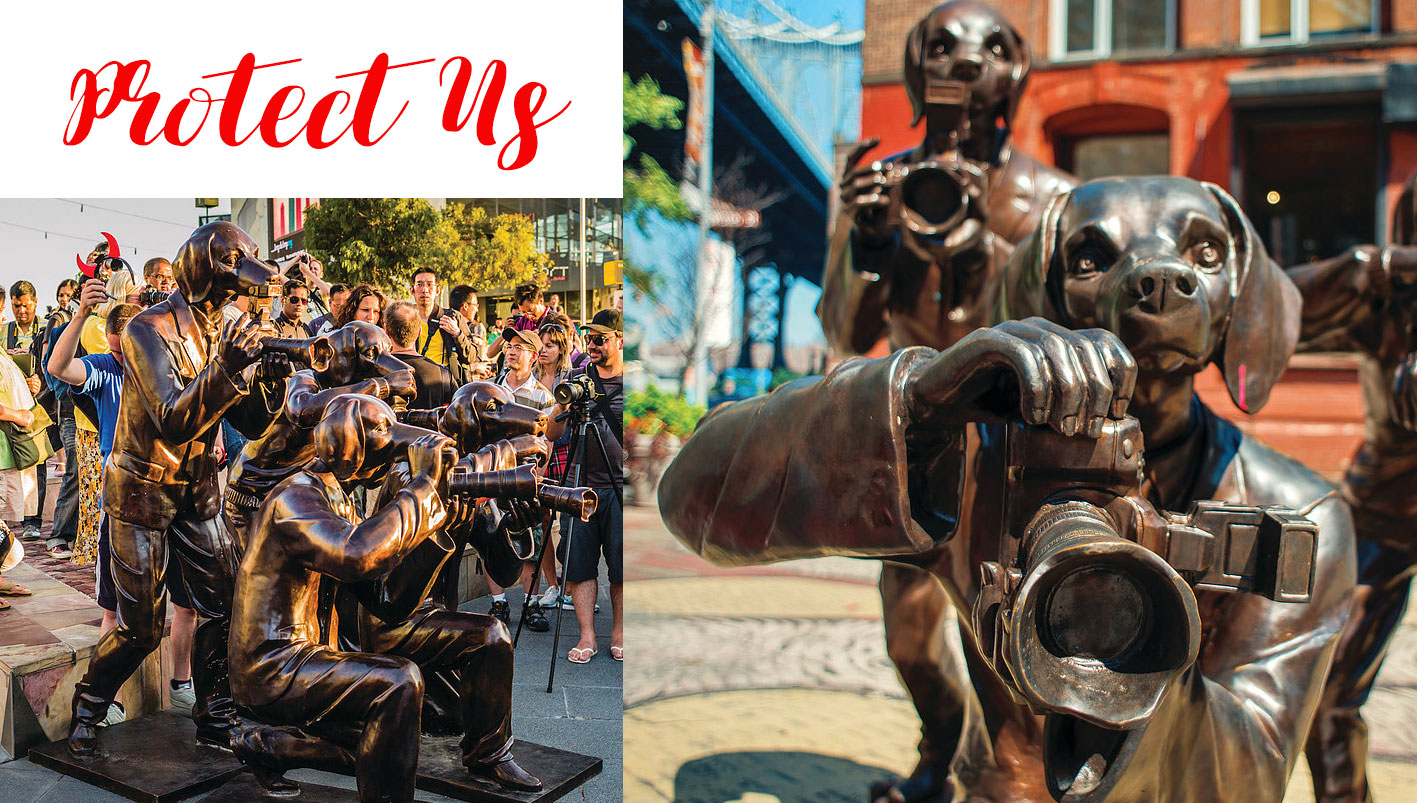 You can help catch the bad guys
We are calling on the Australian public to become Public Art Protectors. We will replace the Paparazzi Dog sculpture in Paddington, but this time a surveillance camera will be installed that feeds live to our website www.gillieandmarc.com.
We will encourage the public to take daily photos of the Pap Dog sculpture so we can personally keep track of it. All photos should be uploaded to various social media platforms and tagged with #paparazzidog and #opuspapdog. The best photo will get a FREE Pup Art book valued at $120 from Opus Design store.
Reward incentives
We've set up incredible reward incentives that are a real bang for your buck. If you've ever needed an excuse to treat yourself to our art, now is the time.



How The Funds Will Be Used
Cost Breakdown
Sculpture moulding & casting: $25,000 (includes materials such as bronze and an internal steel structure)
Pozible/Admin fees: $1000 (approximate. Pozible takes 5% off all fees, and 2.5% charge on credit cards. We've also hired an administration assistant to help us set up and manage the Pozible page)
Reward production: $1,000 (approximate costs of hiring a packer to send out rewards and shipping costs)
Sub Total: $27,000
The Challenges
Our biggest challenge is to keep our Paparazzi Dog safe for everyone to enjoy. When we all join together, nothing can beat the power of the people. Australia deserves access to art, so please help give it to them. The power is in your hands!