Musician Jess Ribeiro has been offered the unique opportunity to showcase her new record at one of the biggest music industry showcases in the world. South by Southwest, in Austin, Texas this March!

Jess Ribeiro has been a staple in the local Australian music scene since her award winning 2012 debut 'My Little River'. She followed this up in 2015 with the critically acclaimed 'Kill It Yourself', produced by Mick Harvey (PJ Harvey, Nick Cave and the Bad Seeds). Ribeiro has spent the past twelve months working on her forthcoming release which is due to come out mid 2018.
An Australian award winning talent, Jess's performance at SXSW will be key to her continued success and building audiences globally. Additionally, Ribeiro and band have been invited to showcase at Canadian Music Week in May!
International trips to some of the biggest music conferences in the world don't come cheap. That's where you come in! You can support Jess on this endeavour by pledging to her Pozible campaign!
Jess Ribeiro:
Budget Overview
It is estimated that the entire trip will cost in excess of $50,000. Through this Pozible campign we hope the raise a fraction of this. The money raised will go towards return flights for Jess Ribeiro's five-peice band to Austin, Texas, and will additionally assist with accommodation costs.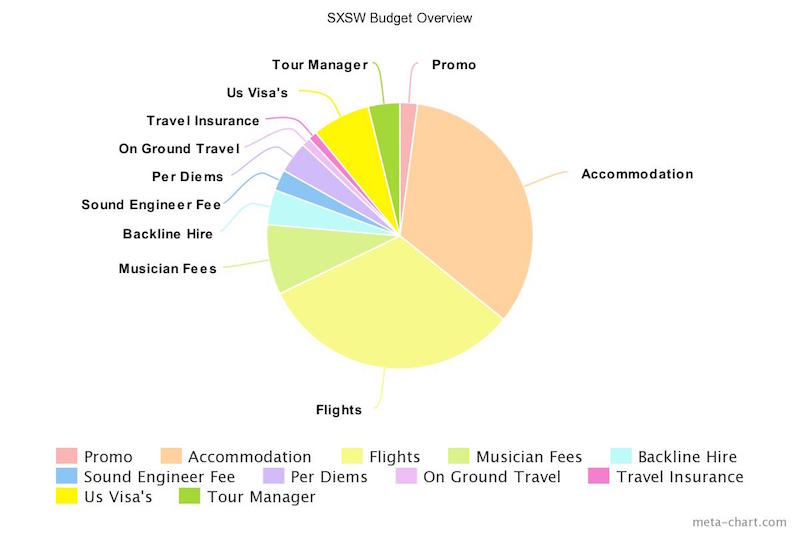 Potential Challenges
SXSW is only three months away, so time is a real challenge. Jess Ribeiro and her band face the universal problems to musicians - keeping yourself financially sound while allowing yourself enough time to succeed in your passion! Jess and her band will be eternally grateful for any assistance they recieve.
Follow Jess' Lead
Use this campaign as a template to start drafting your own.
Some of the great things about this campaign that really aided in its success was the inclusion of a clean, aesthetically appealing pie chart for the budget, and the variety of rewards on offer.
Don't forget your rewards can be outside of the specific project category- if you have other hobbies like Jess does, include things like that! Jess' Tarot Card Readings and Haikus on offer were one of the main reasons her campaign hit its target.