You can still help!
If you're reading this it's because the mural project has already connected with heaps of supporters and we've made it to our goal. But wait, there's more.
You can support the project right up to the dying minutes of September 6 and we promise your support is super valued. Any funds raised above and beyond our original target will go towards making sure the rest of the façade matches the mural. We'll do a bit of sign writing, put up new blinds, and repair a window frame. We would also love to build some bespoke shelving so that we can show off the work that happens both in the studio and through our partnership with the Westcare Centre.
New stretch goals...
$3500 - repair window frame
$3700 - new blinds
$4000 - sign writing
$4500 - shelving
Don't stop now. Together we can lift this project to the next level. (And there are still plenty of great rewards to claim!)
What is this project about?
Hi! We are Fly Bird Fly Studio and for this project, we are all about creating an inspiring mural to grace the streetscape of South West Adelaide.
You know when you walk past a building and you just have to stop and take a second look at the amazing graphic leaping out at you? There should be more of that in the world, right?!
Fly Bird Fly Studio is a new space in the centre of Adelaide that celebrates creativity in everyone. Three artists share the space to develop and hone their own work as well as running workshops for anyone who wants to get their art on. These workshops are for local residents, kids, people who are marginalised and/or homeless, artists, and you. We are ceramicist, Sunshine March, illustrator, Andrew McDonough, and filmmaker, Nathan March.
We've asked the street artist and man about town, Vans the Omega, to design a mural for us that creates that sense of lift you get when you are doing exactly what you were made to do. You know that energy that overtakes you when you're totally in the right space? That's what Fly Bird Fly Studio is about.
Vans the Omega is going to bring our street frontage to life with his beautiful, energetic graphic that will stop you in your tracks.
We have support from Splash Adelaide for this project but we need your help to get this project up on the wall. Take a look at the rewards, dig deep, and set this project free!
How The Funds Will Be Used
Vans the Omega has very generously already designed the piece for us, gratis. Thanks, VTO!
Splash Adelaide has contributed their project planning expertise, waived the Council application fees, and covered a big chunk of the artist fees and other costs. Thanks, Splash!
Your support via this campaign will go to preparing the surface (cleaning and render repair) $400, paint and anti-graffiti coating $300, scissor lift to keep our artist safe while he's sky-high $300, artist fees $1800, admin (cost of rewards, postage, and associated fees) $500.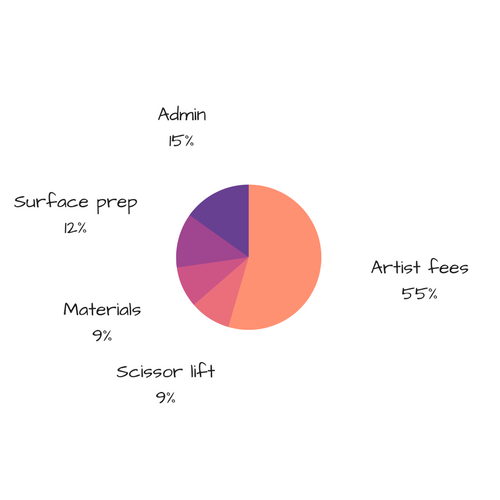 The Challenges
The biggest challenge for this project is that we think it will contribute a heap to the local streetscape and look fantastic and we're passionate about it but it isn't actually our core business and doesn't generate income for our studio. So we need to find another way to fund it.
The Splash Adelaide funding has helped and Vans the Omega has been very generous but we need to get this project over the line with your help.
One of the other challenges has been getting approval from the local city council. It's hard to work out whether you design the project first or talk to the council first. The building is heritage listed so there are some complications to any work that gets done. Again, Splash Adelaide has been super helpful in getting the right documents to the right people and we are well on the way to securing approval for the project.
The final challenge is the timeline. The Splash funding has been helpful to bring momentum to the project and has also given us a deadline. We need to finish it all by the end of September.
Let's get cracking!