About Eileen And The Now Project
A renowned choreographer, dancer, costume designer, artist and writer, Eileen Kramer is a former member of the Bodenwieser Ballet. Founded by Austrian dancer Gertrud Bodenwieser in the 1940s, the Bodenwieser Ballet became the first modern dance company in Australia. At almost 103 years of age, Eileen is quite possibly the longest working dancer and choreographer in Australia, if not the world.
Inspired by stories she heard during her travels in India, the indomitable Eileen has created A Buddha's Wife, a dance drama that explores themes of abandonment and finding your own peace. The deeply personal work is part of The Now Project, a continuation of Eileen's book of the same name. Co-produced by dancer, choreographer, filmmaker and installation artist Sue Healey, A Buddha's Wife features ten Australian dance luminaries in a one-of-a-kind project.
As part of the project, Sue has created Now Memory, a dance work that is a personal choreographic response to Eileen's work on A Buddha's Wife and the influence of Gertrud Bodenwieser. As a fellow dancer, Sue describes Eileen's creativity as timeless and sought to document and honour it in her own work.
More about Eileen:
Born in 1914, Eileen Kramer embodies the living, creative spirit of the Avant Garde artist. Her 75-year career as writer, dancer, painter, costume designer and choreographer began in 1939 with the Bodenwieser Ballet, Australia's first modern dance company led by the renowned European Expressionist choreographer Gertrud Bodenwieser.

Following the 1959 closure of the Bodenwieser Ballet, Eileen travelled through India, Pakistan, Africa and Europe where she worked as a dancer, learnt mask-making and immersed herself in all the new art of the mid century. Upon settling in the United States in early 80s she became a member of Trillium Performing Arts in Lewisberg, where she choreographed and performed in many productions until her return to Australia at the age of 99, because she missed the kookaburras.
In 2014, Eileen performed in a production at Belvoir St Theatre, featured in Lacey Cole's music video Nephilim's Lament and performed at BEAM Arts Festival in Sydney. In November, she was honoured with a Lifetime Achievement Award from the Arts Health Institute for whom she is now an official Ambassador. Inspired by this, Eileen began choreographing her new work 'The Early Ones'. In February, Eileen was invited to be an artist in residence at Bundanon Trust in their Arts in Residence program. Over one week Eileen worked with some of Australia's most talented dancers with rehearsal director, Julia Cotton and composer Nicholas Lyon, to create this work. This work would not have been possible without the support from our donors in the successful crowdfunding campaign Inspiring Eileen. Eileen became an international sensation during this campaign with an ABC News story. The Early Ones has had two seasons, at The Independent Theatre in North Sydney in March 2014 and at The Parade Theatre in March 2015. Eileen was featured in two music videos, Susanne by Sarah Belkner and A Soldier's Wife by Delsinki Records. Eileen was also featured in an ABC Compass episode.
Eileen took to the stage in Belvior's production of the Wizard of Oz in 2015. She also teamed up with Australian fashion designer, Briget McLaughlan and created a limited edition of beautiful scarves that featured Eileen's illustrations and also raised funds in another successful crowdfunding campaign, The Art of Eileen. These funds were used to train artists in the Arts Health Institute. Eileen also modeled Brigid McLaughlan's spring season fashion range that year. Danelle Bergstrom's portrait of Eileen Kramer, "Centenary of Grace" was a finalist in the Portia Geach Memorial Award.
In 2016 Eileen was a finalist in the prestigious Westpac Australian Financial Review 100 Women of Influence Awards in the category of Arts, Culture and Sports. Throughout each year Eileen runs movement workshops and gets involved in a number of Arts Health Institute initiatives. Eileen together with the CEO of the Arts Health Institute Dr Maggie Haertsch (who also is Eileen's manager) were panelists on the topic of ageism during Sydney's Vivid Festival. The Guardian published a story from this event. Eileen was also interviews in the ABC series You Can't Ask That special episode on Centenarian's. Artist and plastic surgeon, Dr Andrew Greensmith, painted a beautiful portrait of Eileen and this work was a finalist in the prestigious Archibald Prize, "The inner stillness of Eileen". Their story was featured on ABCs Lateline program.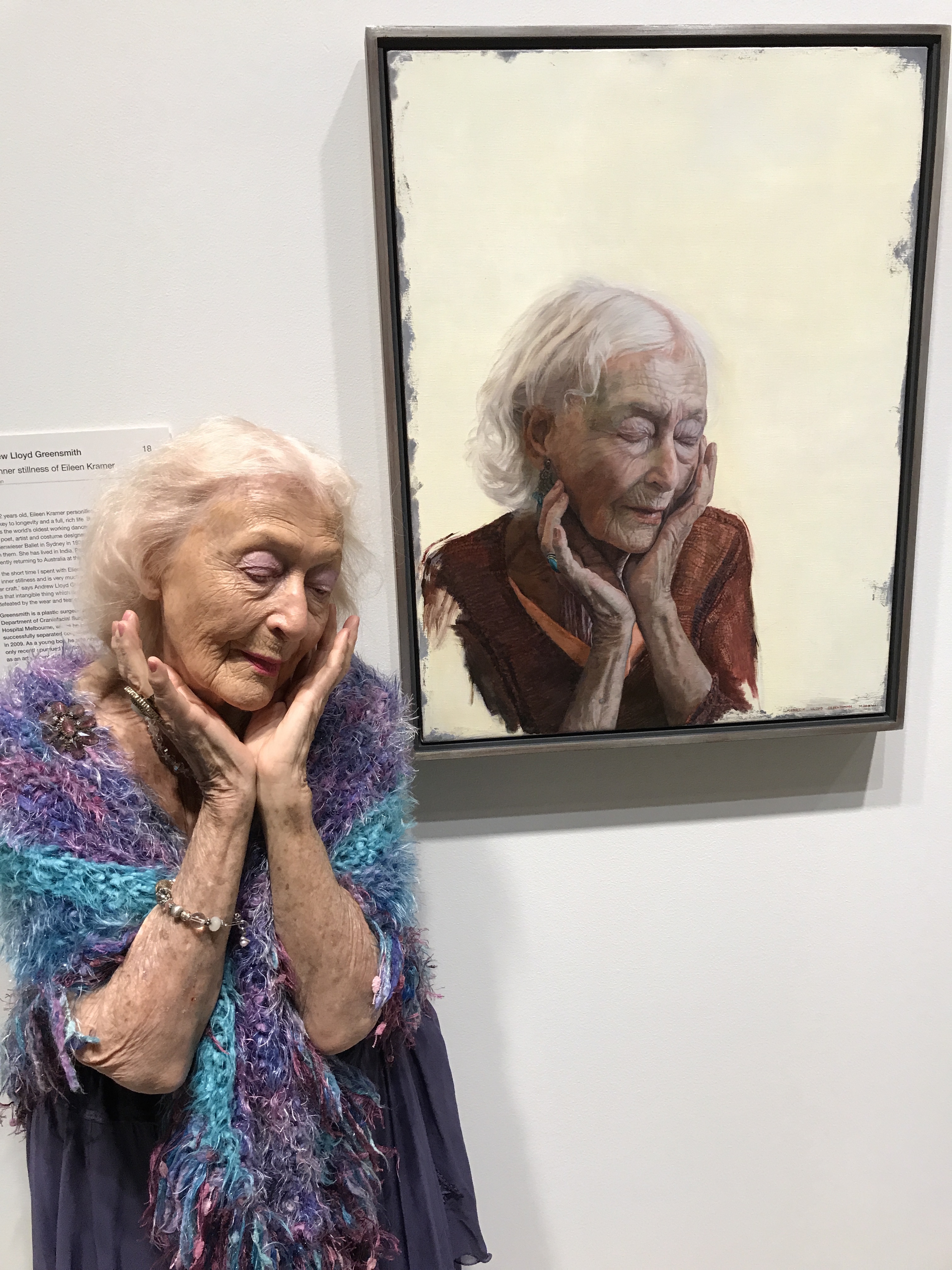 Please support Eileen's next dance work - we need your help.
Contact the Arts Health Institute for more information to make any private donations that will continue to support Eileen's creative life - admin.ahi@artshealthinstitute.org.au
Donations made to the Arts Health Institute during this campaign will be directed to support this project.Click here to make a donation.
A big thank you to St Lukes Care Foundation for your support of Eileen in the preparation for this important production.
About the Arts Health Institute
Our vision
Our vision is for Australian elders and their families to have support in achieving a life that is meaningful, socially connected, creative and dignified. We look to a future where the quality of life for our elders in care will become a measure of our success as a society. The Arts Health Institute is an agent of systemic change for this stage of life: improving the health, happiness and outlook for our grandparents, our parents and eventually, for ourselves.
Our mission
By engaging elders in arts-based programs, AHI creates an environment that supports dignity, self-expression, creative occupation, collaboration and social connectedness. Arts Health Institute artists and researchers are specialist practitioners and academics working across residential, community, home and hospital environments.
Our job is to listen, engage, facilitate and share the stories and creativity of our elders through music, dance, creative writing, visual arts and theatre. We gather data and communicate the evidence that will improve quality of life for elders throughout the aged care sector.
To find out more about our work: www.artshealthinstitute.org.au
For media enquires contact
Pamela Lawrence, Account Manager, Blue Planet PR, +61 (0)410 709 538 pam.lawrence@blueplanetpr.com.au
Sophie Blue, Director, Blue Planet PR, +61 (0)416 006 821, sophie.blue@blueplanetpr.com.au
Budget Overview
How The Funds Will Be Used
Eileen needs your help to raise the funds needed to realise the production, a true celebration of her incredible creative spirit. The Now Project is an inspiring example of Eileen's vision and creativity but she can't do it alone. The funds raised here will allow Eileen and Sue to present their works to audiences the way they should be presented and will help to cover general production and technical costs including venue hire, lighting, creatives' and artists' fees and all aspects of the production. As Eileen likes to say, even Michelangelo needed help to build the Sistine Chapel, and she is determined to see this project succeed.
Here is a breakdown of the costs we are needing to have covered for this project:
10 dancers, two musicians and a lighting designer. The dancers are involved in both the development and rehearsal of the work. Preparation started some months ago and will become more intensive in the lead up to the performance once we know it can go ahead - $17,500
Venue hire and rehearsal spaces already at a generously discounted rate - $2950
Protectors, stage management, costumes, technical and audio visual requirements for the performance - $11,900
We beleive that all artists must be paid for their work and this project is no exception. All support provided by Arts Health Institute is given to this project. This includes PR support, administration of the project and this campaign and all the work that goes on behind the scenes. We love Eileen's work and are committed to seeing this come to life on stage but we need your help to do this.
As Eileen says "Dancing on stage and prouducing a work is an act of love". Please donate and share.
Potential Challenges
The biggest challenge is reaching our target. If we don't reach $32,000 in support we won't be able to exhibit Eileen's work. We need your help to realise her dream, so please share this page and let everyone know how meaningful even the smallest contribution can be towards seeing Eileen's production come to fruition.