Success!

Thanks to 210 supporters, the total cost of the project is now covered! Thanks to all my supporters. You are amazing.
Because I reached $7000, I'm going to make something special for everyone who has bought something already. (Read below for more information).
Are the books sold out?
Definitely not! There's heaps more.
The books will never sell out. They start at $25 (+shipping).
Visit http://copygui.de and sign up to the newsletter. I'll let everyone know as soon as the online store is set up. It should be live early next week.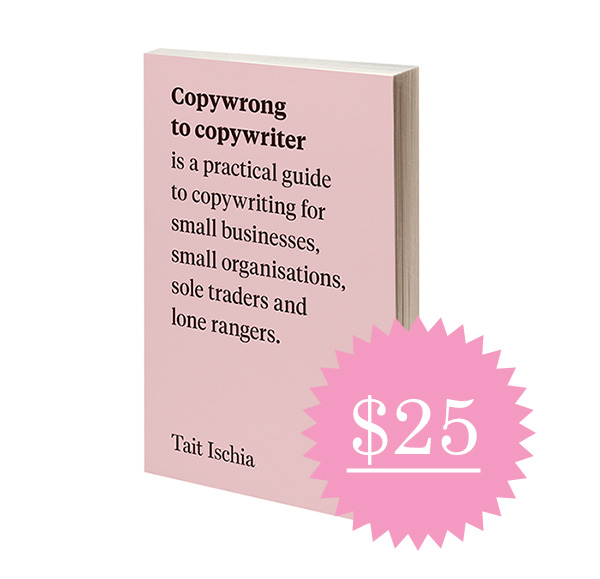 (The limited number of $18 Pozible books were snapped up in the first two days!)
What happens if you reach $7000?
Because the campaign reached $7000, the extra funds are going to go towards making EVERYONE a special gift, delivered with every book.
Jacob Zinman-Jeanes, the talented and conceptually gifted illustrator featured in the book, will use the extra money to illustrate and produce a special poster for everyone.
He hasn't illustrated it yet, but we've talked about it, and he agreed to it, so that's all I need to feel excited that it will be a great piece of art.
What is the book about?
The book is called Copywrong to copywriter and it's a practical guide to copywriting.
If you think you've got the wrong tone of voice, don't understand the ins-and-outs of grammar or just don't feel confident writing about yourself without sounding like an idiot, you'll want to read this book.
It's 10,000 words, fully edited, designed, illustrated and ready to go.
All I have to do is send it to the printer.
The quick facts
The book is complete: it's ready to send to the printer
Printing will cost $3100 – that's my target
The target covers printing only – the full cost of the project is $6000
If we reach the target early, I'll add a new stretch target of $6000
The Pozible campaign will run for 29 days (Finishing June 29)
Books will be shipped in August
There'll be a launch party in August (and you're invited)
What are the rewards?
They're listed down the right hand side of the page. Get in before they run out!
Your own personal headline ($10)
Get the book at a discount ($18 %20 shipping) SOLD OUT!
Get the book at the regular price ($25 %20 shipping)
Get the book and your own personal headline ($30 %20 shipping)
Get the book %20 a mini copywriting zine ($40 %20 shipping)
Get the book %20 mini copywriting zine %20 badges ($50 %20 shipping)
Get the book %20 attend a workshop ($100)
Get a pack of five books ($105 %20 shipping)
Get a pack of ten books ($170 %20 shipping)
Get me to help you solve a copywriting problem ($350)
Why are you running a Pozible campaign?
As you can probably guess, self-publishing is a pretty dumb thing to do. It's a big risk with no real guarantee that I'll make my money back, for a little while at least.

That's why I need your support.
I'm going to print 500 copies of the book, but before I do, I want to pre-sell as many copies as possible. The total cost of the project is $6000 – so I want to make sure there's an audience before I go dropping cash like a maniac in a midlife crisis.
How The Funds Will Be Used
How much does it cost to self-publish a book?
It's a lot. $6000 is a fairly large initial outlay, and I'll have to sell half the books (250) just to break even. Depending on how successful it is, this may happen fairly quickly, or it might take a few years!
| Item | Cost |
| --- | --- |
| Printing | $3100 |
| Book costs | $2000 |
| Web design, development and hosting | $900 |
| Total costs | $6000 |
Why are you only raising $3100?
The cost of printing is easily the biggest cost associated with publishing a book. I figured if I can get enough to print the book, I can wear the rest of the costs myself, including book design, editing, web design, development and hosting.
Why wouldn't you just try and raise the whole $6000 amount?
Even though I really believe a market exists for this book, I want to be realistic.
Having said that, there's no reason why this campaign can't make it to $6000. Pozible has a thing called a 'stretch goal', which basically means if you reach your target early, you can push the campaign to raise more money.
If it reaches the target early, be prepared for a new wave of things to keep the campaign rolling along to the new target of $6000.

The Challenges
How do I know this thing will happen smoothly and I'll get my book delivered?
I've spent a lot of time planning this project. No stone has gone unturned. In fact I've turned so many stones, this book has taken four years to get to this point.
The printer has already provided us with definitive quotes and delivery times. So unless the printer explodes in a blaze of fire, the books should land in your letterbox before the end of August.
Will the printing quality be good?
Yes. The books will be printed by the same printer who makes Penguin paperbacks – so you know the quality will be good. Tristan (our dedicated and talented book designer) has used his extensive knowledge of printing and materials to create a really special object. It'll be really nice to hold and will look great on your shelf, if you're into showing off your books.
Will you be publishing a digital/ebook version too?
Yes. But, not yet. The focus for the Pozible campaign is entirely on the printed version. Once printing has been organised I'll do the things needed to create a digital/ebook version. If you want a digital version but also want to contribute, purchase the $10 personal headline, and I'll take $5 off the digital/ebook version when it's ready. (The final price will be around the $15 mark.) Just make sure you enter your full name when contributing to the campaign, and let me know when you eventually purchase the ebook.
Sounds good, but can you tell us more about this book?
I thought you'd never ask.
The basic idea is that all an aspiring copywriter needs is to understand how to use strategy, audience, tone of voice and some basic grammar to write strong hard-working copy.
Each chapter systematically builds the foundations of how I approach copywriting, starting from the very basics and ending with writing a brief to produce your own copy.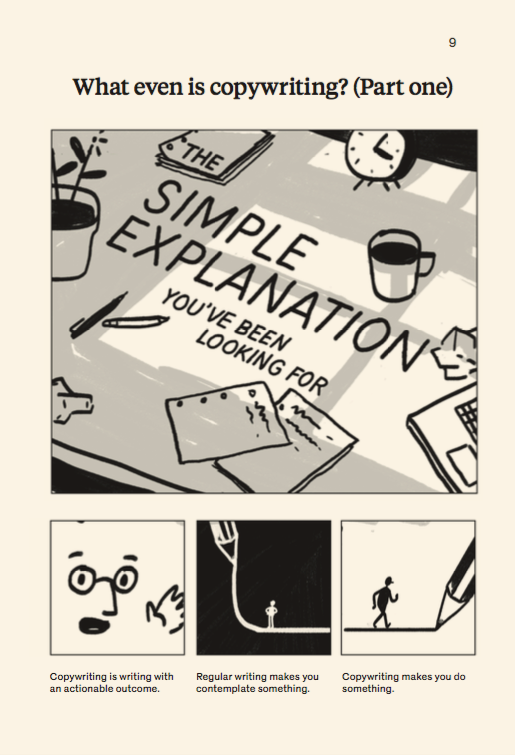 I originally wrote this book for small businesses who couldn't afford to pay a copywriter, particularly for small websites with just a couple of pages.

Copywriters can charge anywhere from $250 up to $2500 for a small website – which is a lot of money for a small business.

So I thought, hey, if these small businesses (or small organisations) just had a good introductory book, they'd probably be able to do it themselves.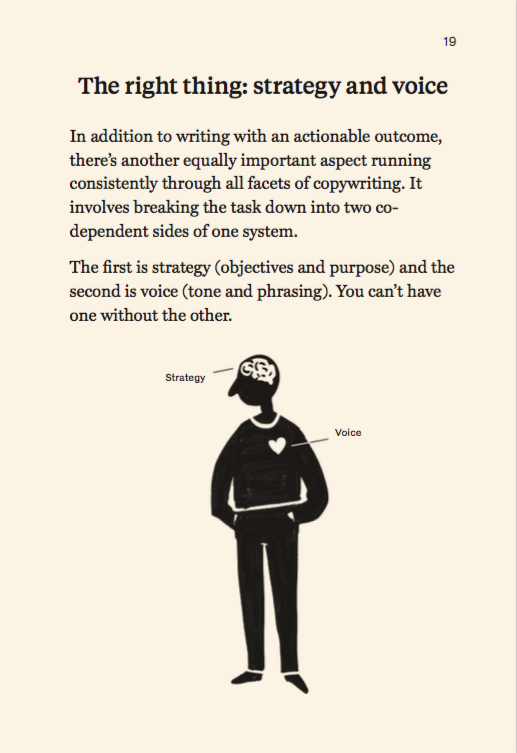 Along with the book I've also created three worksheets. Each will be free to download and are to be used for making notes as you go. They will make creating the brief at the end a lot easier.

By the end of the book, either you'll have everything you need to write your own copy, or a really good brief to give to a professional.


Is the book only for small businesses?

It most certainly isn't.

There are four key audiences for the book:

1. Small business owners
2. Web managers of small websites
3. Emerging copywriters
4. Design studios

I have spoken to numerous emerging copywriters who want more information about what it means to be a professional copywriter. For this reason, I've deliberately made the book relatable and accessible to copywriters (or people who want to become copywriters) so that they can increase their knowledge, skill and confidence.

I also envisaged design studios may want to buy a copy on behalf of a client – particularly if the studio isn't writing the copy, and the burden is thrust (sometimes unexpectantly) onto the client.
Why should I listen to you about copywriting?
I've been writing copy since 2007 – almost 10 years.
In that time I've spent a lot of time thinking about how copywriting works. I've worked for gigantic multinationals, small businesses, arts organisations, ad agencies, startups and the government.
When I started out, I wrote radio, print and TV ads. Now I plan, write and manage complex websites for big organisations at a company called Thick. I really enjoy doing what I do and I enjoy sharing it around!
Who did all these terrific illustrations?
My talented friend Jacob Zinman-Jeanes.
Jacob really knows how to illustrate characters with personality. His series of panels that introduce copywriting in the book really show the quality of his visual humour and ability to add nuance and pathos with just a few squiggles. He also illustrates really cool dogs wearing sunglasses – a few of which feature in the book.
Who designed the book?
My other talented friend Tristan Main.
Tristan works as a designer at one of Australia's premier publishing houses. He's been working on the design of Copywrong to Copywriter for close to a year (in his spare time) and has graciously and studiously worked through the tangled mess that was my initial drafts.
Do you have a website?
Yes. Head over to http://copygui.de. There's not much there at the moment, but it will grow to include more information after the book is published.
Is there going to be some sort of launch party?
Yes. There will be a launch party in Melbourne, and everyone will be invited. It will happen around August/September. If you want to be invited to the party, submit your email to my email newsletter at http://copygui.de and I'll make sure you know when it's happening.
Also, if you purchase a book and don't want to pay for postage, you can arrange to pick up the book at the party.