About the project
Over the course of 10 years, singer/songwriter Amaya Laucirica has independently produced and released four albums and played regular live shows both here and overseas.
Her latest album – "Rituals" – was released in March of this year. As a result of growing interest and attention in the UK, Amaya and her band have been offered the chance to play a series of industry showcase dates in the UK and Spain.

So far, the confirmed dates include appearances at The Alternative Escape (part of The Great Escape festival in Brighton, UK) and The Great Aussie BBQ showcase at Primavera Sound in Barcelona. In addition, Amaya has been invited to play an in-store show at the legendary Rough Trade East record store in London and a headline show at The Islington.
While in the UK and Europe, Amaya will have the chance to meet with key industry contacts including label representatives, sub-publishers, booking agents and promoters.

Following the UK engagements, Amaya will play a series of shows throughout Spain before returning home to play the Queensland Gallery of Modern Art (QAGOMA) with renowned duo Xylouris White followed by a two night headline show at Dark Mofo in Hobart.
Why is funding required?
Amaya will be taking her full band on the road for this tour which requires a significant financial investment. Although Amaya and the band have raised most of the money from their own accounts, they need your assistance to get to the total. Your generous support will help to make this tour happen by contributing to the outstanding balance.
Importantly, as this is a promotional engagement, actual income from live performances will be minimal – and, in some cases, no fee will be paid to the band. All of the band members – including Amaya – will be working on an unpaid basis and any income generated from shows or sales will be used only to offset tour expenses.
Finally, note that Pozible is an "all-or-nothing" platform. This means that if the target is not met, you will not be charged (and the band will not receive any of the contributions).
About Amaya Laucirica
Amaya's work blends swirling contours with wistful melodies and lush, sonic depth. Within this rich palette of sound resides Amaya's uniquely captivating voice, restrained yet beautiful, with rich breathy tones offering touching moments of yearning and lament. Her work has been compared to Mazzy Star, The Go Betweens, Cocteau Twins and many more.

Since 2008, she has released four critically acclaimed albums including her 2008 debut Sugar Lights, followed by Early Summer in 2010 (selected by JJJ as their Album of the Week upon its release), 2014's Sway and now Rituals in 2018.
LISTEN ON SPOTIFY | LISTEN ON SOUNDCLOUD | CHECK OUT VIDEO CLIPS ON YOUTUBE
"More Than This" – Video Clip directed by Geoffrey O'Connor
Budget Overview
The UK and European leg of the tour has been costed at $12,500 which includes flights, accommodation, van hire, equipment hire, work visas and transport.
So far, the band have raised $8,500 independently and are seeking to raise the final $4,000 via Pozible. The money raised from Pozible will be used to offset the cost of the flights for the tour.
The breakdown of costs as percentages of the total is as follows: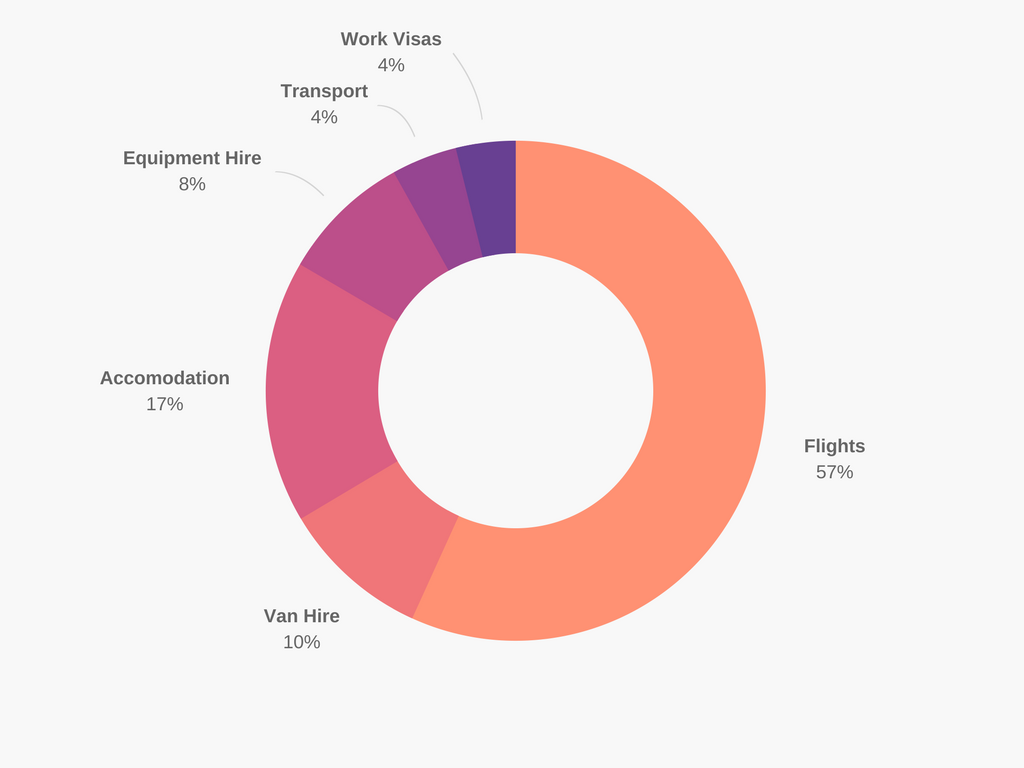 Potential Challenges
As an independently funded act, sourcing money is a constant concern and with only one month to go before the band are required to fly out, time is tight. All contributions will be most gratefully received and acknowledged. Thank you for your support!