Thanks for all your support, you can now find me at:
http://lukemarshall.net


Book still available here:
Available on
Amazon
(ebook) and
Blurb
(soft cover).
Kind regards,
Luke
---
A memoir on mental health and sexuality that seeks to demystify taboos and inspire.




A story that needs to be shared
I'm Luke Marshall, a 29 year old guy that goofs around on
YouTube
,
blogs heavily
, has roughly
4,000 tweets
and
posts on a forum
called Inthemix from time-to-time. You could say I make a lot of online noise.
I'm about to make more
For all my online abandon, there's two things I care about deeply. Mental health and sexuality. I happen to have experience with both, and am writing a book about this called
Being Bi-Bi
. A cheeky look at bipolar and bisexuality with a serious message.
We've got this
I originally
shared my story
over three years ago. I started the book a little after that.
The book is almost done
. It's time to start making the noise. We want this to spread.
►A summary of the story can be found
here
.
What's a book going to do?
Mine is not a story you can sum up in 140 characters or less. And believe me
I've tried
. Yet over time I've grown more and more comfortable about sharing what it's like to be bisexual and have bipolar - and in sharing my story with others - it's helped people with their own problems. It's time to do this on a broader scale.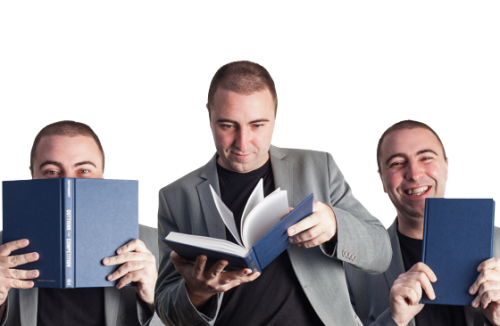 Have you ever tried something big?
I'm not a poster boy. I'm not a shining example. I'm just a guy who needs to share his story and I'm prepared to roll the dice on this. I'm seeking your help to weigh the odds in our favour.
What I intend to do
I need your assistance to help fund this, and more importantly - to make noise.
I'm going to use these funds to go towards the creation of a book (the necessary bits listed below) and anything above this will go towards marketing the book and spreading the message via organisations like
Soften the Fck Up
.
List of things I'll spend the money on:
• Book cover & Visuals - $200
• Website - $300
• ISBN - $100
• Publishing - up to $30 per book, via Blurb.com
• Marketing & Launch - $1000+
Additional information
►Watch my pitch video
here
► Email me at
lukemarsh@gmail.com
► Visit the
Being Bi-Bi site
► Find out more about me here:
http://about.me/marshy