Aloha, my name is Douglas Cooney and I live in Margaret River in Beautiful Western Australia. I have written a fiction book which is aimed at young adults (from 18 to 80!) to show a different possibility for living the 'best life ever!' It's a positive, fun, inspiring adventure that touches on everything from organic food to self love and much, much more!!!
THE BOOK IS FINALLY OUT AND EVERYONE'S LOVING IT! HERE IS THE SELL PAGE:
http://www.vividpublishing.com.au/makara/
I am crowd funding to raise money to get the book published and it's also an awesome way to get my name out there as a new writer. My target is $4500 which gets me set up with Vivid Publishing in Fremantle to professionally finish the book and to receive 100 copies.My plan is to have the book ready by late Jan 2014. I would love your help to get the ball rolling and I am also offering some great rewards!!
The next video down is the opening scene of the book!!!! How does it get any better???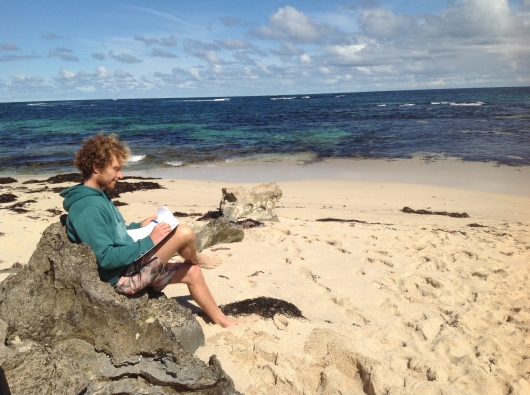 Why support this project??
It's a time for humanity right now where great change is needed. This book helps to shine the light on some very real problems such as:
- our stressful, overly busy lifestyles.
- the cultural conditioning of alcohol and drug abuse.
- the holes in our medical system
- sex education through internet pornography.
- the junk food revolution
- not appreciating what we do have and focusing on what we don't??
- the loss of connection with ourselves and the earth
- our struggle with 'self love'
These are just a few areas the book touches on and I offer some refreshing alternatives to do things a little differently. In our constant search for a better life we often tend to overlook many simple ways to bring joy, freedom, ease and fun back into our lives.
By aiming the book at young adults I feel it can possibly create a turning point in their lives or at least give them a fresh, new way of seeing things. Also the reality is we are all young adults in a way and there is always an opportunity to learn something new. There is something in this book that will touch and enlighten people of all ages.
The book doesn't preach....it's light and fun with a cool story that keeps the reader engaged.
The book is a fiction story about Dave…. A 19 year old guy living in the city whose life is not in a real good way. He's got health troubles, hates his job and can't see a way out. He's 'rescued' and goes on a wild surf adventure across the country. It's a light, fun story and along the way he learns tips and techniques for a more fulfilling, energized and free life.
There's laughter, there's slowing life down, there's simplicity with nature, there's sexiness, there's healthy celebration and everything in between. I've even thrown in some epic surf scenes!! I had a lot of fun writing it and I know you'll love it. If someone had handed me this book when I was 19 it would have really opened my eyes….. that's for sure!!
Some Of My Previous Work
Well…… this is my first book! It's the first time I've ever put 2 months aside for pure creativity and it has been so liberating!! My writing apprenticeship was done with diaries when I first started travelling. It got to the point though where I had so many and they started becoming heavy with relationship dramas so I burnt them all! That was also liberating.... I've regretted doing it a few times though!
I've worked as a carpenter for years and more recently a lifeguard. The work I am most passionate about though, happens inside me. If we truly want a peaceful and joyous life it all starts inside us! I believe the world we see is a reflection of our thoughts, feelings and emotions and if we can clear out the junk, paradise is closer than we ever knew… how goods that!!!
Oh! And I also have surfed since I was knee high so I thought to throw a photo of me in.
The Challenges
My
biggest risk is that I'm actually a bit of a dinosaur when it comes to computers (probably why I hand wrote my book!). I have a total lack of social media skills and connections. I only joined Face Book for the first time ever yesterday!!! And yes... I am slowly learning!
To overcome this I will go nuts marketing my campaign and my book through the more traditional avenues such as newspaper, radio, flyers and word of mouth. I am quite excited about it and love a good challenge!!
THANK YOU so much for taking the time to read this page and I am super grateful for your contribution!!