FIGHT HUMAN TRAFFICKING AND SLAVERY WITH RED EARTH FILMS AND OUR LATEST DOCUMENTARY - STREET DREAMS 2: MONSTERS, MAFIAS & MANIPULATORS

- At any given moment, 2.4 million people around the world are being trafficked into slavery and exploitative labour.
- 75% of those trafficked are women and 50% are children
- 80% of those trafficked will end up in sex industry, while 19% in other forms of exploitative labour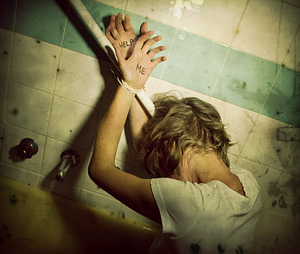 STREET DREAMS: MONSTERS, MAFIAS & MANIPULATORS
Following the success of our first crowd-funded Street Dreams documentary, Jason and Mike of Red Earth Films return to create the next episode in a four-part series (see below) on human trafficking and modern day slavery with Monsters, Mafias and Manipulators. This episode will explore trafficking and slavery through the eyes of those running and organising this billion dollar industry – those we might commonly describe as the "bad guys"! We will ask who these people are, how do they work, what motivates them and are they really that different from the rest of us. Even scarier, are we – everyday consumers – unwittingly supporting their cause?

The Street Dreams series is an ambitious four-part documentary series that seeks not only to educate, but to emotionally provoke its viewers to make an informed and radical stand against a world-wide system that feeds off the exploitation of hundreds of million poor and vulnerable men, women and children. The first in the series – Street Dreams: The Victims – focused on girls caught up in the South East Asian sex trade, and was released in 2012 with an accompanying study guide in 2013. This next episode – Monsters, Mafias and Manipulators – will ask the audience to reflect on the criminal aspects of trafficking and slavery and will also be accompanied by a in-depth study resource and an extensive online video campaign. The final two Street Dreams episodes have the working titles "Street Dreams: On The Frontline" about the organisations that seek to tackle the trafficking and slavery, and "Street Dreams: The Benefactors" which discusses those who profit daily from the exploitation of the poor – namely, us!

Those of you who follow Red Earth know that we are two guys with big hearts and big ideas, and when given the backing of wonderful supporters, will deliver the goods on behalf of those we all care about. We once again call upon our friends and supporters both old and new to strap yourselves in and join Jason and Mike on our global pursuit to see freedom and justice for all!
"For to be free is not merely to cast off one's chains, but to live in a way that respects and enhances the freedom of others. -Nelson Mandela
Some Of My Previous Work
Visit Red Earth Films -
www.redearthfilms.com.au
to learn more about Jason and Mike and see our previous documentaries and other work.
Breathless (2005) - Red Earth's debut documentary explores the issue of Volatile Substance Abuse from people in South East Queensland directly affected by this addiction. 30 mins
Zaishu: Connected by Design (2007) - This mini-doc follows designer Matt Butler to India to follow the creative process of developing a simple but powerful piece of furniture that has the ability to promote global commerce, creative participation and sustainability. 25 mins
Ballots and Bullets (2009) - Director Jason Bray joins an election observation team in a highly dangerous province in the Philippines, and finds more trouble then he bargained for. 60 mins
Street Dreams (2012) - This highly acclaimed documentary explores the world of the South East Asian sex trade through the lives of the sex workers themselves.
www.street-dreams.com.au
The Challenges
The issue of human trafficking and slavery demands that Red Earth gives this Street Dream series 110%. There are too many men, women and children around the world suffering in human trafficking and slavery for us to cut corners due to lack of support and finance. We are determined to tell this story but it requires that we get onto the frontline and face-to-face with our subjects in order to expose the truth.
As Red Earth is primarily only two people, we always initially struggle to get the project started as we can only ask so much of researchers, project assistants and filmmakers to donate time for free while doing much of the work ourselves. As it stands, Red Earth provides hundreds of hours of unpaid work on the project so the only risk we can see is not securing funding as it will be too large of a burden to move forward with the project without it.
We also need a community of passionate supporters to get behind over a sustained period of time to see this project reach its potential and start making a difference in the world. Access to experts and critical subjects in the film are always risks with any documentary as by the very nature of the film it is capturing some aspect of real life which cannot often be scripted.
The best that we can do is continue to sell a passionate vision, operate with integrity, maintain open communication, and at at every turn show people what we can do by producing high quality video output. We have the skills and have already got one film under our belt so we just need the funding to get going.