All great things start with an idea, a spark, a seed.
I look at Perth and I see a desert. Vast plains to the east, great oceans to the west, red dirt to the north and vineyards to the South. We need refuge, a shelter, an oasis in this desert that is ours. With our swans flying east, our bays bought & sold and a lion taking off with our little ones we are left stranded here in a desolate plain of juvenile wine, mediocre beer and imported junk.
They say nothing grows out here.
We plan to change this.
We plan to plant a seed. A seed in the heart of Perth that grows and stands once again for natural, unique, well-loved, hand crafted beer. A sprouting to cultivate appreciation for that craft, a thirst for knowledge about it and a quest to explore it. A thriving tree to embrace the central region, sink its roots deep into the community and bring back that honest, fresh, local feeling that should accompany all things pure.
And here we stand with a seed in our hand and nowhere to sow
Our Goal
The goal of this first project is to raise enough funds to upgrade our gear to a nano-brewery and start our pilot phase. With this we will be able produce 200L per day of fresh, consistent, unique craft beer that we can use to have soft testing and tasters at craft venues around Perth. It will also help us gain public awareness and momentum along with anything else that might get our name, brand and product out there (brewing comps, royal show judging).
The brand and what follows it is still at a seedling-size conceptual phase. Something has been growing inside us for a while and now it's time to see if you, the people, want to make it a possibility. It's a long road ahead but we believe, with your help, we can cultivate this adventure of the unknown into something great; become the Southern Hemisphere's very first crowd funded beer, brand and (eventually) brewery. Help us to create & instigate passion in a local brand & product again that does things the natural, fresh, honest way. Pure.
We have trialled many recipes and alterations over the past year with ones that eventuated into something amazing and some to no avail. So after a lot of talk, debate, consumption and banter we decided to get up, stand up and take on the guys upstairs. We would love nothing more than to take on the Goliaths but let's be honest (it's what we stand for). Our gear sucks. Without consistency of our product we can't get past the amateur stage and if we stay here, we're just another duo of home brewers lost in a pipe dream. A nano-brewery will help us to produce small volume, high quality beer that will still captivate people without having to invest in a fully-fledged brewery.
Where to after pilot?
Become a pioneer.
We aim to be the very first crowd funded craft brewery in Australia. A community-collective that drives the brewery itself. It will be in the hands of generosity & curiosity from those people that will keep the flow of this natural, unique, fresh, local hand-crafted beer running.
Beer for the people by the people.
After a year or so of successful pilot and momentum behind the beer, brand & business we envision a larger scale operation (or contract brewing). It is at this point it is up to you, the collective, to nurture this idea, this concept, this seed and help it become a strong, healthy, permanent fixture in the community. An icon that spreads its roots far & deep and stands once again for product that is unique, local & fresh. Small volume, high quality. We aim for this to be a project that is shaped by a collective; the majority of funding to come from the people. Along with the plan to get into some funky venues across Perth that share a common passion for craft beer, we would also love make use of online crowd funding stores like pozible, with liquor licencing permitting, so we can get it in bottles and out to you guys on the east coast.
And in the long term...
We dream of a warehouse brewery. Centred around the brewing tanks and bar would be a giant warehouse, or blank canvas, that is split into different areas. One shed, 2 bars, 6 venues accompanied by amazing beer and food. The people,investors, visitors and guests shape, draw, arrange & re-arrange, create and craft their venue which will in turn evolve, grow, feel and change throughout the course of its life and the people who visit it.
We realise that our rewards aren't heavily weighted and they will unfortunately be like this until we get more backing. We believe in Karma and good things will come around. Once our pilot takes off you will not be forgotten you generous squire.
We very much appreciate all acts of generosity and every bit helps! Click the 'like' on your left; Spread the word on Facebook, Twitter and pledge what you can.
Plant your seed, show your support and help us grow.
As you can see by our current set up below, we lack the tools (and hygienic equipment) to produce high quality, consistent beer.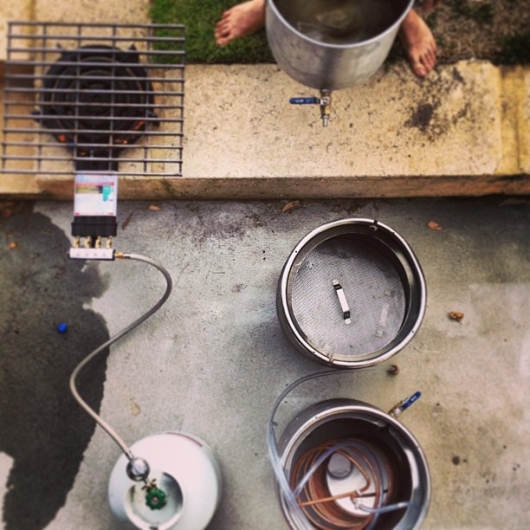 Nice feet.
Adult Jargon:
**Sorry kiddies. Although we can come to an alternative if you want to be very generous YOU MUST BE 18+ for all rewards that include alcohol
What else are we doing to forward this project?
It's not only our passion, our (soon to be) gear and our thirst for great craft beer that will drive us. Nick, our brewer, is currently studying an extramural course with the Institute of Brewing & Distilling based in London to fine tune his skills and further this project. Our apprentice brewer and first investor Matty has extensive knowledge in building, fabrication and handiwork making them a formidable force in the marketplace.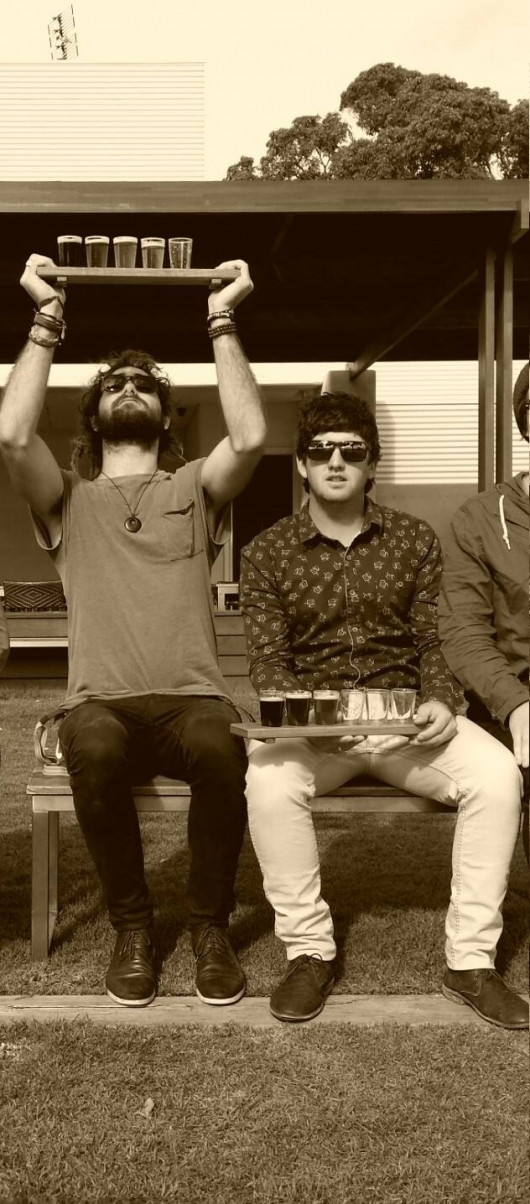 Along with this the we may have provisional approval from a from a secret location to use their loft and coolroom as a small nano-brewery once pilot takes off. A sanitary, clean, temperature controlled environment to take this project past pilot stage and into a semi-professional realm.
The venue already holds a liquor license which means we can apply for and will hold a legal producers license to really start getting things off the ground!
Facebook Page
Plant your seed with us on facebook at

www.facebook.com/seednsprout


The Challenges
Our biggest challenge will be getting our unique brand and product out into the community & public. Without the right momentum we could get left by the wayside and stay a small fry. This is the exact reason why we are starting small; Nano-brewery. Small volume, high quality.
By doing small, unique batches we can produce high quality testers to give us the right feedback and sense of direction without hurting the money & time bank too much.
Which in turn gives us more time to plan & make better beer for you!