Appropriately, the first modern fully electric vehicle commercially available in Australia is locally produced.
The Journal of the Society of Automotive Engineers 2010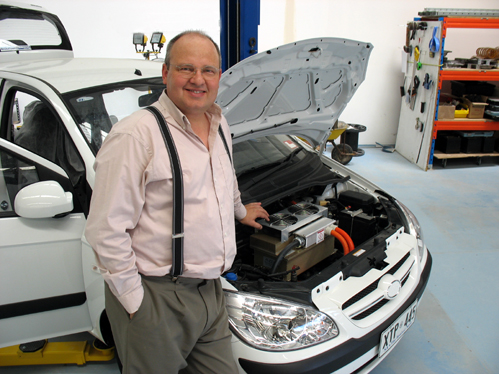 I and my team have manufactured and sold 50 battery electric cars. My goal is to sell 250 of the new Blade R series in Sydney over the next 18 months. To do this I must have an assembly, sales and service outlet in the north of Sydney. My existing facility in Country Victoria is to far away from customers to achieve this goal. As I do not receive government assistance like the multinational automakers I look to the general public for support through purchasing my vehicles.
Why establish a facility in the north of Sydney?
The highways from Gosford to Sydney City and from Penrith into Sydney are among the most traveled and congested in Australia. Commuters and residents on these routes stand to benefit most from battery electric cars. Commuters can save up to $4,000 a year on fuel and service costs while residents would benefit from reduced pollution. Unlike our present location in regional Victoria the North of Sydney is ideally located to assemble, distribute and service 250 Blade R series of battery electric cars where they are needed most.
I have been asked many times, "What does a Blade battery electric vehicle do that the imported electric cars can't?" Importantly Blade battery packs are designed for long daily commutes. I offer a car specifically designed for regular long journey's such as commuting from Gosford to Sydney or from Penrith to Sydney. These are the daily journey's that emit the greatest amount of CO2 and cost the most in fuel.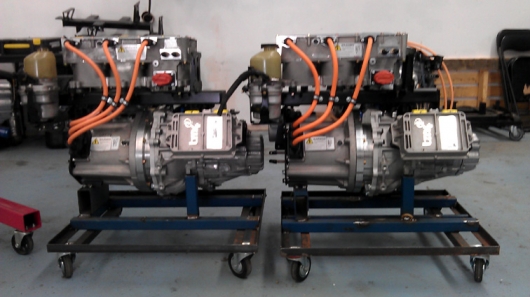 The significant range advantage of a Blade is achieved by the choice of battery chemistry and battery pack design. Unlike imported electric vehicles I use Lithium Iron Phosphate (LFP) also known as the 'Safe' lithium battery chemistry with nearly double the life of the imported battery packs that use more volatile and heat sensitive Lithium Manganese Oxide (LMO). By fitting a large battery pack with plenty of excess capacity the battery is not over stressed by long journeys that would otherwise exhaust it. Finally the vehicle is specifically designed not to overstress the cells during acceleration and hill climbs. These design decisions led to a product capable of long daily commutes where real savings in terms of reduction in both fuel costs and CO2 emissions are achieved.
The point should also be made that people are rightly concerned about charging battery electric vehicles from coal. Yes you should purchase green energy BUT you should also use up the surplus off peak power that is available. Off peak power is produced regardless of whether it is used or not so why waste it when it can be stored in a battery without producing substantial additional CO2. Storing it in your car battery enables you to drive 100 km for as little as $3.00 and less if you have your own solar electricity system.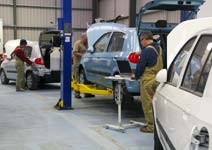 My range of electric vehicles is competitively priced for private buyers starting from $22,000 where the purchaser provides their one vehicle to the premium model at $48,000. The base body design is flexible to allow for different budgets, drive trains and size of battery pack. The table below explains which model is best suited to a particular drive cycle.
The two seat Blade R28 starting at $35,000 for example is ideal for the fuel conscious daily commuter. The R28 is capable of 200 km city driving or 140km highway driving. As a two seat vehicle it is specifically designed for commuting to work over distances of 100 km each way with a recharge during working hours. While capable for 140 km highway driving I recommend not fully discharging the battery to on long daily commutes as this approach substantially prolongs battery life. The same rule applies to all electric cars.
Recharging at home during off peak can cost as little as $3.00 for each 100 km trip in your R28.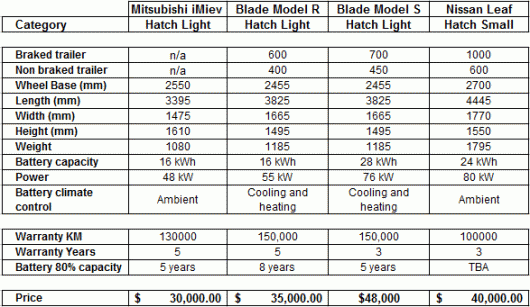 I should also mention that my design is future proof to allow upgrades as new technology becomes available. Some customers who purchased my earlier Blade Electron (2008 - 2011) have already had their vehicle upgraded to the more powerful drive systems available today.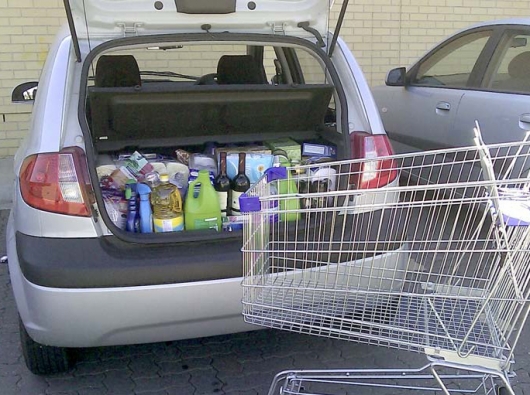 Key Blade features and options:
1) Full automatic or semi auto models
2) Range options from 120 to 300 km
3) Recharge times from 2 hrs to 8 hrs
4) Six air bags (Option as available)
5) Built to the crash test specification
Testimonials
Ross, Thanks for the opportunity to drive your latest electric car. I found the new Blade R electric car a joy to drive and was very surprised by its responsiveness and abundance of torque. In fact the torque delivery was as good as my V8 powered hot rod. It was very easy to get used to the driving controls and was a pleasant experience all round. I am sure this car will find a prominent place in the specialist motor vehicle market place. The electric motor installation is so good it is difficult to see that it didn't come that way from the factory. The experience was such that I would even seriously consider building an electric powered hot rod.

Larry O'Toole, Publisher Australian Street Rodding and Hot Rodding International magazines, Chairman Castlemaine Hot Rod Centre Limited.

Clara and I have a consultancy of fourteen engineers that designs silicon chips so we're involved at the cutting edge of technology all the time and know what it takes to make large complex systems work. Even with this kind of background I often find myself thinking while driving along; 'what an amazing job the Blade team has done'.

Paul Savage VIC
Managing Director,
Arrayware www.arrayware.com

Electric Dream Realised! I travel over 30,000km each year, mainly highway driving between the city and country. My electric car had to have a minimum 140km highway range across hilly terrain. So no ordinary electric car would do, and I went to Ross Blade for a customised solution.

To meet my needs, a new controller and a water-cooled motor was fitted, and the battery pack extended. The long range Electron's on-road performance exceeded my expectations. When first tested, it easily overtook a Prado on the Big Hill towards Bendigo, at a speed of approx 110km/hr! Many thanks and congratulations to Ross!

Elena Sieminski VIC 2012
Some Of My Previous Work
In all I have manufactured 50 battery electric vehicles. So why do I rebuild an existing car body into battery electric drive? Hyundai made over 5,000,000 Getz car bodies and it took around 25 barrels of oil to make each one. By rebuilding you around 21 barrels of oil per vehicle. Rebuilding these cars to battery electric drive will give our children the benefit of a planet with a little less carbon in the air.
To the left is the 2013 Blade water cooled Model S sports drive system with a top speed 155 kph .
To the right is the 2013 Blade Model R air cooled standard drive system Top speed 130 kph.
These represent solid achievements and with persistence and continued public support I will achieve the goal of selling 250 Blade R battery electric vehicles over the next 18 months.
The Challenges
The greatest challenge is that my technical success has made my business a target for both unscrupulous business people and major car makers. Persistence and sales are the key to overcoming these challenges.
The response from major car company's and other earlier challenges are summarised in an investigative piece by journalist Brendan Gullifer 22 October 2011 for the Ballarat Courier ...
Page 1 …
Hard Road for EV Pioneer Page 1
Page 2 …
Hard Road for EV Pioneer Page 2
As if that was not enough in October 2012 a theft saw $199,307 of my intellectual property stolen. This matter was raised in the Senate by Senator Madigan and is recorded in Hansard on the 22 November 2012.
To help overcome these barriers in addition to dogged persistence and now turn to social media to get the message out about a great battery electric car and establish an assembly, sales and service outlet where customers live and work.