Big ups to the Pozible community for the support of MR BLACK. We nearly tripled our funding goal and have firmly cemented our place in the Australian booze industry all thanks to you guys.
Don't be strangers now, keep in touch!
Cheers
Tom & Philip & the rest of the team.
_____
We're MR BLACK Spirits and we make the best coffee liqueur in the world.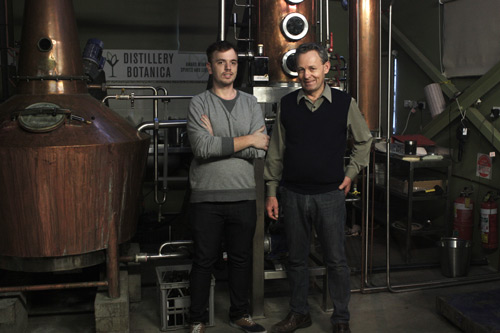 Behind this delicious black liquid is a bunch of makers and enthusiasts burning the midnight oil to create something we believe in, one nip at a time.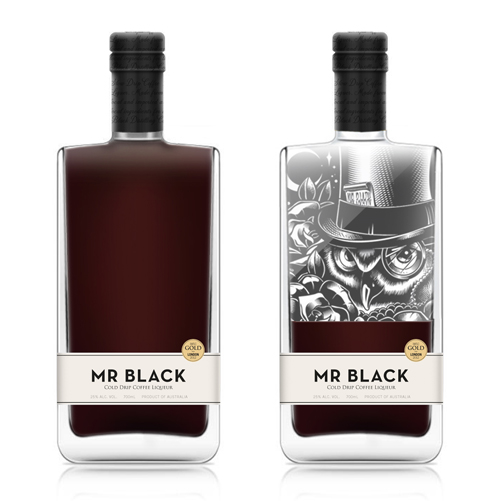 MR BLACK is not for everyone. It's not some cloying, sickly-sweet kiddie drink (I'm looking at you, Kahlua) that makes your teeth hurt. Using the cold-drip method we've created a rich, intense coffee liqueur that actually tastes like coffee (not like caramels, tequila or other added flavours).
We didn't do any focus groups, market research or ask a bunch of paid strangers which blend they preferred. Rather than arrive at the lowest-common-denominator product to please everyone, we've created a killer beverage for the few who care about what they drink. We think it's fab and we hope you do too.
We set out to create the best drink we could and our efforts were rewarded with a gold medal at the 2012 International Wine & Spirits Competition in London. This is the highest award ever received by an Australian spirit and something we're immensely proud of.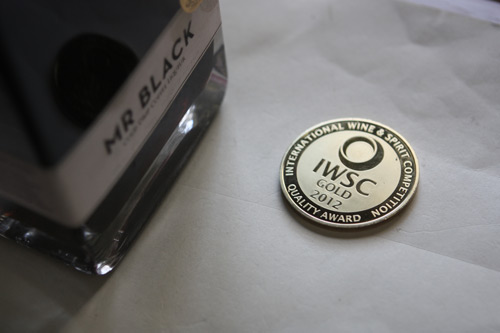 If this coffee liqueur thing is new to you and you're wondering how to have it, we have some suggestions. MR BLACK tastes great straight up. Shaken with ice and vodka it makes an excellent 'espresso' martini. For something super refreshing, shake the shit out of 2 parts MR BLACK with 1 part ABSOLUT vanilla and serve long over ice. It'll be the best iced coffee you ever have. Or just let it all hang out with a Black Old Fashioned: bitters, brown sugar, burnt orange peel, your favourite rye and a shot of MR BLACK.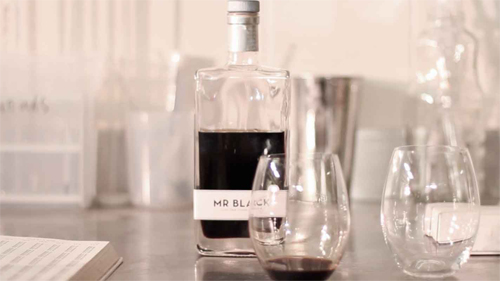 It was important for us to put the same love and care into the outside of the bottle as what's gone into the liquid on the inside. We're shameless advocates of creative culture here in Australia so it seemed fitting to get cracking artist and Adobe Illustrator wunderkind
Mr Dale Bigeni
to do us some artwork for the bottle. If you'd like a print of Dale's killer artwork we're including a copy with every $100 pledge and above.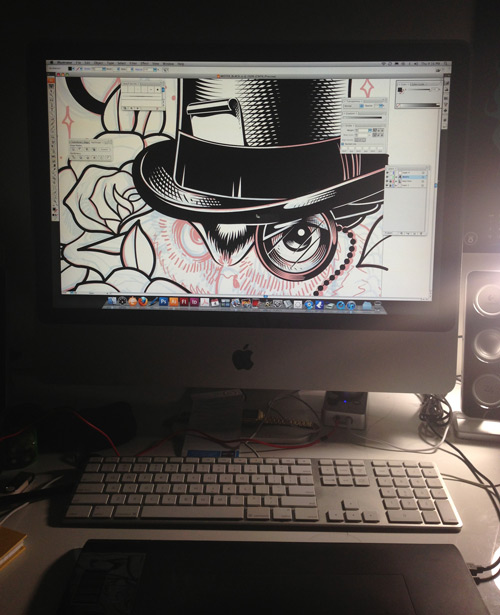 As seen on...
SMITH JOURNAL 10 SEPTEMBER 2013
"As third wave coffee slowly conquers each and every café in this fair land, some industrious distillers in Sydney have worked out a way to put it in our alcohol. About time."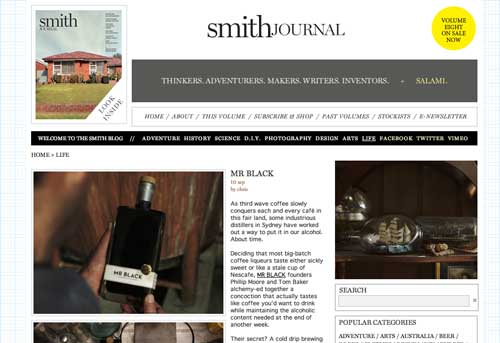 BROADSHEET SYDNEY & MELBOURNE
"A New South Wales micro-distillery has taken Australian coffee culture to the next level with the launch of its boutique cold drip coffee liqueur MR BLACK.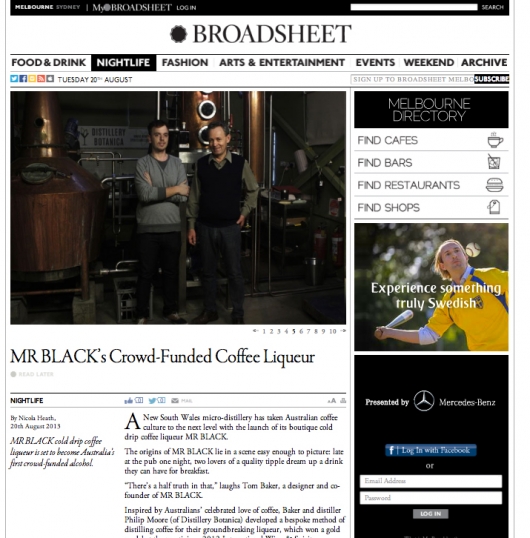 CONCRETE PLAYGROUND 16 AUGUST 2013
"There's nothing that says 'Australian' quite like being the first ever company to crowdfund booze. But one company has found a way to combine Sydneysiders' two favourite beverages in one delicious, stylishly packaged drink."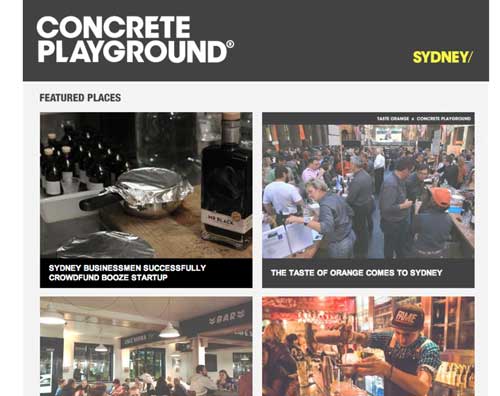 FOOD REPUBLIC 28 AUGUST 2013
"You know what they say about not being able to please everyone at once? Well, this new Australian brand doesn't even try. In a fantastic example of the new breed of crowd-sourced project that offer a clear, refreshing aesthetic vision"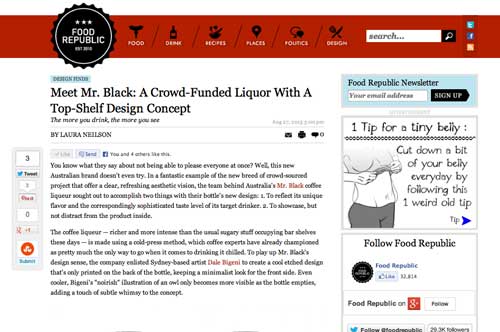 CHEW TOWN 29 AUGUST 2013

"Mr Black is not sickly sugary sweet. Instead, he's handsome, dark, brooding and intense, and you'll want to consume him all hours of the day. Trust me, I sipped a shot at 10am on a Sunday morning and I didn't regret it. Just like the wrapper says it tastes purely of coffee – alcoholic coffee of course."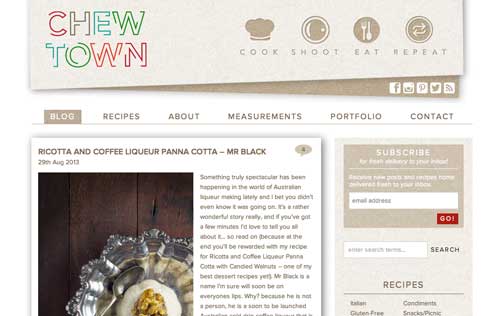 THE DIELINE 16 AUGUST 2013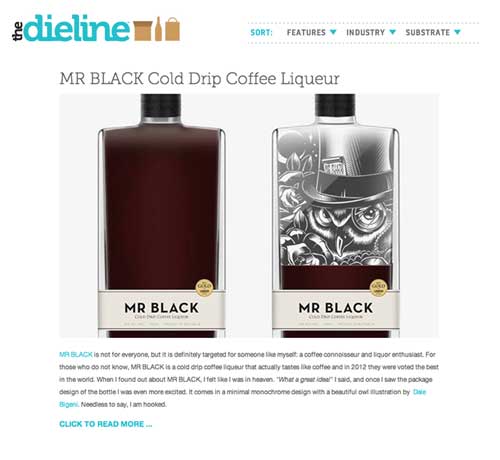 Get in touch
Follow us on
Facebook
...and
Instagram
For all questions and any enquiries, call Tom on 0405 232 148.
or email us at tom@mrblack.co /
www.mrblack.co
MR BLACK Cold Drip Coffee Liqueur is 700mL and 25% ABV and contains caffeine. It contains no artificial flavours, colours preservatives and is made by hand with love and care here in Australia. All the coffee used in the production of MR BLACK is all roasted locally at
Glee Coffee
.
MR BLACK will retail between $55-60 when we finally launch to retailers but we're offering it at a discount here on Pozible with bottles starting at $50.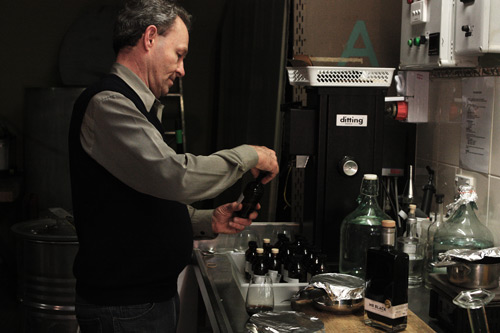 Jump on the bandwagon
We love people who make stuff and we're always looking for shiny new collaborators - just like we did with our pack artwork. If you like the sound of what we do and want to get involved, drop us a line. It doesn't matter if you're an artist, filmmaker, sculptor, children's book author, singer, chef, dancer or anyone who makes something, get in touch.

If you run a bar, restaurant or bottle-shop and you'd like to stock MR BLACK, drop us a line and we can talk turkey.

Legals
Under the Liquor Act 2007, it is against the law to sell or supply alcohol to, or to obtain alcohol on behalf of, a person under the age of 18 years. All deliveries must be received and signed for by a person over the age of 18 years. We are unable to post to PO boxes. NSW LICENCE NAME: Distillery Botanica Pty Ltd NSW LICENCE NUMBER: LIQW824014387

Due to licensing restrictions we are unable to post MR BLACK internationally.
The Challenges
We've been making MR BLACK for a while now and we've got the flavour and process down. While that was no easy feat, this baby is ready to ship. The bottles are en-route from France and they're due to land mid-September with delivery being not long thereafter.