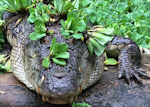 Smaug the Crocodile says "Support our project and Smaug promises not to eat you. You can trust Smaug on that."
Crocodiles. Love them or hate them, they are iconic creatures and an integral part of northern Australia. We have two species here, the infamous saltwater crocodile (Smaug says "hello"), and the somewhat more timid freshwater crocodile. Yet there is another type of crocodile that most people would never imagine exists, a pygmy - or dwarf - freshwater crocodile. They're still "freshies", but in miniature.
As their name implies, these crocs are very small even by freshwater crocodile standards. Normal freshies can grow to around 3 metres (10 feet) in length, but pygmy freshies top out at 1.5 metres (5 feet). Adults mature at much smaller sizes, such that females can start producing eggs when they reach a petite 70 cm (2.2 feet) long! When you consider that half the crocodile's length is its tail, it's easy to overlook them. Perhaps that's why they have received so little attention over the years.

Few people know of these crocs because they live way upstream in escarpment country, where crystal clear water flows through rocky gorges. It's very pretty, but there's not much food up there for crocodiles. Remarkably, they manage to survive anyway by staying tiny; the smaller they are, the less energy they need to live.

Life would be idyllic for pygmy freshwater crocodiles if it wasn't for one tiny problem: cane toads.

Cane toads are toxic to freshwater crocodiles (see the photo below) and are poisoning them in droves as they advance through the Northern Territory and into Western Australia. Pygmy freshies are even worse off, being more susceptible to toad toxins and having even less choice of food when toads appear in their backyard. Sadly, some populations may be about to vanish forever. We've been studying these little crocodiles since 2006 using mostly our own funding, so we've seen all of this first hand. But now we need your help.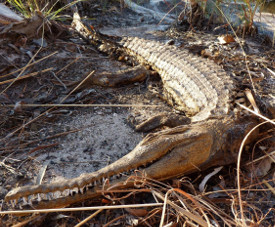 So why should you care about some tiny crocodile that most people have never heard of or will ever see in the wild? Good question! Perhaps it's because these pygmy croc populations are unique, or perhaps it's because they show exciting genetic differences from other freshwater crocodiles? Maybe it's because they play an important ecological role in a fragile and fascinating environment, and maybe they have economic value through tourism?

All of that is true, but quite frankly it's because pygmy freshies are awesome, and we shouldn't sit by and watch them vanish forever. Humans were silly enough to introduce cane toads in the first place, so I believe we have a responsibility to clear up the mess and minimise the damage they do to the wildlife and habitats that make Australia such a unique place.

Help us to protect these tiny crocodiles so that when our children ask whether there is such a thing as a pygmy crocodile, we can take them into our backyard and show them a truly magical creature.
Project summary
I bet you didn't know there are tiny pygmy crocodiles living in northern Australia? It's true.

It's also true that they're in grave danger of being lost forever, before we even get to know them. With your support, we'll be able to learn more about them and greatly improve our chances of saving them.
Frequently Asked Questions
Q. I saw a news article where you're claiming pygmy crocodiles are the same species as freshwater crocodiles. Why are they special then?

A. Yes, we have confirmed this before: although there are genetic differences between pygmy crocodile populations and "standard" freshwater crocodiles, they fall inside the variation expected within a single species. But there are differences, very interesting ones: pygmy populations have a unique haplotype that's almost completely absent in downstream populations, and vice versa. We want to know why this is, and the data we've collected previously suggests a tantalizing hypothesis. We don't want to talk about it yet, mainly because we need to verify it first, plus we love a good cliffhanger. To resolve it, we need more tissue samples. If it's true, then it will explain a lot about these crocodiles and aspects of allopatric speciation.
The Challenges
Chances of success for this project are very high.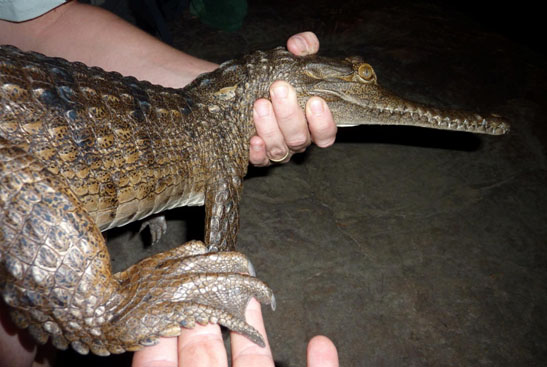 We will be returning to an area where we have a lot of previous experience, with pledged support from local landowners, so access is guaranteed. The actual fieldwork is straightforward, and something that we have decades of combined experience with; this is our bread and butter. We may of course find no crocodiles at all in the area, and that in itself will be useful (if distressing) information, but the local landowners assure us that they have seen some crocodile activity at the site. We are also very experienced writing up results from field surveys and preparing reports, work that we do regularly for government and private clients, so there will certainly be an outcome regardless of what we find.
The main aspect outside of our control is the genetic aspects; collecting tissue samples is straightforward, but their analysis will rely on third-parties. Although we will be using a reliable and tested genetic sequencing laboratory, we cannot control the time-frame for receiving the results. In a worst-case scenario, if nothing came of the genetics aspect, it would not influence the outcome of the rest of the project.