PART ONE - BRINGING FROZEN CUSTARD TO SOUTH AUSTRALIA WITH POZIBLE
Frozen custard is a type of ice cream. We fell in love with it when we were in the US three years ago on a burger researching mission. We came back to Australia and started our food truck, Burger Theory, but we never forgot the frozen custard.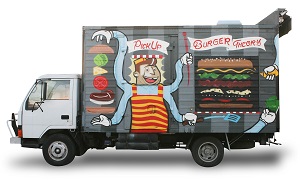 Three years on and we are about to embark on a physically more stable - but economically more volatile - journey, with the opening of our fixed store set for the end of September.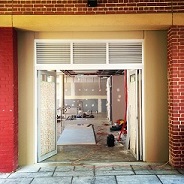 We want to put a frozen custard machine in the store but we're running low. Stores aren't cheap, and at $50,000, neither is the cost of bringing a machine here. They have to be certified to meet Australian standards and imported from the States.
We asked the banks for half the money but they said no. This annoyed us, so we made this video:
That made us feel better. It has also made this frozen custard mission bigger than us. It includes you.
South Australia has some of the world's best dairy produce. We make amazing fresh cream and fresh milk. We deserve fresh ice cream too!
PART TWO - A CONVERSATION TAKING PLACE IN THE NEAR FUTURE (OR IN WISCONSIN, WHICH HAS BEEN IN THE FUTURE FOR A WHILE NOW):
- Hi, I'd like a scoop of vanilla ice cream please.
- Certainly. Would you like the ready to eat variety or the ready to keep?
- Um... excuse me?
- Well, one was made in store by us just now; the other was made somewhere else and we keep it in the freezer.
- Fresh ice cream? I didn't know there was such a thing. What's different about it?
- Well, it's not whipped, which means it has way less air in it.
- And that's a good thing?
- It is if you're after something really thick and creamy. Most ice cream has four or five times more air in it than this. It also means you're not paying for air.
- Why don't you just make more of it and store it too?
- The same process that makes it creamier also makes it impossible to keep for very long. We've got to do smaller batches more often. "Less air and more care," as we say. Corny. But true.
- Sounds like a lot of work.
- It is.
- Right. I'll take one please. Actually, make that two scoops.
PART THREE - MORE INFORMATION ON FROZEN CUSTARD
Frozen Custard - Wikipedia
Burger Theory Pinterest - Frozen Custard Dreams
The Great Ice Cream Frozen Custard Debate
This is what frozen custard looks like: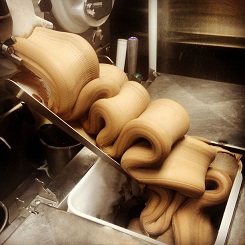 Frozen custard explained:
PART FOUR: OUR PROPOSAL IN RHYME FORM
Our burgers and fries are not quite complete
To round out the meal we need something sweet
Alas, in our food truck, there just ain't the space
Though heavy of heart, we've toiled apace
So that, come September, we'll be opening the doors
To a stationary life: our first city store
With room to expand on our food truckin' legacy
We've a perfect addition; a dense, creamy delicacy:
Called Frozen Custard, it comes from the States
A uniquely fresh ice cream - it's made while you wait
Inside a machine designed to go back
To how ice cream was before the attacks
Of soft serve and preservatives, artifice and air
The bigger the margin, the lesser the care
But with resources exhausted, we've come to a hurdle
And request your assistance, lest our frozen dream curdle
To bring this machine across to our shores
We've 25K; we need 25 more.
The Challenges
The boat with the machine on it may sink, in which case, they will send another machine on another boat. That's about it. We just need the machine!