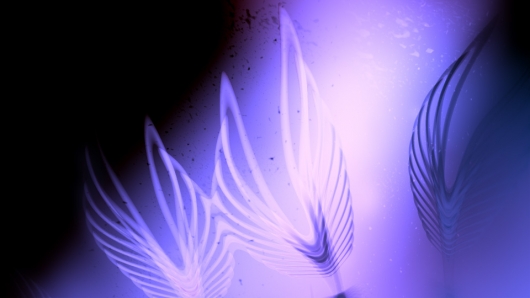 The Watching Europa project is comprised of one complete hour of mesmerising high resolution animation based loosely around the speculation that the vast oceans of subglacial water on Jupiter's moon Europa could conceivably harbour life. The images and sounds offer an absorbing and fascinating meditative experience that has been described as "
2001: A Space Odyssey
meets
Ernst Haeckel
". The stunning HD images and full surround sound can be explored as a totally immersive inner-space adventure, or they can simply be set in motion as a beautiful liquid ambient background for your living environment (and let's face it - those big blank LCD screens just completely suck the vitality out of the whole house. Why not make them a beautiful entrancing feature rather than a lump of soulless tech? )
If you want to get a good feel for what Watching Europa is all about, you can find out how it was made, and see galleries of stills and featured movie clips on the
official website
. For those of you who've been fans of
my music
over the years, you'll find the project a natural extension of my musical ideas into the visual world.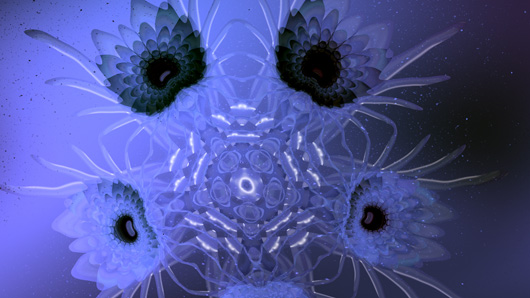 I've now completely finalised Watching Europa and the final 60 minute HD animation with full 5.0 surround sound has been authored and mastered for Bluray - the highest quality consumer format available for both image and sound. In other words, most of the work has already been done. There's one final step though, and I've started this Pozible project in order to make the Bluray version commercially available. Because Bluray is a relatively new format, the per-piece cost is pretty steep, so I'm not going to be able to do it alone. With your help, though, I can organize a manufacturing run and get a little publicity happening.
I think Watching Europa is a very special and unique undertaking, and I'd love to get it out to the widest audience I can find. I hope you'll be part of that.
So, all that remains to be said is that any help you can give me to get Watching Europa out into the world is appreciated more than I can say. Grab one of the rewards, tell anyone you think may be interested, or simply favourite the Watching Europa Pozible page on your social media platform of choice (<- there's an easy clickable Share window over to the left there). Every little bit helps.
With warm thanks,
Peter
FAQ
• Can I get Watching Europa on DVD?
Sorry, no, it will not be available on DVD. As much as I've tried, it is impossible for me to get the image quality to a sufficiently acceptable standard using the DVD compression codecs.
• How about an HD file download?
Again, for similar reasons this is not achievable at the moment, although I don't rule it out as a future possibility. Currently, to get an acceptable result, the file size is in the order of 4 or 5 gigabytes, rather too large to be easily accessible.
• Is there music on this Bluray?
Not as such. The images are accompanied by an ambient soundscape that does have musical qualities. Information can be found on the
About
page at the Watching Europa website.
• Can I see an example of what I'll get on the Bluray?
Yes. There are some selected single clips, and the test or 'maquette' version of the project on the
Clips page
of the Watching Europa website. The final Bluray version is an interweaving of luscious full frame and intriguing split screen, similar to the maquette version (only better!)
• What is the 'Strangeness + Charm' part of my Reward?
Strangeness + Charm is a major atmospheric music work that I created for the Qantas First Class Lounge at Sydney Airport. It was originally released as a 6CD set, but I'm making it available for this project in its entirety as mp3 and AAC files. You can read more about Strangeness + Charm (and listen to some samples)
here
on the Scribbletronics site.
•I was told that the Morphium Collection was part of the USB Reward - is that true?
Yes, I've made a special incentive addition of my complete Morphium Collection. Unfortunately I couldn't add it to the individual Rewards descriptions because of Pozible's text size limitations. But basically, you get all three Morphium atmospheric works: Rain, Pines and Atoll. You can read more about the Morphium Collection
here
.
Responses
Some things people have said about Watching Europa:

'...a highly original immersive artwork of great minimalistic mystic beauty'
~ Nic Skeltys (b(if)tek, Jilted Brides)

'...strange creatures of unknown scale but undeniable beauty emerge contemplatively from purple and blue-hued depths. Watching these mysterious creatures, swirling in dusty water, communicating via harmonics, takes me to a poetic place deep within myself.'
~ Melinda Rackham (Artlink)

Some Of My Previous Work
If you'd like to get an idea of other work I've done, my site at
Scribbletronics
holds a comprehensive history of my music & sound projects, and my other visual & animation work. Dive in!
The Challenges
This project is completely achievable. All costs have been quoted and all Rewards are set to go.