13th July - We have launched focus booster version 1.3, please see
our updates page
for more detail.
Focus booster needs your support to go to the next level!
Focus booster is a hugely popular, free, productivity desktop app that was developed in 2010. It is the digital implementation of the Pomodoro Technique and has largely been credited as the reason many people can get any work done! Despite all the positive feedback we haven't had the time or resource to improve it to its full potential, which we believe is huge. BUT today is the day that you can help drive the future of focus booster forward. Scott Mebberson, the inventor, has quit his day job and the success of this Pozible will mean that instead of finding another job (or being a bum) he will be able to dedicate himself to the improvement of focus booster, full time.
We want to deliver free mobile platforms (iOS, Android and Windows phone), free updates to the desktop app, all of these will come with upgrades and free additional functionality (all the requests you have made to us like, longer break sessions, better UI, more sound options). We also want to deliver a new platform; a web application that will allow freelancers and consultants to invoice based on sessions, enable reporting to review your pomodoro sessions and success, integration with third party project management tools and an API. This is the only thing that will have a fee attached and we don't think $24 a year or $2 a month is much to ask if you can access all those features.
To start to achieve this we need to raise a minimum of $55,000 but funding above this will see us deliver the focus booster that you couldn't have even conjured up in your wildest dreams. It seems like a lot but we need to fund a full time developer, a part time support person, a part time digital marketing person, freelance designers and pay for an exceptional hosting service and testing devices (until we have a model that funds itself). Besides, we have had nearly 1,000,000 downloads and if people opt for the 5 year reward option we only need 550 people to help us reach this target. Seems achievable, right?!
There a several different levels of support you can offer focus booster (although you can of course offer any amount, as little or as much as you like, with or without claiming a reward) - starting with a $5 goodwill pledge (we accept goodwill starting at $1 too!), a $12 pledge will be rewarded with a one year subscription all the way up to a $200 pledge, rewarded with a lifetime subscription. There are rewards for in-between amounts too - some with up to 50% off the market price of the web app. All funds raised from the sale of the web app in the future will be used for continual improvement and support so our users feel loved! The updated desktop and new mobile version will remain FREE for all users.
Pozible accepts PayPal or credit card payments. Your donation will not be processed unless we meet our minimum target of $55k. If you believe we are worthy of larger donations, please get in contact with us at
contact@focusboosterapp.com
. We look forward to hearing from you!
Now to the most important question, what will we release as a result of your support? In a sentence a wicked time management tool, available over a variety of platforms that will ensure you are super productive and have the ability to manage clients and projects and produce reports from focus booster.
We have set a minimum target budget of $55,000, which will allow us to deliver a new version of the desktop app and an iPhone version. Both with wicked new features, including; integration with a web application, the ability to manage clients, projects and categories and assign Pomodoro sessions to them. We will also deliver a web app with the ability to run reports on sessions, generate invoices and import and export data.
But we want to achieve big things so if everyone really gets behind us and we raise $64k we will deliver focus booster for Android. $73k - focus booster for Windows Phone. $82k - focus booster for iPad. If we raise a whopping $100,000 or anything near it; we will also deliver integration with third party productivity software (for example BaseCamp, Xero, Jira, Harvest). Eventually we aim to add all these things in but without your support it will have to be between paid work and will take way longer than we can patiently wait. We suspect you might feel the same.
You wouldn't believe the range of people using focus booster, we hear from all types, students to psychiatrists, freelancers to teachers and the rest. We know that focus booster is well loved and we know the concept is brilliant but being brutally honest, we also know that it has bugs, mobile implementation should have been released years ago and it could have so many more functions that would make it not just useful but essential to managing time and productivity.
Are you as excited as we are? Get behind the focus booster team to ensure you have the best productivity tool at your fingertips. Thank you for your support in advance.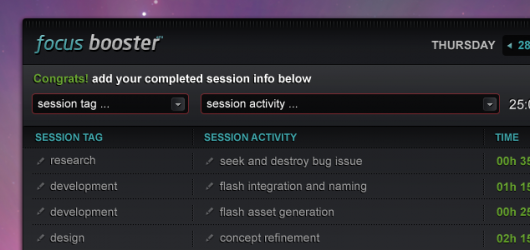 [this is an early prototype screen of focus booster desktop and pomodoro session management]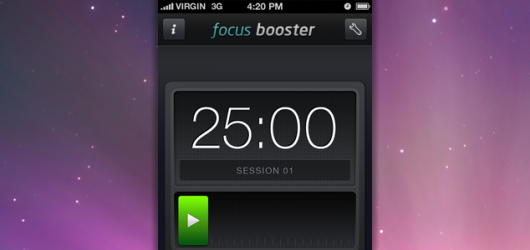 [this is an early prototype screen of focus booster for iPhone]