BUY OUR BOOK
Our book is now available for purchase either here or at
www.wobblyjimbook.com
We raised over $10k via crowdfunding to publish the book....
Wobbly Jim is a pirate with a wooden leg and a taste for dolphin wee.
His is a story of triumph over adversity, friendship (with a parrot called Sue), loyalty and adventure. You can help us bring his tale to life!
Here's a little bit of the story to whet your appetite!
---
Once there was a pirate and his name was Wobbly Jim.
He used to have two legs but a shark took one from him.
So now his leg is wooden and it doesn't fit quite right.
He polishes it with honey, then takes it off at night.
Jim sails the mighty oceans on his boat, 'The Merry Cow'.
It's painted black and white, and has udders on the bow
He eats barnacles for breakfast and has seaweed for his tea.
And he washes it all down with a pint of dolphin wee.
---
The story so far
I wrote Wobbly Jim a few years back for my son (now nearly 4), I wanted to create a strong story, with real characters but also a little absurd humour. So many kids' books are far too worthy and dry for my liking.
Will, my friend's husband, read the story and liked it so much he sat down and drew Wobbly Jim. His picture was so close to what I had in my mind it blew me away.
The Wobbly Jim story was good enough to get me signed to premier literary agency Curtis Brown. They shopped it around to all the big publishers, but while they loved the writing, the response was universal, We don't do pirates.
So Will and I decided to be brave and self publish. Scary stuff!
Wobbly Jim is the most captivating, original pirate you'll ever meet. From the moment I discovered that he and his friends Sue the parrot and teddy Little Dave eat fishy ice-cream washed down with dolphin wee, I was hooked. But be warned me hearties – you'll be reading his swashbuckling adventure to your preschooler over and over again!
Charlotte Calder, Author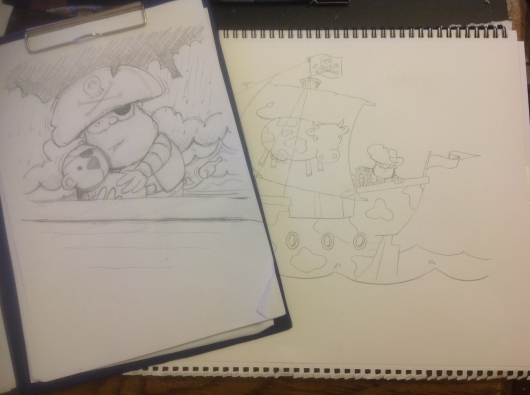 ---
The team behind Wobbly Jim
I'm Kate Toon the writer.
I'm a copywriter living on the Central Coast with my husband, son and furry muse, Pamplemousse. I've written several plays, some short films, a TV pilot and my book of daft poems 'Gone Dotty', which was published last year with the help of the kind Pozible people. I'm into writers such as Roald Dahl, JRR Tolkien, Julia Donaldson and Spike Milligan.
Learn more about me here
www.katetoon.com
.
Will Pearce is a Senior Graphic Artist with News Corp. When he's not working the night shift producing the next day's Daily Telegraph, he's wrangling his four offspring to various sports events and enjoying his wife's fine cuisine. Will used to do daily political cartoons for the stable of Rural Press newspapers before taking on a senior Graphic Artist role with SMH and then the Daily Telegraph.
---
Thanks for reading our page, you ROCK!
Follow us on Facebook at
https://www.facebook.com/wobblyjimpiratebooks
Or read more of our story on
www.wobblyjimbook.com
Some Of My Previous Work
x