We are seeking funding to extend a free web-based resource for parents around healthy eating and active play. All materials will be evidence based, informed by current research and free of all commercial influence. Resources will include parent focused video clips and discussion forums that will focus on the challenging toddler years.
---
This is important
The early years of life provide a one-off opportunity to establish healthy lifestyle behaviours. This research project aims to maximise this opportunity.

In these early years toddlers are hard-wiring their brains about foods they'll enjoy and physical capacities they'll maintain across their life; parents are at their most receptive and looking for support. Helping parents get healthy eating and active play behaviours embedded right from the start just makes good sense – and this has NEVER been more important. By the age of three non-nutritious foods are consumed daily, no children meet government TV viewing time recommendations, and one if five of our toddlers is already overweight or obese.

These high levels of overweight and obesity are historically unprecedented, and set in train obesity and lifestyle trajectories across life: overweight children become overweight adults, and children who eat poorly become adults who eat poorly. Poor eating and physical activity habits, alongside increased body weight are known to promote cardiovascular disease, cancer and diabetes from early in life. The important point is that for most children this is preventable.

---
Our research has shown we can support parents to improve children's lifestyle behaviours, but parents want more!

We know how to support parents to promote healthy eating and active play right from the start! Our research group has done this successfully with parents of infants via the Award Winning* Infant Program (www.infantprogram.org). That research program finished when children were 18-months old.

The challenge is that parents tell us that they find it hard to continue promoting healthy eating and active play as their toddlers become more independent. Parents want to continue to learn strategies and skills across the toddler years.

To do this we need to expand the Infant Program website and develop a section specifically focused on these challenging toddler years. This is the new part of our Infant Program research.

We need to develop a low-cost, broad-reaching and sustainable approach to supporting parents to get healthy eating and active play right from the start.

With your support we will design and film a wide range of video clips for uploading to the Infant Program web pages. We will use social media to prompt parents to link to these resources, and to the discussion forum provided at this site. We will also assess child and parent lifestyle behaviours when children are 3-4 years old, and compare these families with families who are not involved in the Infant Program Research. This will tell us how effective this web-based intervention has been, and in turn inform support options for parents across Australia.


The Infant Program was awarded the prestigious Victorian Health Promotion Foundation's David Hill Award for Knowledge and Translation in 2012
---
Project result -> High quality, easily accessed products for parents!
- The Healthy Gigglers project will allow us to enrich the Infant website with high quality film clips and links that will show parents how to promote healthy eating and active play in their toddlers.





- Through our Facebook and Twitter platforms parents will be able to talk with each other and with the experts regarding best strategies for raising healthy toddlers.
---
We need funding to:
1. Employ staff to design, trial, film and edit video clips – specific to the toddler years - for uploading to our existing parenting website

2. Maintain the website and update with any new information

3. Generate discussions between parents and experts regarding best strategies for raising healthy toddlers on both Facebook and Twitter
---
Level of funding we are seeking
$12,500 will enable us to design, film and edit 18 videos. Each video will be approximately 3 minutes in duration.

$18,000 will enable us to also provide professional input to discussion boards over the coming year.

Connect with Karen Campbell on LinkedIn
Connect with Kylie Hesketh on LinkedIn
The Melbourne Infant Program publications
Fellow researchers, connect with Karen Campbell and Kylie Hesketh on ResearchGate
The Infant Program research team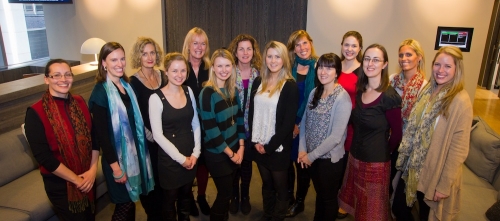 Principle researchers: Associate Professor Karen Campbell and Dr Kylie Hesketh.
Research co-investigators: Professors David Crawford, Jo Salmon, Kylie Ball and Drs Sarah McNaughton, Zoe McCallum and Lisa Gold.
Research support team: Bibi Gerner, Natasha Napiza, Anne Griffiths , Sanae Roberts, Debbie Leslie, Irene Lichomets, Sandrine Lioret, Alison Spence, Emily McLeod, Catherine Naylor, Robyn Perlstein, Margaret Rozman, Tegan Bonham, Alexia O'Callaghan, Carolyn O'Gorman (dec), Inger Neylon, Marilyn Piper, Lily Meloni, Siobhan O'Halloran, Paige van der Pligt and Rachael Reynolds.
Special thanks to Peter Lane for his time, enthusiasm, creativity and ongoing support. All Infant Program clips have been filmed and edited by Peter and we remain ever grateful!