Combat Robots return to Sydney this August.
Are you ready for Robowars Sydney 2013?
What are combat robots?
Robot combat pits two radio controlled machines against each other in a 3 minute fight to the death in a specially constructed arena.
Robowars Sydney 2013 Event Page now up on Facebook!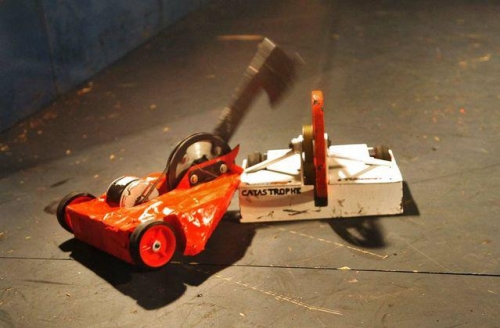 Prizes (still being added to)!
First Place - First Place Trophy, UP! Mini 3D printer from 3D Printing Systems
2nd Place - 2nd Place Trophy, $100 Gift Voucher from Littlebird Electronics
3rd Place - 3rd Place Medal
Fail award - For the most spectacular robotic failure of the tournament.
---
The sport of robot combat combines design, engineering, driving skills and a whole lot of luck in an adrenalin rush like no other.
I have organised two previous combat robot events in Sydney, both crowd funded through pozible. This year however we're going bigger than ever before.
Robowars Sydney 2013 is a competition for Sportsman class, featherweight combat robots. These machines weigh up to a maximum of 13.6kg and can be armed with all manner of creative weaponry to try and disable or immobilise their opponent within the 3 minute match.
I built my first robot when I was 15 years old, so whether you're an engineer, designer or just like to tinker and build things like me, combat robotics is for you! Anyone can get involved and in collaboration with this campaign, we will have weekly how-to videos on everything you need to know to build a robot and compete in the upcoming competition.
But this event can't go ahead without your generous support. We need to fund the transport of the combat arena down from Queensland, as well as cover venue hire and other related costs.
We really need your help! So please get involved, check out our awesome rewards on offer and register to compete for Robowars Sydney 2013!

OK, I want to build a robot and compete, where do I start?
1. Head over to the
Australian Robowars Forum
and sign up! The forum is full of helpful roboteers who will help you get your first machine moving. You can also create your own build thread to document your progress, ask for help and show others your work.
2. Read the rules: Robot combat does have rules, mostly for the safety and entertainment of the audience and competitors.
Sportsman class robots have additional rules which limit the use of high speed spinning weapons, allowing for far more elaborate, creative designs.
Robowars Australia follows the RFL rule-set, found
here
.
3. Sign up for the event! The only way to compete in Robowars Sydney 2013 is by registering through the competitor reward option. The entry cut-off is when the campaign ends, and no late entries will be allowed. Entries are non-refundable.
4. Have fun! Building combat robots is a highly rewarding and enjoyable hobby. Throughout the years I've learnt many useful skills which helped launch my career as an industrial designer.