Upswing arts, a Not For Profit organisation created by Felicia O'Brien presents Emerald City at The Melbourne Meat Market for Melbourne Fringe 2016.
Emerald City will be a diverse and dynamic precinct showcasing the talents of a wide range of artists including: circus, singers, dancers, magicians, musicians, burlesque photographers, painters, sculptors and more! These artists will transform the Meat Market in North Melbourne into a veritable hot bed of unexpected pleasures just waiting to tickle your fancy, take your breath away and ignite your passion.
Project director Felicia O'Brien aka Miss Flee, has 21 events lined up throughout the Fringe Festival , show casing spectacular, envigorating work.
The Meat Market is being transformed into 5 great performance areas, 3 of them with rigging capability for circus performances. We're utilizing this grand old space in a way never before tried and it promises to become a thrumming hub! The building itself is already pretty gorgeous, and we will create a layer of awesome to compliment the performance spaces. We will be hosting up to 10 shows a night in this precinct, including live performances in the bar.
You can follow our progress at
How The Funds Will Be Used
Whilst the temptation is great to splurge our "massive" (HA!) budget on things like trips to the Bahama's and tropical delights, the reality is that we are simply trying to cover production costs!!
We applied for some grant money- but putting on several shows in one building doesn't fit any of the grant requirements! Too much awsome it seems.
We will be using the funds for the boring old concepts of-
PAYING THE TECH CREW- that's a biggi peeps, we can't do this with out them!
VENUE HIRE
And just a touch of decorating!
These are the fundamental elements that help us provide a PLATFORM that allows artists to be the adventuous, glamorous ones.... although Flee may sport a shiny cape during festivities....
To give you an idea of some of the creative spaces-
The Gingerbread House!
We'll be making this glorious area into a black box theatre with a seating bank. Surround that with a lively area for public performances between shows and a bar and it's going to knock your socks off!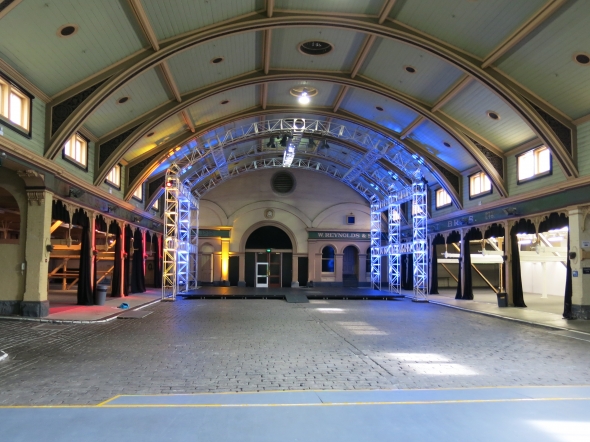 The Rabbit Hole,
Waaay down there on the flat floor.... so much room! We're going black box it in, fill it with rig/stage/grand piano.... pop an ART exhibition in for good measure........
You can tell some magic is going to happen down that rabbit hole....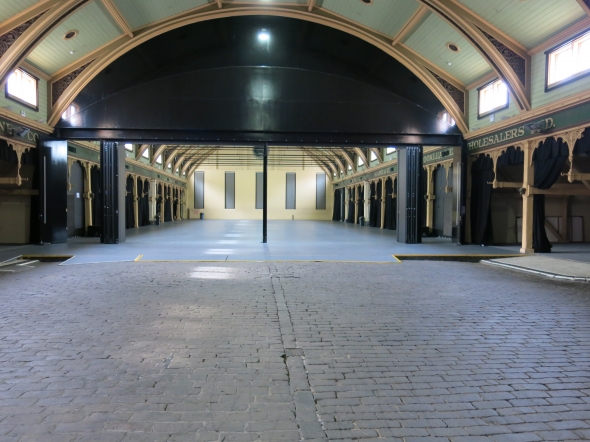 Three other fabulous hidey holes are evolving as well, smaller in stature but oh so fabulous, Bluebeards Den, and The Stables.
It's a lot of work- but we're ready to GET BUSY!!!
The Challenges
1/ Co-ordinating this whole affair! Flee has been working her butt off for the last 2 months talking to artists, walking people through the venue and liasing with the Meat Market's fabulous team as well as the delightful Melbourne Fringe staff. If we raise enough money maybe she'll even get paid! HINT HINT.
2/ Meeting our production budget- naturally that's why we're here doing this call out! Why are we doing this? It's ambitious to raise a project of this scale- but we've seen before what the after effects are after previous projects like The Birdcage- we've seen start up shows go on to win festival awards, tour nationally and internationally! Not to mention our platform for individual acts- Circalicious cabaret- over the years there's been more than 150 peformers try new work in this show, and then go on to perform not only their own work but also in in companies such as Circus Quirkus, Circa, Circus Oz, Dislocate, Dummy, King Kong, La Clique, La Soiree, No Fit State Circus, The Insect Circus, The Burlesque Hour, Limbo, Velvet, Cirque Du Soleill, Dragone Entertainment........and more. It's the step up our local artists need, and it can be the beginning of great things.
3/Getting all the people there! You! We Need You! Believe it or not we dont just want your money, although that will definitly help! We've got shit hot designer Dan Cordner on board to guide us through the delectible designing of our marketing.... but we're going to need your help shouting it to the heavens, spreading the word! Tell a friend, tell 10! In fact drag them down there and demand they view some live art! More than anything we want to see your faces down there during the festival. Come in fancy dress, we'll love you for it!