The Vampires' music blended everything from hints of soul to tinges of the Balkans, a taste of African and Jamaican influences and, of course, a liberal heaping of jazz-centric interplay for a distinctive gumbo that was more eminently accessible, grooved harder and, through clever arrangements for the two horns, created a bigger sound than might have seemed otherwise possible.
John Kelman, All About Jazz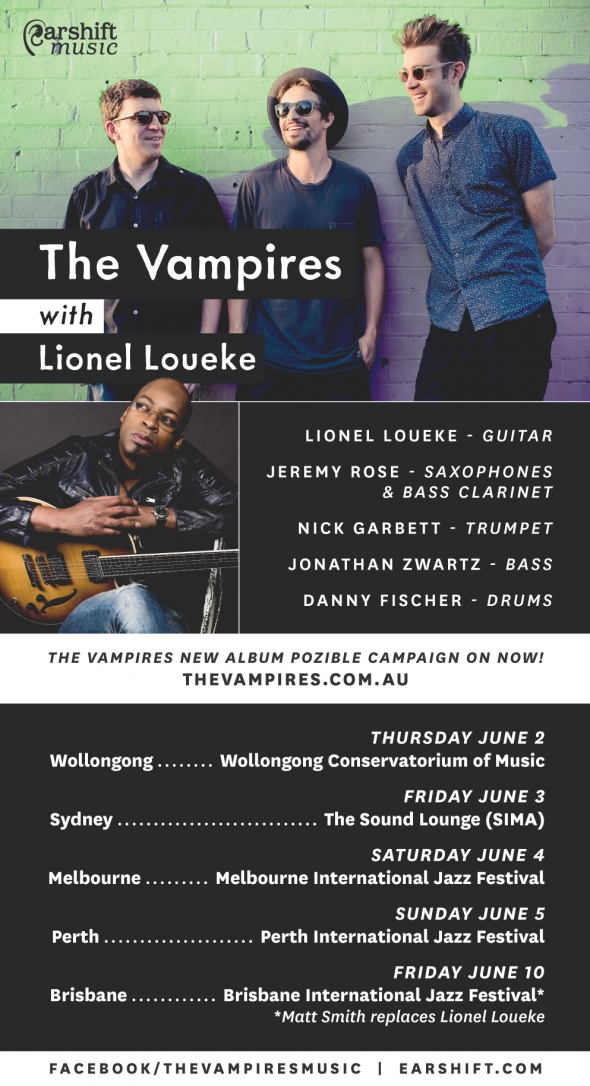 Hey there!
We are a world-roots jazz group from Sydney, Australia and need your help to record with one of the leading figures in jazz today, Lionel Loueke.
Guitarist Lionel Loueke has enjoyed a meteoric rise in the jazz world, collaborating with seminal jazz figures including Wayne Shorter, Esperanza Spalding and Herbie Hancock, who has praised Loueke as a musical painter. Originally from Benin, his unique musical approach is informed by the music of West Africa and the jazz tradition, resulting in something exciting, beautiful and unique.
In case you haven't heard us, we perform original music, drawing inspiration from around the world, particularly Africa, Caribbean, Latin America and the Balkans. We have released four critically acclaimed albums and collaborated with trombonist Shannon Barnett and percussionist Fabian Hevia. We have performed throughout Australia, Europe and the UK.
The new music has been composed by our saxophonist Jeremy Rose and trumpeter Nick Garbett, specifically for this collaboration with Loueke.
This project includes:
1. Rehearsals with Lionel Loueke in Sydney
2. A tour of the new music, performing in Wollongong, Sydney, Melbourne, Perth and Brisbane
3. A recording of the new music in Sydney over two days, with producer Lloyd Swanton
4. An album release in November 2016, with a European %20 Australian tour
Who's involved:
Lionel Loueke (guitar/vocals)
The Vampires: Jeremy Rose (saxophones, bass clarinet), Nick Garbett (trumpet), Alex Masso (drums, percussion), Jonathan Zwartz (bass*), Danny Fischer (drums)**
*Jonathan Zwartz has been performing with the Vampires in lieu of regular bassist Alex Boneham, who is currently completing his masters at the Thelonius Monk Institute
** Danny Fischer will be performing and recording with the band along with Alex Masso, who is about to have a baby!
The album will be produced by Lloyd Swanton, bassist/producer from the Necks. Lloyd is one of Australia's most esteemed musicians and will bring his expertise to the recording.
The album will be recorded and mixed in Sydney by the wonderful Tim Whitten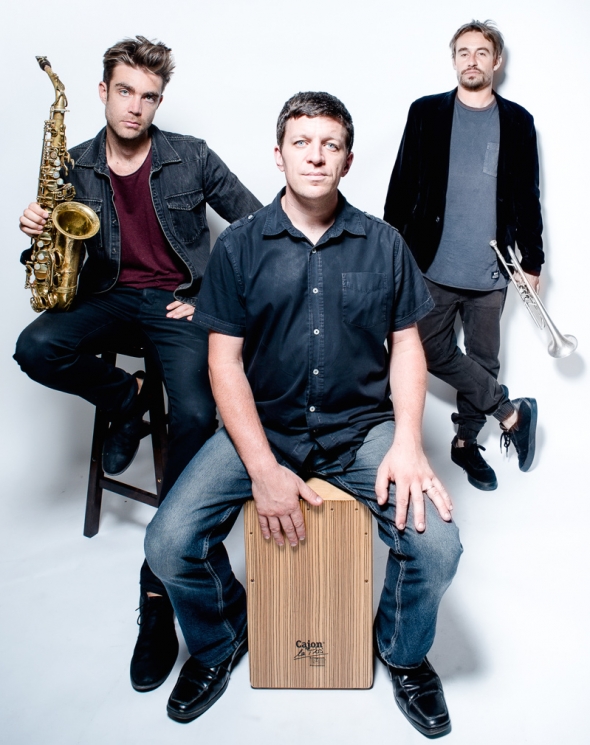 '…The quartet, adding bass and drums to brass and reeds has a uniquely original sound of melodic integrity and a strong musical narrative…Each member is an expert soloist with the emphasis on the front line where Garbett's high register smears and lightning runs were complemented by Rose's insightful inventions.
The Advertiser
Why we need your help:
We have made four albums, travelled together to Europe and Canada, and toured all over Australia but this is the most ambitious Vampires project ever. This is a really exciting project that we have been working on for the past 18 months and we can't do it without your support!
We are bringing in the best musicians to play and support our music - Lionel Loueke, Jonathan Zwartz, Danny Fischer, as well as Lloyd Swanton producing and Ben Hauptmann working with us to prepare for the album. We are also increasing the production values for this next album and have been putting in a lot of preparation for this project.
This is huge for us! You can help us get over the line and be part of this exciting moment in the Vampires' history.
What we can give back to you:
We have created a whole bunch of rewards which we're sure you'll love, please have a browse.
How The Funds Will Be Used
The funds from the pozible campaign will fund essential components not fully covered by our grant. These include:

Artist fees: to pay Lionel Loueke, and Australia special guest musicians Danny Fischer and Jonathan Zwartz
CD pressing - high quality production, including photography and liner notes for the new album.
Videography - documentation of the recording process, providing behind the scenes footage.
Score book production - the creation of a book with all the music from the album plus composer notes.
The Challenges
This is the biggest project we have undertaken to date! However we have the necessary skills and experience to pull it off.

We are very fortunate to have partial funding for this project. However, given that this is the first time we are featuring a world renowned jazz artist, it involves a considerably larger budget. This crowdfunding campaign is really essential to cover parts of the project that we otherwise can't afford. This is where you can really help!