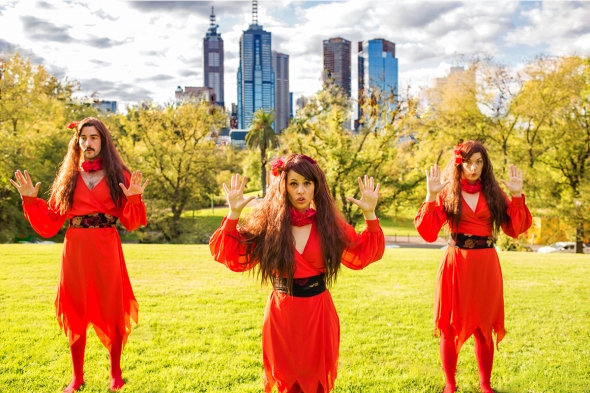 ABOUT THIS CAMPAIGN
This Pozible crowdfunder is being run independently by me, Katherine Brandenberger. I am NOT an event organiser, I am just a fan and an attendee that thinks it would make the day extra special if hundreds of men, women and children poured off trains and trams dressed identically in complete, authentic and affordable red Kate Bush costumes, but when I went looking online I couldn't find anything.
Chatting with some friends also planning to attend, none really relished the idea of having to trawl op shops in the hope of finding a passable dress, so they challenged me to design one and I did!
I thought by making it a community funded endeavor we could use the power of our numbers to produce the costume at manufacture cost and also support our event organisers at the same time, and with luck if we go over target then we can donate proceeds of economy of scale to Safe Steps Victoria to help support women and children victims of family violence.
I have also set up a
Facebook page
so if you are interested please 'Like' to know when this campaign is going and get updates.
ABOUT THE EVENTS
On the 16th July 2016 all over the world people of all genders and ages will be dressing up in red dresses, red tights, and roses and gathering in public spaces to dance to Kate Bush's timeless classic
Wuthering Heights
.
Inspired by UK performance artists
Shambush
's world record breaking en masse joyous interpretive dance on May 25th 2013 to the Kate Bush's 1978 music video for her hit Wuthering Heights, when over 300 Cathys descended on Stanmer Park in Brighton, in what was then
The Ultimate Kate Bush Experience
.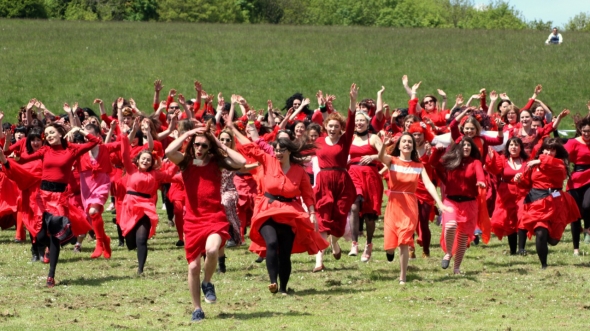 In July 2016 over 10,000 participants have already joined global Facebook events being independently hosted in ★
Montreal
★
Atlanta
★
Sydney
★
Tel Aviv
★
Berlin
★
Brisbane
★
Uppsala
★
Perth
★
Malmö
★
Lisbon
★
Copenhagen
★
Oslo
★
Hobart
★
Adelaide
★
Amsterdam
★
Lancaster
★
Wellington NZ
★
Blue Mountains NSW
★ The original Shambush Ultimate Kate Bush Experience in
London
and my hometown of
Melbourne
, where over 4000 Cathy's have already put their hand up to dress up and dance!
It is going to be SPECTACULAR, and I want to help take wuthering to new heights!
ABOUT THE COSTUME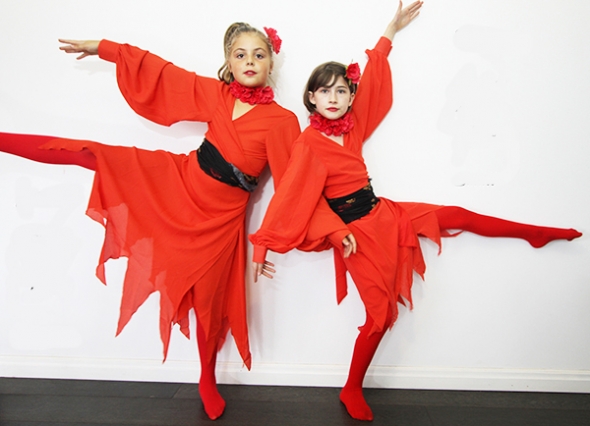 I creating the pattern for the 'Cathy' dress by analyzing the 1978 music video frame by frame, capturing dozens of screenshots to make sure I created an outfit as authentic to the original worn by Kate Bush as possible.
I settled on a mid weight chiffon as it has a lovely flow in dance and is slightly sheer. The beauty of the dress is that it is a wrap and therefore can adjust to many body shapes and sizes. The major consideration was length, so I created three sizes to fit across a spectrum of men, women and children, Here is the
size guide
.
Since the pictures I've already shared, and after consultation, experimentation and trying it on pretty much anyone I come in contact with, I've added extra armhole width to the bishop sleeves for an even more billowy effect. The cuffs have been made adjustable and trimmed with a pair of pearlescent cream buttons as in the original.
The major challenge was the pixie hemline, which has required a quite tricky specialty machine cutting technique so as not to fray but also not need edging which would warp the points and distort movement.
The final dress is supremely comfortable and flattering and I am not shy to say that I am extremely proud of it. I hope you love as much as I do!
ABOUT DELIVERY
All rewards include free delivery anywhere within Australia. For our international backers I will work out the best value postage service to get your package to you safely and in time, I will credit the amount it would be for Australian postage and let you know the difference to be paid, if we make our target.
I strongly urge international backers to try join up with friends and then I can save you all on the postage costs by delivering all outfits to a single address and then they can be handed out from there.
ABOUT SUPPORTING THE EVENT ORGANISERS
I am providing theses costumes as rewards at cost plus postage, it is not a profiteering exercise, my motivation is firstly to learn more about crowdfunding and secondly to hopefully fulfill my dream of seeing hundreds of identically dressed Cathys move through my home city of Melbourne. Nor are any of the event organisers seeking to profit, the aim is first and foremost to have fun and as invited on the Shambush
event page
"join us for a seriously silly day dedicated to the works of the incredible Kate Bush"
But as I am sure we can all appreciate there are costs involved in planning and staging, along with sound and visual equipment hire, so if I can, then I would like to be able to use this campaign as a way to support local event organisers cover some of their hosting costs.
IMPORTANT, PLEASE READ
So far I have connected with Shambush in the UK, Bush Rush Lancaster UK, Atlanta USA, Wellington NZ, Blue Mountains NSW, Perth and the Melbourne event organisers, so if you are attending either of these events then I can guarantee your support components of your rewards will get to them. (I will edit this if I am able to send support funds to other events).
I will make every effort to get support funds raised to a particular event organizer, however if I can't contact them or too little is raised to warrant the international bank transfer fees then I will be donating these amounts instead to
Safe Steps
Victoria; to help continue prevention and elimination of violence against women and children by providing a state-wide immediate response that informs, protects and connects women and children so they are safe.

Whilst I am offering a limited number of below cost single $44 outfits to kick things off, I encourage backers to check in on their local event; Facebook makes it very easy to see if you have mutual friends going; so get in touch with your friends and arrange to go in together for the 'Dance With Somebody' reward, this is by far the best value and it will still help your local event organisers.
Thanks for your support and I hope to wuther with you on 16th July 2016!
Viva La Bush!
Katherine
The Most Wuthering Heights Day Ever
How The Funds Will Be Used
If I reach the target goal of $15000 then I will be able cover my Minimum Quantity Order (MOQ) to supply at cost plus postage and Pozible fees, quality reproductions of Kate Bush's outfit as worn in her 1978 music film clip for her hit Wuthering Heights and hopefully support the global event organizers cover the expenses involved in planning, hosting and filming their individual events, and make the 16th of July 2016 The Most Wuthering Heights Day Ever!
The Challenges
My major obstacle is time! If people want this cosplay to wear on the 16th July 2016 at their local event then I will need all orders in by the 27th April 2016 when this campaign closes, so I can make my bulk order and allow enough time for manufacture and delivery so I can post them off to all corners of the globe to arrive in time for all backers to be Cathy'd up on the big day!

So please spread the word!
Create a unique experience like Katherine
Start planning your event