***Update. We are funded, thankyou to our 168 backers. Wow, we didn't know what to expect when we launched this campaign, we have been blown away by the support. Thanks so much for the amazing support from our 168 backers. It'a also been cool to see the stories coming out in places like The Courier Mail, Metropolis GC & Business News Australia.

The campaign is now complete and we couldn't be happier. It's time for us to get to work. We will keep you posted via email updates over the next couple of months as we get closer to launch.

If you have any questions please feel free to hit us up on social media. Here are our main channels:


https://www.facebook.com/blackhopsbeer
https://www.instagram.com/blackhopsbeer/
https://twitter.com/blackhopsbeer

https://www.snapchat.com/add/blackhopsbeer

Thanks again and we will be in touch with a brewery update soon!***
Hi, we are Black Hops Brewing, 3 guys (Dan, Eddie & Govs) starting a brewery and sharing everything we learn along the way. We are aiming to be the first Australian brewery to successfully launch via crowd funding.
Our journey began in September 2014 via a conversation at the pub and we've been sharing everything since then via
our blog
,
podcast
and
social media
. We are a few months away from opening our own brewery in Burleigh Heads on the Gold Coast, and we are looking for your help to get us over the line.
There were 2 things we loved about the craft beer scene in Australia. Number 1, Australians make great beer! Number 2, the craft beer community is an amazing group of people.
We started Black Hops because we believe we can contribute to the great beer and we are passionate about sharing everything along the way to help the community, from casual drinkers, to home brewers and other craft brewers and bars.
Here's our story so far.
In September 2014, we sat at the bar and talked about our dream of starting a brewery. Eddie told us about his idea for an Eggnog Stout, a dry irish stout with Eggnog flavours like nutmeg, cinnamon and vanilla. A week later, Govs had transformed his girlfriend Claire's home yoga studio (she was stoked) into a brewery and we brewed the first batch of Eggnog Stout. After the brew day, Dan got carried away with Photoshop and came up with some labels and our first beer was born.
Here's a pic from the day we got together at Eddie's place to try the beer for the first time.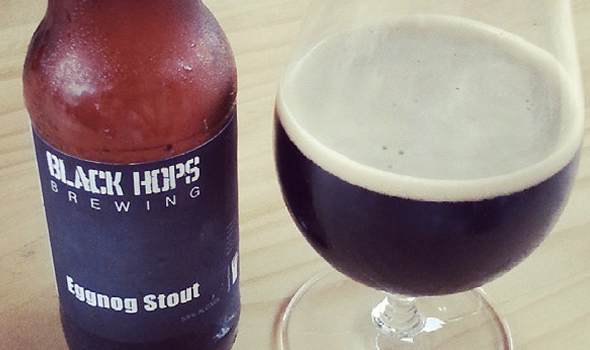 We handed out a few bottles to others in the industry and got a great response. So we decided to go for it. We brewed a full 800L batch of Eggnog Stout at another local brewery (contract brewing), and sold it in kegs around Brisbane and the Gold Coast.
We launched our brand at Hooha Bar in South Brisbane in November of 2014 and tapped our first keg off Eggnog stout which sold out in 2 hours.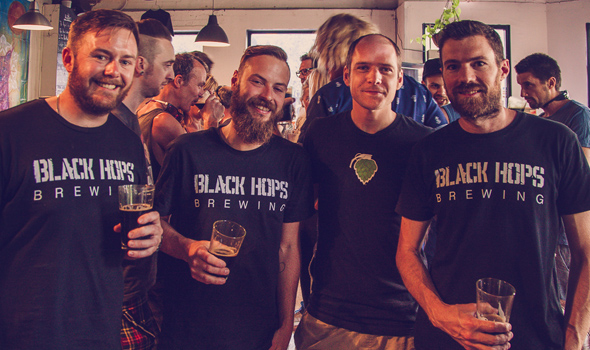 Our ambitions didn't stop there, we quickly moved onto the idea of opening our own brewery on the Gold Coast while continuing contract brewing and working on our core range of beers for launch. We thought the Gold Coast was a perfect destination for a brewery %20 tasting room in a spot where the locals hang out.
2015 was a big year for us. We got most of the money together to build our own brewery and started turning our dream into reality.
We choose a supplier for our equipment, and visited China for an inspection in October. We found a location in Burleigh Heads and spent November and December getting it ready for our tanks. Our first container was delivered on Christmas eve!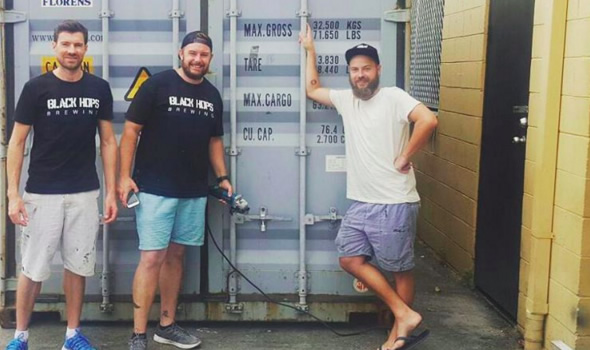 We spent Christmas and New Years getting the tanks in place.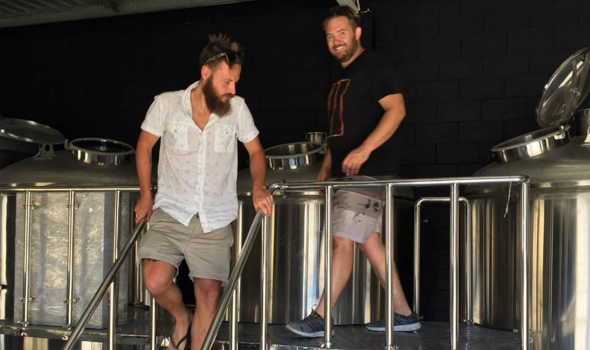 It was a tight squeeze but we got it all in, a 2,000L system with 2,000L, 1,000L and 4,000L fermenters.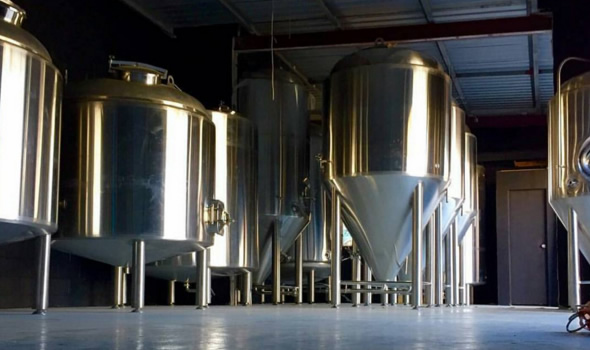 We were also able to continue building our brand in 2015 and brew some great beers. One highlight was teaming up with Activision to brew the world's first Call of Duty beer, a Midnight Pale Ale, which was voted one of the top 10 beers by Queensland brewers by Crafty Pint. Attending and getting our first beer into GABS was another highlight and we were stoked to come 13th out of 120 of the best brewers in the country.
We are kicking off 2016 with this Pozible campaign to raise the remaining funds to get us open and launch bottles at the same time. It's going to be a big year, we are looking forward you having you on board and part of our story.
Timeline
We have made some great progress on setting the brewery up and get closer and closer each day. Throughout the campaign and afterwards, we'll provide regular updates on where we are at. This is what we are aiming for at this stage.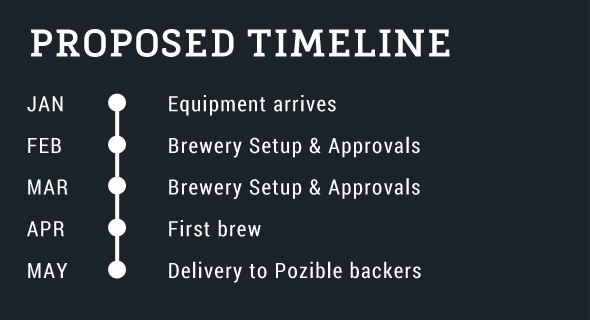 There are a few things out of our control still (see the challenges section) but we feel this is our best estimate of our timeframe from here.
About our First Batch of Beach House Ale
Our Beach House Ale is our proudest creation. We are all lovers of the Saison style of beer, but felt it was under-represented in Australia. We wanted a saison that was brewed with an Australian spin and something that could be a sessionable, everyday beer that represented where we are from on the Gold Coast.
For the Pozible campaign we are offering our very first batch of beer brewed at our new location. We estimate there will be 290 cases available in the first batch.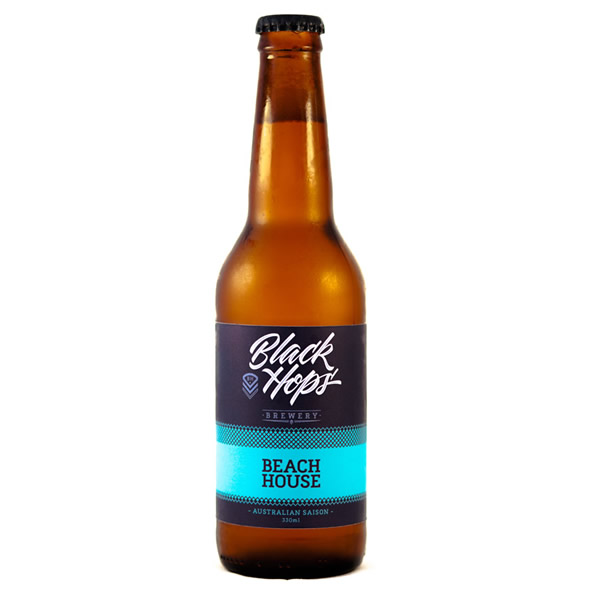 The Beach House Ale is our Gold Coast take on the traditional French Farmhouse ale. Light bodied, low bitterness and dry, makes this easy drinking. Delicately hopped with Summer, Vic Secret, Nelson Sauvin & Citra give it tropical aromas whilst letting the yeast shine through with zesty fruit & spice.
We've contract-brewed multiple batches of Beach House in kegs for local bars and it's been by far our best seller. The first batch of Beach House brewed at our Gold Coast Brewery will be delivered exclusively to Pozible backers in our newly branded bottles shown above.
Limited Edition Men's & Women's Black Hops OG Shirts
As part of our re-branding we worked with a local lettering artist on a hand drawn logo and monogram for Black Hops. The Pozible campaign will be the first time anyone can buy stickers and shirts with our new branding. The shirts sold via the Pozible campaign will be a limited run Black Hops OG shirt, cementing you as an Original Black Hops Gangster and supporter for eternity.
Shirts are available in S, M, L, XL and XXL in men's and women's cut.
These shirts are strictly limited to supporters of our Pozible campaign. Once the campaign finishes we'll release our normal "Black Hops Brewery" shirts via our online store.
We've been working with a local printer on a few test shirts which you might have seen around: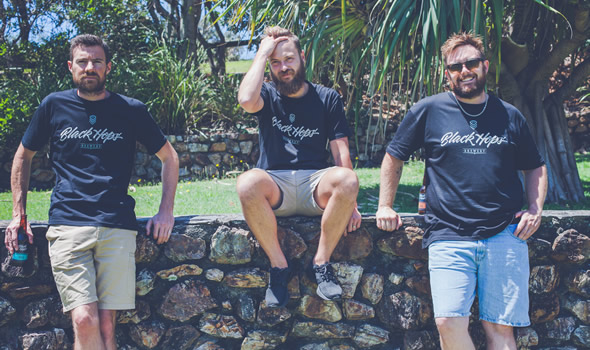 Operation Brewery Book
Throughout our journey we've been documenting everything we learn and will be releasing a book, called Operation Brewery when we open. The book will be perfect for aspiring brewers or entrepreneurs who want to follow a story of how we were able to get it done, quickly and on a tight budget.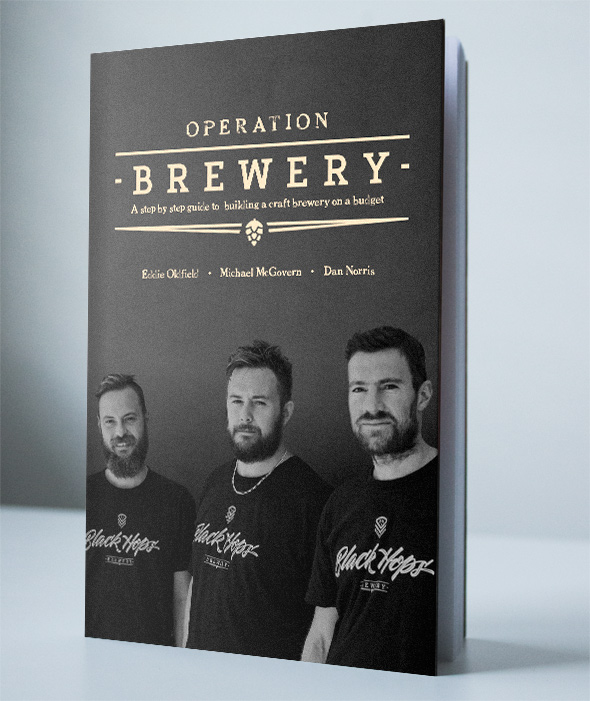 It covers everything from marketing, to recipes, to equipment, to location and some fun stories along the way, including the now infamous "little situation" in China.
Legals
Our beer is not available outside of Australia, so if you are an overseas supporter please choose one of the other rewards.

It is against the law to sell or supply alcohol to, or to obtain alcohol on behalf of, a person under the age of 18 years.

All deliveries must be received and signed for by a person over the age of 18 years. We are unable to post to PO Boxes.

Company Name: Black Hops Brewing Pty Ltd
Liquor licence number: #174358

More about Dan, Eddie & Govs
Here is a little bit more about us.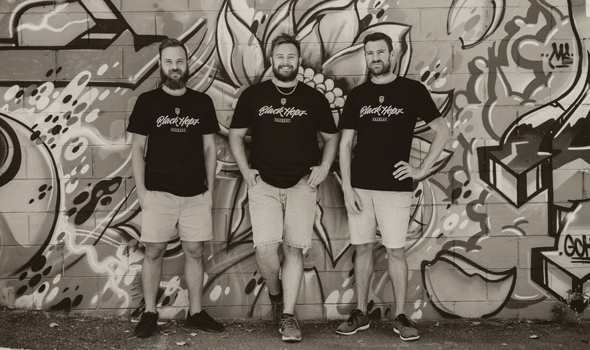 Dan: Runs an online website support business and is passionate about entrepreneurship and online marketing. He is an author, award-winning content marketer and online influencer.
Govs: Extremely well regarded brewer with 10 years experience. Has brewed most of Queensland's best beers (4 out of 7 in the top 100 of 2014) including world cup award winning beers.
Eddie: Networking, relationships and all round legend. Beer fanatic and friend to everyone in the Qld craft beer scene. Eddie also works closely with Govs on coming up with beer ideas and the brewing process (the eggnog stout was not a one off!). This kind of thing happens on a daily basis.

How The Funds Will Be Used
Our Pozible campaign will help us get the final funds together to ensure we open within budget, and we are able to sell bottled beer (something we weren't originally planning on). it's also a good opportunity for the broader craft beer community (you!) to be an important part in our story.
Here is a rough break-down of costs to get bottled beer into the market (assuming the brewery is already set up and ready to go):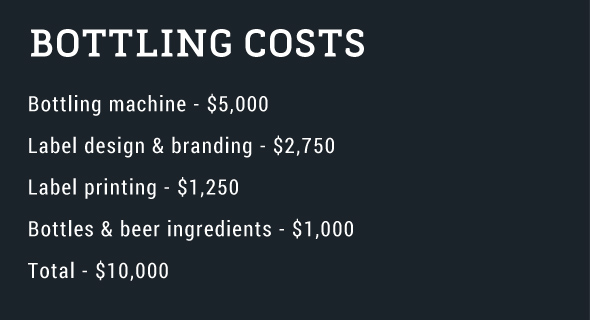 The Challenges
Our main challenge for the project is our timeframe. We are confident we will be opening a brewery and brewing within a few months but there are a few things that need to fall into place first. Our biggest risk was being able to get our equipment at a high quality for a reasonable price, and we are happy to say we now have all of our equipment.

From now on in, the main challenges will be getting our various approvals and scaling our recipes up to our new 2,000L system. We have brewed Beach House on a similar sized system (1,200) with great results and we are confident of getting all of our approvals in the next month or two.