Hi, my name is Joep. I'm an enthusiastic social entrepreneur living in Melbourne, and I'm starting up
Shacky
, a platform for Tiny House farmstays. Our website and application lets you book a short stay break in a Tiny House on a beautiful farm in regional Australia.
We do this because we think you would really enjoy this relaxing time away from your normal routine. But we also do this to help struggling small farmers. Because although living on a farm might seem picturesque, many small farmers in Australia are having a hard time. Financial stress from decreasing farm income leads to high depression rates, an ageing farming population and many farmers even leaving their land!
With Shacky these small farmers can make an alternative income which makes them more resilient to weather fluctuations that impact their normal farm income. Whilst you relax, make a little fire in the potbelly heater and escape your busy life for a few days, the farmer generates much needed alternative income. Isn't that a win-win situation?
But to start Shacky and create the Tiny House farmstays for you and the farmers we need initial funding. With this money we can set up the bookingswebsite, build the first Tiny House for the Tarndie farm in the Otways and give more farmers the opportunity to join Shacky. Because after we open our first Shacky in April, we will open more Shackies on more Australian farms. In that way we can provide more relaxing holidays to you and help more farmers continue doing what they love.
In return for your help we have some fantastic rewards to offer you. Please check it out!
With love. Joep
P.S. If you have any questions, comments or tips about the project, please send me a message and I'll be in touch.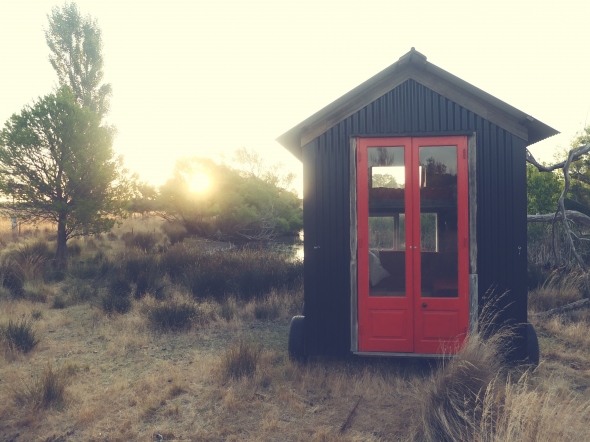 - A prototype of Shacky's first Tiny House built by Rob Scott. -
Meet Tom, Shacky's first participating farmer
This is Tom, Shacky's first participating farmer. His beautiful sheep farm is located in the Otways and he is one of the friendliest, most welcoming people I've ever met. When I visited his farm for the first time I wanted to stay there in my Shacky straight away, but please watch this video to make up your own mind!
If you want to know more about why Tom joined Shacky, please read his cool blog post
here
.
Tiny Houses? What are those again?
Tiny Houses... If you've never heard of them before or you need something to refresh your memory, take a look here to see Tiny House builder Rob Scott explain. Rob builds amazing studio trucks and is the builder of Shacky's first Tiny House.




If successful, when can I book a night in a Shacky?
When this campaign finishes successfully, the first Shacky will be available for you to book from April 2016. During this time of year the temperature at the Tarndie farm is very comfortable and perfect to have a few days away from your busy life. If you've seen Tom's video above, you already know what a stay on his farm could be like.

After the first Shacky is operational, we will grow the platform with more Shackies and more Australian farms. In that way we can provide more Tiny House holidays to guests and help more farmers earn an alternative income.
What does Tom's Tiny House look like?
The Tiny House we are building for Tom's farm is an extraordinary piece of design by Rob Scott. Because it is not built yet, we don't have any pictures, but I've done my best to give a good description of your future holiday house.

After arriving at the farm and having a look around at Tom's magnificent property you walk towards your Tiny House and immediately notice the corrugated iron exterior. These rough, typical Australian, walls contrast nicely with the 'soft' pinewood interior. Darker fencing wood is used around the windows and doorframe to complement the light pinewood.

As you enter you notice the mezzanine bed. Cabinets on your left function not only as storage, but also as the steps to get into the bed. Underneath the bed there is a comfortable couch where you can read a book or enjoy a glass of local wine. Because the Tiny House is so well insulated it stays relatively cool in summer and warm in winter. But to keep you warm on even the coldest days there is a small potbelly heater in one of the corners. Make a small fire and soon after you will be delighted with a warm and cosy atmosphere.

The antique lights on the wall are all powered by solar panels on the roof. These panels are so efficient that there is even a powerpoint that fits your normal appliances. Boil some water with an electrical kettle or if necessary charge your phone.

Outside the Tiny House, Tom has built a fire- and solar powered bath. After filling the bath with solar powered warm water or after making a small fire that heats the water in the bath, you'll enjoy the slight breeze and star-filled sky as you relax in the water. A clean compost toilet is not far away and in the small kitchen area you can make a simple meal. If you don't feel like cooking you can also have breakfast on the farm or go to one of the many nearby restaurants. On top of that you're invited for morning tea with Tom!


Why does Shacky need your support?
Shacky has in the first place been created to give a helping hand to struggling small farmers.

But in order make this idea into a reality and really start helping our farmers, we need investment.

During this crowdfunding campaign we are looking for people that believe in Shacky and want to have a holiday in one of our Tiny Houses.

We talk to a lot of people about Shacky and almost everybody loves the idea of having a relaxing getaway on a beautiful farm. So if you are keen, please book now! This gives us the chance to buy the Tiny House and put it on Tom's farm. When it's all set up, you'll be the first to be invited to use your reservation.

But also if you don't want to book a Shacky farmstay (yet), you can still support us! In return for your investment we will give you other rewards such as a beautiful charcoal drawing of a Tiny House in the Australian bush, a Shacky T-shirt or a keychain.

It would also be a huge help for us if you pass on this campaign via social media or anyone who you think might like Shacky!
Thank you!
Wow, you've read all the way to the bottom of the page! Thanks for taking your precious time to read all about Shacky. Hopefully we'll see you in one of our Shackies soon!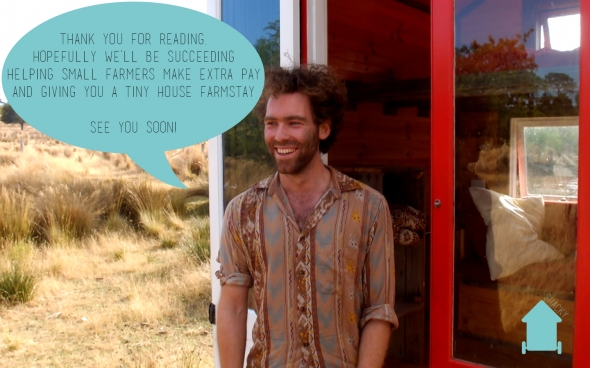 Follow Shacky
If you click on the logos below you'll directly go to our Facebook and Twitter pages. There you will find more updates on Shacky and theIf you want to follow Shacky on Facebook for all our updates and the occasional Tiny House or holiday inspiration!


Shacky... I think I've heard about it somewhere!
That could very well be! Over the last months we've been lucky enough to be featured by several media. Click on the pictures below to see the articles and television items: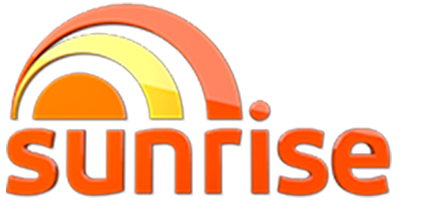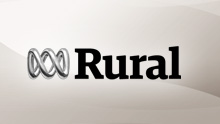 How The Funds Will Be Used
The money we raise will most importantly be used to finance the first Shacky on Tom's Tarndie farm in the Otways. This Shacky will have a mezzanine bed, a couch and some storage room for your luggage. Additionally it has a solar panel to power the antique lights on the wall and a small potbelly to keep you warm in cold nights. A bath, toilet and kitchen will be build elsewhere on the farm, in a luxurious, but back to nature way.
However, to get Shacky started we have to cover more costs than just the first Tiny House. A precise breakdown is presented below: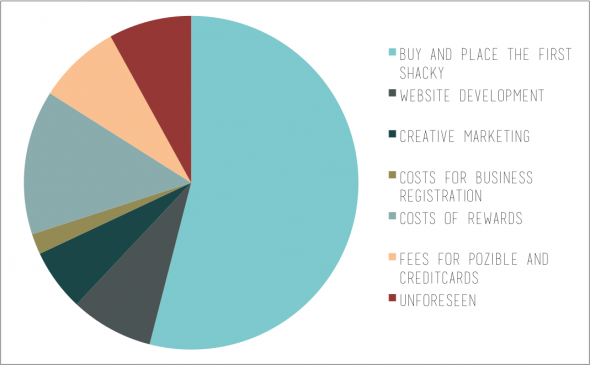 It is important to note that although Shacky buys this first Tiny House initially, Tom (the farmer) decides after a trial period whether he wants to continue with Shacky and buy the Tiny House himself. We provide this trial option to some farmers to give them an opportunity to try Shacky and decrease their risk. If Tom decides to buy the Tiny House after the trial period, we will use the newly available funds to provide a new farmer with a similar trial period.
* The costs for the rewards are relatively high. This is because you can pre-book your stay in the first Shacky. For this pre-book opportunity we pay the farmer for using his land, just as we would normally do. So these costs for Shacky become direct income for the farmer.
The Challenges
One of the big challenges I foresee for this project is to include the farmers that need help the most. I realize that for farmers who are having a really hard time, having guests over is not always a suitable solution. Therefore Shacky will donate part of its profits to organizations that provide help for this category of farmers.

Additionally, although many farmers have already registered their interest, financing a Shacky on farms might prove difficult. Farmers that are not able to finance their own Shacky straight away, will therefore be provided with a financing option. In that case, Shacky will initially finance the Tiny House and only after a limited trial time, the farmer has to decide whether he or she wants to buy it. A similar agreement has been made with Tom, Shacky's first participating farmer. After the trial period he will decide whether he wants to buy the Tiny House from Shacky. If he decides to do so, the newly available funds will be used to provide the same financing option for a new farmer.

Finally, it might prove difficult to get enough guests to use our platform to book their holiday. Apart from having great Shackies and farms on our platform, we will have to work very hard to get as many people as we can to know about Shacky!

In conclusion, there are some challenges on the road ahead. Yet I'm confident that we can overcome these challenges and make Shacky into a success!