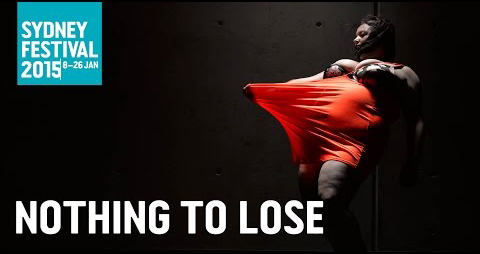 Nothing to Lose is the latest work by renowned dance theatre company Force Majeure. This remarkable stage production explores the personal and public obsession with size while creating space for the incredible cast of performers to explore their large bodies through movement. This live show was directed by celebrated choreographer and dance theatre maker Kate Champion who worked closely with Kelli Jean Drinkwater as Artistic Associate and the cast to create an evocative and powerful piece of theatre, never before seen on Australian stages. Nothing to Lose captured the imagination of sell out audiences at Carriageworks as part of Sydney Festival 2015 and at The Malthouse Theatre as part of Dance Massive Festival in Melbourne. You can read more about Force Majeure and Nothing to Lose here: http://www.forcemajeure.com.au/our-work/current-projects/nothing-to-lose/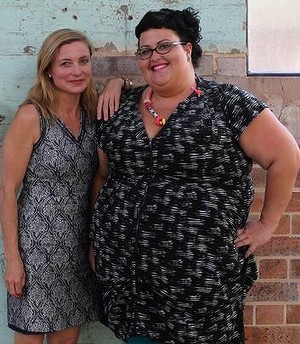 Nothing to Lose director Kate Champion and Artistic Associate Kelli Jean Drinkwater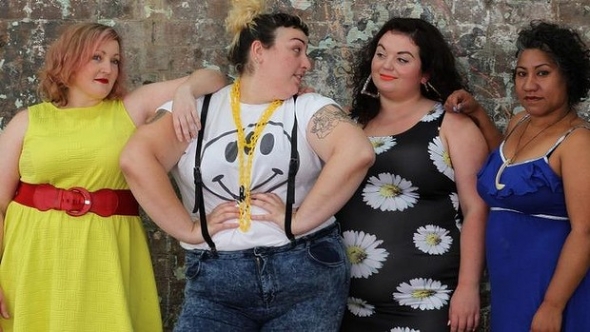 Some of the cast of Nothing to Lose (L to R) Scarlett O'Clare, Anastasia Zaravinos, Ally Garrett & Latai Taumoepeau
A collective of independent filmmakers has been filming with the cast and crew of Nothing to Lose since the project's inception back in 2013. Nothing to Lose - The Documentary is an opportunity enjoy a behind the scenes look at the making of this phenomenal dance theatre production, as one of Australia's most respected dance theatre makers Kate Champion collaborates with an entire cast of large bodied performers to explore the movement potential of the fat body. But this is not just a straight up "making of" style documentary, this film will also focus on the incredible cast of the production, who they are and how their relate to themselves and the world on and off the stage. Plus it will explore the life changing impact of the production on performers and audience alike. This highly anticipated film will also look at the political impacts of such a provocative production and why Nothing to Lose continues to gain unfathomable international media attention and audience acclaim.
How The Funds Will Be Used

Making a feature documentary is A LOT of hard work! It takes a long time and many willing and creative minds to make screen magic. When we first set out to make this film we believed we had funding to make a low budget feature but, due to circumstances beyond our control that didn't happen . In spite of this huge setback, we as a film collective knew that this film needed to be made, so we committed to make this film happen regardless of financial (or any other) hurdles. Since then Nothing to Lose - The Documentary is what is called a "no budget" production , which in reality means that someone is maxing out their credit cards to pay for the bare minimum of costs , while the crew defer any kind of payment for their skills and time. And when you have been shooting over a 3 year period, this most definitely all adds up!

To get a bit of perspective the average independent low budget feature documentary budget in Australia costs around $200,000 which, by industry standards is considered INCREDIBLY low budget ! Award Winning documentary Aquaporko! is a short film that was also a "no budget" production. This ended up costing a mere $15,000 to reach your screens, peanuts by comparison! In order to make this feature length film we need to raise at least $22,000 for Nothing to Lose simply be able to finish the documentary and get it out into the world. We are now at the stage where we can go no further without these crucial funds.

There are two main ways in which we will use the funds from this campaign:

First we need to finish the film ! Although the bulk of the footage has been shot and we are into the editing of the film, even with the crew working for free , we still have a long way to go before we have a documentary that will blow your minds, which is of course our aim in this adventure! . This post production phase includes the edit , picture grade in a dedicated facility, sound mastering and mix in a dedicated sound studio, music licensing , festival submission fees, marketing , distribution , rewards and Pozible fees to name the main expenses! This finishing phase will be where the bulk of the money will be used.

Second we would like to use part of the funds raised by this campaign to recover the already existing, out of pocket production debts that have added up during the production of shooting phase of this project. Although the crew worked for free and we borrowed most of the equipment we needed to shoot , there was still unavoidable minimum expenses. We had to pay location fee's, transport costs , some filming equipment hire, external hard drives and essential computer equipment and software costs. Currently the existing debt of this film is around $6000.

We believe that this film is vital and needs to be made and we are all dedicated to making a feature documentary that will do justice to the live show. We have the passion . skills and drive to do this , the only hurdle is a relatively small about of money.





The Challenges
Due to the overwhelming success and interest in the Nothing to Lose dance theatre production we have complete confidence that this film will have a strong international audience. The live shows sold out within days and we predict that this film will have a long and happy screen life.

Ideally we want to make this film look and sound as amazing as we can. We are aware that the time, skills and equipment needed to make that happen are expensive and unavoidable.
The main obstacles in getting this film to the screen is not having the necessary funds to pay for the finishing process.

We are also determined that this film reaches as many people as possible and as a result have a multi tiered distribution and marketing plan which includes international sales and broadcast acquisitions.