UNDERNEATH, WE ARE... young, fat, tall, WE ARE trans, skinny, disabled, WE ARE mothers, WE ARE short, scarred and old. We are the many labels that society has created for us.
But what if I told you that underneath, underneath it all, I AM... determined, tenacious, strong, capable, loud, resilient... would you see me differently? So sure, give us a label, put us in a category, but underneath it all, WE ARE
women.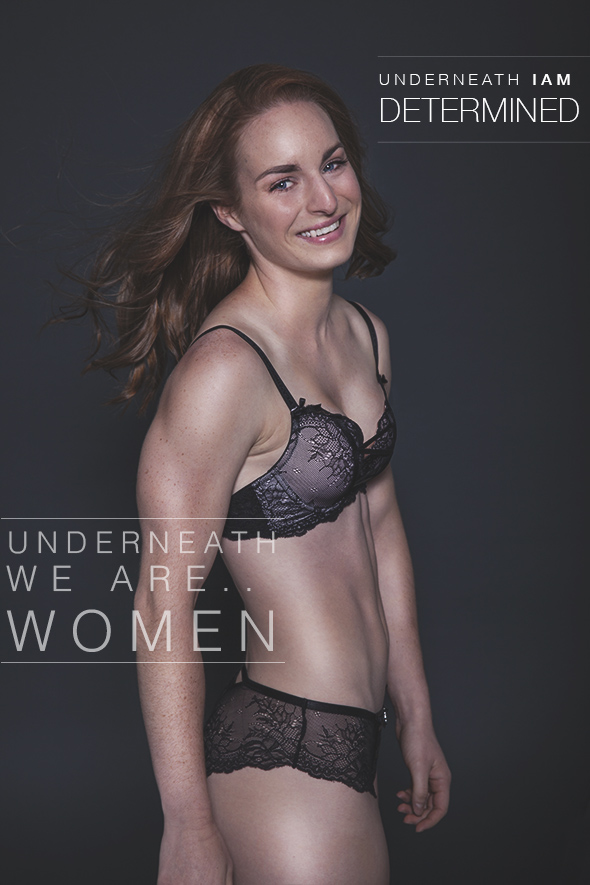 The aim is to photograph 100 women. Women of all walks of life, shapes, sizes and age. AND, photograph them in nothing but their underwear. Yep, thats right, I'll be asking 100 women to bare (almost) all, with the end goal of showcasing the amazing diversity that is the female form! The AIM; Photograph 100 women. The GOAL; educate thousands! Think of it like this, When I photograph just 10 women......What if these 10 women passed on their new found knowledge of empowerment over body awareness and acceptance to another 10 women? That would be 100 women that have now been informed of our goals to educate and stop body shaming. And what if each of those women all told just 2 more people? The net widens...So if each time we photograph just 10 women, we're actually educating hundreds. Again, the goal is to photograph 100 women. But educate 1000's. EDUCATION is key to giving women AND men a better understanding and appreciation for the diversity of the female body and the ways in which it grows, shapes and changes over time and with different life experiences. And what better way to educate than through honest and uplifting photographs of 100 amazing women!This is my goal, my passion and my vision. I am a mother to two beautiful girls, and I would love nothing more in this world, than to see them grow up with a healthy appreciation for their body and its capabilities no matter what life (and genetics) gives them. But not only this, I want them to appreciate the diversity of the body in others. To be appreciative and accepting of the beautiful and simple fact that we are all born differently and we are all presented with different experiences throughout our lives that gives us our forever changing and forever unique bodies.
我们的项目
Wow,她高挑,但是有点胖。你看她瘦得像残疾人一样,你看她穿得像妈妈似的,那个人看起来好沧桑啊,种种种种,这些都是对我们外在的评价。
什么叫透过现象看本质,如果你忽略我的外表,看清我的本质,才知道我是什么样的人。我是坚定的,顽强的,强大的,有才华的,闪耀的,可塑性。。。。。你是否发现我不一样了?
可以肯定的是,我们可以完美的,不能通过外貌去判断一个人。
我们的目标是拍摄100个女性,我们分别对不同人生经历,不同体型,不同年龄的人进行了采访。同时,对她们进行只穿内衣的拍摄。我问了这100的女性,她们都希望可以展现她们的女性魅力在不同的形态下!
目的;拍摄100名女性。目标;教育更多的人!
想象一下,当我拍摄了10位女性...
...如果这十位女性对她们的身体有个新的认知并且可以接受别的新的女性?我们的目标就是帮100位女性树立她们的自信,并且使得她们停止自卑。然后让这些女性帮助更多的人,使得她们逐步扩大....
所以我们每次只拍摄十位女性,实际上确可以教育更多的人。
我们的目标是拍摄100位女性,然后教育1000个人。
教育的关键是让男性对女性的身体的多样性更好的理解和欣赏。无论她们外貌如何,身材如何,年龄如何,生活经历怎么样。
还有什么比这100个令人振奋的照片更有说服力呢?
这是我的梦想,我的激情和天赋。我有两个非常美丽的女儿,她们是我在这个世界上最爱的人,我看着她们一天天茁壮成长并且个人能力也随之增长。但不仅如此,我希望他们能够体会到身体其它部分的多样性。尽管我们有着不同的出生以及人生经历,但是我们还是要积极乐观的面对这个美好的世界,因为生命只有一次,我们要爱我们自己。
资金如何被使用
上面提到过,目标就是拍摄100位女性。是不是很棒,棒棒哒!但是不幸的是拍摄成本可能会很高。当我们试图给女性高级时装内衣系列拍摄的经验(正如拍摄中的人物本性和真实性),我们需要一些东西来做到这一点。
让我们简单粗暴的来看一下吧…
我们需要2700澳元来开始这件事。
2700美元将使我们能够拍摄7名女性。再加上做一个启动的宣传片,我们会在我们的网站和社交媒体使用。
500澳元-租用一些技术设备和摄影棚为了我们伟大的女性。
700澳元(累计1200澳元)十分有艺术天分的Natasha Keneally将对我们的女性进行精致的发型和化妆指导。确保给你们呈现里里外外100%的美。
1300澳元(累计2500澳元)我们将用于制作宣传视频来启动这个项目。这部影片将放在我们的网站上,甚至出现在社会媒体上。在这个项目中成为一个关键的因素,因为它可以拥有更多的观众以及尽可能教育更多的人。该宣传片电影会很短,客观而有光泽。让人们瞬间就明白这个项目是在说什么,幕后花絮以及拍摄模特的片段和模特。
一旦我们达到2700澳元的资金用于拍摄7位女性并制作宣传片。但是,我们还是需要拍摄100位!所以尽可能地多赞助我们一些。每增加1200澳元,我们就可以多拍摄7位女性!所以即便达到我们的目标值,也尽可能地多多支持我们,拜托拜托!
为了使这个项目成功我们必须让我们的参与者多样化。这是个关键。并且为了得到这个多样化,我们会用数字证明。所以这100位女性会是最好的例子!
请看看我!
我的其它一些工作
同时,作为一个激扬的女权活动家和女权主义(好吧,让我们面对它,),我也是南澳大利亚阿德莱德的职业艺术家和人像摄影师。
你可以在我们的工作网站上阅览
www.amydfoto.com
挑战
这个项目最大的挑战之一就是资金。这就是我为什么在这里。真的需要您对这个项目的支持。

如果没有您的帮助这个项目可能通过一段时间才能完成。可能几年,在拍摄期间为了支持这个项目可能需要花费我几个月的时间。我们需要继续跟进并且让这个项目进入公众视野。越早开始这个项目,越早可以呈现给你们并且教育更多的人。




How The Funds Will Be Used
As mentioned, the aim is to photograph 100 women. Great. Amazing! But unfortunately photographing 100 women doesn't come cheaply. As we are trying to give women the experience of a high fashion underwear campaign shoot (being shot in an honest and raw manner) we require a few things to make that possible.
Lets break it down nice and simple...
Altogether we need $2,700 to kick this thing off.
$2,700 will allow us to photograph 7 women. Plus make a starter promo video that we can use on our website AND Social Media
$500 - Allows us to hire the technical equipment and studio we need to photograph our amazing women.
$700 - ($1,200 total) will allow us to have the incredibly talented Natasha Keneally perform her exquisite Hair and Makeup skills on the women. Ensuring they feel 100% beautiful inside and out.
$1,300 - ($2,500 total) will allow us to produce a promotional video to kick start this project. This video will feature on our website and can even be used throughout Social Media. It will be a key element in reaching a wider audience and educating as many people as possible on this topic. The promo film will be short, sharp and shiny. Giving people a glimpse into what the project is about, behind the scenes footage and even snippets of thoughts from the very women making this project possible; the models themselves.
Once we reach $2,700 we can photograph 7 women and make a promo video. But, we do need to photograph 100! Yikes. So don't stop the support at just $2,700. For every $1,200 on top of that, we will be able to photograph another 7 women! So please, continue your support even after the goal has been reached.
For this project to be successful we MUST have diversity within our participants. This is key. And to gain that diversity, we must have numbers. So 100 women it is!
Please help me make this HUGE!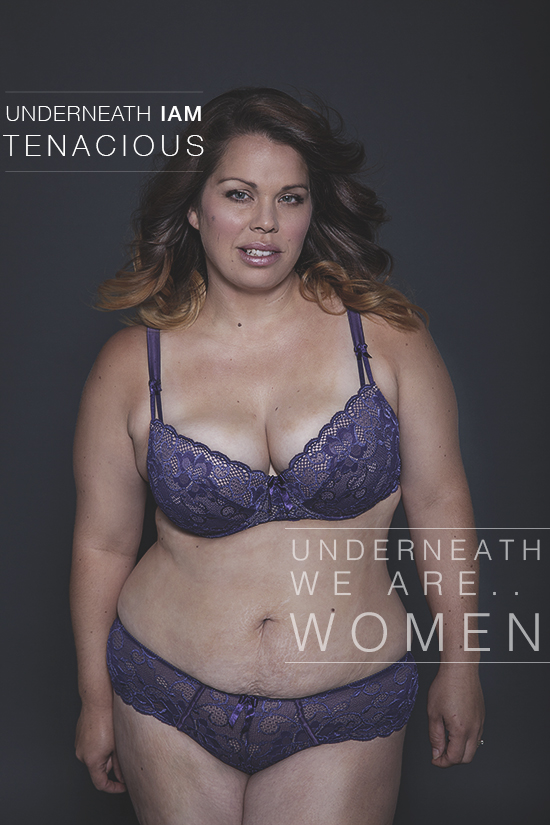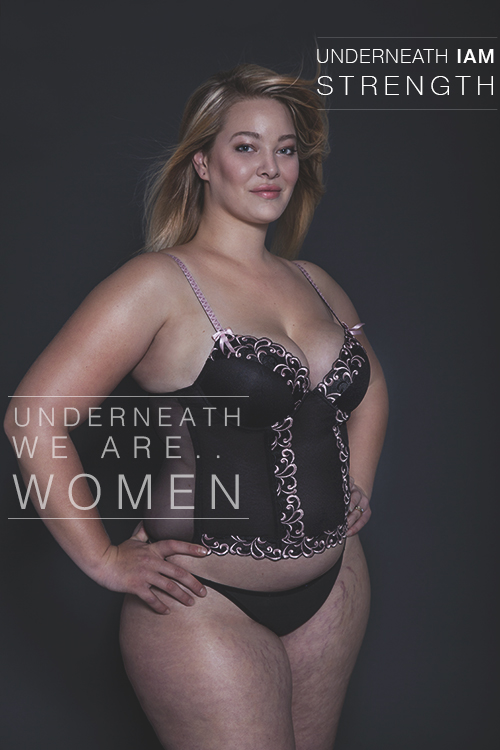 The Challenges
One of the main challenges for this project is quite simply the funding. Thats why I'm here. I truly need your help to see this project through.
Without you're support the project will take sometime to come to fruition. Likely a few years. To fund this project solely on my own would mean months of time between shoots. We need to keep the momentum up and get this project out into the public eye. The sooner its out, the sooner we can start living and begin educating!