***SUCCESS! We're fully funded. A massive thank you to everyone for their support and tremendous generosity.
We're enormously grateful for everyone's support and are in full planning mode to begin our field work in mid July 2015. The money already pledged will ensure we can now resurvey all of our North Queensland sites. But, if we can continue to receive more pledges we'll be able to extend our work to the Northern Territory. The larger the geographic area we can resurvey, the better placed we'll be to understand how kangaroos and wallabies are faring across the entirety of tropical Northern Australia. So please continue to support and spread the word about the Big Roo Count****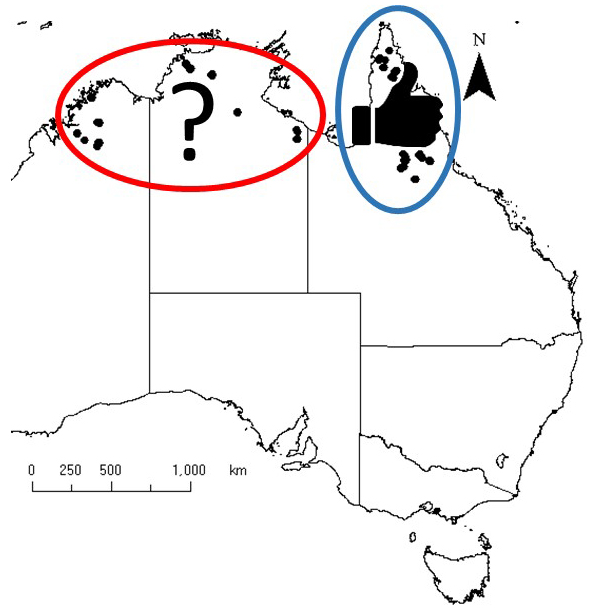 A lot can change in ten years. Ten years ago we were finishing up four years of fieldwork in some of Australia's most remote and spectacular habitats. We'd been lucky enough to be investigating the ecology and conservation of Australia's tropical kangaroos and wallabies, collecting first-of-its kind information on four different species (antilopine wallaroo, common wallaroo, eastern grey kangaroo and agile wallaby). We worked out where they each occurred, how big the populations were and why each species lived in certain areas and not others.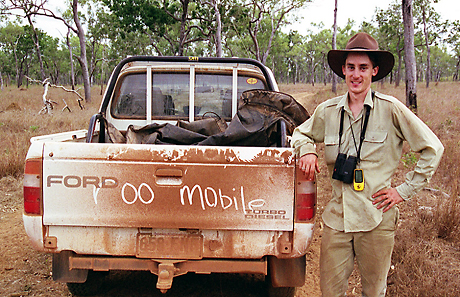 Boy does Euan look young! Taken in 2002 during the early surveys (Photo: Angus McColl).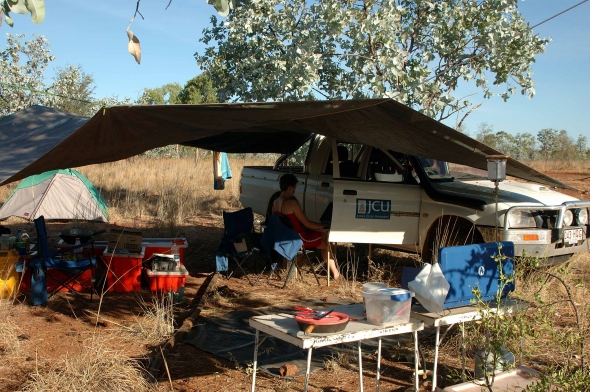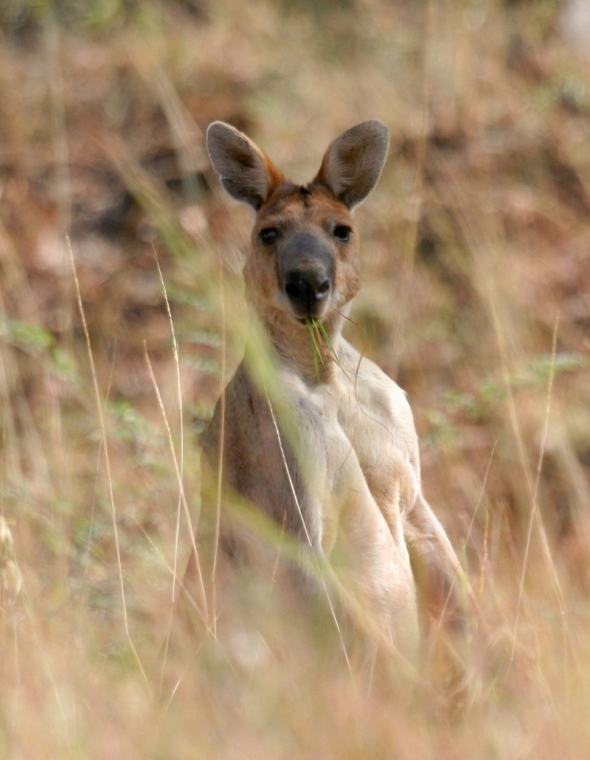 Left to right: Jen in our typical field setup, a large male antilopine wallaroo (Photo: David Webb).
We've been blessed with kids, health, happiness and so much more over the past ten years. But unfortunately our northern mammals haven't been so lucky over the same period. Many of them are disappearing -
some at alarming rates
. Sadly Australia doesn't have a good track record when it comes to mammal extinctions. Since 1788
we've lost more than 10 %
of our native mammals, of which nearly a third are kangaroos and their close relatives. It's devastating to think we could be on the road to losing more of these iconic Australian animals.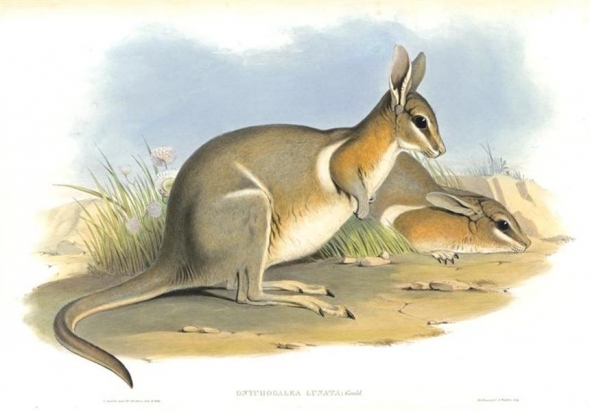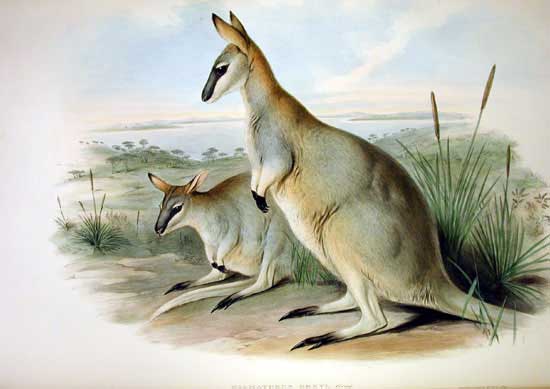 Left to right: Examples of extinct macropods: the crescent nailtail wallaby and toolache wallaby (Source: Wikimedia Commons).
We have a plan that will give us our best shot at conserving Australia's northern kangaroos and wallabies.
We have genuine cause for concern because local Indigenous communities tell us they are seeing fewer and fewer kangaroos and wallabies. It may be because there are too many fires, many of them at the wrong time of the year, or perhaps just too many feral cats dining out on the smaller wallabies. It's also possible that some habitats are becoming unsuitable for the roos and wallabies because of
climate change
.
The point is, without resurveying our sites, we don't know what we're up against, or more importantly, what can be done about it. And the results of our project won't only help with the conservation and management of kangaroos and wallabies, they'll also
help with the successful conservation
of other native animals that live in the same region.
So this winter, we're going to pack our kids and our tent into a 4WD and set off on an epic adventure and journey of scientific discovery to find out how the roos are faring ten years down the track. It's rare for ecologists to have long-term information like this and returning to northern Australia to continue our work is an opportunity not to be missed.
We'll repeat all the work we did a decade ago at the same field sites:
* Conducting driven roo counts
* Mapping kangaroo and wallaby habitat and measuring its condition
* Ever so glamorously, counting and collecting kangaroo poos to get more information on which species live where.
"Euan Ritchie's re-survey of kangaroos and wallabies across northern Australia 10 years on from his foundational PhD survey is fundamentally important research. Nobody but Euan can undertake the work, and I'm profoundly grateful that he's willing to do it. - Professor Tim Flannery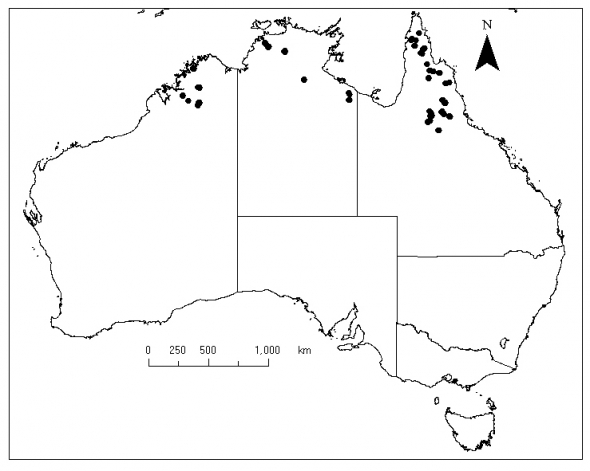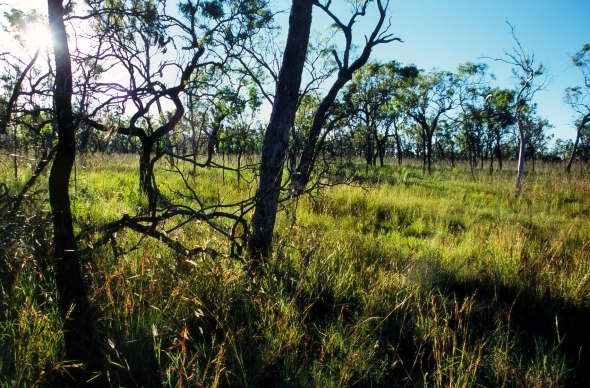 Left to right: Our study sites (black dots), typical habitat of the antilopine wallaroo.
This time around we'll also bring some new technology with us into the field, including remotely-triggered camera traps. We know
how successful these can be
, and in this case these cameras will be particularly important for finding smaller species like the spectacled hare-wallaby.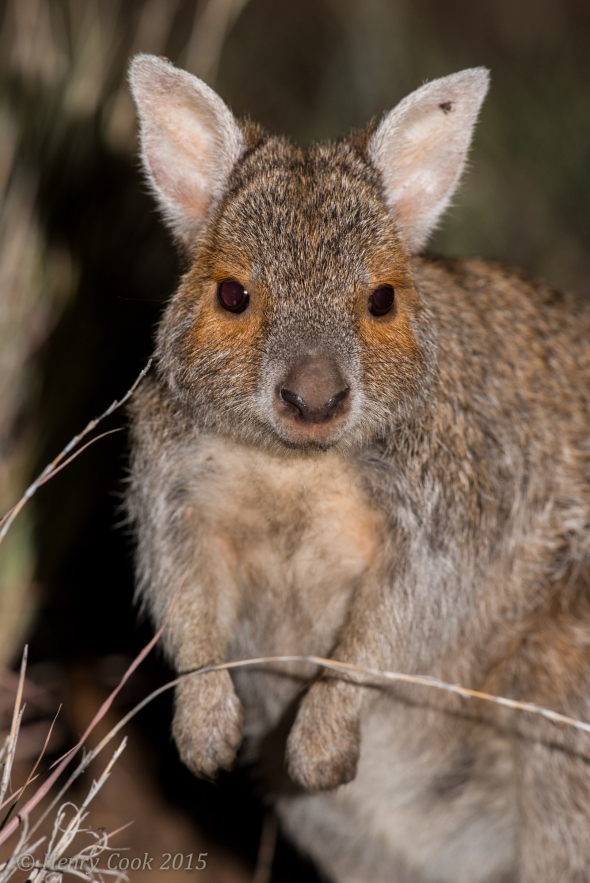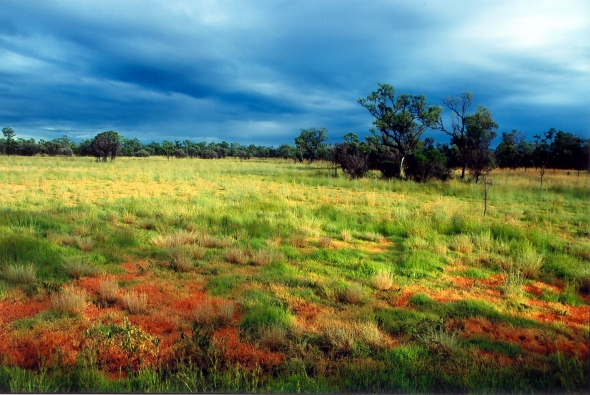 Left: A spectacled hare-wallaby (Photo: Henry Cook). Right: Undara National Park in the wet season.
But it's not just about the data! We both know how important (and fun!) it is to talk with people about what we're doing and why. So we'll take every opportunity to chat with as many people as we can about the conservation issues facing Northern Australia's mammals. We'll also write a regular blog, with posts from the field, roos, flies, crocodiles and all!
With your generous support, we'll be able to hire a 4WD and buy the remote camera traps we need to do this important work. Please help us conserve Australia's iconic northern kangaroos and wallabies. Please support The Big Roo Count!
How do I stay in touch with Big Roo Count updates?
Easy! We'll post regular updates to all of our donors and you can also
check out what's happening
on Facebook. For those on Twitter please follow us
@EuanRitchie1
and
@scidocmartin
and use the hashtag
#BigRooCount
. We thank you for your support and are confident that together we can help conserve Northern Australia's unique wildlife.
Euan and Jen
How The Funds Will Be Used
Remotely-triggered camera traps (Reconyx HC600) and accessories (batteries and SD cards) x 5 at $700 each = $3,500

4WD hire at 80 cents per km = $11,500 (we anticipate approximately 14,000 km of driving, Melbourne-North Queensland return, including visits to study sites and four repeat surveys at each site).

***Please note these funds do not meet other project costs such as food and field equipment. We'll be providing these with other research funds and out of our own pockets.***

What happens if we're fortunate enough to exceed our target of $15,000? Why not be optimistic right? Especially because we know there are many generous people who are passionate about wildlife conservation (and we're so very grateful to you!).

What different funding amounts will mean:

$15,000 - We can resurvey our North Queensland study sites
$30,000 - We can also resurvey additional study sites in the Northern Territory
$45,000 - We can also resurvey additional study sites in Western Australia
$60,000 - Why not dare to dream? We can resurvey all of our study sites across Northern Australia, purchase a drone for aerial survey (providing an eagle's view) of kangaroos and wallabies, and produce a documentary of our experiences highlighting the broad issue of northern mammal decline.

The Challenges
Working in tropical, northern Australia sure does come with its unique set of challenges. Heat, flies, getting bogged, and of course friendly encounters with local wildlife like snakes, spiders, wild boars and crocodiles. Fortunately, we're old hands at this game having done it all before, working across northern Australia for many years. In Euan's case he lived and worked there for nearly 15 years. We'll have all the necessary safety gear with us (including a satellite phone and EPIRB), and with meticulous organisation and extensive logistical preparation, we'll be ready for whatever the tropical north throws at us.