Tasmania is a small Island at the bottom of Australia with the cleanest air in the world and beautiful green pastures. It is rich with people who dedicate their lives to the land and produce the very best crops season after season. They work from sunrise to sunset digging, planting, pruning, weeding, cutting, moving and harvesting.
They are salt of the earth kind of people. They practice one of the oldest and most noble trades….growing food.
But there are challenges.
Food growers around the state often find themselves very short on time, technology and expertise to reach new markets. They spend enormous amounts of resources driving to farmers markets or directly to one or two clients many kilometres away. Sometimes food growers have no choice but to sell their food to wholesalers and mass food distribution centres which pay them a small percentage of what their crop is worth and often send the food on a huge journey around the state or country before it can be sold.
There's gotta be an easier way... Fork to Fork can help!
What people are saying about Fork to Fork
"We're a small garlic farm in Glen Huon. We're producing approx 800kg - 1000kg per harvest. We're in the process of setting up our business and your initiative sounds awesome! I'm wondering how we can get involved?" - Glen Huon

"I am just starting out as a small market gardener and looking for outlets for my produce. Unsure if my amounts will be enough, but plan to upscale for next season." - Cygnet, Tasmania

"Hello I am a happy Huon Valley resident hoping to be able to contribute fresh organic produce eventually. Congratulations on a wonderful concept." - Grove, Tasmania

"I am in the concept stage of a Tasmanian only food café in a restaurant strip!!! This is great timing and I'm even more excited! - Hobart, Tasmania"

*Expressions of Interest NOW OPEN at www.forktofork.org.au
The User Experience
We know how important it is to make the website user friendly. Cumbersome check out and navigation are two of the main things we want to avoid. We are analysing the use of a platform called CS Cart Multivendor to help us overcome these challenges.
Here is a mock up of the website showing food that has been listed and the product page where you can read about the producer, decide how much you want to buy and potentially read reviews.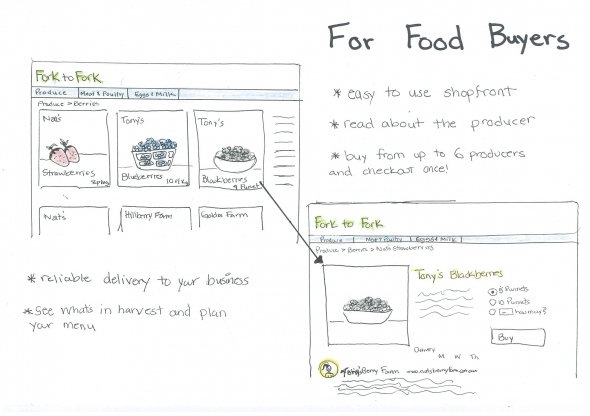 This is a mock up of the back end of the website where producers will log in and be able to add their produce, post when it can be delivered and of course, name their price. It is a user friendly system and the Fork to Fork team will provide technical assistance for people who are new to this kind of software. The best part of the system is that it will auto generate your invoices and send them to your customers and you can log in from anywhere that has internet.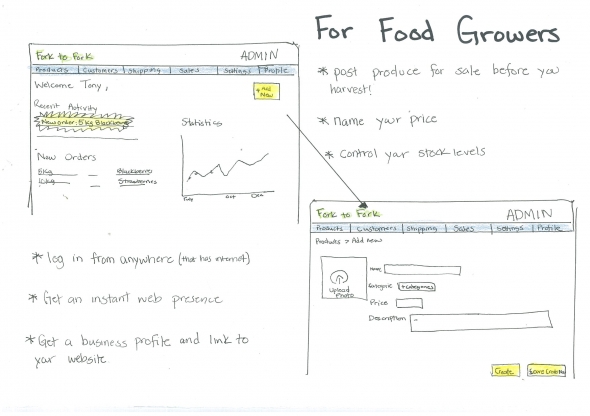 What is Fork to Fork?
Fork to Fork is an online farmers market. It will give the food growers the ability to post what they have for sale and provide them with an instant online presence where customers can read about where they are, who they are and why they grow food.

Buying this food will be easy. Add garlic from Tonys', tomatoes from Lindas', cheese from Nicks' and pay all at once. Your food will arrive according to the delivery date and you will know exactly who and where it came from.

The food grower will receive your payment minus 10% which covers the service by Fork to Fork.

Delivery will be flexible for the food grower, maybe they can deliver their own or prefer to use a private service and in other cases Fork to Fork delivery will be facilitated by everyday people who are coming and going to and from growing regions within Tasmania and who will be paid to pick up and drop off produce.

This project will benefit food growers, restaurant owners, cafe owners, chefs, small grocery store owners, food box organisers, small businesses and anyone who eats great tasting, local, fresh food purchased from these businesses. It also benefits people who are already driving in to town and wants to get paid for delivery! Our long term vision is to be able to deliver to households however we need to get delivery logistics in place and ironed out first.
Pledges are now being processed and things could be better.
Yesterday we thought we had reached our goal but since payments have been processed we are coming up short of about $4000. An email has been sent to supporters with the opportunity to fix any credit card errors. In the mean time, pledges are still open and we have a plan for any amount past $27,500.

When you create a campaign on Pozible you set the goal as the absolute minimum you would need to get the project running. You can crowdfund more later and so, we had left out a few things which we could really use and will use any further pledges for them:

Van service, insurance, petrol and fix the Oxygen Sensor $2000
Community Driver System Development including payment and SMS integration to the website so that our drivers can be notified of deliveries in their area and get paid (something like a mix of Uber and Airtasker) $5,500


How The Funds Will Be Used
Multi Vendor Website and Driver System development $7000
Technical support for food growers $1500
Photography to capture the spirit and story of our food growers $2000
Outreach coordination $3500
Getting lost in the Tasmanian country trying to find food growers FREE
Delivery Van FREE (already pledged)
Part time Project Manager $3500
Marketing material $2000
Hundreds of volunteer hours from Sprout board and subcommittee members and friends FREE
Late nights and many cups of tea FREE
Crowdfunding fees $2500
Animation at the top of the page $4000
*big thanks to Susanne and her team at
Small Island Studio
for taking the risk of collecting their fee only after crowdfunding is successful. An animation for this project would not have been possible without your generosity.

The Challenges
There will be a number of obstacles we will face and we know that because we've been planning this project for two years. To overcome these we've thought of solutions:
- Launch the project in winter when producers have more spare time to learn to use the new system
- Start off small and focus on the users experience
- Begin with a 40km radius around Hobart. When deliveries are running smoothly we will seek expressions of interest before moving to another region or expanding.
- Purchase or rent a van to do deliveries while the community driver system is established (last week we were donated a VW Transporter woohoo!)
- Spend the minimum amount of money required to start testing the project.
- Create detailed plans at every step and make a road map:
Phase 1: Research and Feasibility -- complete
Phase 2: Secure Funding -- current
Phase 3: System Development and Alpha Testing
Phase 4: System Polising and Beta Testing
Phase 5: Community Driver Alpha Testing
Phase 6: Community Driver Beta Testing and Project Expansion