*********************** UPDATE ********************
It's pretty astonishing, but we hit our target after only 3 days!
The support that we've been given, and the messages we've received have been so heartening. It can be pretty bleak walking around in the forest for days at a time looking at dead parrots (it's nothing like a monty python sketch unfortunately).
However, to see the scale and speed of public response has been incredible.
Thank you all so much.
Unbelievably, our campaign is actually at the point where we can think about what we'll do with any money that exceeds our target.
There is more work that can be done and every dollar that goes over target will go towards the birds as outlined below.
1. Helping forty spotted pardalotes
--$60,000, exceed target by $20,000--
We can protect forty-spotted pardalotes from parasitic flies that kill their nestlings. We'll use your money to support management of the boxes and give baby pardalotes a flying start. We will also expand our search for pardalotes still surviving on the Tasmanian mainland.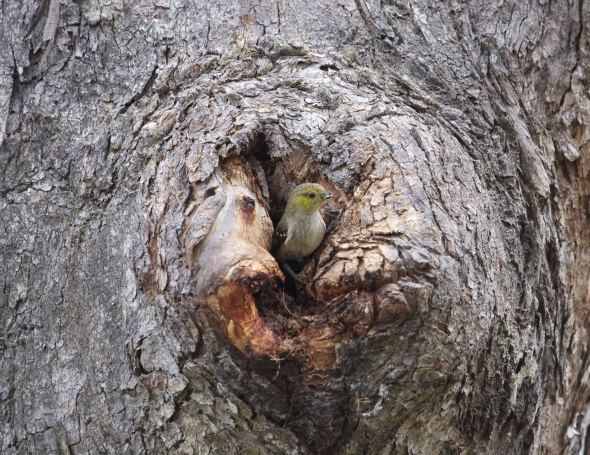 2. Protecting swift parrot nests
--$75,000, exceed target by $35,000--
We can use your money both to help pardalotes AND trial techniques to protect swift parrot nests in natural hollows from sugar gliders. Swift parrots are SO vulnerable to gliders on the Tasmanian mainland that we desperately need to understand what makes gliders eat birds, and with more money we can get creative with ways to make swift parrots safer.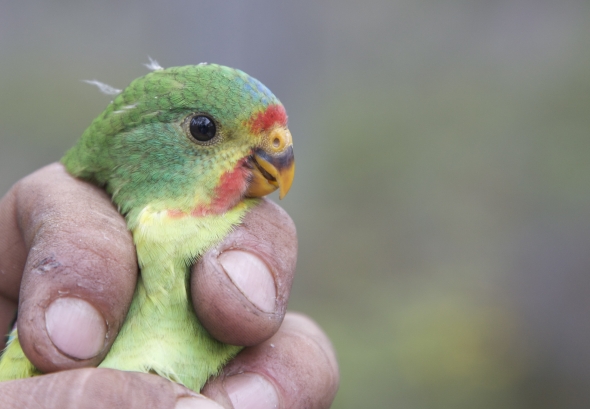 3. Saving orange-bellied parrots
--$100,000, exceed target by $60,000--
This is going to take a lot more money. Orange-bellied parrots live in the Tasmanian World Heritage Area, an amazing but wild place. The difficulties in getting around in this type of terrain have been THE major limitation for working on these birds. With enough money, we can expand our survey into the World Heritage area where orange-bellied parrots once bred, and we can look for populations that might have escaped detection (and protection) because nobody has been able to search for them.
We will use your money to pay for helicopters and boats to get us from place to place- it's really the only way to get around, and it's extremely expensive. Orange-bellied parrots are in such low numbers, that a storm at sea during migration could mean extinction. We desperately need a backup plan because at the moment, all of our OBPs are in one place. What these birds need is a second home where they can be safe. We will try to find it.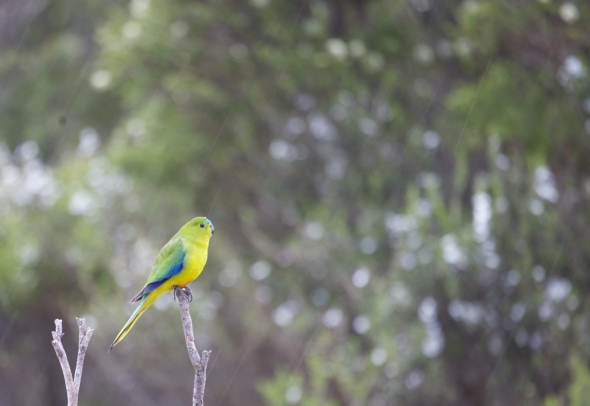 ******************************************************************************************************************************
Three endangered Tasmanian birds all share a common threat: being eaten by deceptively cute Sugar Gliders.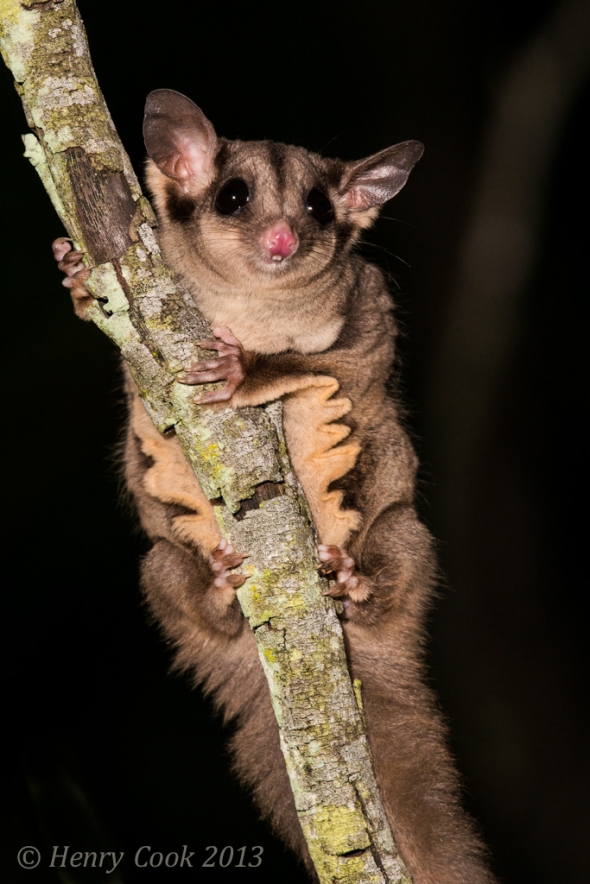 Sugar gliders are likely introduced to Tasmania, where they have developed a taste for small birds.
BACKGROUND
In forests where deforestation is severe, sugar gliders are major predators of hollow nesting birds. We discovered that across mainland Tasmania,
sugar gliders eat swift parrots
at very high rates, and are the only cause breeding failure. Gliders kill and eat the female parrot while she incubates her eggs, or return over several nights to feast on helpless nestlings. We found a link between deforestation and the likelihood of swift parrots being eaten, and in large patches of mature forest, swift parrots may be relatively safe. However, deforestation is still taking place across Tasmania, and our research suggests that swift parrots are on track to follow the dodo into extinction if nothing is done.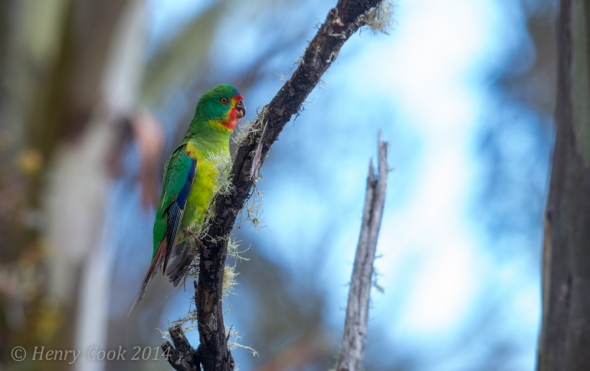 Swift parrots are tweeting their way to extinction while the forests they live in continue to be cleared.
We recently revealed that within as little as three generations (16 years), swift parrot populations could collapse. Our data show that ongoing sugar glider predation at the rates we have recorded will inflict a population decline of 94.7% for swift parrots, pushing them to the brink of extinction.
Worryingly though, there is very strong evidence that sugar gliders pose a serious risk to other small Tasmanian birds as well. Understanding the relationship between forest cover and glider predation is now the focus of our research, but unravelling the story requires intensive and specialized work.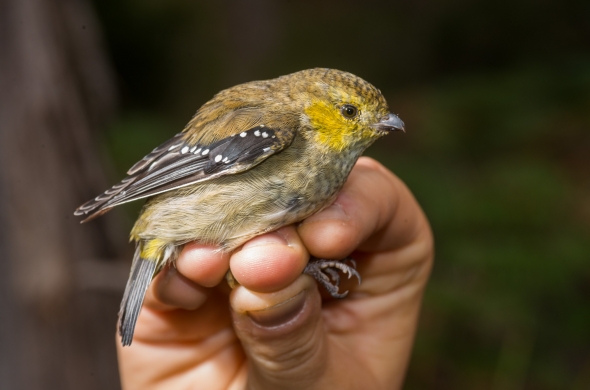 This male Forty-spotted Pardalote will be banded, released and monitored. This season he raised his chicks in a nest box.
Forty-spotted pardalotes are another Tasmanian bird in trouble. These tiny creatures vanished from most of their glider-infested historic mainland Tasmanian range. They now survive largely on three glider-free offshore islands, in tiny patches of forest where there are enough food trees to sustain them. Like swift parrots, pardalotes need hollows for nesting, but the remaining populations are extremely limited by the availability of nests. To make matters worse, pardalotes also suffer badly from parasitic flies that kill their nestlings. Unfortunately, there is only very limited information about how gliders may have contributed to pardalote decline on mainland Tasmania, but this is a critical question that needs to be addressed.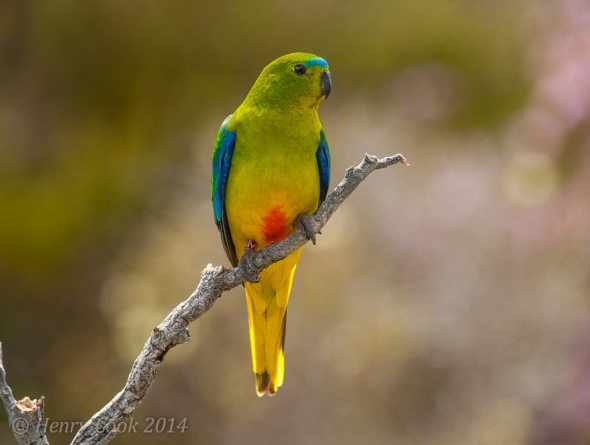 The Orange-bellied Parrot is the most endangered bird in Australia, and possibly one of the most beautiful.
Orange-bellied Parrots are the world's rarest parrot, with a tiny population of about 60 individuals living only in the Tasmanian southwest World Heritage Area. The population is often buffered by releases of captive bred individuals, but the species is incredibly vulnerable to extinction. Historically, orange-bellied parrots were more widespread than they are now, and we know that at some locations where they used to breed, sugar gliders were implicated in the deaths of several nesting females. We also know that sugar gliders occur in some parts of the World Heritage Area, but their exact proximity to the last population of parrots is totally unknown.
WHAT WE WANT TO DO
We have three very simple aims:
(1) We want to determine if we can increase the availability of nesting resources for swift parrots and forty spotted pardalotes on safe, glider-free islands.
(2) We want to understand where sugar gliders occur across Tasmania, so we can protect the remaining orange bellied parrot population, and provide information to managers seeking to release birds in other glider-free locations.
(3) We will trial a range of Sugar Glider proof nest boxes, so that areas where they already occur might be made safer for small birds.
To achieve these aims, we need a very large number of nest boxes. Nest boxes have already proven to be a very valuable resource for Forty-spotted Pardalotes and Orange-bellied Parrots, and it is likely that they will be used happily by Swift Parrots as well. We are confident that, given a large scale nest box installation program, we will be able to increase the carrying capacity of safe island habitats, while better understanding where sugar gliders occur on mainland Tasmania.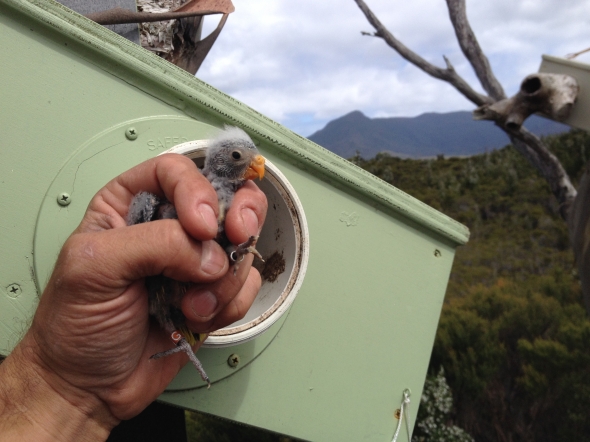 REWARDS!
The rewards section doesn't allow me to do much editing after someone has selected a reward.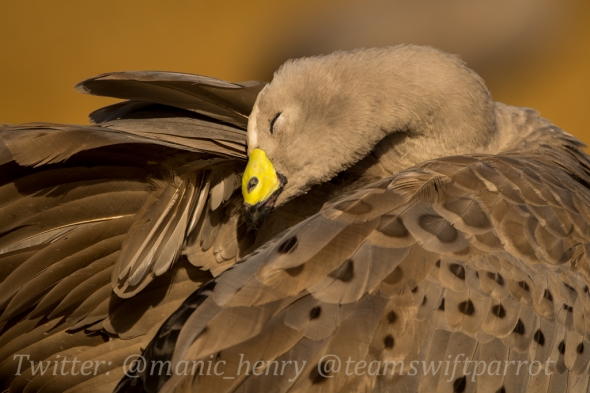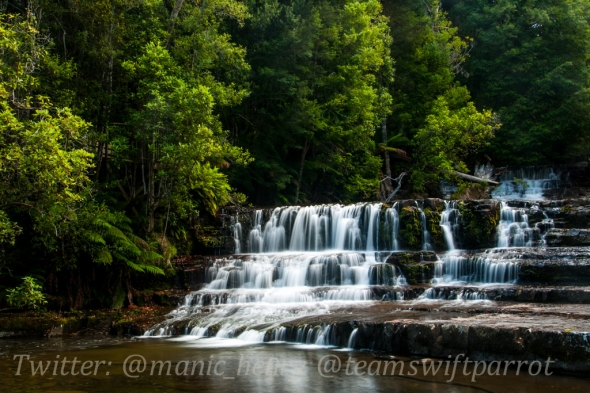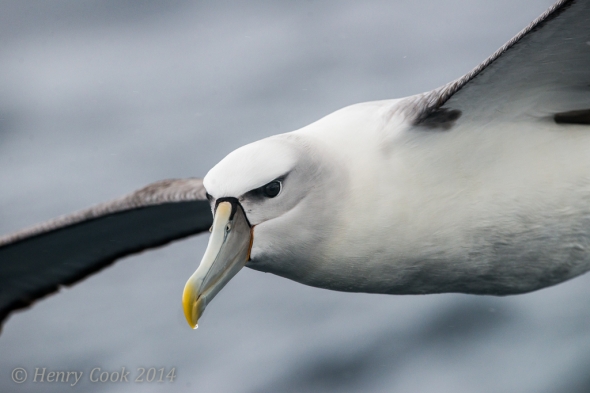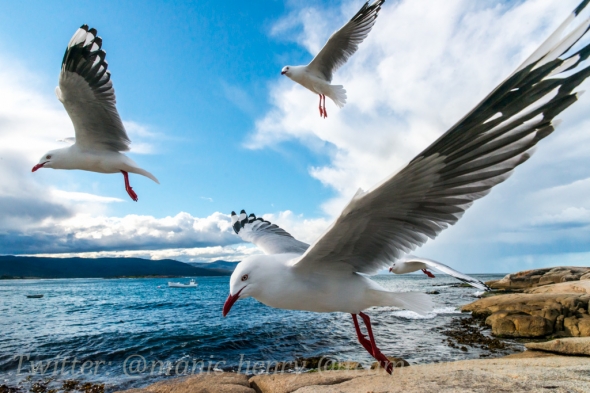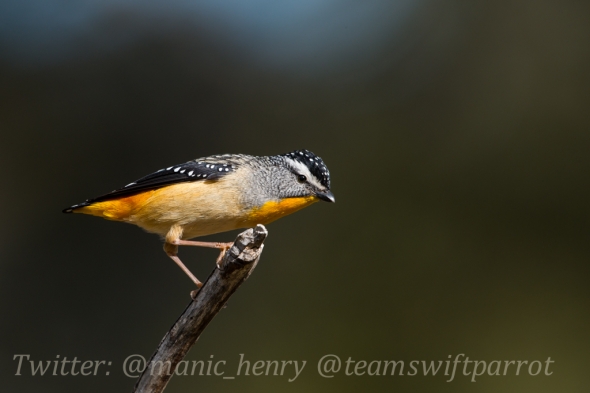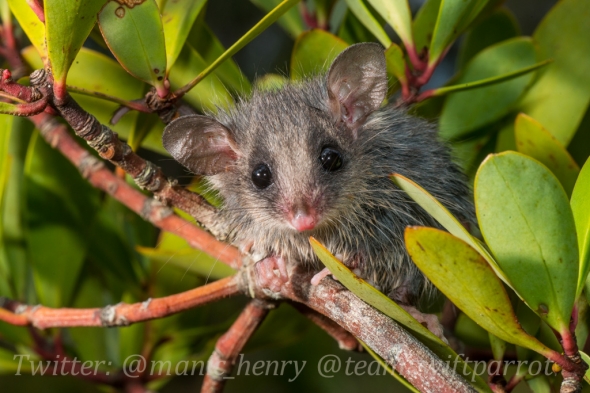 These are a few of the images... There are about 20 in total. See the link below to view all images
$25+reward.
As the response has been so amazing and that this is the most selected reward, I've added a few extra images that I think are nice. I also need to add a swift parrot image image and a orange-bellied parrot image so at least the target species are represented! This should hopefully happen in a few days. When the images are supplied via dropbox they will be around 3000pixels wide, with a small opaque watermark of the species name and @teamswiftparrot
You can see the images I've selected for this prize in my flickr album here:
https://www.flickr.com/photos/54876436@N08/sets/72...
$65 reward
Fiona Katauskas print. We had a special on her beautiful work to get some punters in early. It is the only limited edition print we have.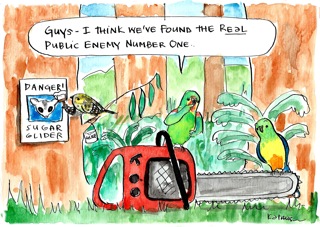 $100 Reward!
Cartoonist bonanza.
The artworks which we have kindly been donated look like this.
The Jon Kudelka print. Perhaps for the Taylor Swift fans out there. Haters gonna hate.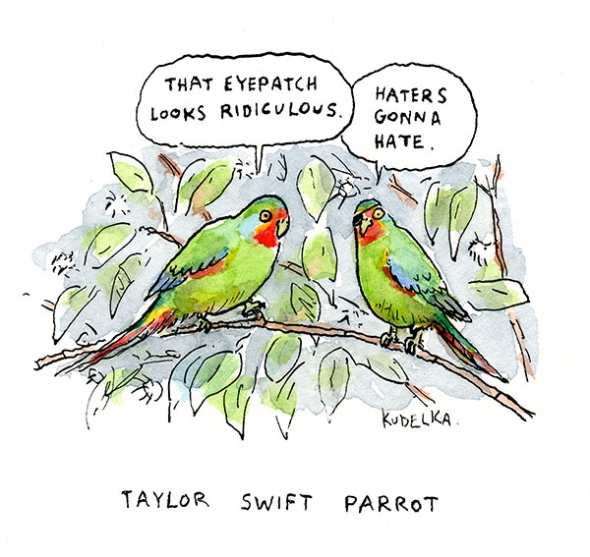 Cathy Wilcox did 2 fantastic prints for us! Isn't she wonderful? We love them both equally.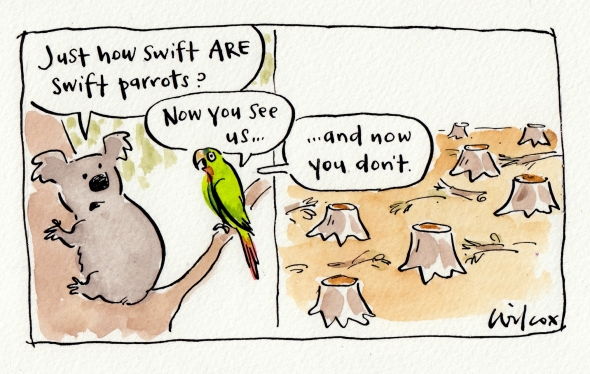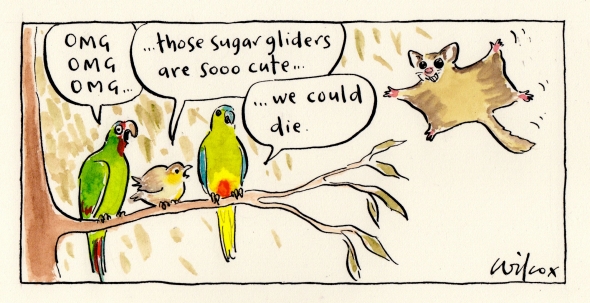 Few people will understand just how perfect the "OMG OMG OMG" is. I've spent a lot of time watching them and that's exactly something they'd say.
John Shakespeare did a beautiful portrait of an orange-bellied parrot. One of Australia's rarest birds and probably the world's rarest parrot species.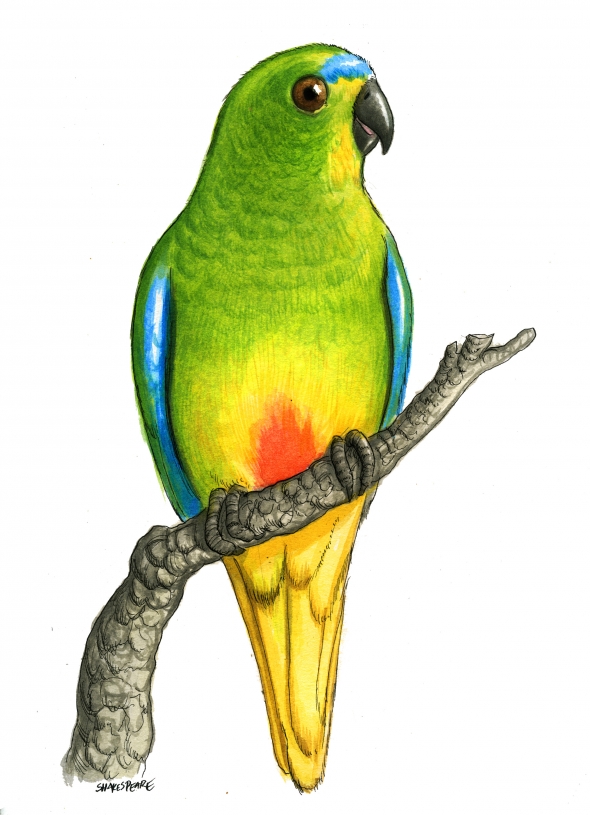 And finally the irrespressible Firstdogonthemoon has kindly contributed this hilarious and quite sad cartoon.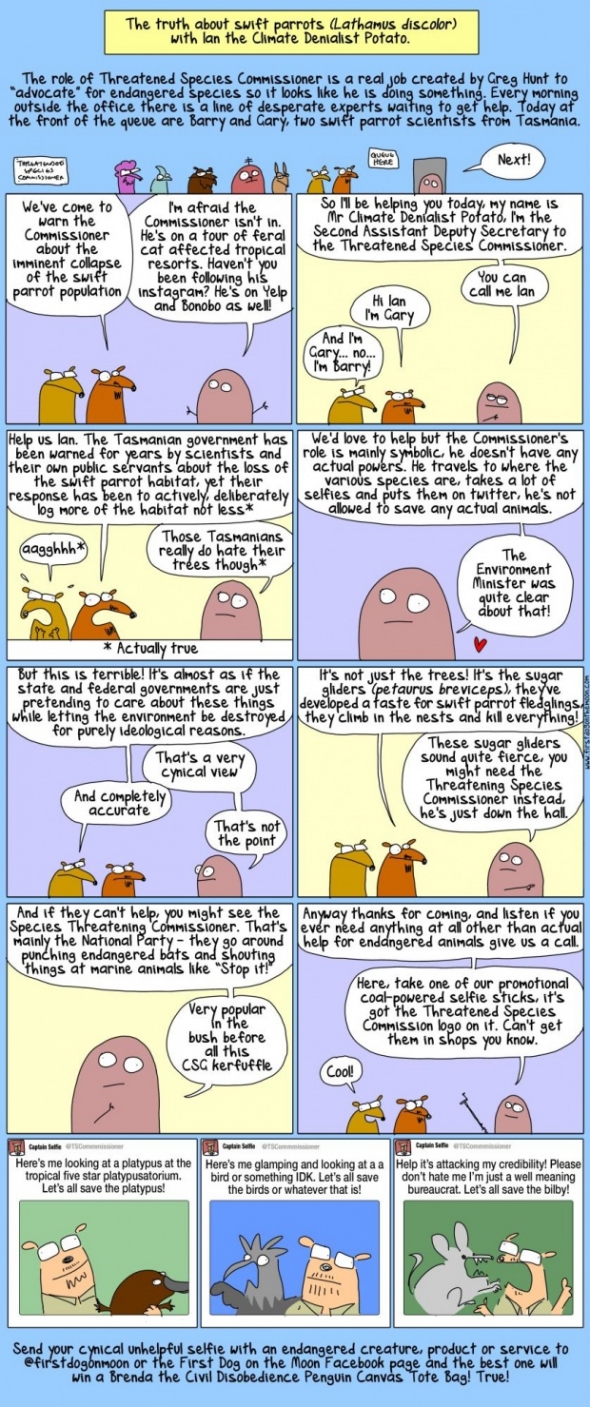 How The Funds Will Be Used

Forty-spotted Pardalote boxes: 500 x $25.75 each= $11,875
Swift & OBP Boxes: 500 x $31.75 each= $15,875
Freight to Hobart: $565/pallet, 5 pallets= $2,825
Two cordless drills with extra batteries: $570
Travel: $4305
Climbing equipment: $660
Printing and postage+ reward costs: $890
POZIBLE cost: 5% x 40000= $2000


The Challenges
Our team is highly skilled and has pioneered the approaches to working on these species. The most likely obstacles will involve transport and installation of nest boxes, however we have in place established approaches to managing these challenges.