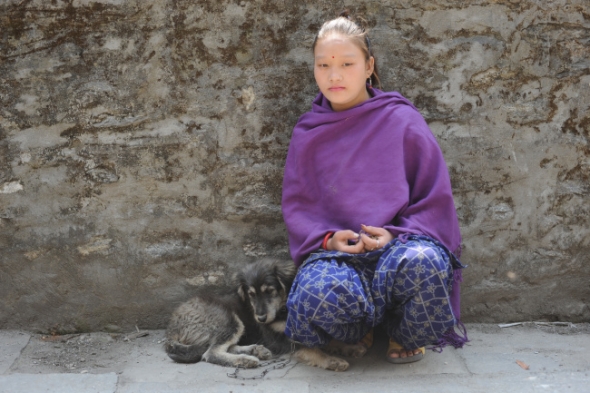 ABOUT THIS CAMPAIGN
Dogs and wildlife continue to die a slow and painful death because humane alternatives are non-existent in Nepal's high Himalaya. A booming and uncontrolled dog population raises the risk of rabies transmission from wildlife to dogs, and then to people. Together with my team, I am trying to make a difference for dogs, people, and the environment, by bringing modern and humane solutions to people and animals in the Himalaya. Please consider supporting me on this journey by pledging your support generously!
BEGINNINGS
In Dec 2013, I made a visit to the Himalayas with naturalist and friend, Mukhiya Godame, who lived and grew up in Nepal's Himalaya. During our search for Himalayan wildlife, we learned from locals that ground foraging birds, and mammals like red panda, and musk deer have been frequently attacked and killed by dogs that live within the Conservation Area. For years, locals have also complained of dogs attacking and killing their livestock. (Below: Goat with a broken leg from a dog attack)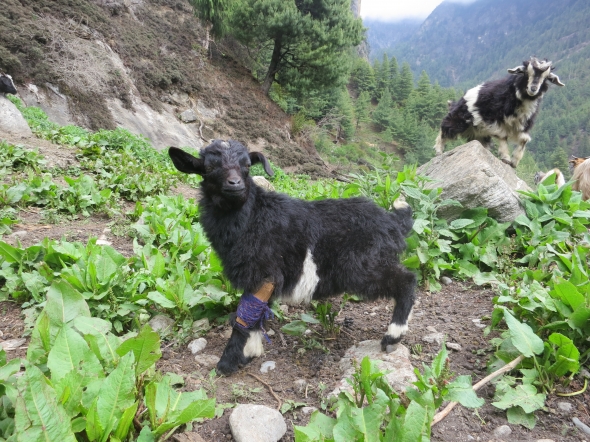 Desperate villagers who have had their livestock taken by the dogs, have taken to culling the dogs by feeding them a toxic pesticide, usually used to kill rodents and small birds. Dogs die an extremely slow and excruciating death, and their carcasses are discarded in forests where it is consumed by wild scavengers like vultures. This creates another problem, as the birds ingest the poison in turn, and have been observed unable to fly after feeding on poisoned dog carcasses.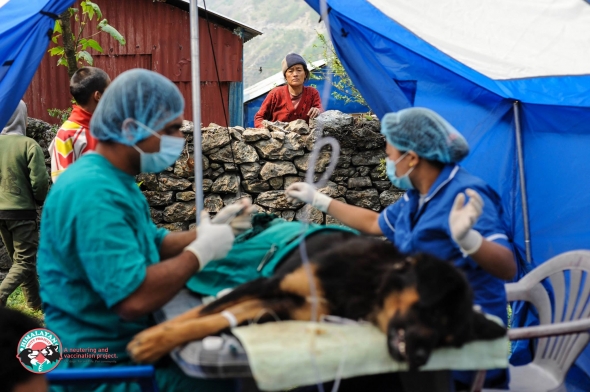 OUR PLAN
Sterilisations and vaccinations. It's that simple. And we want to keep it that way, because we believe that makes our project sustainable, and our targets achievable. We are working with existing animal welfare organisations, based in Nepal, with the skills and equipment needed to get this work done. Partnerships help us save on huge costs that can otherwise be directed towards the massive costs of transporting a team into the rugged Himalaya. We create access to basic veterinary services, so that locals in the Himalaya have an effective and humane alternative to managing their community dog population, that won't cause further harm to wildlife, the environment, and themselves. Success of our pilot efforts made headlines in local and international newspapers:
The Kathmandu Post,
Gulf Times
,
Frankfurter Rundschau
(Germany),
Volksfreund
(Germany),
Our Hen House
(US), and
The Hindu
(India).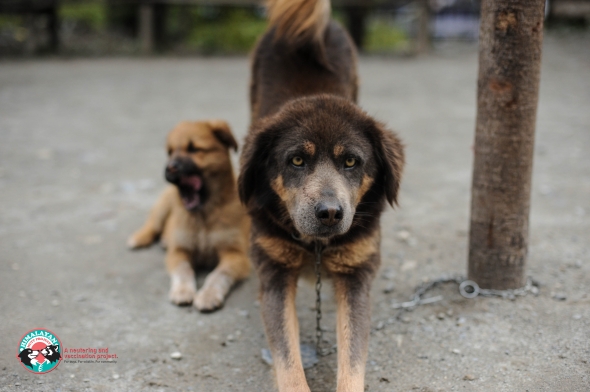 WHY STERILISE AND VACCINATE?
Sterilisation can help:
1) Reduce aggression toward other dogs, wildlife, and people
2) Reduce in urine marking, hence reducing the inconvenience dogs have on the community
3) Reduce roaming behaviour, hence reducing interaction between dogs and wildlife, curbing the potential for disease spread
4) Reduce injuries from dog fights, hence preventing infections or even death from wounds left untreated as many villages have no access to basic health or veterinary care. (Below: Dog receives treatment after its eyelid was torn open in a dog fight)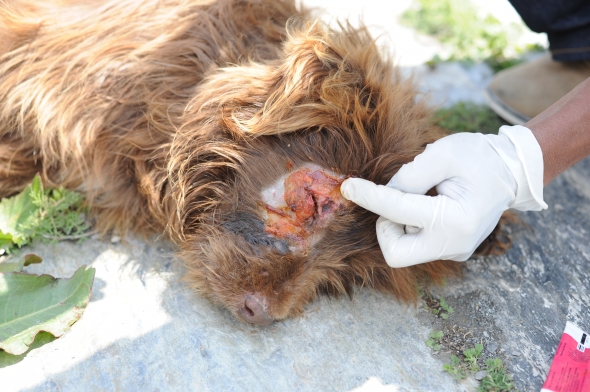 WHY NOT HELP PEOPLE?
Our project may concern working with dogs, but our beneficiaries are people. While the dogs may be dying a painful death, they aren't the ones struggling to cope with the processes, the people are. By controlling the dog population, we help communities protect their livelihoods and health. There are many good organisations dedicated to address human-centred issues, but delivering anti-rabies vaccinations and controlling dog populations is often overlooked until it becomes too late.
It is much more effective to prevent a rabies outbreak, than attempt to contain it. Especially in the rugged and dispersed villages of the Himalaya. The World Health Organisation (WHO) recognises and recommends Animal Birth Control and Anti-Rabies Vaccination Programmes as a strategy to humanely control stray dogs and rabies transmission to humans.
Watch this video where we speak to one of our beneficiaries in Ngawal village, Manang, Nepal Himalaya.
How The Funds Will Be Used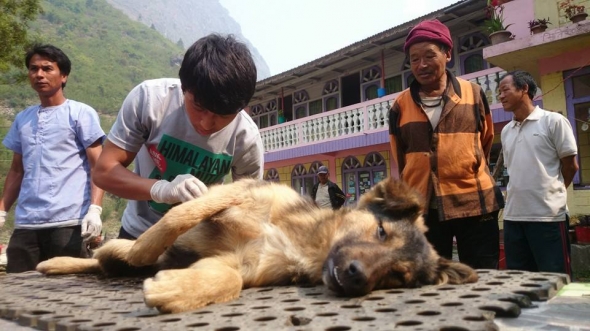 Here's a breakdown of our financial needs for 2015:
Food & Accommodation for 11 crew US$ 2,700
Transportation US$ 6,000
Contingency expenses US$ 800
Salary for one staff US$ 1,000
Medical and surgical supplies US$ 2,000
Planning & Logistics US$ 2,000
Campaign collaterals US$ 500
Total US$ 15,000
The Challenges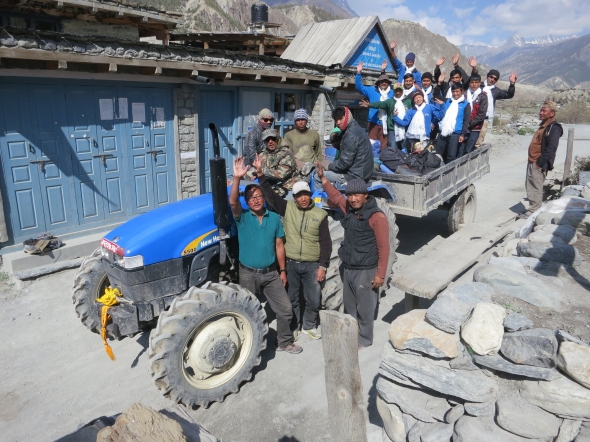 WAIT? WHY HASN'T THIS BEEN DONE BEFORE?
Because it's tedious. We chose Manang district as a pilot because of all the Himalayan districts, it is the "easiest to access". Check us out on the back of this tractor! We also commuted on motorbike, 4x4, and foot! Traversing rugged terrain with surgical equipment, and going to work the next day, is not easy. And it's not cheap. Transportation costs are huge, but when we consider future savings from rabies prevention and environmental degradation, these costs are well justified.