I believe that Circus can change the world!
I'm a circus performer and social circus trainer from Melbourne, Australia.
In January 2015, I'm volunteering with a UK charity called 'Performers without Borders' in Nicaragua for 3 months.
I need your help to raise the money to get me there and to purchase equipment for the project partners we have in the country. The project involves teaching circus to local children-many of whom are homeless - and performing shows in towns and rural areas.
We will be making shows with students from existing theatre/circus projects as well as teaching workshops for local communities in both rural and urban Nicaragua. We will also be providing training in new skills for the existing teachers over there, as well as inspiring new generations of kids to take risks, try new things and be bold!
Social circus is described as having the ability to alter lives - from young people to elders, people from all different backgrounds and physical ability- it inspires fun, creativity, improves community building, interpersonal relationships and encourages us to take risks. Social circus is a rapidly growing area of social inclusion, with a number of
studies
highlighting it's importance.
Most importantly, circus is fun! and in places where there is a high degree of poverty and unemployment- circus can be a powerful tool for change.
Learning Circus skills requires dedication, repetition and perseverance -these skills can then lead to positive pathways in employment both within local communities to the wider world. Students can become professional performers, which can alter the course of their lives, but they also can use the confidence, resilience and community they develop from the project to empower them in other ways.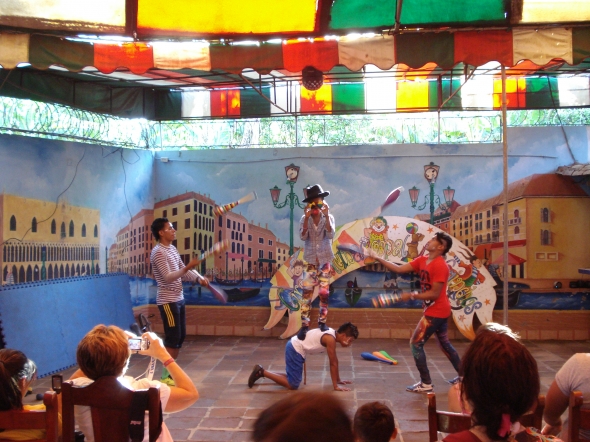 Performer's without borders
is a UK charity that has been around for over 5 years and runs ongoing projects in India, Sierra Leone and NIcaragua. They establish ongoing relationships with local communities and continue to return to build on the skills previously acquired. They also fundraise to collect and purchase circus equipment which is then donated to those communities.
PWB's Mission statement is;
'To work towards giving children the opportunity to explore their potential. that through teaching performance skills an individuals learning, creativity and team working skills are developed. To help to build confidence, develop empowerment and overcome social barriers.'
I am volunteering my time and money to the project to help establish circus and theatre groups in NIcaragua.
Keep up to date with my adventure on my
Facebook
page!
Thanks for your support :-)
How The Funds Will Be Used
The funds raised are for the following;
$4500 Flights from Australia - yeah we're really far away!
$500 Travel insurance - in case I get kidnapped
$300 Excess baggage -for donated circus equipment to take with me
$1500 In-country costs for accomodation/meals -this goes directly to PWB althought monitored by the team of volunteers on the ground who then use any extra money to buy circus equipment to leave in the communities we work in.

If I raise any more money I will use it to help me volunteer in other Social Circus projects in Bolivia, Colombia and Brazil- which I am planning on visiting after my tour with PWB.

I am also funding this trip myself, so any assistance is very much appreciated!
The Challenges
******NEWS******
I am running some 'by donation' hula hoop classes in Melbourne in the weeks coming up. Go to this page for more info- it's a great way to learn hoops and also support my cause!
https://www.facebook.com/events/585954834866874/?ref_dashboard_filter=upcoming


It's a lot of money to raise!
I hope that if everyone gives a little, I can also fundraise extra costs through running Hula Hoop, handstand and juggling classes. I also plan to have a fundraising cabaret to raise additional money.