Sometimes there are ideas that leap out at you because of their undeniable logic, even though they may be unusual (as in "not often understood"). Prisoners and ex prisoners working directly with young people who have already come into contact with the legal system, is one of those ideas. The voice of experience makes an impact on young people, especially when it comes from people they respect. This voice of experience can have a positive or negative impact, and in this case it is the former. In theatre and organic gardening, Colectivo Sustento has two powerful tools through which they can work directly with these kids. In this Pozible project, we are seeking support for community garden projects in two juvenile detention centres in Santiago, Chile in early 2015.
Colectivo Sustento was formed in 2012, as a continuation of the prison theatre experience of Fénix & Ilusiones (Colina 1 prison, Santiago) which began in 2002. Recently our long-dreamt idea of having an impact on the lives of young people has matured and taken flight. In 2013/2014, Fénix & Ilusiones with Colectivo Sustento, toured to 4 Santiago juvenile detention centres: there were 8 day-long visits where we performed, ran theatre games, conversed in small groups and finished with an open and often emotive dialogue. The message was clear: we are not "heroes", being in prison is not a life, freedom is the most precious gift you have, don't throw it away; you can find other ways of living that don't involve violence.
The dream of working directly with young people was born in 2005. Fénix & Ilusiones performed at a high school, were surprised to be received like "rock stars", and found that sharing with the young audience about their lost opportunities could be a powerful disincentive. In Chile, a positive image of the "hero criminal", almost a Robin Hood, is very alive in the poblaciones (marginalised urban zones) where there is extreme inequality of income and possibilities. We saw that we could provide the other side of the coin: personal stories of the harsh reality of prison, and hope for a different future.
An emotional moment in the San Bernardo juvenile detention centre. "Tour Modecate 2014: Raising social awareness"...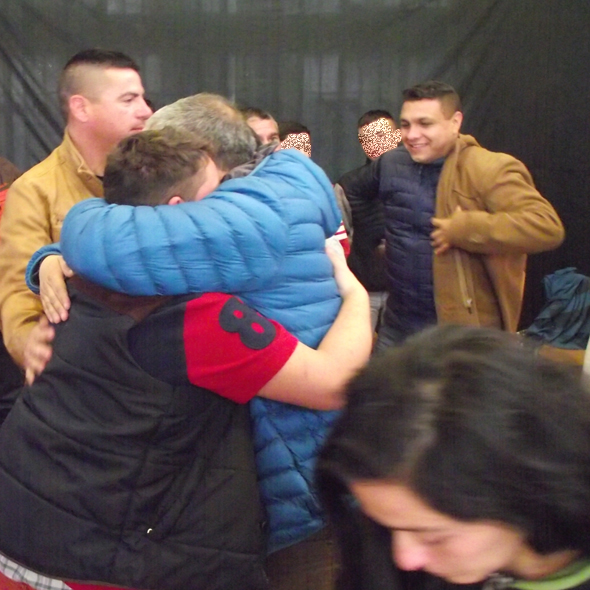 As a result of the huge success of this tour, we want to continue this powerful connection with young offenders, by both running theatre and garden workshops in the centres. The Chilean Juvenile Justice service funding for a theatre workshop in the San Bernardo prison is in process (this is very slow), and while we are waiting, we don't want the kids to wait, we want keep the connection alive by establishing an organic garden in two of the centres: San Bernardo and Calera de Tango. The second of these centres is a semi-open centre in a rural zone where a community garden project has had a faltering start. What is missing there? The active participation of the young people in the centre, and who better to stimulate that participation than Gabriel, our garden expert with the voice of experience!!
Because theatre is not all we do. Colectivo Sustento's work outside the prison is a constant development towards self-sustainability through organic gardening, community garden initiatives and networking. Through this work Gabriel, ex Fénix & Ilusiones, has been trained in organic agriculture for 2 years (thanks to the CSA* Farm Huellas Verdes). He is our garden expert, who coordinates the Sustento garden, and runs workshops at our market days and in community settings. He is the logical choice to run community garden workshops in the juvenile centres.
Gabriel teaches how to sow seeds. Colectivo Sustento market day 2013....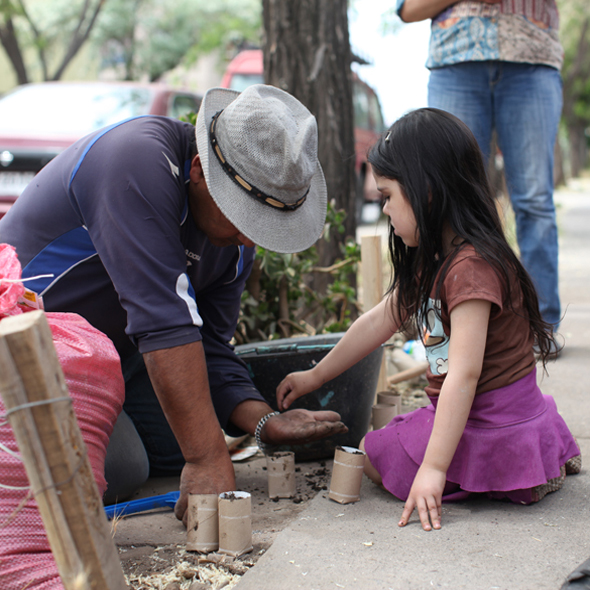 Through Pozible, we are seeking funding to pay Gabriel's wages and some other on-costs (see below) for 3 months, so that he can establish a community garden in House 4 of the San Bernardo Centre and develop the community garden project in the Calera de Tango Centre. The garden workshops will maintain and develop our connection with the young people in these centres. Both centres are on the outskirts of Santiago, so transport will be a significant cost so we have included it in the project costs. At the end of the 3 months we will hold a celebratory event to launch each garden.
* Community Supported Agriculture
How The Funds Will Be Used
The funds will be used to pay the wages of 2 Colectivo Sustento members for 3 months: a garden expert and a project coordinator. The money will also go towards operational costs (seedlings, transport and an inauguration event in each centre).
The Juvenile centres will provide: compost, tools, construction materials and lunches.
BUDGET BREAKDOWN...
Wages:
Garden expert: CLP 400.000 / month = AUD 772 x 3 months = AUD 2316
Coordinator: CLP 100.000 / month = AUD 193 x 3 months = AUD 579
Operational Costs:
200 seedlings: CLP 100.000 = AUD 193
Transport: CLP 108.000 = AUD 208
Inauguration event x 2: CLP 106.000 = AUD 204
TOTAL AUD = 3500
The Challenges
The human success of this project depends on the active participation of the young people in the detention centres. In San Bernardo, as a result of this year's theatre tour, the young guys in House 4 directly asked for a theatre workshop with us. We believe we can harness this energy and direct it towards the community garden while waiting for other funds. In the Calera de Tango centre, preliminary work has also been done with staff who fully support this initiative. We have invited the young guys from this centre to a performance in December 2014 by Fénix & Ilusiones. In this way, we will create the direct contact necessary to stimulate their interest in participating with us.

In Chile, the main obstacle is always related to money: the precarious economic support for social/community work. Chile is a rich country, nevertheless government funds are not sufficiently directed to social programs (privatisation is the mantra!). On the other hand, private philanthropy has not developed, the concept of "social responsibility" has not taken root. For this reason we are launching this crowdfunding campaign, in conjunction with our other self-generating income strategies. Our local strategies are not sufficient to cover wages, that's where your support kicks in. Our strength is in our commitment to real social change.