H.Tang is a smart watch for women, with simple features to make life easier and healthier.

It syncs to your phone with Bluetooth 4.0 to bring you text and call alerts, and comes preinstalled with apps that track your calorie intake, read the weather and much more.

Feel like a tan? H.Tang's embedded UV sensor keeps you updated on the intensity of the sun, helping you avoid nasty burns. And don't worry if you drop it in the pool - H.Tang is waterproof for up to 30 metres in depth.

Equal parts design and functionality, H.Tang is as much a piece of jewellery as a tech companion, featuring a stainless steel body, a slender leather strap, and a tough, hand-polished sapphire-crystal display. A limited edition with brilliant Swarovski crystals inset is also available.

Charge it once, use it for a week. Hetang's long battery life means you'll never have to go without it.

H.Tang, a smart watch for women.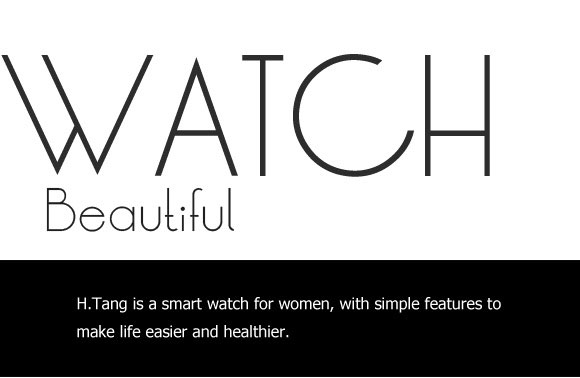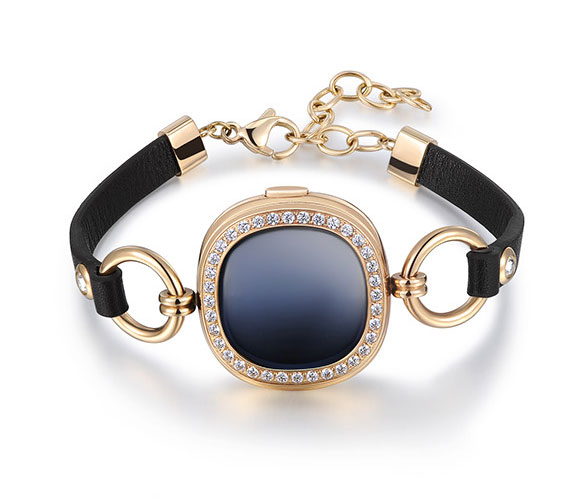 源起
人们总忙于工作和应酬,往往会忽略了身边的那个她。为了给心爱的她一份惊喜总是绞尽脑汁。但更多时候,男人都在纠结如何向她表达内心的爱和关怀。
女人们心思细腻,想要的除了美丽的礼物之外,更不可缺少的是每一个细节上都不出错的嘘寒问暖。想要讨好女人,不仅要在外观上花尽心思,更要从内涵中传递更多关爱,些许情怀。
因此,我们研发了一款时尚兼具体贴的女性智能手表,送给自己心爱的她。告诉女人,爱美更要爱自己。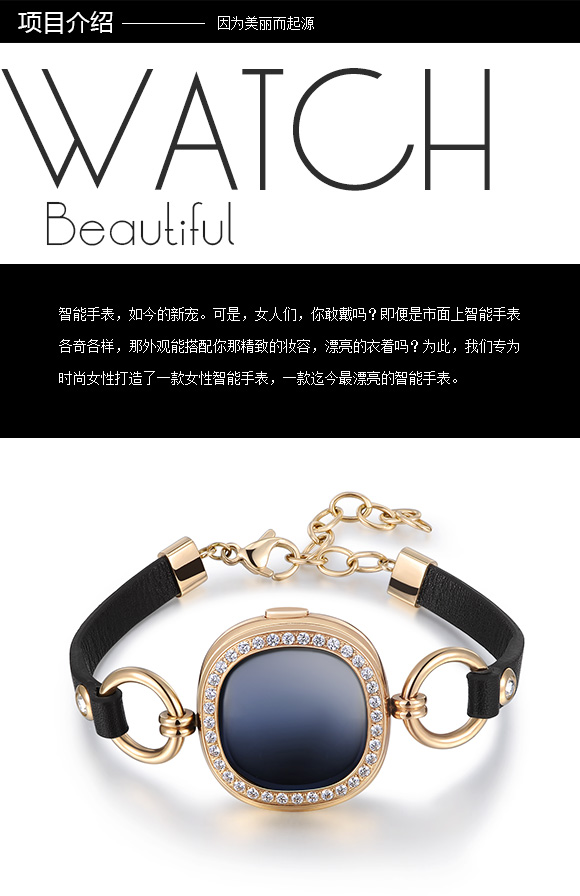 和唐H.TANG,最漂亮的女性智能手表
和唐H.TANG女性智能手表,是专为女性量身定做的时尚潮流单品。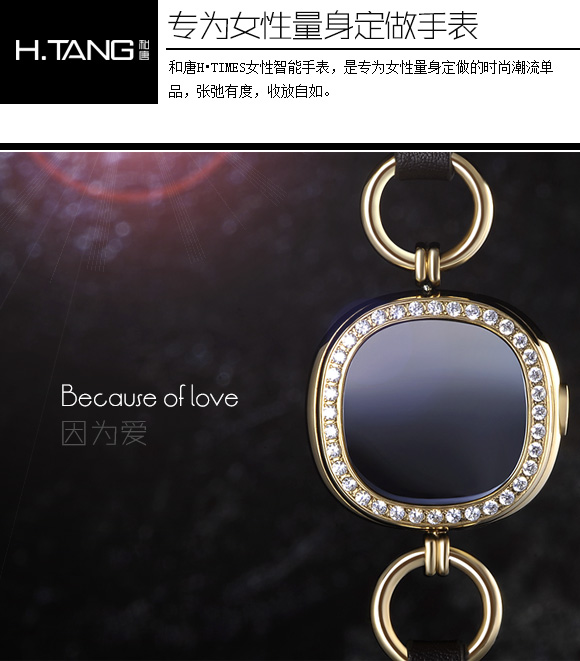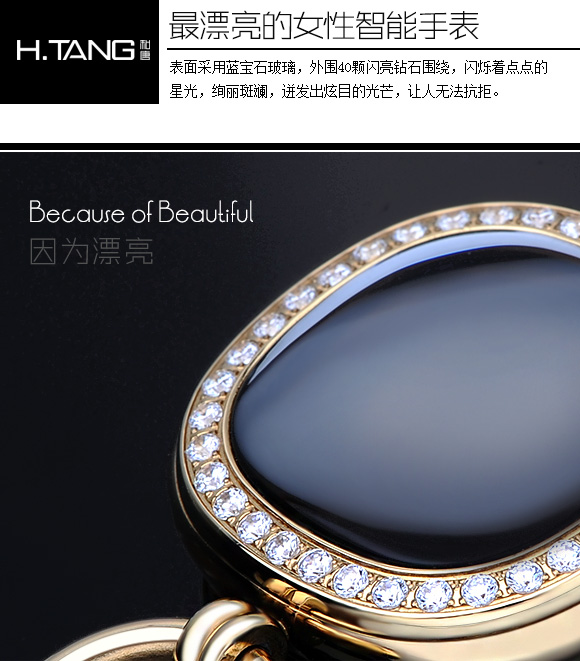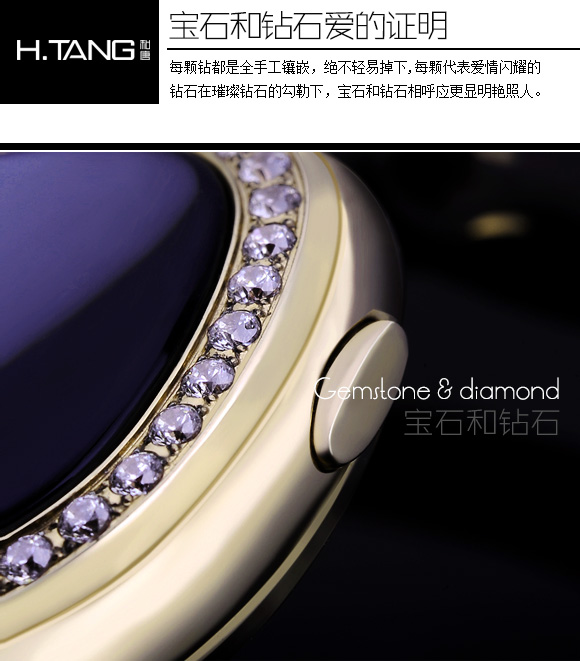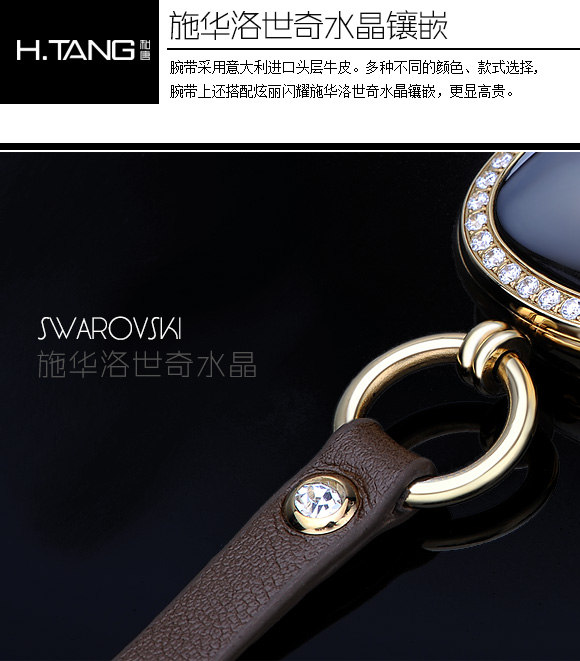 和唐H.TANG,最关爱女性的智能首饰
和唐专注于女人的爱美天性,从呵护和关爱女性健康着手打造智能手表的功能。

团队实践
在设计和制造和唐的过程中,虽然我们已经有过成功的经验和失败的教训,但仍然不可避免的遇到了困难和不可预知的问题。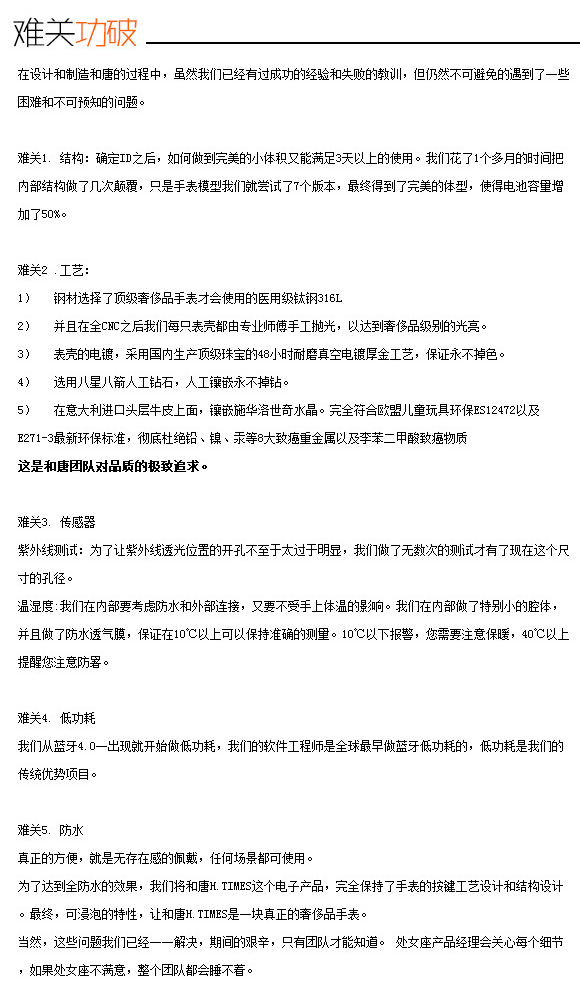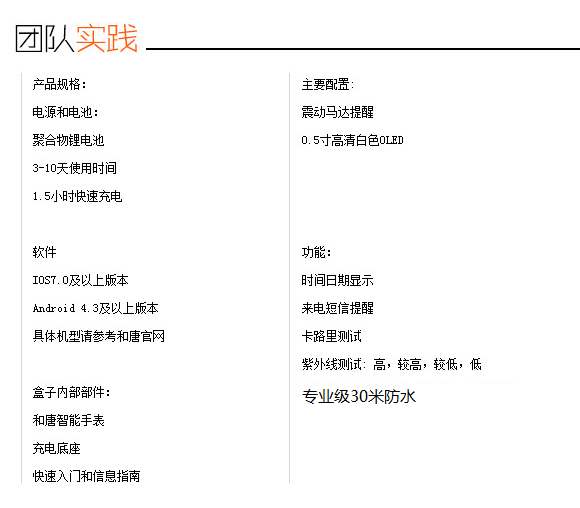 当然,这些问题我们已经一一解决,期间的艰辛,只有团队才能知道。 处女座产品经理会关心每个细节,因为处女座做不好,整个团队都会睡不着。
进度内容与长期目标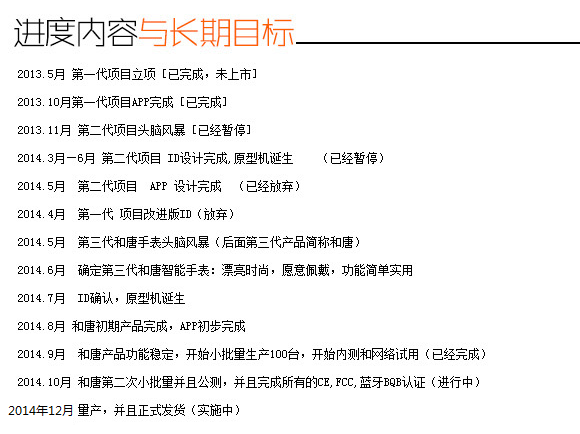 团队介绍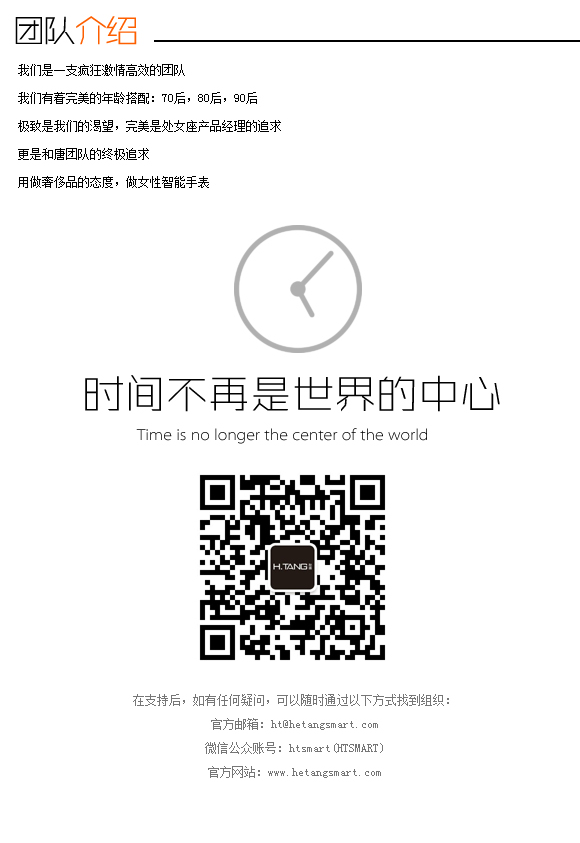 Design of the H.Tang
The H.TANG smartwatch is a fashionable product, tailored specifically for women. Its surface incorporates hand-polished sapphire, and is encrusted with dazzling Swarovski diamonds about the periphery. People cannot help but notice its presence.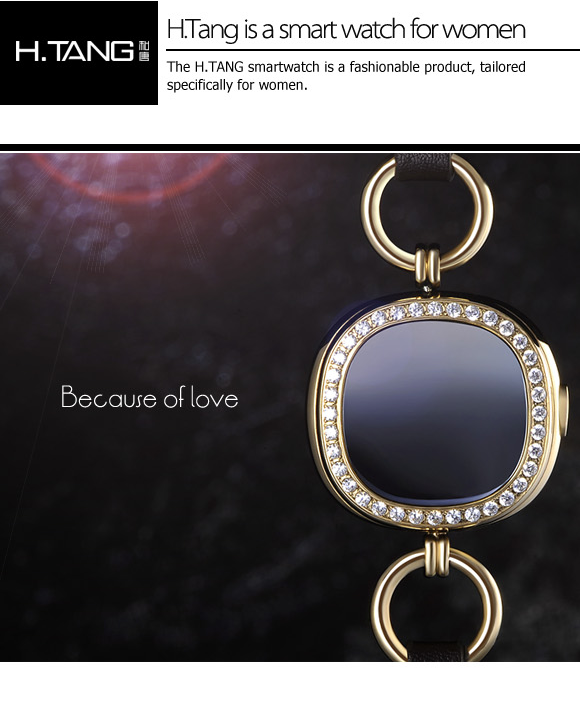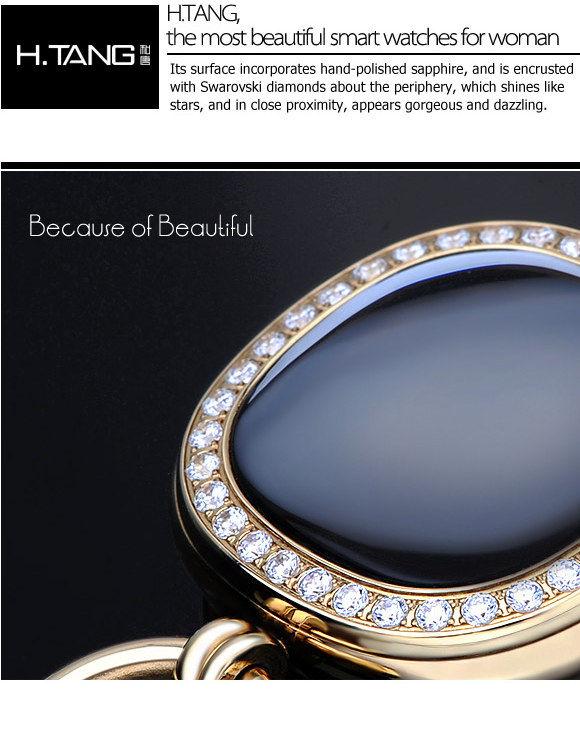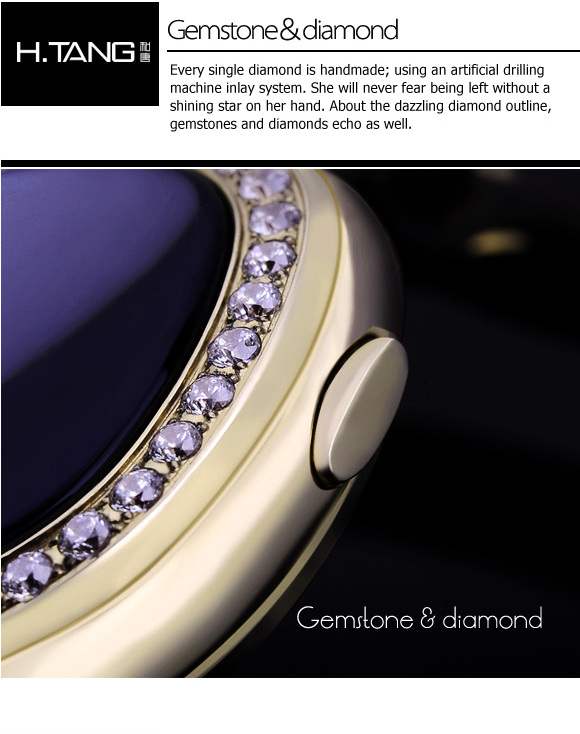 An imported South Korean outer layer of leather defines the wristband. A variety of different colors, styles and materials of wristbands can be chosen to help accompanying any dress worn. Whichever looks are chosen, a wrong choice is not possible.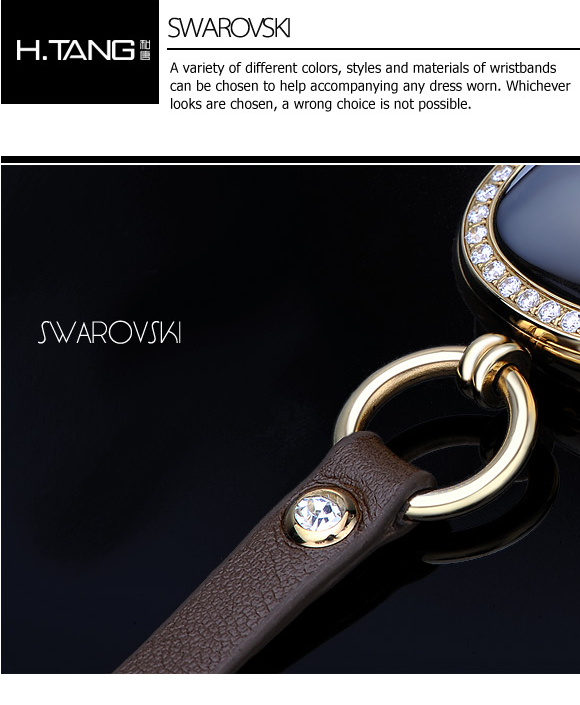 Features of the H.Tang
We designed our smart watch for women, with a special focus on health trackers.
1. For weight loss and weight maintenance purposes, caloric consumption can be monitored at any time.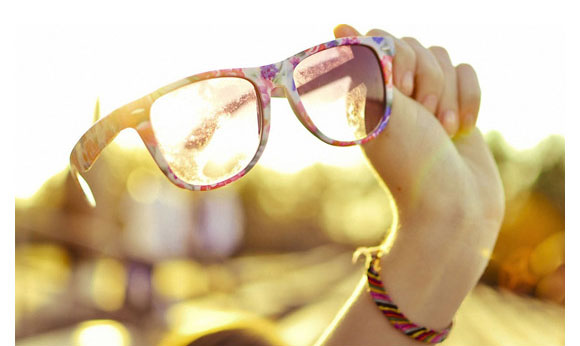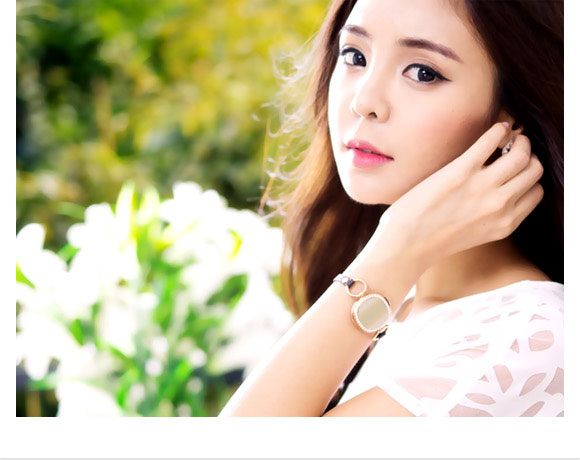 2. Measures of harmful UV radiation can be displayed both indoors and outdoors, allowing you to determine the best time to go out, or when to apply that extra layer of sunscreen.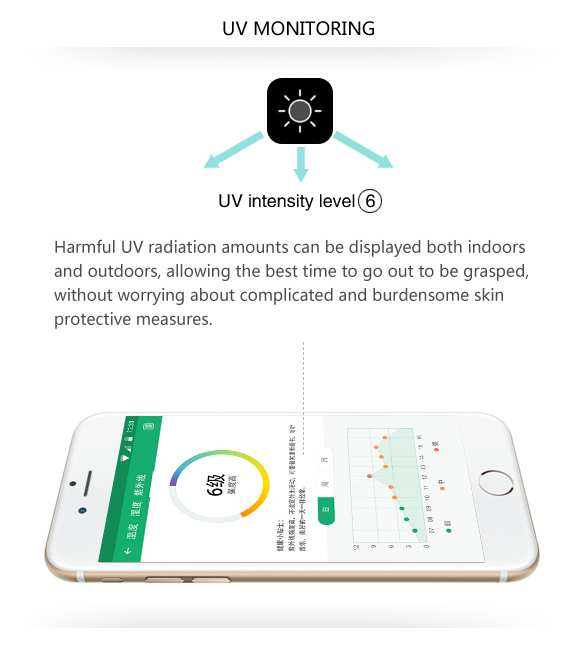 3. Activity monitors read your movement and daily exercise, telling you what you're burning and when you should get moving again.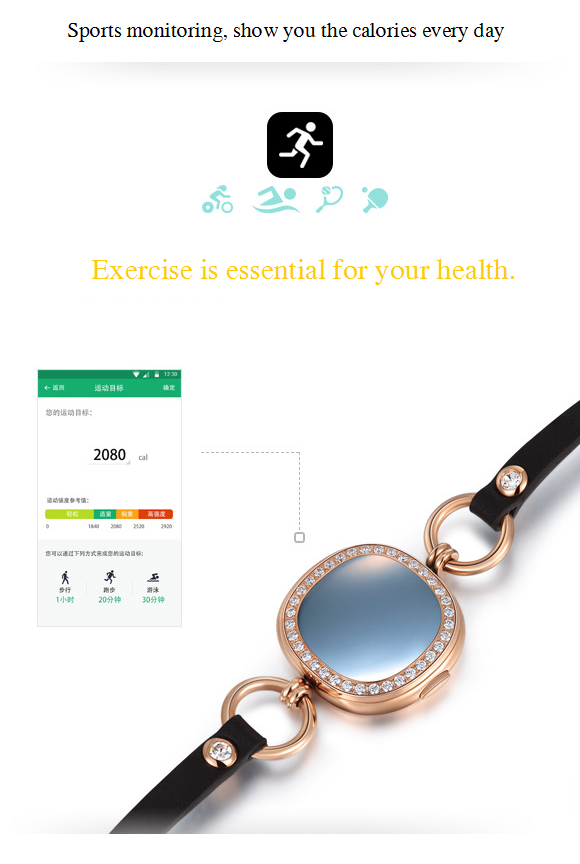 4. The H.Tang app features two animated companions, He" and Tang, who offer up reminders based on your health preferences including weight management, fluid replenishment and overall health maintenance.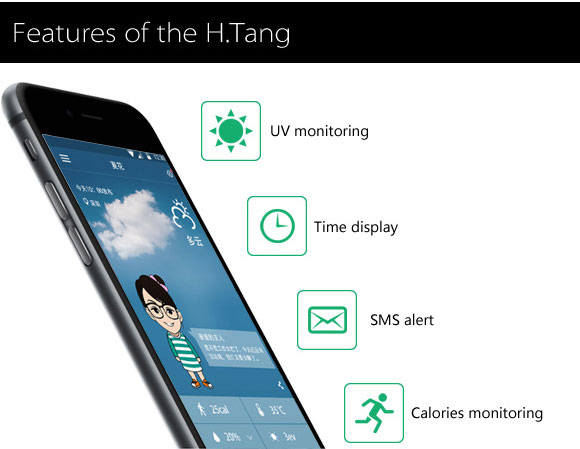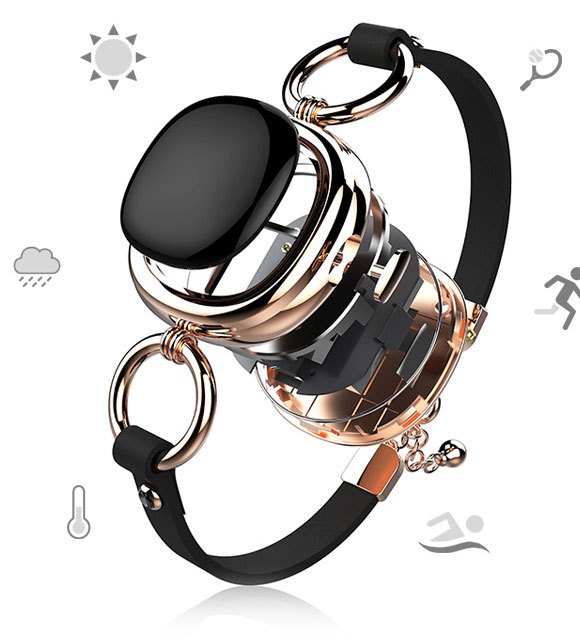 5. The H.TANG bracelet is 30m waterproof, a companion which can go wherever you do.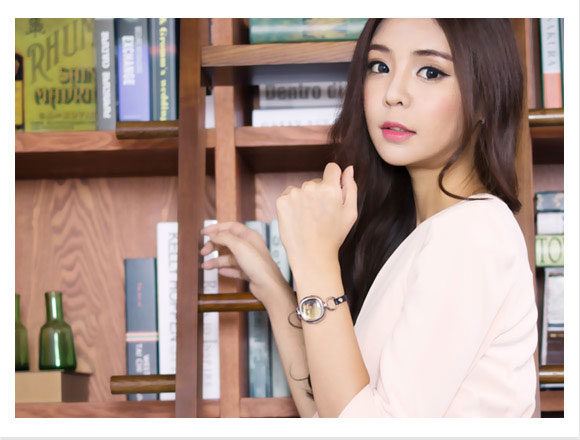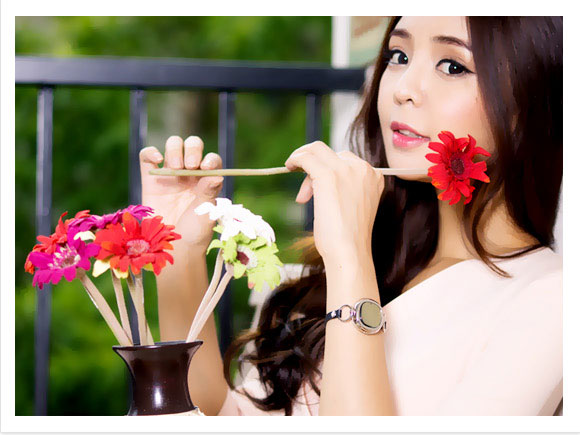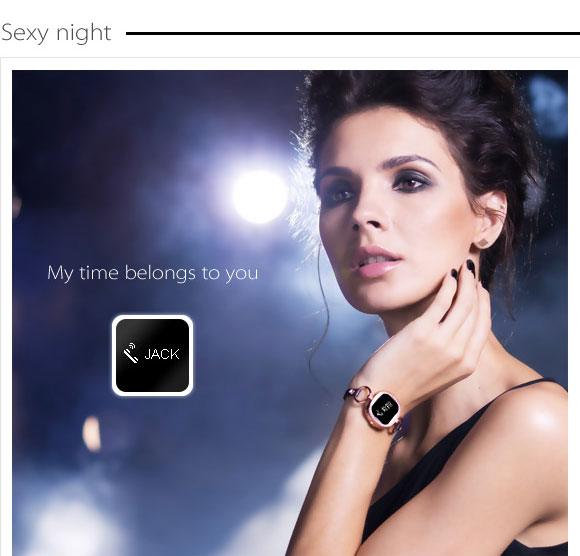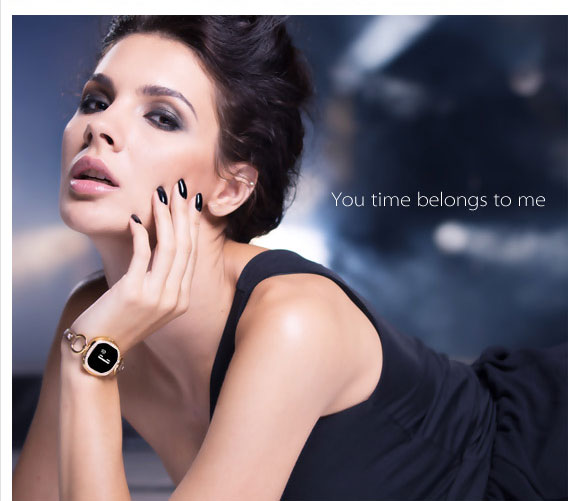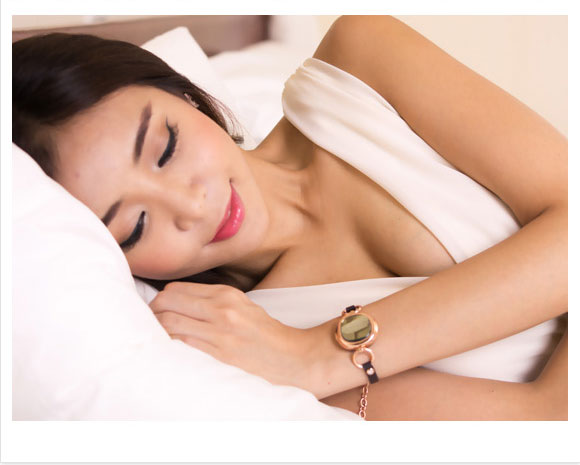 Our schedule and long term goals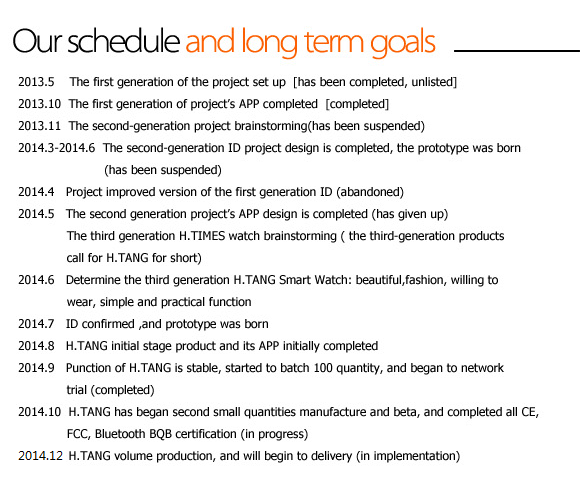 Our Team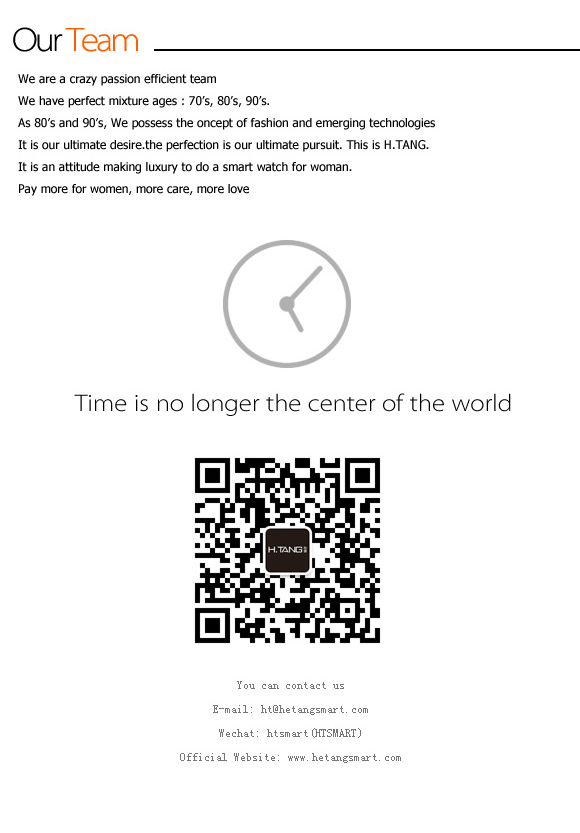 我们需要您的帮助
我们计划在众筹开始时同步开始模具生产,预计在众筹期结束后一个月内开始第一批发货。如果得到您的支持,我们就能更快更好的完成产品的量产。
我们也希望您对我们的产品提出意见,帮助我们尽可能地改进我们的产品

How The Funds Will Be Used
We plan to roll out our manufacturing when crowdfunding starts. The first batch of products are expected to launch 30 days after crowd funding ends.

If we have your support, we will finish our product production better and faster. We also hope you can give us suggestions to improve our products to make it even better.

The Challenges
Product specifications:
Power supply and battery:
Lithium polymer battery
Use 3-15 day
1.5 hour fast charge
Software
Version IOS7.0 and above
Android
version 4.3 and above
Now is only for Samsung S3,S4,S5,NOTE 2, NOTE3
Function:
The time and date display
Incoming call and
text messages to remind
The Calories test
UV test:
30m waterproof